The 1955 Green Bay Packers - 6-6 (3RD - Western Conference)
Head Coach: Lisle Blackbourn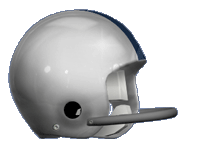 1955 PRE-SEASON RESULTS (2-4)
OFF DEF
AUGUST (1-2) RESULT RECORD ATT RSH PSS RSH PSS STARTING QB LEADING RUSHER LEADING PASSER LEADING RECEIVER
13 New York Giants at Spokane, WA W 31-24 1- 0-0 15,000
20 Cleveland Browns at Akron, OH L 7-13 1- 1-0 22,000
27 G-PITTSBURGH STEELERS L 14-16 1- 2-0 16,912
SEPTEMBER (1-2)
3 Philadelphia at Charleston, WV L 10-24 1- 3-0 12,500
10 Washington at Winston-Salem, NC L 31-33 1- 4-0 13,000
17 M-CHICAGO CARDINALS W 37-28 2- 4-0 18,000
1955 REGULAR SEASON RESULTS
SEPTEMBER (1-0)
25 G-DETROIT LIONS (0-0) W 20-17 1- 0-0 22,217 172 122 171 140 Tobin Rote Breezy Reid (73) Tobin Rote (163) Billy Howton (4-47)
OCTOBER (2-3)
2 G-CHICAGO BEARS (0-1) W 24- 3 2- 0-0 24,662 223 163 132 85 Tobin Rote Howie Ferguson (153) Tobin Rote (188) Gary Knafelc (6-98)
8 M-BALTIMORE COLTS (2-0) L 20-24 2- 1-0 40,199 136 186 103 152 Tobin Rote Howie Ferguson (71) Tobin Rote (191) Billy Howton (6-86)
16 M-LOS ANGELES RAMS (3-0) W 30-28 3- 1-0 26,960 112 231 151 109 Tobin Rote Breezy Reid (53) Tobin Rote (255) Billy Howton (8-158)
23 at Cleveland Browns (3-1) L 10-41 3- 2-0 51,482 139 22 204 250 Tobin Rote Veryl Switzer (38) Tobin Rote (42) Three tied with 2 each
29 at Baltimore Colts (3-2) L 10-14 3- 3-0 34,411 142 163 202 55 Tobin Rote Howie Ferguson (77) Tobin Rote (183) Two tied with 4 each
NOVEMBER (1-3)
6 at Chicago Bears (3-3) L 31-52 3- 4-0 48,890 151 168 406 98 Tobin Rote Howie Ferguson (120) Tobin Rote (192) Gary Knafelc (6-91)
13 G-CHICAGO CARDINALS (3-3-1) W 31-14 4- 4-0 20,104 203 122 112 221 Tobin Rote Joe Johnson (78) Tobin Rote (140) Billy Howton (4-64)
20 M-SAN FRANCISCO 49ers (3-5) W 27-21 5- 4-0 19,099 251 187 186 212 Tobin Rote Howie Ferguson (85) Tobin Rote (201) Billy Howton (5-68)
24 at Detroit Lions (2-7) L 10-24 5- 5-0 51,685 108 120 190 92 Tobin Rote Howie Ferguson (50) Tobin Rote (130) Gary Knafelc (4-81)
DECEMBER (0-2)
4 at San Francisco 49ers (3-7) W 28- 7 6- 5-0 32,897 85 151 164 117 Tobin Rote Breezy Reid (32) Tobin Rote (151) Breezy Reid (3-77)
11 at Los Angeles Rams (7-3-1) L 17-31 6- 6-0 90,535 161 144 153 157 Tobin Rote Howie Ferguson (63) Tobin Rote (141) Howie Ferguson (5-32)
G - Green Bay M - Milwaukee
1955 IN REVIEW
Armed with a rejuvenated offense, the Packers moved up into third place by evenly splitting their season with wins and losses. Howie Ferguson, a hustling fullback, developed into a top-flight runner and gave the club a strong ground game to balance the attack. Tobin Rote's passes to Billy Howton and Gary Knafelc ate up yardage in large chunks, keeping enemy defenses spread for Ferguson's runs. Spearheaded by linebacker Roger Zatkoff and safety Bobby Dillon, the defense kept Green Bay in most of their games, while kicker Fred Cone helped win some of the six contests with his toe.
TED KENNEDY: A PACKER?
SOURCE: WTMJ.com and Examiner.com: Had Ted Kennedy given a different response to a letter from a Packers head coach, it's possible Senator Ted Kennedy may have become Packers receiver Ted Kennedy. Kennedy had initially played football on the Harvard frosh team as an offensive and defensive end. It was the 1950-51 school year. However, in the spring, concerned that his grades might not be good enough to maintain his eligibility for the following year, he asked a friend to take his Spanish language final exam for him. The friend did, but he and Kennedy were caught and expelled from the college. Kennedy then enlisted in the U.S. Army and was eventually stationed in Europe. In 1953, after his discharge, he re-applied and was re-accepted to Harvard. After serving a year of athletic probation, he returned to football his junior year as a second-string end for the Harvard Crimson team where he earned (apparently just barely) his varsity letter for the sport. On November 20, 1955, in a 21-7 defeat to Yale, Harvard's lone score came on a low five-yard pass that was snared by #88, the Senior Right End Ted Kennedy. The senator's web site says that Kennedy, a senior right end for the Harvard football team in 1955, received a letter from Packers head coach Lisle Blackbourn. "You have been very highly recommended to us by a number of coaches in your area, and also by our talent scouts as a possible pro prospect," said Blackbourn in the letter. Kennedy responded that he was flattered, but he stated he was planning on going to law school and "another contact sport, politics." If Kennedy had changed course and made the Packers' roster in 1956, he would have joined future pro football Hall of Famers Bart Starr and Forrest Gregg as rookies that year. In 1960, Packers head coach Vince Lombardi gave Kennedy's brother John his endorsement for the Presidency. John Kennedy defeated Richard Nixon in that election. A year later, JFK personally made sure running back Paul Hornung, linebacker Ray Nitschke and wide receiver Boyd Dowler passes from the U.S. Army so they would be available to play in the NFL Championship game on December 31st, 1961 against the New York Giants. The Packers won that game, 37-0. Sen. Kennedy died of a brain tumor at 77 years old in 2009.
NAME NO POS HGT WGT COLLEGE YR PR A G HOW ACQUIRED
Tom Bettis 58 LB 6- 2 225 Purdue 1 1 22 12 1955 Draft (1st)
Billy Bookout 20 DB 5-11 180 Austin 1 1 23 12 1955 FA
Nate Borden 87 DE 6- 0 205 Indiana 1 1 23 12 1955 Draft (25th)
Charlie Brackins 15 QB 6- 2 202 Prairie View A&M 1 1 23 7 1955 Draft (16th)
Buddy Brown 62 G 6- 1 225 Arkansas 3 5 28 12 1953 FA-Wash (52)
Hank Bullough 67 G 6- 0 220 Michigan State 1 1 19 12 1955 Draft (5th)
Jim Capuzzi 23 DB 6- 0 190 Cincinnati 1 1 23 3 1955 FA
Al Carmichael 48 HB 6- 1 190 USC 3 3 26 12 1953 Draft (1st)
Bob Clemens 33 FB 6- 2 200 Georgia 1 1 22 2 1955 Draft (7th)
Fred Cone 31 FB 5-11 200 Clemson 5 5 29 12 1951 Draft (3rd)
Tom Dahms 78 T 6- 5 240 San Diego 1 5 28 12 1955 Trade - LA
Dick Deschaine 80 P 6- 0 190 No College 1 1 23 12 1955 FA
Bobby Dillon 44 DB 6- 1 180 Texas 4 4 25 12 1952 Draft (3rd)
Howie Ferguson 37 FB 6- 2 212 No College 3 3 25 12 1953 FA
Bill Forrester 69 DT 6- 3 235 SMU 3 3 23 12 1953 Draft (3rd)
Dave Hanner 77 DT 6- 2 250 Arkansas 4 4 25 12 1952 Draft (5th)
Paul Held 15 QB 6- 2 194 San Diego 1 2 26 5 1955 FA-Pitt (54)
Jerry Helluin 72 DT 6- 2 280 Tulane 2 4 26 12 1954 Trade-Cleve
Billy Howton 86 E 6- 2 190 Rice 4 4 25 12 1952 Draft (2nd)
Jim Jennings 85 E 6- 3 205 Missouri 1 1 21 6 1955 Draft (26th)
Joe Johnson 40 HB 6- 0 180 Boston College 2 2 25 12 1953 Draft (11th)
Gary Knafelc 84 E 6- 4 215 Colorado 2 2 23 12 1954 FA-Cardinals
Bill Lucky 71 DT 6- 3 250 Baylor 1 1 24 12 1955 Trade-Cleve
John Martinkovic 83 DE 6- 3 245 Xavier 5 5 28 12 1951 Trade-Wash
Doyle Nix 41 DB 6- 1 188 SMU 1 1 22 12 1955 Draft (18th)
Pat O'Donahue 81 DE 6- 2 215 Wisconsin 1 2 24 12 1955 FA-SF (1952)
Floyd Reid 24 HB 5-10 190 Georgia 6 6 28 12 1950 FA-Bears
Jim Ringo 51 C 6- 1 230 Syracuse 3 3 25 12 1953 Draft (7th)
Al Romine 23 HB 6- 2 190 North Alabama 1 1 23 4 1955 FA-Bears
Tobin Rote 18 QB 6- 3 215 Rice 6 6 27 12 1950 Draft (2nd)
Clarence Self 28 DB 5- 9 180 Wisconsin 3 6 29 2 1954 FA-GB (1952)
Joe Skibinski 63 G 5-11 228 Purdue 1 2 26 12 1955 Trade-Cleve
Jack Spinks 61 G 6- 1 240 Alcorn State 1 3 25 6 1955 FA-Cards-53
Dave Stephenson 53 G 6- 2 230 West Virginia 5 6 29 2 1951 FA-LA (50)
Veryl Switzer 27 HB 5-11 190 Kansas State 2 2 23 12 1954 Draft (1st)
Len Szafaryn 68 G 6- 2 230 North Carolina 4 5 27 12 1950 Trade-Wash
Deral Teteak 66 LB 5-10 210 Wisconsin 4 4 25 12 1952 Draft (9th)
George Timberlake 53 G 6- 1 220 USC 1 1 21 6 1954 Draft (3rd)
NAME NO POS HGT WGT COLLEGE YR PR A G HOW ACQUIRED
Val Joe Walker 47 DB 6- 1 179 SMU 3 3 25 12 1953 Trade-NY
Roger Zatkoff 74 T 6- 2 215 Michigan 3 3 24 12 1953 Draft (5th)
NO - Jersey Number POS - Position HGT - Height WGT - Weight YR - Years with Packers PR - Years of Professional Football AGE - Age at Start of Season G - Games Played FA - Free Agent
1955 PACKERS DRAFT (January 27-28, 1955)
RND-PICK NAME POS COLLEGE
1 - 5 Tom Bettis LB Purdue
2 - 17 Jim Temp DE Wisconsin
3 - 29 Buddy Leake HB Oklahoma
4 - 41 to Cleveland Browns for Jerry Helluin
5 - 53 Hank Bullough G Michigan State
6 - 65 Norm Amundsen G Wisconsin
7 - 77 Bob Clemens FB Georgia
8 - 89 John Crouch HB Texas Christian
9 - 101 Ed Culpepper T Alabama
10 - 113 *-George Rogers T Michigan
11 - 125 Ron Clark HB Nebraska
12 - 137 Art Walker T Michigan
13 - 149 Ed Adams FB North Carolina
14 - 161 Fred Baer HB Michigan
15 - 173 George Machoukas C Toledo
16 - 185 Charlie Brackins QB Prairie View A&M
17 - 197 *-Ed Beightol QB Maryland
18 - 209 Doyle Nix DB SMU
19 - 221 Robert Carter T Grambling
20a- 233 Carl Bolt HB S. Mississippi
20b- 236 Bob Antkowiak (A) T Bucknell
21 - 245 *-Lavell Isbell T Houston
22 - 257 *-Bill Brunner FB Arkansas Tech
23 - 269 *-Elton Shaw T LSU
24 - 281 Charles Bryant G Nebraska
25 - 293 Nate Borden DE Indiana
26 - 305 Jim Jennings E Missouri
27 - 317 Bob Peringer E Washington St
28 - 329 Jack Spears T Tenn-Chattan.
29 - 341 Sam Pino FB Boston Univ.
30 - 352 *-Bob Saia FB Tulane
A - from New York Giants for John Bauer * - Juniors
1955 PACKER TRANSACTIONS
JULY 21 - Released HB Ernie Wickstrom, HB Sam Pino, G John Nitz, QB Jack Wise and FB Joe Blaylock.
JULY 30 - Traded the rights to Art Hunter to CLEVELAND for OT Bill Lucky and OG Joe Skibinski
AUG 4 - Traded Carleton Elliott and 1956 3rd round choice to LOS ANGELES for OT Tom Dahms
AUG 18 - Signed P Dick Deschaine.
SEPT 20 - Claimed E Pat O'Donahue off waivers from PITTSBURGH.
OCT 3 - Released DB Clarence Self and E Jim Jennings.
OCT 4 - Released FB Bob Clemens. Signed DB Alton Romine off waivers from CHICAGO BEARS
NOV 7 - Released QB Charlie Brackins. Signed QB Paul Held.
NOV 15 - Released DB Jim Capuzzi. Signed DE Jim Jennings.
EIGHT COMING OUT OF SERVICE TO '55 PACKERS
JAN 3 (Green Bay) - The list could grow, depending on the generosity of Uncle Sam, but at the moment there are eight Packer potentials who are due to be out of service in time for football in '55. Four of the eightsome had a taste of professional football – fullback Bill Reichardt, tackles Tom Johnson and Bob Dees and halfback Bill Robinson. The rookies, though they've been pro-ized some in service football, are quarterback Johnny Coatta of Wisconsin, tackle Earthquake Turnbeaugh of Auburn, defensive halfback Gene Helwig of Tulsa and offensive halfback Gayton Salvucci of American International. Packer Scout Jack Vainisi said "these eight will be available for next fall." Whether they'll decide on continuing, in the case of the veterans, or starting, in the case of the rookies, is something else again. The four veterans played with the Packers in 1952 and all are completing two years of U.S. service which also included two seasons of football. Reichardt, Johnson and Dees were regulars with the Pack while Robinson, who started the '52 season with Pittsburgh, saw action in one league game, carrying three times for four yards in the Packers' victory at Dallas. Robinson had been bothered most of the season by injuries. Salvucci signed originally as a free agent, is almost certain to give the pros a whirl. He has been in touch with Vainisi by mail since he signed two years. Salvucci's assistant coach at Fort Dix, N.J., talked with Packer Coach Liz Blackbourn when the Packers were at Hershey, Pa., last August to play the Philadelphia Eagles, recommending him highly. During the past season, Salvucci had a spectacular record as a three-way halfback, rolling up 16 touchdowns in 10 games. He also threw passes for several other touchdowns and handled the punting. Salvucci stands an even six feet tall and weighs 185 pounds. Helwig was the Packers' 15th draft choice in '53; Coatta the 17th in '52; and Turnbeaugh the 22nd in '53. Helwig was a defensive specialist at Tulsa in the two-platoon days and is well known to Blackbourn whose Marquette team played that school. He stands 6-1 and packs 180. Coatta was Wisconsin's ace quarterback for two seasons and signed a Packer contract shortly before the '52 season started. However, he was called into service and never had a chance to play. He weighs 180 and stands 5-11. Turnbeaugh, a 265-pounder, gained a national reputation for being able to play football with practically n eyesight. Reportedly nearly blind, Turnbeaugh, the story goes, listened to earth tremors to figure out where his opponents were operating. The Army exploded the "good story" – first by drafting him and second by permitting him to play football in Japan…Coach Blackbourn is expected to return from the west coast Tuesday or Wednesday, while defensive backfield Coach Tom Hearden is due back from New Orleans and the Sugar Bowl about the same time. Blackbourn remained on the west coast after the Packers' windup at Los Angeles and saw several bowl games, including the Rose classic Saturday. Hearden visited Big Ten schools on his way to the Sugar event. Line Coach Lou Rymkus and Scout Vainisi will leave early Tuesday for New York where they'll take in the NCAA convention. The parley gave them an opportunity to get first-hand reports from coaches on the various prospects. Backfield Coach Ray McLean left Miami over the weekend for Mobile, Ala., where he'll start sizing up 48 players engaged in the Senior Bowl game there Saturday afternoon. Ray scouted the Orange Bowl game at Miami. The entire group will be together next week when final decision will be made on the draft in preparation for the '55 picking party in New York Jan. 27.
COMMITTEE TO SEEK COST ESTIMATE OF NEW STANDS
JAN 4 (Green Bay) - Acting on the report of the Packer Corp., suggesting new steel stands for City Stadium with between 30,000 and 32,000 seats, the City Council's finance committee Monday night asked representatives of the Packers, the Board of Education and the Park Board to attend the committee's Jan. 17 session to consider methods of obtaining a cost estimate for the proposal. The report from the Packer Corp., submitting to the Dec. 21 Council meeting, proposed the new stands with greater seating capacity because the present wood stands are becoming obsolete, are expensive to maintain, and are poorly designed, and because "a capacity of less than 25,000 puts the Packers at a considerable handicap in scheduled games in Green Bay, especially since the new Milwaukee County Stadium has entered the picture." The finance committee asked the Packer Corp. for its thoughts when the Park Board raised the proposal of building a stadium or arena on a 40-acre site at Military Ave. and Boland Rd. The Jan. 17 session will determine whether the hiring of an architect is the best method to obtain a cost estimate and, if so, who should pay the fee. Ald. Robert Bittner proposed Monday night that the Board of Education be authorized to hire an architect to draw plans and that he be paid if and when a decision was made to start the work. Bittner questioned the need for another joint meeting if no member of the committee challenged the need for the improvement but he withdrew his motion when other committee members said they thought the committee should obtain opinions and preliminary studies from the Packers, Board of Education and Park Board. Pointing to part of the Packer report which said NFL opponents compare the capacity of City Stadium and Milwaukee County Stadium and object to playing in Green Bay and which predicted that "this will be more embarrassing as time goes by," Bittner said the matter is of vital importance to the city and that the pressure to schedule games elsewhere will increase if the Packers have a winning team. Mayor Dominic Olejniczak, a member of the Packer Board, after prefacing his remarks by saying his first interest was for the city as a whole, said he thought the official discussion of City Stadium improvements would act as a "shot in the arm for the Packers" during schedule talks at the NFL meeting in New York Jan. 27. Olejniczak told the committee it could assume that new steel stands would cost between $30 and $35 a seat, or between $900,000 and $1,200,000 for the improvement suggested by the Packer Corp. report. In suggesting the project, the Packer Corp. proposed that it pay a percentage of its gross gate receipts as its share of the cost. Ald. Jerome Quinn said that consideration of the project should include answers to the questions of how long the city will continue to have the Packers and whether more seats should be added when all games are not now sellouts. Olejniczak and Ald. Otto Rachals replied that the committee should remember that present wooden stands will have to be replaced sometime and that a stadium of between 16,000 and 20,000 seats is needed for high school sports and other city events. Olejniczak said that, if the stadium were improved and enlarged, he favors keeping its control in the hands of the Board of Education rather than creating a special stadium body.
ALUMNI ASSISTING PACKERS IN DRAFT AS 'GRADS' REPORT ON COLLEGE STARS
JAN 4 (Green Bay) - The Packer Alumni Assn., whose avowed purpose is to help the Packers, has branched off into a new course of assistance. The former-player group, which is composed of 40 active, 66 associate and close to 100 prospective members, has thrown its weight behind the Packers' never-ending task of finding college football players who will make top-flight pros. This was revealed at the January dinner meeting of the association at the Beaumont Hotel Monday night. Bernard Darling, newly-elected president, revealed that letters and questionnaires have been sent to nearly 150 former Packers. The letter reads in part: "The Green Bay Packer Alumni Assn., is asking your help in securing information about college football players. As we know, many of our alumni members see a number of college games every fall and with their past experience as a professional player, we feel that the information we get from them will be of great value in helping the Packer coaching staff prepare its draft list for the draft meeting later this month. Enclosed, you will find a questionnaire which we would appreciate your filling out as completely as possible, giving all the information regarding college players that you think are of pro caliber and would help the Green Bay Packer team." Darling announced that reports already have been heard from nearly 40 players and "we're turning the information over to the Packers as fast as we get it." In some cases, the former Packer even reported on junior prospects, Darling said. In the questionnaire, the former pros are asked to give the athlete's name, school, class, position including offense or defense, weight, height, speed and service draft status – plus general remarks. The Help-The-Pack program, Darling believes, "will become more valuable as time goes on and some of us old pros see kids we might recommend make the grade. It will quite a thrill and we hope someday make the Packers a winner again." Heartily backed by Packer Coach Liz Blackbourn and members of his staff, the program is designed chiefly to "dig our stars from the smaller schools and to supply vital information on some of the widely-known stars." In another branch of assistance, the association offered to show Packer pictures and make speeches at meetings and dinner throughout Wisconsin during the offseason. While the Packers, themselves, like to make as many banquets as they can, it is sometimes impossible to give them all personal attention. That's where the association plans to step in. In other business, the group discussed (1) the possibility of running special trains to each of the Packers' league games in Milwaukee next fall, (2) changing Homecoming from the last City Stadium game to the Bear game there, and (3) the 1955 Quarterback Club. The special-train idea resulted from the success of the excursion run on the Milwaukee Road to the Packer-Baltimore game in Milwaukee last fall. "The beauty of that kind of trip is that the fans are taken right up the stadium," Darling said. Switching Homecoming to the Bear game would permit more members to see the game since it's earlier and "more of the boys would like to see us beat the Bears," he pointed out. Ways and means of souping up the Quarterback Club, whose attendance dropped off considerably this season despite new interest in the team, were placed in the hands of a committee composed of Jug Earp, Charley Brock and Darling. Before the main business session, officers were elected – Darling, president; Brock, vice-president; Gus Rosenow, secretary-treasurer; and Al Petcka, sergeant-at-arms.
E.A. SPACHMANN DIES; EX-PACKER TICKET DIRECTOR
JAN 5 (Green Bay) - Emil A. (Spike) Spachmann, 66, director of ticket sales for the Green Bay Packers for over 20 years until he left the post about 1943, died Tuesday night. He had been an invalid since September 1953 as the result of a stroke. He is survived by his widow. Funeral services are scheduled for Friday.
GIANTS' CANADIAN 'STEAL' TO AFFECT PACKERS, ROTE?
JAN 5 (Green Bay) - The New York Giants, who figured they got a bum deal when veteran tackle Arnie Weinmeister skipped to Canada a year ago, felt bitter today. Our big-city pro football brothers evened the score by swiping one of Canada's outstanding backs – Alex Webster, who tied a Big Four record last season with 16 touchdowns for Montreal. Webster, a 23-year old product of North Carolina State, has been due to arrive in Montreal Tuesday from his Kearney, N.J., home to discuss final details of a $6,000 a year offseason job the Alouettes had arranged for him. Instead, he telephoned Montreal owners to say he had accepted the Giants' offer. The signing of Webster undoubtedly will spur competition between the Canadians and the NFL – a turn of affairs that reaches right into Green Bay. Leo Dandurand, president of the Montreal club, called the shot: "The Giants' action in going after one of our best players only widens the breach between Canadian teams and the NFL." Several weeks ago, the Canadians indicated that they will take more interest in established pro football stars than in college heroes who have yet to prove their worth in the play-for-pay sport. Thus, it would seem that the Canadians made the first move – at least as to their group intentions, and then followed up by contacting a number of proven National Leaguers. One of the first to be offered a contract was the Packers' Tobin
Rote. Winnipeg and Toronto came out with reported $20,000 deals for Rote shortly before Christmas. Quarterback Tobin said at the time that "that's too much money not to consider." Rote indicated that he expects to play in Green Bay but will make his final decision the middle of this month." The Giants' success in signing Webster may be an indication of the American athletes' feeling toward playing in Canada. Though a "favored few" are paid high salaries, conditions are tough there; they play twice a week; the high-paid boys must work both on offense and defense; travel conditions aren't always first rate; and neither are training facilities. The Canadians reportedly have been in touch with three or four other Packers, including pass catcher Billy Howton. And players of other clubs are constantly being called, including four members of the strong Detroit Lions…Packer Coach Liz Blackbourn was back at his desk today and "a good deal of time had to be spent in cleaning up this mail," he said. Blackbourn remained on the west coast after the Packers' windup in Los Angeles, scouting several bowl games and checking on player prospects. Assistant coach Tom Hearden is due back later this week. He's driving in from New Orleans where he scouted the Sugar Bowl after visiting Big Ten schools. Aide Ray McLean is at the Senior Bowl camp in Mobile, Ala., and will return after the North and South Seniors clash there Saturday afternoon. Line Coach Lou Rymkus and Scout Jack Vainisi are in New York, attending the NCAA convention.
OTHER NFL TEAMS 'APPROVE' STADIUM DRIVE BY PACKERS
JAN 6 (Milwaukee) - Another reason why the Green Bay Packers would like a new stadium at Green Bay popped up today. The rest of the NFL, it develops, is not particularly interested in playing the Packers in a stadium where capacity is in the neighborhood of 25,000. And, since professional football is strictly a business proposition, you can't blame them. The report made by the Packer Corporation to the Green Bay City Council last month contains a significant passage. "A capacity of less than 25,000 put the Packers at a considerable handicap in scheduling games in Green Bay," says the report, "especially since the new Milwaukee County Stadium has entered the picture." The Packers have asked the city to erect new steel stands on the present site of City Stadium, increasing the seating capacity to between 30,000 and 32,000. Reasons given included the fact that the old wooden stands are becoming obsolete, are expensive to maintain and are poorly designed. The scheduling difficulty was added after the other three. The Packers now pay the cost of maintenance of the stadium. If the city will erect a new one, the corporation said, it will help pay for the structure on a percentage of gross gate receipts. As a matter of record, of course, Green Bay has outdrawn Milwaukee ever since the Packers started splitting their six home games on a three-three basis. That holds true even for the last two years, when the Milwaukee games was played at the new Stadium. It's also on the record that the Packers' road draw was far better than the home gate - 228,642 to 118,668 last season. The top road games attendance wise were 55,532 at Detroit and 47,038 at Chicago, obviously far above the totals for the two teams' showing at Green Bay. But even the hapless Baltimore Colts drew more for their game with the Packers at Baltimore than at Milwaukee - 28,680 to 19,786 - and both were nationally televised Saturday night tilts. Consideration will be given the new stadium proposal January 17 when the Green Bay Council's finance committee meets to consider methods of obtaining at cost estimates.
TONNEMAKER DECIDES TO QUIT - AT 26
JAN 6 (Green Bay) - Clayton Tonnemaker has decided to hang up the moleskins – at the tender age of 26 years and seven months. The Packer defensive captain, first draft choice in 1950 and all-time All-America from Minnesota, revealed his plans today in a letter to Packer Coach Liz Blackbourn. The second captain to retire in two years (Bob Forte quit a year ago at the age of 33), Tonnemaker has accepted a job with Cargill, Inc., a large grain merchandising firm with headquarters in his hometown, Minneapolis, and shortly will start a six month to a year training program. Tonnemaker had hinted of retiring while out on the west coast for the final two games. He had been plagued by knee troubles in the last half of the '54 season. Blackbourn said today, "I hate to see him quit – I think he has a couple of good years left. Clayton was an intelligent, thinking player and called our defensive signals. Losing him is a rough loss." In a letter to this writer, Clayton wrote that he was happy about his "future with Cargill and the only sad thought I have is when I realize that I won't be in Green Bay with all my friends this coming fall. That
doesn't mean, however, that I won't be in Green Bay for a game or two next fall." Big Clayton, one of the best liked of Bay players, actually played only three pro seasons because of Army service. After winning all of the All-America honors as a senior at Minnesota in '49, Tonnemaker won all-pro as a rookie linebacker in '50. He spent the next two years in the Army Medical Corps and returned in time for the '53 season. Loss of Tonnemaker makes the Packers' draft plans more complicated. Yesterday afternoon before definite word about Clayton had been received, Blackbourn indicated that the club's chief needs for next year will be a quarterback "of some type", a tackle, a guard and a defensive halfback – "depending, however, on what we lose to the service." Today, Liz indicated that some thought will have to be given to selecting a linebacker to replace Tonnemaker and work in with veterans Roger Zatkoff and Deral Teteak. The Packers stand a chance of losing halfback Veryl Switzer, tackle Art Hunter, guard Al Barry, end Max McGee and quarterback Bobby Garrett to service, although changing service regulations could make some of them available next fall. If all five are lost, Liz pointed out, "we'll be back where we were last year – plugging holes instead of strengthening a good nucleus." Three of the "possibles", it can be noted, come out of the offensive line and the other two, Garrett and Switzer, are out of the offensive backfield. At the moment, Blackbourn is awaiting the return of his assistant coaches before proceeding with plans for the draft. "We'll have to compare notes, weigh our possible losses and then draft accordingly," Liz pointed out. Aides Tom Hearden is on his way back from the Sugar Bowl, Ray McLean is at the Senior Bowl camps, and Lou Rymkus and Jack Vainisi are at the NCAA parley in New York. They'll all be together next week. Blackbourn, who returned to his office yesterday morning after a prospect-seeking tour of the west coast, is studying pictures of the East-West Shrine game. The films furnish him with an excellent opportunity to watch each player in action. In addition, Liz has a stenographer's notebook detailing his 2,400-mile trip up and down the west coast – a journey that started the Monday after the Packers' windup in Los Angeles Dec. 12. He interviewed around 40 athletes and saw four games, including the Rose Bowl and service encounters. As a windup before the Rose event, Blackbourn viewed 12 practice sessions of the East and West teams – six each. The other coaches also will bring forth notebooks, jammed with names, comments, etc. From these notes and reports from bird-dog scouts – not to mention bound player files, final decisions will be made on the draft.
​STEELERS TO WIN BONUS CHOICE?
JAN 11 (Green Bay) - Here's our annual scoop: The Pittsburgh Steelers will win the bonus choice at the annual meeting of the NFL in New York Jan. 27 – two weeks from Thursday. One year ago, we boldly revealed that Cleveland's Browns would win the bonus choice. They did! The prediction on the Browns was based on the theory that the rich get richer. A year ago, the Browns drew against Green Bay, Pittsburgh, Baltimore and Chicago Cardinals. It was no contest – when the theory was applied. Why will Pittsburgh win the 1955 bonus? Simply because Art Rooney's hard hitters are the richest of the four clubs which will pick slips of paper out of a hat in NY's Warwick Hotel at 9 o'clock, Green Bay time, on the morning of Thursday, Jan. 27. Rooney's "money bag" tag comes from the fact that his team finished with a 5-7 record in '54. Green Bay is next richest, as it were, with 4-8; Baltimore third with 3-9, and the Cardinals are practically on relief at 2-10. The so-called rich theory has held true in six of the eight bonus pickings, including the last five. Here's the breakdown on bonus winners since the plan was commenced by Commissioner Bert Bell in 1947, showing how the team was rich (poor in two cases) the previous season: 1954 – Browns picked Bobby Garrett, won division title in '53. 1953 – San Francisco picked Harry Babcock, chased Detroit and LA almost down to the wire. 1952 – Los Angeles picked Billy Wade, won world's championship in '51. 1951 – New York Giants picked Kyle Rote, tied for conference lead in '50. 1950 – Detroit picked Leon Hart, finished with 4-8 in '49. 1949 – Philadelphia picked Chuck Bednarik, won championship in '48. 1948 – Washington picked Harry Gilmer, finished with 4-8 in '47. 1947 – Chicago Bears picked Bob Fennimore, won championship in '46. The "routine" of this year's prediction could be upset because of two spots in our crystal ball which, it might be revealed, brought about this whole business a year ago. The first spot is that the Browns didn't keep their bonus choice. This is highly unusual; it never happened before. They traded Bobby to the Packers – a deal that could actually make that crystal ball bounced, thus throwing it out of Rooney's waiting mitts and into the hands of a poorster…TIGHT GAMES YET: The other spot concerns tight games, in which certain folks' luck might already have been used up. The Steelers nipped our Packers by one point, 21-20, in Green Bay last Sept. 26. While the statistics show we could have absorbed a fatter loss, the final difference still remained only one point. Maybe Rooney's luck will run out against GB – in the bonus pick! The Packers had a spot of luck, too, against the Baltimores out there Oct. 24. We won 7-6 – thanks to a fumble recovery on the Colts' seven. Coach Liz Blackbourn figured "we were lucky." Leave us hope, etc., etc. Anyhow, keep the fingers crossed. Which is all us civilians can do now. Just in case we win the bonus, the Packer staffmen will be ready. Blackbourn and Aides Tom Hearden, Ray McLean, Lou Rymkus and Jack Vainisi have been thinking draft since the '54 windup and they're presently buried under a raft of prospects at 349 S. Washington St. Blackbourn was out for a few hours yesterday to fight the flu but was back today – "feeling better, thank you." Liz had trouble with the same bug on the west coast but floored it in a day.
LIZ, AIDES STUDY REAMS OF PLAYER DRAFT DATA
JAN 12 (Green Bay) - The vast job of assembling thousands of names, heights, weights, ages and military service particulars is now occupying the Packer coaching staff. All of the information is being boiled down on one large worksheet and will serve as the "nucleus" of the Packers' draft for 1955 talent at the annual NFL parley in New York Jan. 27. Coach Liz Blackbourn and Aides Tom Hearden, Ray McLean, Lou Rymkus and Jack Vainisi will be up to their necks until two weeks from today when they will leave for the draft. The so-called preliminary work has been finished, such as the actual scouting, talking with coaches and players and this year viewing a full-length film of the East-West game. The job now is to get the names down by position and to grade them according to ability. While this is going on, the coaches are constantly thinking over the actual needs of the club. This presents a difficult problem because definite decisions have not been received to date as to the availability of such service-ticketed veterans as Bobby Garrett, Veryl Switzer, Max McGee, Al Barry and Art Hunter. A year ago, Blackbourn, then a freshman coach in the pros, took one look at 1953 games pictures and found in a hurry that the Packers needed linemen and "that one good back." He drafted accordingly, the two big results being tackle Hunter and halfback Switzer…SERVICE LOSSES PROBLEM: This year, Blackbourn had hoped to go into the draft to "improve what we already have." However, he said the other day, "the losses of various players to the military may forces us to fill holes again instead of improving." Blackbourn feels that the Bays need a tackle, guard, a defensive halfback and a quarterback "of some type." He indicated that those are the basic needs. A good prospect for each of those position likely would mean that the club would be improved. Any standouts in addition to those would be gravy. The Packers undoubtedly will be going into the 1955 draft in much better "condition" than they were able to a year ago. The changeover from the Ronzani regime late in November left a number of bowl games and territories practically untouched, although Vainisi and McLean carried on with the draft plans. When Blackbourn arrived on the scene Jan. 11, Vainisi had complete lists of all players. This year, in addition to Vainisi's systematic planning, the entire coaching staff (which has not intact a year ago) has been able to get out on the road and watch the athletes in action, meet them and speak with their coaches. The demanding draft has forced the coaches to stay close to home at least for the next two week. After the draft, they'll be off again, signing players. The coaches will be unable at attend the "Ameche Day" banquet in Kenosha tonight, honoring the University of Wisconsin fullback star. The Bays will be represented by one of their greatest stars – the immortal Don Hutson and, as Blackbourn put it today, "I'm sure we couldn't find anyone better to represent the Packers." Hutson lives nearby in Racine. Also present will be the entire coaching staff of the University of Wisconsin. Ameche's gridiron accomplishments will pay off at a dollar a year tonight. Since Ameche broke the collegiate rushing record, citizens in Kenosha and area have been conducting a drive to match his yardage in dollars. The Horse wound up his college career with 3,212 yards. The money, along with official title the Kenosha-built Hudson automobile he got last week, will be handed Ameche tonight. Chris Edmonds, Associate Press sports editor for Wisconsin, will present Ameche with the official certificate naming him an All-America fullback.
HUNTER IN! PACK SANS TACKLE LIST
JAN 13 (Green Bay) - Packer Coach Liz Blackbourn took an extra look at a long list of college tackles today and then eyed Line Coach Lou Rymkus. This double view was prompted by word that former Notre Dame tackle Art Hunter, the Packers' No. 1 draft choice last January, was in the process of being inducted into Uncle Sam's Army as a private. Hunter, the club's regular offensive right tackle, lost his civilian status at Riverside, Calif., this morning and likely won't regain it for 18 months – in time to play in 1956. The loss of Hunter wasn't entirely unexpected although Blackbourn was hoping that the cutdown in service requirements might help him stay another season. He had played the last few games on time borrowed from service. Though the Packers will be in search of a top-flight tackle in the draft, the Hunter business automatically brought forth a tightening of the search for men playing in that position – especially on offense. Liz's extra look at Rymkus, 35, might have carried a bit of humor because the jovial former Cleveland Brown star undoubtedly gets the playing itch many times during the playing season. There were a couple of times last season when Blackbourn might have toyed with the idea of suiting up Lou…PLAYED LIKE RYMKUS: Rymkus, like Hunter, was an offensive right tackle. And, as Baltimore Coach Weeb Ewbank said a couple times last fall, "that Hunter certainly is showing the stuff that Rymkus showed when he played with the Browns – looks a lot like him." Ewbank coached Lou at Celveland before he went to Baltimore. While mention of Rymkus playing may be so much fun, Lou's job in developing an offensive tackle to replace Hunter is not a laughing matter. He hopes to bolster the Packer line, especially at tackle, out of the draft and several returning-from-service players including veterans Bob Dees and Tom Johnson and rookie Earthquake Turnbeaugh. Hunter, incidentally, is the first of five hoped-against losses to the service. Others due are Veryl Switzer, Max McGee, Bobby Garrett, Gene White and Al Barry – though the aforementioned cut in service requirements may save some of them…PRO BITS: The Packer coaching staff, including Liz, Lou, Tom Hearden, Ray McLean and Jack Vainisi, and Packer GM Verne Lewellen were among guests at a beef dinner and smoker at a hunting shack near Little Suamico last night. Bernard Darling, Packer Alumni club prexy, served as host…Packer fullback Fred Cone has joined the Miller Brewing Co. sports promotion department.
NO. 1 QUESTION: WHO'LL BE FIRST PACKER CHOICE?
JAN 14 (Green Bay) - One of the big questions kicking around the coffee marts these days is this: Who will be the Packers' first pick in the draft? Coach Liz Blackbourn isn't answering that question for various obvious reasons. Among them are (1) the uncertainty at the moment as to the particular rookie stars of '54 who may or not be called into service; (2) the work of assessing the college stars hasn't been completed yet; and (3) other clubs in the National League are anxious to know who the Packers will pick No. 1. The Packers stand a chance of making the very first selection of the draft – if they win the bonus choice in a contest with Pittsburgh, Baltimore and Chicago Cardinals. If the Packers don't win the bonus, they'll draw in the No. 4 slot – behind the Cardinals, Washington and Baltimore. In hashing over the Packers' No. 1 selection, one must first decide which position on a football team is the most important. There doesn't seem to be much argument that quarterback is the key role. The QB calls the signals, throws the passes and, in general, carries the load. Thus, most teams are looking for that No. 1guy and generally will select one of his breed first. It is interesting, however, to note briefly that only two quarterbacks have been chosen as bonus choices since 1947 – Billy Wade by Los Angeles in '52 and Bobby Garrett by Cleveland in '54. Do the Packer need a quarterback? They have Tobin Rote and Garrett, who came here via trade last August. In addition, former Badger Johnny Coatta is due out of service. Rote undoubtedly will be the kingpin against next fall, despite the offers from Canada, but Garrett may go into service. Which leaves Coatta, who has been out of action two seasons…Who will aid Rote if Garrett leaves and Coatta doesn't pan out? The college field, while not overloaded with QBs, contains two highly-touted gents in George Shaw of Oreson and Ralph Gugliemi of Notre Dame – both good sized lads, good passers and either might do the job and one could wind up in Green Bay. While QB names look good, it still remains to be seen whether or not the Packers need a player of a different position – such as tackle or defensive halfback. Actually, the No. 1 player in the nation last year – as Garrett was in 1953 – was Wisconsin's yard-making fullback, Alan Ameche. The Kenosha Kid won every honor in the country and, what's more, wants to play pro ball. Ameche presents quite a problem for the Packers. The club doesn't need a fullback, but fans around the state probably would frown if the Packers didn't draft him – if Green Bay gets the chance…While the Packers have Howie Ferguson, Fred Cone and Bill Reichardt (who is coming out of service) at fullback, Ameche would still be a valuable addition if, for instance, Blackbourn knew he could beat out those three. Of course, that's the gamble every club takes with every college star. The average Joe in Green Bay is wondering plenty about Ameche these days. Joe Phan here is used to seeing his fullback – be he Ferguson, Perry, Jagade, Bowman or Bassett – catch a pass, break away and run like a halfback. Old Joe hasn't seen Ameche do much of that at Wisconsin. Ameche was limited to 14 yards in the Senior Bowl and was outplayed by Maryland fullback Dick Bielski in the North-South game. Yet, Alan will go high in the draft – possibly first. He has plenty of heart and absorbs coaching well – which could include pass catching.
CURRAN CITES WISCONSIN LAW
JAN 14 (Green Bay) - A court test of the "no-contest" clause in NFL player contracts were underway today in Circuit Court here. In contention is a claim by Richard (Dick) Curran, former Arizona State halfback, that the clause is contrary to Wisconsin state law. Curran, dropped by the Green Bay Packers before the league season opened last fall, has filed a $26,000 damage suit against the club. The contract clause to which Curran objects says: "All matters in dispute between the matter and the club shall be referred to the commissioner (NFL Commissioner Bert Bell) and his decision shall be accepted as final, complete, conclusive, binding and unappealable." In his complaint, Curran said he was signed by the Packer last June at an agreed minimum salary of $6,500. On August 25 he suffered a knee injury in scrimmage at the Packers' training camp and a cast was placed on the knee. According to Currant, the attending physician ordered the cast left on for from three to five weeks, but one week later it was removed and he was given oral notice of discharge. He contends the action was taken because of the injury and that league rules forbid a member team from releasing a player while injured. In their answer, the Packers deny that Curran was released because of his injury, adding that he had insufficient ability to complete in the NFL. Curran's suit asks that he be paid the $6,000 due to him under the contract and $20,000 on grounds his discharge by the Packers injured his reputation as a professional football player.
ROTE OKAYS 2-YEAR PACT
JAN 15 (Green Bay) - Packer Quarterback Tobin Rote, hotly pursued by Canadian football since the middle of the 1954 season, has agreed to terms of a two-year contract with the Packers. Coach Liz Blackbourn made the announcement today following several long-distance telephone conversations with the veteran passer and signal caller in Bellaire, Tex., a suburb of Houston. Terms of the contract were not revealed. Thus, the Packers won their first skirmishes of the new year with Canadian grid forces. The Rote chase actually started the day before the Bear game in Chicago Nov. 7 when the two Canadian teams made their first bid. During the holidays, Rote revealed that he had been offered $20,000 to play in Toronto or Winnipeg in '55. The former Rice state said then that his heart was still in Green Bay but "that is too much money not to give some consideration; I'll decide the middle of January." Rote gave two reasons for his decision to pass up Canadian football: (1) "The excellent treatment I received in Green Bay" and (2) "the best coach in the game." Rote had always thought highly of the fans in Green Bay and often called them "the best any player could ask for." Rote was impressed by his new head coach, Blackbourn, from the first day of practice last season. One of the main reasons is that Liz helped Rote restore confidence in himself on the gridiron. In addition, Rote felt that Liz helped make him a better, all-around football player. Rote, who turns 27 years of age next Tuesday, will be staring his sixth Packer season. He was the Packers' No. 2 draft choice in January of 1950 – the last draft made by Curly Lambeau. Rote led the Packers in passing in each of his five seasons despite the presence of such gents as Paul Christman, Bobby Thomason, Babe Parilli and Bobby Garrett. On the basis of yards gained per pass attempted – the rule by which passers are ranked in the league, Rote beat out Christman in '50, Thomason in '51 and Parillin in '52-53 while sharing the throwing with them and carried the load in '54. Rote now ranks as the Packers' all-time passer, breaking four of Cecil Isbell's old marks and one of Arnie Herber's last fall. Here are Rote's marks: Most passes completed in career, 523; old mark, 419 by Isbell in five seasons. Most passes completed in one season, 180 in 1954; old mark, 146 by Isbell in 1942. Most passes attempted in one season, 382; old mark, 268 by Isbell in 1942. Most yards gained passing in career, 7,355; old record, 6,741 yards by Herber, nine Packer seasons. Rote also set a league record in 1954 with his 382 attempts; the old record was 364 by Otto Graham of Cleveland in '52. He established a Packer mark for most yards gained passing in one game, 335, against the Rams Dec. 16, 1951; Isbell set the previous mark, 333, against the Chicago Cardinals Nov. 1, 1942. Rote is only five touchdown passes short of tying Isbell's all-time Packer mark of 59. Tobin hurled 14 for TDs last fall to give him 54. The runningest QB in Packer history, Rote picked up 1,472 yards rushing in his five seasons, including 301 last fall.
PICK GREEN BAY ATTORNEY FOR NEW JUDGESHIP
JAN 15 (Baraboo) - Frederick Trowbridge, 54, prominent Green Bay attorney, is the choice of Wisconsin's Republican national committeemen for the new federal judgeship in eastern Wisconsin. Henry Ringling, who as committeeman largely controls GOP patronage on federal posts in the state, wired his recommendation Friday to Attorney General Herbert Brownell. The Attorney General was asked to request President Eisenhower to appoint Trowbridge to the post. Trowbridge is president of the Wisconsin Bar Association and has been a member of the Brown County Republican committee's finance committee for 20 years. He is on the executive board of the Green Bay Packers football team and a member of the board of governors of the U.S. Circuit Court of Appeals, Seventh District.
ORDER ARCHITECT, COST ON STEEL STANDS
JAN 18 (Green Bay) - The possibility of improving City Stadium with steel bleachers seating up to 32,000 moved into the fact-finding stage today after a Monday night meeting of the City Council's finance committee with representatives of the Packer Corp., Board of Education and Park Board. The committee, in action which will be reported to the Council tonight, ordered the Board of Public Works and/or the Board of Education, which operates the stadium, to hire an architect to prepare plans and make a cost estimate. Mayor Dominic Olejniczak suggested that the Board of Public Works could undertake the project after Ald. Jerome Quinn, council representative on the Board of Education, and Superintendent of Schools Fred Wandry commented that the board presently has three school expansion studies on its hands. Quinn also said he thought the stadium expansion was beyond the field of the Board
of Education. Wandry promised the board would decide at its Jan. 24 meeting whether it could participate in the study, whether it can handle the work alone, or whether it wants the Board of Public Works to take charge. Monday night's session was a follow-up of committee consideration of a report from the Packers which suggested steel bleachers between 30,000 and 32,000 and pledged part of Packer gross gate receipts to help pay for the improvements. The Packers submitted the report in response to a committee request for an opinion on a possible stadium site at Boland Rd. and Military Ave. Packer Corp. President Russ Bogda told the meeting the Packers had concluded that expansion of the present stadium was the most economical possibility since other facilities, as the press box, were already present. "The big need is for added seats," Bogda said. He said the Packers suggested enlarging the seating capacity "first, because we think we can fill them and, second, because it is increasingly difficult to schedule game here." The Packer report said City Stadium's 25,000 capacity limit compared with Milwaukee County Stadium put the club at a considerable handicap in scheduling games in Green Bay and is a situation which "will be more embarrassing as time goes by." "For example," Bogda told the meeting, "there isn't any question that 42,000 seats would be sold if the Bear game were played in Milwaukee or that the same would be true if Green Bay had that many seats." In response to a question from Ald. Robert Bittner, committee chairman, Building Inspector Al Manders said maintenance costs of the present wooden stadium is increasing and "the time for replacing two-thirds of the stadium isn't too far away." Only opposition to the committee's action was voiced by Ald. Leonard Jahn, an advocate for a new stadium at Military Ave. and Boland Rd., which the committee later ordered bought as a park or arena site. He called the enlarging of City Stadium "nearsighted" and predicted that the present stadium could never be expanded above 35,000 seats if the need should arise. He said a stadium of between 6,000 and 7,000 seats would be adequate for East High School and that "it wouldn't hurt to play the East-West game on the west side." Jahn said the people of Green Bay would rather see a new stadium with plenty of parking space and he asked whether the Packers had considered the parking factor in their report…PARKING CONSIDERED, BOGDA: Bogda replied that parking had been considered and mentioned as possible parking lots on the site of old homes in the area, a foot bridge across the East River from a park on the east shore, and the probability that the University Extension Center may move from its present Baird St. location. Bittner labeled Jahn's criticism as "unfair" in the light of the complete report from the Packers, which, he said, considered all factors. When the possibility of a stadium at the Military-Boland location being used as the "home" for West High football was raised, Wandry said the practice of having the stadium adjoin the school was preferred but he agreed that the present Wildcat field could be retained as a practice field. In opening the session, Bittner noted that city government realizes the importance of the Packers and "had an interest in keeping the Packers in a competitive position in the NFL, at least as far as facilities are concerned." The fact that all discussion was centered on what the improvement should be rather than questioning the need, he said, after the committee vote, underlined this point.
RECOMMEND PURCHASE OF PARK SITE
JAN 18 (Green Bay) – The City Council's finance committee Monday night voted to recommend to tonight's Council meeting that $30,000 be spent as the down payment on a 38-acre tract at Military Ave. and Boland Rd. for a new park and possible arena or auditorium site. The recommendation came after the committee asked for the hiring of an architect to prepare a cost estimate for improving City Stadium. The Park Board obtained an option to buy the west side location from George Morrow last year for $58,000, and $30,000 was included in the 1955 city budget for a possible down payment after the finance committee asked for reports on how the land could be used, including questions as to whether the Green Bay Packers considered it wise to build a new stadium. Six lots on the tract include buildings. The city had paid the owners $500 for the option and would pay the remaining $27,500 in five years. Marshall Simonds, park superintendent, told the committee the area was "ideal for a park location." He said tentative plans already were made for use of the buildings as caretakers' headquarters, storage and a stable. Simonds said the topography of the area would make it possible to scoop out a "bowl" for sports and entertainment events and provide hills for spectators to watch baseball games and band concerts.
1955 TRAINING CAMP UPDATE
JAN 18 (Stevens Point) - No choice has been made by the Green Bay Packers concerning their 1955 training camp but Stevens Point has the inside track toward entertaining the professional football team for the seconds straight summer. The city officially invited the Packers several weeks ago after Central State College, the Board of Education and the Chamber of Commerce expressed a desire to have the state's NFL entry in town for its pre-season practice period. Verne Lewellen, general manager of the club, answered the invitation by saying that the contract offered by Stevens Point was another excellent one but that no decision would come until early this year. At that time the Packers still had a game or two remaining on the schedule and since then have been busy with signing players and preparing for the college player draft coming up later this month. In all probability, Stevens Point will learn about the Packers' 1955 training plans sometime in February. The Bays spent six weeks here in July and August last year and their here featured an intra-squad game as well as a couple of jaunts to Minneapolis, Pittsburgh and Green Bay for exhibition games.
BLACKBOURN AFTER VITAL 'DRAFT' HELP
JAN 19 (Milwaukee) - Coach Lisle Blackbourn prepared today to go into the NFL draft with a dismal list of holes but a bag full of hope. "We hope we'll be able to fill a few key spots before the draft," Blackbourn said, "and not have to struggle in the draft just to stay alive." Blackbourn said to do this his Green Bay Packers coaching staff was lining up all the talent possible before the draft starts. Players who played for the Packers before and the like. "We feel assured we will get a couple of experienced men," he said, "and we can put more concentration on improving our position in the draft, rather than having to choose to just fill holes." Blackbourn had cause for alarm. Selective Service already had plucked one outstanding second-year man, tackle Art Hunter, and several more were threatened. Quarterback Bobby Garrett, Tobin Rote's only understudy at present, halfback Veryl Switzer and guard Al Barry were expected to follow Hunter before long. End Max McGee, defensive guard Bill Forester and defensive halfback Gene White were in a doubtful category. On top of all that, veterans Clayton Tonnemaker, a mainstay at linebackers, and guard Dave Stephenson have retired. One of Blackbourn's worries was erased recently, however, when Rote signed for the 1955 season, at the highest price paid a Packers player, ending possibilities he might desert to Canada. Four expected service returnees lightened the picture some with Johnny Coatta, former Wisconsin star, heading the list as Rote's possible understudy. Others who get out of the service before the season are tackles Tom Johnson of Michigan and Bill Turnbull of Auburn, and fullback Bill Reichardt of Iowa. Blackbourn often seemed like a coach of destiny last season as he brought the Packers off the mat into fighting contention the first time in several year. The story was not clearly indicated by the 4-8 won-loss record because Green Bay lost only one game by a decisive margin. The Packers coach wasn't telling about his first draft choice, but the name Alan Ameche spells magic in Wisconsin. Too, Blackbourn would have little fear of losing Ameche to Canada, unless the money difference was fabulous because the Wisconsin fullback said he wants to play in the Midwest. Canada seems to be popping up when talking about Blackbourn and the Packers. The man of destiny seems to have an affinity for the north star.
LIZ EYES LATE ROUNDS IN '55 PLAYER DRAFT
JAN 20 (Green Bay) - The last 10 rounds of the Packers' last five college player drafts have produced one pro – guard Al Barry, the 30th choice in the 1953 pickin' party. Barry represents .02 percent of the 50 players chosen in the final 10 heats starting with Curly Lambeau's last draft in '50, continuing with three by Gene Ronzani, and one by Coach Liz Blackbourn. There's still hope that Barry may have a last-10 partner because several boys from the 1953-54 drafts slipped into service and still haven't had their chance to shine. The lack of success in the lower 10 or in some cases 15 hasn't only plagued the Packers. The other 11 clubs have the same trouble. Since 240 of the possible 360 players already have been chosen by the time the last 10 rounds start (the draft goes 30 rounds) the chances of picking up sure-fire bets would seem to be poor. But, as Blackbourn put it today, "we will do better in the later rounds. Of course, we still must have plenty of luck and good judgment." Blackbourn hopes to combat the last-10 jinx through a methodical system of cross-checking, which presently is occupying Blackbourn and aides Tom Hearden, Ray McLean, Lou Rymkus and Vainisi. The coaches, for instance, are checking their own personal player recommendations with those given by college coaches and various "bird dogs" around the country. These recommendations are totaled and the Packers thus gets another check on the prospects. One athlete – not a name one – had been recommended from seven different outside sources. In the cross-checking, Blackbourn is more interested in recommendations for the so-called unknown athletes since the reputations of the big-time athletes already have been pretty well established…DRAWN IN NO. 4 SPOT: After this check, the Packer staffmen total up the recommendations made by teammates and opponents of the athletes concerned. The recommendations are then compared to those made by the Packer coaches and the outside coaches and BD's. Hundreds of players are checked in the process. From the individual lists by position, Vainisi will prepare a giant master list, also by position and with weights, heights, etc., for use at the draft staring in New York a week from today. Green Bay will draw in the No. 4 position in each round behind the Chicago Cardinals, Washington Redskins and Baltimore Colts. The Packers also will participate in the drawing for the bonus choice with the Cards, Colts and Pittsburgh. The draft will start at 9 o'clock, Green Bay time, next Thursday morning in the Warwick Hotel and continue until its completion – probably about 1 o'clock Friday morning…PACKER PATTER: Packer tackle and Mrs. Dave Hanner were due in town today, making the second Packer couple in a week to stop here. Halfback Joe Johnson and his bride stopped briefly on their honeymoon. They drove all the way from New Haven, Conn. Incidentally, New Englander Joe was born on the west coast – in San Francisco on April 13, 1927… The Packers leave for the draft next Wednesday morning, arriving in New York in time to handle last-minute draft details.
PRO GRID CHIEF JOINS CHORUS FOR 'DEAD BALL'
JAN 21 (Green Bay) - The whisper that started going around the NFL a couple of years ago for some sort of a dead ball rule has now reached the yelling stage. Most of the 12 clubs have expressed themselves in favor of such legislation, including the Packers, and, what's more, Commissioner Bert Bell has jumped on the D-B bandwagon. Bell's backing makes a new rule for stopping a ball carrier when he hits Mother Earth, except if he's in the clear, pretty much of a certainty. The issue will come up for vote at the league's annual convention in New York next week. The dead ball rule has been a subject for controversy all season because of inconsistent officiating, which permitted wrestling, crawling and piling on before the whistle was blown. A strict interpretation of the pro rules as now written would eliminate these evils and their potential for injuries but a dead ball rule as proposed by Bell would not require judgment by the official. He would make it automatic that the ball is dead immediately when the runner hits the ground, aside from his hands or feet, after being tackled, pushed, blocked or otherwise touched by an opponent. The pro rules now call for dead ball only when the runner hits the ground while in the grasp of an opponent or when he is in a prostrate or semi-prostrate position and is danger of being piled on. Strict interpretation of that rule put the heat on officials by the coaches who claimed "quick whistle". Thus, Bell would take the heat off the officials. The rule would not take away one of pro football's most exciting plays, the get-up-and-go of the runner who falls in the open without contact. Packer Coach Liz Blackbourn has been in favor of a dead ball rule all along. Liz feels that "the game is spectacular enough with its great passing" and believes that "a dead ball rule would take nothing away from the excitement of the game." Bell also will present a plan to do away with fake injuries in the final two minutes. He would like to install a law which would require an arbitrary 20-second runoff on the clock for any injury, fake or legitimate, after the player is removed. This would apply only to a team which is losing or tied, and which has used its quote of timeouts. As Bell explains: "Nobody can tell at the moment whether an injury is faked or legitimate. My 20-second device would take the bonus off the player who is hurt in the final two minutes and would remove the temptation to fake. There would be no more suspicion of sharp practice." This proposal penalizes unfairly a team which suffers a legitimate injury, but Bell apparently feels the unsavory reputation of last-minute injuries demands a severe check. It is possible under this proposal that a game would end on an injury before a team could make its last play. A losing or tied team, for instance, incurs an injury with 19 seconds left after having exhausted the permitted times out. After the player was taken from the field, the clock would be run for 20 seconds, thereby closing the game.
PACKERS GET FACE LIFTING IN NY, PICK 30 IN DRAFT
JAN 24 (Green Bay) - The Packers got their annual face lifting this week. Coach Liz Blackbourn will do the major portion of the job in the NFL's 20th college player draft in New York's Warwick Hotel Thursday. Liz, with help of staffmen Tom Hearden, Ray McLean, Lou Rymkus and Jack Vainisi, will select 30 players in an effort to strengthen the Packers for warfare next fall and in future years. The Packers will come out with 30 athletes – no matter what. If they win the bonus choice in a picking derby with Pittsburgh, Chicago Cardinals and the Baltimore Colts, they will lose their 30th choice. But Blackbourn won't complain. He'd be glad to trade No. 30 for that bonus. The Packers will lose their No. 4 choice to the Cleveland Browns. Liz traded that pick for tackle Jerry Helluin, who filled the shoes vacated by Dick Wildung last fall. The Packers will "gain" a player from the New York Giants, getting a 20th choice in exchange for John Bauer, the former Illinois tackle who was sent to the Giants last fall after he failed to make the grade here. Besides the five coaches, the Packers will be represented by President Russ Bogda, General Manager Verne Lewellen and Publicity Director Bonnie Ryan. The draft starts at 9 o'clock Thursday morning (Green Bay time) and will continue until it is finished – generally about 2 o'clock Friday morning. Business meetings will start Friday morning while the coaches launch almost immediately their efforts to sign the draftees – and maybe talk a little trade. New rules, the Canadian problem, television, radio and many other items will be discussed during the sessions which will be presided over by Commissioner Bert Bell, who recently recovered from an illness that required a two week hospitalization. Bell plans to tell the delegates that the NFL financially is in the most prosperous state of its history. Bell says that, while he hasn't received the final figures from league accountants, the record-breaking 2,164,585 customers who watched pro football in 1953 increased by more than one percent in 1954. Eleven of the 12 pro teams made money last year. And the commissioner sees an even better year in 1955, if several of the second division clubs can improve a bit…CAN'T HELP BUT IMPROVE: In addition to revenue devised from the gate, concessions, programs and endorsements, league teams collected totally some $1,600,000 for radio and television broadcast receipts. Bell hopes the same or an even better radio and TV setup can be arranged for 1955. As usual, the portly head of the NFL attributed the success of his league to close competition, television, and the best press his group has ever received. The mediums of communication, said Bell, have made the league and its players household words. "Our product is being seen, heard and read about around the world. It can't help but improve attendance," Bell said. On the Canadian problem, Bell said he thought steps were being taken by both the Canadian Big Four League and the NFL to reach an agreement to honor each other's options and contracts. As to college players not obligated to either faction, the best offer in open competition will prevail, he said…BURYING THE HATCHET: Ralph Cooper of Hamilton, Ont., president of the Rugby Union, and four other Canadian representatives met Saturday in a four hour secret session. Cooper said afterwards: "We will come to agreement, possibly within the next month or sooner. We want to. It is in our best interests." Bell said, "We have come a long way toward burying the hatchet."
PACKERS EXPECT TO 'JOCKEY' IN DRAFT
JAN 25 (Green Bay) - The Packers are prepared "to do some jockeying" during the college player draft in New York Thursday. Coach Liz Blackbourn put it this way: "It won't be like last year, when our choices were high and we had a good idea what players would be available for us. We were able to get Hunter right away and then follow with Switzer. We needed another tackle and Fleck was next. Everything went according to pre-arranged plan. This year, we'll be drawing fourth and will have to do more jockeying and changing of our selections, according to how the other three clubs draw." The Packers drafted second in '54, but in addition to their own first choice they owned the first choice of the New York Giants who picked third. Thursday, the Packers will draw behind the Chicago Cardinals, Washington and Baltimore. The Packers could get the first player in the draw – if they win the bonus choice in a picking with Baltimore, Pittsburgh and the Cardinals. Blackbourn is facing what might be termed his most crucial draft – especially in view of this development: "There's a chance we will lose everybody we thought we'd lost to the service," he pointed out yesterday. This represents something of a disheartening twist because Blackbourn will be forced, as he was a year ago, to "fill holes instead of strengthening what we've already got," as he explained. Ticketed for service are halfback Veryl Switzer, guard Al Barry, end Max McGee and quarterback Bobby Garrett. Already in is tackle Art Hunter. Thus, Blackbourn feels that he must plug up those holes before he can even think of adding strength to other positions such as offensive end, fullback and center. To darken the picture a bit more, Blackbourn revealed that "there seems to be a shortage of good ends, centers and tackles in the college crops and while the guards are good they are small sized." On the bright side, Blackbourn said that defensive halfback Gene White will be available next fall. Earlier, White had expected to go into service. An end at Georgia Tech, White was changed into a defensive halfback. He played as a regular until he was injured in mid-season. Also on the bright side, the coach felt that there are a number of good backs available – halves, fulls and quarters. Among them are fullbacks Allan Ameche of Wisconsin, Dick Bielski of Maryland; halfbacks Don Drzewiecki of Marquette, Ronnie Waller of Maryland, Carroll Hardy of Colorado, Dickie Moegle of Rice; and quarterbacks Ralph Guglielmi of Notre Dame and George Shaw of Oregon. The Packer contingent – eight strong- will leave via North Central at 7 o'clock Wednesday morning and arrive in New York about 1 o'clock, changing flights in Milwaukee. Making the trip will be Blackbourn and assistant coaches Tom Hearden, Ray McLean and Lou Rymkus, Scout Jack Vainisi, Packer president Russ Bodga, general manager Verne Lewellen and publicity director Bonnie Ryan. The draft will start at 9 o'clock Thursday morning, Green Bay time.
HALAS TO QUIT AFTER '55, EYES 8TH TITLE
JAN 25 (Chicago) - George Halas, the man who made the country "T" conscious, is quitting as coach of the Chicago Bears. A pioneer of professional football, Halas won seven NFL titles and molded a record of 367 victories, 111 losses and 27 ties. He wants to make it eight championships before quitting after the 1955 season. The Bears haven't won a title since 1946. Halas helped organize the American Football Assn., in 1920 and two years later, on June 24, it became the NFL. That same day, Curly Lambeau was granted the franchise for the Green Bay Packers…"IT'S TIME TO QUIT": At 57, Halas, whose greatest thrill was a 73-0 championship victory over Washington in 1940, feels he could step out of the coaching ranks. "I'll still handle front office matters, make deals and attend drafts but coaching is a year round job and now that I've molded a contender it's time to quit," Halas said Monday. About that 73-0 victory, "It wasn't only winning the game the way we did," said Halas, "but it made the entire country 'T' conscious, and, I believe, it was the biggest reason for the great influx of the T formation in college and pro ball." Who'll be the new coach? "It's too early to speculate," said Halas, "but I'll tell you this. Whoever it is will have to be a full-time coach." In the years when the Bears were alone in organization and scouting, Halas "beat the bushes" for unknown players who turned into big stars…CAME UP WITH UNKNOWN: But even last year, "Papa Bear" came up with an unknown who burned up the league. The player was Harlon Hill, a pass catching end from Arkansas State Teachers College. "I've had some of the greatest players," said Halas, referring particularly to Bulldog Turner, Bronko Nagurski, Red Grange, Beattie Feathers, Jack Manders, Ed Sprinkle and Sid Luckman. "Sid was one of greatest," Halas continued. "Remember he was a single-wing player at Columbia who set the pattern for today's great quarterbacks. If it wasn't for Luckman, you probably wouldn't have heard of guys like Otto Graham, Norm Van Brocklin, Y.A. Tittle and Bobby Layne."
GRID LOOP ASKS SUIT DISMISSAL
JAN 25 (Philadelphia) - Attorneys for the NFL and nine NFL clubs sued by the defunct Liberty Broadcasting System for $2,100,000 Monday filed notice that they will ask U.S. District Court to dismiss the suit on February 28. Attorney Cornelius O'Brien Jr., who filed the motion on behalf of the NFL and the other defendants, said that the football clubs were "not engaged in trade or commerce within the meaning of the antitrust laws and that professional football is a sport and not a trade or commerce and broadcasting and telecasting of the football games played by the defendants was merely incidental thereto." The suit alleges the NFL "has illegally adopted, and maintain, throughout the United States of America...a system of authorizing the broadcasting of professional football games in such manner as to restrain trade unlawfully in broadcasting and to maintain a monopoly of the broadcasting" in the home territories of NFL clubs. The Liberty Suit was filed on behalf of William Rochelle Jr., trustee of the bankrupt firm by Earl Harrison, a Philadelphia attorney last September 27. The motion to dismiss in addition to saying the Federal District Court of Eastern Pennsylvania did not have jurisdiction, declared that "broadcasting and telecasting was not done by any of the defendants, but by others who are not parties to or named in the suit." Besides the NFL, the other defendants are the Chicago Bears, Chicago Cardinals, Cleveland Browns, Detroit Lions, Green Bay Packers, New York Giants, Philadelphia Eagles, Pittsburgh Steelers and Washington Redskins. O'Brien's motion to throw out the suit also states that the suit fails to make clear the allegations relied upon by Liberty as violating the federal anti-trust laws.
BOARD TAKES NO ACTION ON STADIUM
JAN 25 (Green Bay) - The Green Bay Board of Public Works should hire the architect for rebuilding City Stadium, the Board of Education decided at its monthly meeting at the Administration Bldg., Monday evening. The City Council's finance committee recently asked that either the Board of Public Works or the Board of Education should employ the architect. The Board of Education decided that it will be too busy this year with its school expansion program to handle the stadium program. Its resolution asks, however, that the Board of Education be represented on a citywide committee which it feels should be appointed to plan the remodeling. It also asks that the Board of Education be allowed to retain the control it now has over the stadium.
NO. 1 QUESTION: WHO'LL IT BE IF PACKERS WIN BONUS?
JAN 26 (New York-Green Bay Press-Gazette) - Questions without too many answers: Who will the Packers pick if they win the bonus choice in the 1955 college player draft opening in the Warwick Hotel here at 9 o'clock Thursday morning? Will it be one of the two top players in all college football last fall - namely, Alan Ameche, the Wisconsin fullback, or Ralph Guglielmi, the Notre Dame quarterback? If Coach Liz Blackbourn wins that bonus and picks Ameche, what will he do with him? Let him fight it out with veterans Howie Ferguson, Fred Cone and Bill Reichardt? Or trade him for two or three sure-fires who might fill a couple of gaping holes left by the expected departure of Al Barry, Max McGee and Veryl Switzer and already departed Art Hunter? If Liz cops the bonus and selects Guglielmi, what will he do with him? Let him understudy Tobin Rote and fight it out with expected-returnee Johnny Coatta for the No. 2 job? Or trade him off for two or three important hole fillers? Who will the Packers pick for their first choice if they don't win the bonus? What if Ameche is still left when the Packers make their first choice? This is entirely possible since the three clubs picking in front of the Packers (Chicago Cardinals, Washington and Baltimore) are fairly well off in the fullback department. The Cards have Ollie Matson, Washington Chuck Drazenevich and Rob Goode and Baltimore Zollie Toth. However, if Pittsburgh wins the bonus in a contest with Green Bay, Baltimore and the Cardinals, it's possible the Steelers may go for Ameche. Pitt isn't heavy at fullback what with Fran Rogell getting close to the trail's end. Guglielmi may be the bonus for the simple reason that he is a quarterback - and a real good one. QB's are tougher to grow and harder to find than fullbacks and, if you'll pardon a guess, they'll pull more on the trading marts. And speaking about quarterbacks, don't overlook Mr. Shaw of Oregon. He'll go high. Shaw ranked second in the country last fall with 91 completions in 196 attempts for 1,358 yards, 10 touchdowns and a percentage of 56.5. Guglielmi placed 10th with 68 completions in 127 throws for 1,162 yards, six teedees and a completion ratio of 53.4. Shaw had 11 intercepted, Guglielmi seven. In kicking around your personal predictions, keep this in mind: The Packers stand an "excellent" (horrors) chance of losing everybody they expected to lose to the service. These include McGee, Switzer, Bobby Garrett and Al Barry. Hunter already has started military service. The Pack's offensive line must be patched up first, with a replacement at left end (McGee), at left guard (Barry) and right tackle (Hunter). In addition, Blackbourn is looking for a defensive end, a linebacker to replace retired Clayton Tonnemaker, and a defensive halfback despite the fact that Gene White isn't going into service as expected. A hard-hitting, can't-miss offensive halfback is also on the Packers' want list. The whole thing boils down to this: Blackboun and his aides, Tom Hearden, Ray McLean, Lou Rymkus and Jack Vainisi, face a rugged task Thursday. They are well prepared and stacked with concrete facts on hundreds of good prospects but, as Liz explained this week, "we'll need plenty of luck." And about the best thing that can be said on the eve of the draft is merely this: "Good Luck!"...Blackbourn and members of his staff planned a full afternoon and evening of work today. Liz scheduled talks with other coaches in the league; a last-minute check of draftees and a discussion of the club's draft strategy. General Manager Verne Lewellen and President Russ Bogda were to attend a special meeting of club representatives this afternoon. The rules committee will meet tonight to make recommendations for the entire body to consider at Friday's session. Among the items to be discussed are: Elimination of the extra point, a dead-ball rule and prevention of faking injuries at the close of the game...Commissioner Bert Bell, who will preside during the convention, will not make his annual plea for "sudden death" games in the event of ties. The reason for his withdrawal, he said, is that two of the stadiums, Green Bay and Chicago's Wrigley Field, are not equipped with arc lights. Which just goes to show you how bad the lighting system at City Stadium really is!...And speaking about the stadium, efforts likely will be made during the parley to get the Packers to alternate some of their "other" games between Green Bay and Milwaukee. This effort (or pressure) probably will be led by Detroit and the Chicago Bears. No club can force the Packers to play any particular game in Milwaukee since under the league constitution the Packers alone can decide where they play their home games. However, the Bays still must live with their opposition and the time will come when they will have to offer more in the way of gate receipts to visiting clubs. Thus, you can readily see why the Packers need a larger stadium.
PACK COACHING AIDES SIGN FOR '55
JAN 26 (Green Bay) - The Packers' three assistant coaches - Tom Hearden, Ray McLean and Lou Rymkus - have signed new one-year contracts, general manager Verne Lewellen announced today. The pacts for the 1955 season, effective immediately, call for a raise in pay plus a bonus arrangement which is retroactive to the 1954 season, Lewellen said. Head Coach Liz Blackbourn said that "the amount of work accomplished during the season by the staff was highly satisfactory. The work done by them was an unusual team effort for a staff that had been assembled together for only one year." The three aides were hired by Blackbourn shortly after he took charge a year ago this month, though McLean is starting his fifth season as backfield coach. Ray joined the Packers in 1951. Blackbourn, the third head coach in Packer history, signed a contract at an increase in salary last December.
PACKERS GET BETTIS, TEMP AND LEAKE IN DRAFT
JAN 27 (New York) - The Packers, with an eye to rebuilding a forward wall likely to be hit hard by service calls before the 1955 season opens, named a lineman as their first choice in the NFL's annual college draft at the Hotel Warwick here today. He is Tom Bettis, 6-foot, 2-inch, 225-pound All-American guard from Purdue. Selection of Bettis marked the second straight year that a lineman has been the Packers' top choice. A year ago, Head Coach Liz Blackbourn led off by picking Art Hunter, Notre Dame tackle, now service bound. The Packers' second choice followed this pattern, Blackbourn picking Jim Temp, a towering end from the University of Wisconsin. In the third round, Blackbourn moved to fill a potential backfield hole by drafting John (Buddy) Leake, 6-foot, 1-inch, 185-pound halfback from Oklahoma...BALTIMORE WINS BONUS: Baltimore, one of the four clubs remaining in this exclusive lotter, won the bonus choice and picked George Shaw, University of Oregon quarterback who led the nation in total offense last fall. Shaw, named to the United Press All-America second team, also is an outstanding baseball player. Reached at Eugene, Ore., today, he said, "I would be very glad to talk with Baltimore officials but I don't plan to sign anything until after the college baseball season." Bettis, a general All-America choice last fall, is a versatile performer. He played offensive guard as well as middle guard and linebacker on defense for Purdue, in addition to calling defensive signals. A standout in both the East-West and North-South games during the holiday bowl season, Bettis was selected by Blackbourn with an eye to replacing Al Barry, starting offensive guard last season who is slated to enter the service soon, or veteran linebacker Clayton Tonnemaker, who has retired. Bettis, 21, was a key figure in Purdue's 26-14 upset of Notre Dame last October, the only defeat the Irish suffered in their first year under Terry Brennan...TEMP NATIVE BADGER: Temp, a regular at Wisconsin the last three years, is a homegrown Wisconsin product, and a familiar name to Green Bay area sports fans since he appeared in two state Catholic basketball tournaments at St. Norbert College during his high school career at La Crosse Aquinas. A six-foot, four-inch, 230-pound giant, Temp played right end on both offense and defense for Coach Ivy Williamson's Badgers. It is expected that he will receive strong consideration as a replacement for Max McGee, reportedly headed for Army duty, or as a starter at defensive end. Temp played on two state Catholic basketball champions at Aquinas, which annexed the title in 1950 and repeated in '51. Temp also starred for the North in the final all-state high school football game played at City Stadium here in '51. Like Bettis and Temp, Leake plays both offense and defense. Thus, Blackbourn intimated, he is rated as a logical successor to Veryl Switzer, another of the 1954 Packers expected to enter service before the '55 season arrives...GOOD DEFENSIVE BACK: Leake, who plays considerable defense for Coach Bob Wilkinson's Sooner, is a sharp tackler and especially effective on pass defense, according to Packer scout reports. He also filled in at quarterback on occasion. The Packers' fourth choice will be lost. It must be turned over to the Cleveland Browns in payment for Jerry Helluin, huge tackle obtained in a trade last July. Blackbourn never had an opportunity to draw in the bonus round. The four participants first drew for position, the Cardinals picking up number one, Baltimore two, the Packers third and Pittsburgh fourth. The Cardinals drew a blank and Baltimore then came up with the magic number and after a hurried conference selected Shaw...COLTS MAY TRADE SHAW: It is expected that the Colts will trade Shaw to San Francisco, since Baltimore officials conferred with Forty-Niner representatives before making their choice. Their selection of Shaw came as something of a surprise for it was expected they would claim Guglielmi, who hails from the Baltimore area. Alan Ameche, Wisconsin's All-American fullback, and Ralph Guglielmi, Notre Dame's brilliant T-quarterback, were both gone in the first round before the Packers got a chance at them. The Chicago Cardinals had the first pick in the regular draw and selected Max Boydston, crack Oklahoma end. The Washington Redskins then took Guglielmi and the
Colts lassoed Ameche. Then came the Packers with Bettis. In Madison today, Ameche said his selection by Baltimore in the first round was "a real surprise." But he went on to say: "Baltimore is as good as any. A fellow can't make his own choice, but can only do his best, no matter whom he plays for. My guess was I'd be picked by Green Bay or the Chicago Cardinals." Ameche said he would not play for a Canadian club "if the Colt management and I can get together, and I feel sure we can. I'm not worrying." He added, "I'd rather play in the United States." The draft will continue throughout the day today and into the night until each team has made 30 choices. The NFL meeting will continue Friday and Saturday to consider some 20 proposed rule changes and 36 proposed amendments to the league's constitution. Highlight of the rule changes is one which would declare the ball dead when a player tackled by the opponent touches the ground. Among the constitution changes is one to raise the player limit from 33 to 35, which is opposed by some of the weaker clubs.
BELL IN COMPLIMENT TO PACKERS FOR IMPROVED SHOWING IN 1954
JAN 27 (New York-Green Bay Press-Gazette) - Commissioner Bert Bell called the press together Wednesday night before a buffet luncheon and thanked the writers "in all sincerity for the greatest job of promotion ever done in sports." Bell made a special point of his feeling toward "you gentlemen" in
selling "our sport" before responding on an informal meeting of team representatives Wednesday afternoon. The jovial czar, looking fit and hardy after a two-week hospital stay, gave the Green Bay Packers a compliment in referring to the fact that "we are gradually closing the gap between the uppers and lowers in the league." He added: "You saw the big improvement at Green Bay. Why, they were closer to the championship than you think; they lost six games by 20-some points." He mentioned Baltimore and Washington, too. "The Colts increased their attendance despite a losing season and got stronger as the season went on - and the Redskins will be strong next year when they get some of the 16 they lost to service back." Bell chuckled when he announced: "We had our greatest year in attendance in 1954, with 2,521,836 fans watching 72 games; the figure was 2,190,071 the year before. The big features were that the increase was overall with cities like New York, Chicago, Cleveland, and Philadelphia raising their gates and that 20 percent of our games were played in rain or other bad weather." The 12 clubs spent considerable time discussing television and Bell summed their talks up with this: "We had our greatest year in television with each club profiting, and we expect an even greater TV season in '55." He explained that the clubs hashed over ways of improving televising of the game and "we came to the conclusion that we must work as one unit in TV and possible get one network to handle all of our games." In the past few season, two or three different networks had a finger in various games around the country and the thinking is that one network, possibly NBC, will handle the entire program next fall with numerous sponsors. "The main thing to remember," Bell said, "is that we can't price ourselves out of television; first of all, we want coverage." Bell said an effort will be made to prevent a repetition of the "thing that prevented telecasting of the all-pro bowl game." What happened in the '55 game was that the network figured it had a better program and thus passed up the grid telecast, he explained, "but we don't want that to happen again." Bell also went into a discussion of the Canadian situation, which is explained in today's dispatch on the draft...SIDELIGHTS: There was plenty of trade talk and every club, including Green Bay, seemed willing to switch players. Detroit is looking for a defensive end. Cleveland needs linebackers, making sense to the story that the Lions will send Laverne Torgeson to the Browns for a defensive end - maybe Doug Atkins. The Packs' needs are many but who Coach Liz Blackbourn would give up remains a dark secret. Much will depend on the athletes the Packers select in the draft. The Packer staff worked all afternoon and attended a coaches' meeting last night, at which Bell sounded 'em out on rules changes. Among those at a luncheon were the Packers' two former head coaches, Curly Lambeau and Gene Ronzani - Curly in his capacity as head coach of the College All Stars and Gene in a job-seeking role. Ronzani may tie in with San Francisco - at least, he's been in a huddle with Forty Niner coach Red Strader. One of the happiest men in the lot is George Halas, owner-coach of the Chicago Bears. He's extremely happy with his club's 8-4 record last fall and his own decision to quit as head coach after the '55 season. "Oh, I'll be around looking after business as usual. This professional football is terrific business, you know, it's the greatest thing that's happened in American sports," George drooled. Halas has a right to be proud. He, along with Lambeau, George Marshall, Steve Owen and a few others, mothered pro football into what it is today. The Packer contingent met some familiar Minneapolis folks on their Northwest Airlines flight out of Milwaukee - Father Tom Meagher and Clipper Smith. Father Meagher, director of Twin Cities Catholic charities and promoter of the Packers' annul invasion into Minneapolis, came out here to meet the football crowd for the first time and arrange for the 1955 charity exhibition. Packer general manager Verne Lewellen is working out the club's non-loop schedule and it appears that the Bays will play at least five games with teams of the Eastern Conference, including one in Green Bay, one in Milwaukee and possibly another in Minneapolis. When discussing the draft with other writers, the standard comment to us went like this: "I suppose you (the Packers) will have to pick Ameche." Ho hum!
FIRST ROUND STATUS THRILL - BETTIS
JAN 27 (Milwaukee) - Tom Bettis, the Packers' No. 1 choice in Thursday's pro football draft, was almost flabbergasted being picked first by the Green Bay club. In a telephone interview from Lafayette, IN Thursday night, Bettis said "I can hardly believe being picked so high in the draft. It's hard to say the right words to explain my feeling - I guess being picked as the Packers' top choice speaks for itself." Bettis, who co-captained Purdue for the past two season, said Coach Liz Blackbourn of the Packers contacted him two days ago, asking if he would be interested playing in Green Bay. "I would be happy to," Bettis told Blackbourn at that time. "I have always been interested in pro football and have followed the Packers." Bettis admitted that he had been approached by Canadian clubs, but nothing definite has developed. "I would much rather play in the States," was Bettis' reasoning. The husky, 220 pound, 6 foot guard used up his college eligibility when he played in the Senior Bowl with Wisconsin's Norm Amundsen, the Packers' sixth choice. It was in this game that Bettis and Amundsen were alternated as guards, relaying Coach Paul Browns' offensive plays to the North squad. Blackbourn's plucking into Big 10 material, specifically Wisconsin's Jim Temp and Amundsen and Michigan State's Henry Bullough impressed Bettis. "I played against these boys and they're good." Bettis looked forward to talking over terms with Blackbourn in Green Bay. "I feel honored being drafted by the Packers and hope to be playing with them next season." Bettis, one of the most sought after guards in the draft, was a roommate of Wisconsin's Alan (The Horse) Ameche on the recent Look Football Writer's All-American tour. He was also an All-Midwest Associated Press choice. Known as the "iron man" on the Boilermaker squad. Bettis averaged slightly better than 51 minutes per games. He was Purdue's most valuable in '53.
PACKERS' DRAFT OLD STYLE: NO GLAMOR BOYS
JAN 28 (New York) - The Packers came up with an old fashioned draft here Thursday and today - no glamour boys but plenty of solid, hard-nosed men. There isn't a name-stopper the likes of Guglielmi, Ameche or Moegle in the entire group but, as Coach Liz Blackbourn pointed out early this morning, "We've got ourselves a fine lot of solid players and they're well grounded in fundamentals." Actually, the 1954 collegiate crop wasn't loaded with headliners. What few there were went early - quarterback George Shaw to Baltimore on the bonus pick, end Max Boydston to the Chicago Cardinals, QB Ralph Guglielmi to Washington and fullback Alan Ameche to Baltimore...With an overall shortage of men in most positions - especially tackles, Blackbourn had a difficult time filling an already-empty hole left by the departure of Art Hunter, the club's No. 1 draft choice in '54 and regular right tackle, to the Army. The honor of replacing Art now rests with Ed Culpepper, a 245-pounder out of Alabama, the ninth choice; 220-pound Art Walker of Michigan, 12th; 250-pound Bob Carter of Grambling, 19th; 240-pound Bob Antkowiak of Bucknell, the 20th choice obtained from New York for John Bauer; or 230-pound Jack Spears of Chattanooga, 28th. With material thinning out early, the Packers looked to 1956 and bagged seven juniors - the highest number of eligible underclassmen ever drafted by Green Bay in a single sitting. The "younger" group included three tackles, two fullback-linebackers, a 225-pound battering ram named Ed Adams of North Carolina and a darkhorse quarterback from Maryland - Ed Beightol, rated as one of the longest passers in the country...The meat of the Packers' list is contained in the first three choices - guard Tom Bettis of Purdue, end Jim Temp of Wisconsin and halfback John (Buddy) Leake of Oklahoma. Bettis, a 225-pounder, can handle both
offensive guard spots, work middle guard on defense and handle linebacker. He's a good bet to fill Clayton Tonnemakers' shoes since he called the defensive signals at Purdue and in two postseason games. Temp gives the Packers a new type all-around end. A mean cuss, the La Crosse Aquinas grad can go both ways and figures to be a possible replacement for Max McGee if Max goes into service. Temp carries 230 pounds. Blackbourn is fixing to work Leake, also an expert extra point and field goal kicker, both ways, thus taking over as a new Veryl Switzer - just in case Veryl gets his service orders. A swiftie, Leake carries 185 pounds and stands six feet tall. He lugs from right half and plays short or deep on defense...The Packers concentrated on the line and on defense after the top three picks and No. 4, halfback Paul Reynolds of Notre Dame, who went to Cleveland in exchange for Jerry Helluin. The Bays remained in the Big Ten for Nos. 5 and 6, picking two guards - Hank Bullough of Michigan State, 220, and Norm Amundsen of Wisconsin, 222. Thus, the Pack had four Big Ten stars in their first five picks, not counting Reynolds. The Packers spent their seventh pick on a fullback - Bob Clemens, a 212-pounder from Georgia. This was the highest Blackbourn had planned to go for a FB, thus eliminating the chance that he might pick Ameche had Alan been open. The first of a group of men to fill the corner linebacker spots and give Clarence Self and Gene White a battle was John Crouch, a hard-hitting 195-pounder from Texas Christian, the eighth pick...After Culpepper and Rogers, the Packers picked speed-cat Ron Clark, 180, of Nebraska, who also plays deep on defense. The 14th choice after Walker and Adams was another corner linebacker, Fred Baer, 190, of Michigan. The only center picked by Green Bay was George Machoukas, a steady passer from Toledo who carries 220 pounds. He came on Round 15. The first and only quarterback available for 1955 was Charlie Brackins, a strong-armed Negro from Prairie View College in Texas. Brackins was considered the "finest Negro players in college ball last season." The 202-pounder who possesses tremendously large hands can do anything with the ball, include punt. He stands 6-2...The Packers mixed two halfback in with Beightol and Carter in their next four picks. Both halfbacks have good defensive possibilities - a phase of play Blackbourn is determined to toughen. The 18th pick was Doyle Nix, 188, of SMU and No. 19 was Carl Bolt, 185, of Mississippi Southern. Three of the final 10 choices were ends - all with equal offensive and defensive ability in the college one-platoon program. The 25th pick was wing Nate Borden, 218, of Indiana and he was followed by Jim Jennings, 205, of Missouri and Bob Peringer, 195, of Washington State...The draft was one of the longest in history, starting at 10:20 Thursday morning and finishing up at 2:08 today - about 14 hours, not counting two hours off for dinner. Commissioner Bert Bell, apparently heeding the advice of his physician, retired at midnight and left the draft in charge of Al Ennis. He left orders to "call me if there are any disputes." During the afternoon, Bell received a visitor - one Ralph Cooper of Hamilton, Ont., president of Canada's Big Four, and then introduced Cooper to the press, representing the first time a member of Canadian football has ever nosed into an NFL parley. Cooper pointed out that the only thing standing in the way of an agreement between the two circuits was the opposition of the Toronto Argonauts to retroactive action that would compel them to release players who had jumped American contracts since July, 1954...Cooper said that Toronto, which has been unhappy with peace with the NFL, was "on the spot," adding if "Toronto did not abide by any decisions reached by the Big Four, the Argonauts' franchise will be taken up and turned over to one of several groups keenly interested in backing professional football in Toronto."...OTHERS IN ARGUMENT: Other members of the Big Four, Montreal, Ottawa and Hamilton, are in agreement in seeking a pact on options and player contracts. Cooper said that there had been discussion of the possibility of holding exhibition games between American and Canadian teams, half of them under American rule and the others under the Dominion code. The NFL opened the first of its annual business meetings at 10 o'clock this morning. Rules changes were to be discussed first.
COLTS TOOK PACKERS OFF HOOK BY NAMING AMECHE TOP PICK
JAN 28 (New York) - Draft room bits: Baltimore took the Packers off the hook on the Alan Ameche affair. The Colts drew the Wisconsin fullback as their first choice – a step ahead of the Pack. Packer Coach Liz Blackbourn might have been on the spot had the Colts decided on someone else, though we don't believe he would have drafted Ameche first anyway – chiefly because the Packers are harder pressed for linemen than they are for fullbacks. Most folks here (except the Packer group) thought the Packers "had" to take Ameche, since he's from Wisconsin. Blackbourn selected Tom Bettis No. 1. It was the first time since the league's first draft that the Packers picked a guard as their top choice. In the initial draft in 1936, the Bays selected Russ Letlow, a guard out of San Francisco U. Bettis was one of four interior (between the tackles) linesmen chosen in the opening round. The others were Frank Varrichione, Notre Dame tackle by Pittsburgh; Larry Morris, Georgia Tech center by Los Angeles; and Kurt Burris, Oklahoma guard by Cleveland. Burris, brother of former Packer Buddy, will be asked to fill the shoes of retiring Tony Adamle and Army-bound Tom Catlin…Blackbourn never had a chance to draw for the bonus. The four "contenders" opened by drawing for position in the payoff pick. The Cardinals were first, Baltimore second, Green Bay third and Pittsburgh fourth. Stormy Bidwill of the Cards drew a blank but R. Bruce Livie, one of the Baltimore owners, then pulled out the Lucky slip. This, the Pack, Pitt and Cards will fight again next year for the bonus. While the Packers would have welcomed the bonus, the Bays felt all along that this was not a good bonus year because there was no superstar available. You got some proof of this when the Baltimore group, upon winning the bonus, deliberated a full 15 minutes before deciding on George Shaw, Oregon quarterback. Obviously, they were torn between Shay, Ralph Guglielmi and Ameche, and, we might add, unprepared to pick a bonus winner…The Rams received one-fourth of the players drafted in the second round – one selection of their own and one each on trades with Washington, Pittsburgh and New York…San Francisco used a full hour in deciding on Carroll Hardy, the Colorado halfback, in the third round. Coach Red Strader left the room and called the athlete, dickering on the phone via long distance to Boulder, Col. Billy Sullivan, publicist, called Hardy "a white Willie Mays" and predicted that he probably will take baseball over football. "Hardy's in the $40,000 baseball bonus class," Sullivan explained. Strader, however, must have received some assurance from Hardy that he might consider football. The long delay by the Forty Niners helped stretch out the draft something fierce. Several other clubs used up 15 to 20 minutes to decide. It took nearly eight hours to select the first 12 rounds, Commissioner Bert Bell adjourning the session for dinner at 6 o'clock after seven hours and 40 minutes of non-stop deliberating. The Packers ate lunch early in the afternoon – while they selected…Curly Lambeau, here to build a powerful College All Star team, carried his own list of selections and found that 37 of the first 39 players drafted were on his "want" sheet for the August classic. The all star coach figured the Packers got a "good steal" when they picked Michigan tackle Art Walker in the 12th round. "He could have gone much higher," Lambeau said…Ram owner Dan Reeves said no one was offered the LA coaching job before Sid Gillman, who was selected head coach earlier this week. Gillman sat in on the Ram table, but Eddie Kotal supervised the drafting. Sitting in with the Packer coaches Blackbourn, Ray McLean, Tom Hearden, Lou Rymkus and Jack Vainisi were prexy Russ Bogda and GM Verne Lewellen. Also looking on was Bob Forte, former Pack captain now with the Miller Brewing Company…One of the visiting firemen today was Dick Plasman, former Packer coaching aide, who came up from Miami to "see all my friends." Dick looks healthy, wealthy and well tanned.
LIZ CONFIDENT DRAFT TO GIVE PACK BIG LIFT
JAN 29 (New York) - The Packer coaching staff headed for home today confident that "we did the best we could to strengthen the club." Coach Liz Blackbourn wasn't drooling with joy after the college player draft ended early Friday but "after examining the list after a night's sleep I discovered that we added considerable strength to our team." Blackbourn and aides Tom Hearden, Ray McLean, Lou Rymkus and Jack Vainisi spent Friday contacting the leading choices and arranging meeting dates. Signing the athletes will start immediately, with the coaches fanning out around the country. The mentors also went after a score of top free agents – via telephone…Bill Robinson, the fast Negro halfback who spent part of the '52 season in Green Bay before going into the service, visited the coaches Friday and arranged to return to activity next fall. Bill feels that he can make the club. While the coaches continued to work, President Russ Bogda and General Manager Verne Lewelln represented the club at the opening business sessions Friday. Blackbourn analyzed the Packers, player by player, and made some sparkling revelations – one of which is that Jim Temp, the Wisconsin 230-pound end, is a possibility at offensive tackle to replace Pvt. Art Hunter of the Army…CAN PLAY TACKLE: "Jim is big enough to play offensive tackle if we are stuck because we know he is a great blocker. He's also fast enough for a big man to play offensive end, although we selected him chiefly as a defensive end. Jim has great pro possibilities; he's rough and mean and likes it." Blackbourn took note of the fact that his first choice, guard Tom Bettis of Purdue, is not a name player with this crack: "It's pretty hard to glamorize a linebacker like you can a back." Liz added: "In toughening up a defense, you've got to start with linebackers and Bettis seems like the man to replace Clayton Tonnemaker. The linebackers are where the secondary begins, and we feel that Bettis, on the basis of his college play and the job he did in the East-West and North-South games, can be of great help to us." The Packers studied films of the two Shrine games and, Liz noted, "Tom was captain in both games," indicating that he has leadership qualities as well as being intelligent. Here's how Liz analyzed some of the Bay choices: John (Buddy) Leake, Oklahoma guard, No. 3 – "He's a great competitor, a hard-nosed kid but no Fancy Dan. He's the best dive (quick opener) man in the country and plenty fast on the outside." Guards Hank Bullough of Michigan State and Norm Amundsen of Wisconsin, 222 each – "There were no big guards available but we took what we thought were the biggest. We saw these two operate and know they are good offensive blockers. We also know they had the benefit of good coaching from Milt Bruhn, Wisconsin, and Duffy Daugherty." Bob Clemens of Georgia, 212 – "He's listed as a fullback but we drafted him to play offensive halfback. Most of the offensive halfbacks left were small, but Clemens has speed enough to work at halfback." Halfback John Crouch, TCU, 195 – "We picked him strictly as an outside defensive halfback (corner linebacker) and he was highly recommended by Mike Michalske and others as a sound prospect in that spot." Tackle Ed Culpepper of Alabama, 245 – "There were no big tackles available this year. We know he is an excellent tackle, but we are gambling on his injuries. He has been susceptible to them in the past." Halfback Ron Clark, No. 11, and corner linebacker Charles Bryant, No. 24, both of Nebraska – "We took both of them on the recommendation of Coach McLean. He thought Nebraska would have been beaten by 100 points if it hadn't been for them on defense. They never quit, with Clark playing deep and Bryant closer in. Bryant is a wrestler and carries a solid 197 pounds." Art Walker, 220-pound Michigan tackle – "He'll play guard because he's too light for tackle, though he handles tackle well. He has good balance and had good fundamentals." George Mackhoukas, the only center chosen, 220, of Toledo – "He'll be some insurance behind Jim Ringo, since Trapper (Stephenson) is retiring. The center crops is small."…There seemed to be a special rush on the part of all clubs to sign their choices as quickly as possible – especially the higher picks, because of the Canadian menace. While peace with Canada has been made officially, NFL team still must compete with the Canadians on the open market for their top choices. The U.S. draft saves Canada the time and expense of seeking out top Americans. NFL clubs expect to live with this situation but there is plenty of unhappiness here as to future relations with Canada. Tim Mara of New York said point blank, "There'll be no peace unless we get some of our veterans back." Detroit feels the same way about Gil Mains and possibly Tom Dublinski. The Packers, fortunately, have been untouched – at least as to veterans. Toronto and Winnipeg both failed in an attempt to get Tobin Rote, but now with so-called peace they are supposed to keep their hands off all of the Bay veterans.
LIONS ANXIOUS TO PLAY PACKERS IN MILWAUKEE
JAN 29 (Detroit) - We heard a couple of "fast whistles" here Friday. Nick Kerbawy, general manager of the Detroit Lions, sounded one when he said: "We're going to send a formal letter to Green Bay asking that our game with the Packers be played in Milwaukee instead of Green Bay. We haven't played you in Milwaukee since 1948. That's seven years." Nick might have been kidding. He has quite a gleam in his eye, anyway, but there's no question but what Detroit would like to try the Packers on for size in Milwaukee. The Lions feel that their extra muscles may pull more than 20,000 in Beer Town. Nick and the Detroit boys were disappointed with the 20,000 crowd for last fall's game in Green Bay. We might add that the Packers were disappointed, too, since the Lions were world champs and the Packers were still in the running. Anyhow, let's not worry too much because under the league constitution the Packers, themselves, decided where they play their home games…There was some talk that Detroit wanted to open against Green Bay in Milwaukee. General Manager Verne Lewellen laughed at the report and said, "We've heard nothing about schedules yet and probably won't for three or four weeks." There also was a story that Detroit would start at Los Angeles. The other fast whistle was a real one. It was ordered by the league at a business meeting Friday night and is a sort of fill-in for what bystanders claim will be a real live dead-ball rule by '56 or '57. Under clarification of the present ball-stopping rule, the officials in the future will blare a fast whistle as soon as a ball carrier hits the turf in the grasp of an opponent. However, if he is knocked down without being in the grasp of a foe, he can get up and go…Thus, the rule remains a judgment thing as far as the officials are concerned, although Commissioner Bert Bell said that the fast whistle will be emphasized throughout the season…All of the business of the first day had to do with rules, except a brief timeout to read financial reports and unanimously vote Mr. Bell a $10,000 bonus for work done during the past season. Bell was voted the bonus a year ago but he refused it in view of the league's expense in fighting the anti-trust suit. Bell said he withdrew his motion to eliminate the point after touchdown for lack of interest. The league also took a step to discourage the feigning of injuries to stop the clock. The new rule provides as follows: When a team that is in possession of the ball is tied or behind and has exhausted its timeouts calls a timeout for an injury in the last two minutes of the second or fourth quarters, the clock will run for 10 seconds before the ball is put into play again. Thus, where there are 10 or less seconds remaining, time will run out in the game before another play can get off. The use of a military salute as the signal for a personal foul will be done away with. Bell stated the reason for this was the objections offered by the American Legion.
BETTIS, FIVE OTHER FIRST PICKS SET; NFL 'AHEAD'
FEB 4 (Green Bay) - The NFL and Canada are engaged in two different types of skirmishes – a battle and a war, if a line can be drawn. The battle is for the signatures of outstanding college players of 1954. This is a legalized fight – like business competition. The war is for the signatures of veterans of professional football. This type of "shooting" presently is outlawed – made illegal by several handshakes between NFL Commissioner Bert Bell and Canadian representatives in recent weeks. But the war could break out at any minute because neither side has decided to return previously stolen good – yet. The embers of war also may have been kindled today by the simple fact that the NFL is ahead in the aforementioned battle. As of this morning, the NFL had signed half of its 12 first round choices and had proof on a seventh, guard Kurt Burris of Oklahoma, that he didn't intend to play in Canada. Five of the players okayed terms yesterday, including the Packers' No. 1 pick, guard Tom Bettis, who signed his 1955 pact after a conference with Packer Coach Liz Blackbourn on the Purdue campus. The other first round choices set are Oklahoma end Max Boydston, with the Chicago Cardinals; Notre Dame tackle Frank Varrichione, Pittsburgh; Notre Dame halfback Joe Heap, New York; Maryland fullback Dick Bielski, Philadelphia; and Auburn halfback Dave Middleton, Detroit. Boydston signed the day after he was drafted. Burris, brother of former Packer Buddy, is caught between the Cleveland Browns, an assistant coaching job at the University of Miami, and the Marines. Burris conferred with Cleveland coaches yesterday in Norman, Okla., and said "we couldn't reach an agreement." Earlier, he had been offered the Miami job – in addition to a note from the Marines who may take him before the grid season. First round picks still unsigned by NFL clubs and still on the "hope" list of Canadian teams are Notre Dame quarterback Ralph Guglielmi, Washington; Wisconsin fullback Alan Ameche, Baltimore; Georgia Tech center Larry Morris, Los Angeles; Rice halfback Dicky Moegle, San Francisco; Marquette halfback Ron Drzewiecki, Chicago Bears. Also unsigned is Oregon quarterback George Shaw, the bonus choice won by Baltimore. Blackbourn was on his way to Madison today to confer with second choice Jim Temp and sixth pick Norm Amundsen, both Wisconsin stars. Temp isn't likely to sign since he's captain of the Badger baseball team and he'll want to preserve his amateur status. However, Jim probably will oaky terms of the contract he's to sign in June.
BETTIS OVERLY HAPPY TO BE WITH PACKERS
FEB 5 (Green Bay) - Tom Bettis is "overly happy" to be with the Packers. The Purdue football captain and All-American selection, drafted and signed No. 1 by Coach Liz Blackbourn, has "followed Green Bay since I first took an interest in the sport," he said via long distance telephone today, adding: "That's why I'm so happy that the Packers picked me." Bettis, a 220-pound linebacker who will fill the shoes emptied by retired Clayton Tonnemaker and work into offensive guard, saw the Packers play once in the flesh – "quite a few years ago against the Bears in Chicago," he laughed. He also saw Green Bay lost to Detroit in their television-game-of-the-year Thanksgiving Day, and, Bettis said, "we should have won that one." Bettis confessed that "I've always been a fan of Ted Fritsch." Why? "Read a couple of articles about him and always pulled for him to make good – mostly because he was from a small school." Fritsch, now coach at Central Catholic High, joined the Packers in '42 and put in nine full seasons, gaining recognition as all-league fullback twice. Bettis said that he is looking forward to the "challenge that pro football offers." He likened going into professional football like switching from high school to college "except that we know more about the fundamentals of football after leaving college than after finishing high school." The former Chicago St. Mel High fullback (he also did some linebacking in prep ball) said that "one of my ambitions is to make the pros." Happy with the contract "Coach Blackboun offered me," Bettis said he hopes to work in Green Bay next summer. He'll take time out in June to wed Miss Valerie deLaneaux, a senior at Purdue and captain of the Lafayette Swimming Club. Bettis, captain of Purdue in 1953-54, probably will play in the College All Star game in August before reporting for Packer practice…PRO BITS: Guard Hank Bullough, the Packers' fifth choice, started his career at Michigan State as a defensive specialist in the two-platoon plan, but had no trouble switching when one-platoon became law. Hank's father, Levi, was an outstanding soccer player in England. Bullough hails from Canton, O.
LEWELLEN HERE TO DISCUSS DETAILS OF PROSPECTIVE RETURN OF PACKER TEAM
FEB 5 (Stevens Point) - It's still unofficial but Stevens Point likely will be the training home of the Green Bay Packers again this summer. Verne Lewellen, general manager of the NFL team, met with members of the Packers Committee of the chamber of commerce on Friday afternoon at Hotel Whiting. Details of the prospective return of the Packers were discussed. The final decision will come from the professional football organization after its board of directors acts upon a contract from the local committee which is being drawn up now. If the Packers decide to come back to Point, they will in all likelihood begin their training at about the same time - shortly after the middle of July. They remained here until September 3 last year and that would be about the termination of their training session this summer. Endorsing the return of the Packers to Stevens Point were Central State College and the board of education in addition to the chamber. The Packers lived at Delzell Hall and practiced at Bukolt Park, Goerke Park and on Schmeeckle Field last summer. Coach Liz Blackbourn and his staff as well as the Packer organization were highly pleased with the various aspects of their stay here last year. Prior to coming to Stevens Point, the team had worked out at Grand Rapids, MN for several years. Point became the new training home of the club only after several other cities, such as Ripon, Two Rivers and Eagle River, had put in offers.
Official announcement of the decision of the Packers concerning their training site this summer is expected within a couple of weeks.
AMUNDSEN SIGNS PACKER PACT; GOES ON OFFENSE
FEB 8 (Green Bay) - Packer Coach Liz Blackbourn forged the first link in the rebuilding of Green Bay's offensive line today with the signing of Norm Amundsen, the 228-pound guard from the University of Wisconsin. The sixth choice in the recent college player draft, Amundsen is the second Chicagoan and the second guard to officially register in less than in a week. Signed last Wednesday was Tom Bettis, the Purdue lineman and linebacker and No. 1 draft choice. Amundsen played at Kelvun Park High in Chicago and Bettis at St. Mel's High. Blackbourn announced that "we plan to use Amundsen at offensive guard – he has had fine coaching and is big, strong and fast enough to fit into our offensive plans." Wisconsin Coach Ivy Williamson called Amundsen "the most improved player" on the Badger squad in 1954 and "one of the most underrated." Amundsen displayed his improvement by beating out a teammate, Dan Ursin, who was a regular offensive guard in '53. Norm played 400 out of a possible 540 minutes last year and turned in 58 minutes against Iowa. Amundsen, 22, received only a junior W letter as a sophomore, but Line Coach Milt Bruhn had great hopes for the hard-hitter and he responded with 240 minutes under Ursin in '53. He started '54 as the regular offensive right guard and was never budged out of his position. Amundsen is credited with making possible the longest run in Wisconsin history. Against Purdue last fall, halfback Billy Lowe raced 98 yards – only after Amundsen cut down the last Boilermaker, quarterback Len Dawson. With three years of fullbacking under his belt at Kelvyn Park High, Amundsen has always been a good ball hawk. He recovered four fumbles in his last two seasons at Wisconsin…FIVE SEASONS AT BADGER: Actually, Amundsen put in five seasons at Wisconsin. He showed considerable promise as a freshman, but was advised to stay out a year and put on more weight. He returned the following season and got better as he grew. A senior in the School of Education, Amundsen will receive his degree in June. Amundsen likely will work into the position that may be vacated by Al Barry, the Southern California guard who made the Bays as a rookie last year. Barry could be called into service before next season. Uncle Sam is closed in on end Max McGee and already has snapped up tackle Art Hunter from the offensive line…On the veterans' front, Val Joe Walker underwent an operation on his knee recently and is recovering rapidly. Scout Jack Vainisi talked with V.J. on his trip last week into the southwest area and Walker said his troublesome knee feels like new. The Packers' deep defensive men now have two new knees. Bobby Dillon underwent an operation on his "trouble maker" a year ago and went through the '54 season unscathed. Walker and Bill Forester are selling insurance in Dallas, while Dillon is in the accounting department of a lumber firm in Temple, Tex…Billy Howton, who expects to become a pappy this week, is a partner in the Howton-Huff Insurance Company in Houston and, according to Jack, "doing right well for himself." And speaking of insurance, Stretch Elliott is in that particular game with his brother in El Paso…Mike Michalske started work last week as line coach at the University of Texas. The former Packer is working under Eddie Price…One quarterback, Tobin Rote, is mixed up in, of all things, golf. Tobin is a golf representative for the Miller Brewing Company and is making the major tournaments. He'll be one of the hosts at the Miller Open in Wisconsin next summer…Closer to home, Deral Teteak goes to the altar in Madison next Saturday. Worse yet, Deral has an Army physical scheduled for Monday in Milwaukee but the Oshkosh linebacker is trying to get the draft people to put off the Milwaukee stop for a spell. Army physical are nothing new for Teteak who has been deferred each time because of high blood pressure...Fred Cone, a football representative for Miller Brewing Company, addressed a Holy Name society meeting in Pulaski last night. He stopped in at the Packer office yesterday, reporting that he's "staying in condition by playing handball with Don Kindt and Bob Forte" in Milwaukee.
BAYS' HOWTON SHUNS RICH CANADA OFFER
FEB 8 (Houston) - Canadian professional football teams apparently have lost in their efforts to sign Bill Howton, veteran Packer end, and Dicky Moegle, All-American halfback from Rice. Howton, who has played three years at Green Bay, said Tuesday he had decided not to accept an attractive Canadian offer. "I was tempted but I have another year on my Green Bay contract and I don't want to jump a contract," Howton said. "I'll keep those offers in mind, however." Moegle said he probably will sign with the 49ers in about a month. "I'd probably make more in Canada," Moegle said, "but I think it will be to my advantage to play in the United States." Moegle, San Francisco's first draft choice, has received offers from three Canadian team, including Montreal and Vancouver. Moegle made his announcement after receiving a call from Peahead Walker, Montreal coach.
NEW POSITIONS FOR PRO GRIDDERS? WOULD HELP
FEB 9 (Green Bay) - We're in favor of adding a few new official positions n football. Especially for pro ball. The Packers' No. 1 draft choice, Tom Bettis, is listed as a guard but he'll be a linebacker as a pro. Under the college single platoon plan, Bettis played offensive guard and linebacker at Purdue. The man Bettis is replacing, Clayton Tonnemaker, also is a "case". Clayton, for years, was known as an All-American center from Minnesota. As a Packer for three years he was listed as a center but he rarely played center - maybe three or four games over the stretch; the other at linebacker. The Packers picked up two players in the recent draft who are listed as "end" - Johnny Crouch of Texas Christian and Doyle Nix of SMU. The two Texans, if they desire to play for pay, will be candidates for the corner linebacker position. You'll have to go for a long ways to find the position of CL in the box score but that's the spot Coach Liz Blackbourn has in mind for them. Crouch, a 195-pounder, and Nix, 188, are not the same kind of linebackers as Bettis, Tonnemaker, Deral Teteak and Roger Zatkoff. Corner linebackers is a sort of "short defensive halfback", but not in height...SIT OUT THERE ALONE: Confusing? In the basic pro defense, as you saw last year, Bobby Dillon and Val Joe Walker played the deep defensive positions and Clarence Self and Gene White played short defensive halfback. The foursome formed sort of a half-circle. Sometimes these four sit out there all alone, as it were, because most generally the linebackers get up in the line. Sometimes they jump back just before the ball is snapped. Which prompted us one time to ask Blackbourn this: "How do you tell me what defense we're using?" Answer: "Watch the linebackers, the number of actual linemen and go on from there." The standard defense is the "5-4", which means five linemen and four defensive halfbacks. The other two? They're linebackers who could be almost anywhere. Anyhow, drafting of Couch and Nix - plus one or two other similar animals - means that competition will be hot and heavy next July and August for those short or corner linebacker spots - chiefly Self, White and Jim Psaltis. In drafting last month, Blackbourn said that "in strengthening a defense we must start at linebacker," which is why he went for a top-notch linebacker (Bettis). It can be noted that the Bays went through the draft without picking a senior (or available) offensive fullback - at least for use at that position. Bob Clemens, a fullback out of Georgia, was picked No. 8 but Liz plans to use him as a halfback despite his 220 pounds. "He's real fast and can play halfback," Liz said. The Bays picked FB Bill Brunner, a junior, for delivery in 1956. Then, there's Art Walker, the 220-pound tackle from Michigan, the No. 12 choice. Obviously, Art is too light for pro tackle even though he made All-America for that position. Since Walker is fast and a good blocker, Blackbourn plans to make a guard out of him. The Packers have another Michigan light case - Fred Baer, 185-pound fullback. Baer will work into defensive halfback. While the one-platoon business makes it difficult to talent, at least the pay coaches get two positions for the price of one pick. A good example is Buddy Leake, the Oklahoma halfback drafted No. 3. Buddy is earmarked as a two-way back just as he was at Oklahoma. He can do a good job both ways, although the Packer coaches, in camp, will soon be able to tell which he does best - offense or defense. Probably the top mystery man of the Packer list is Charlie Brackins, the quarterback from Prairie View A. and M. The 202-pounder, whose enormous mitts make it possible to throw a football like it was a baseball, is a skilled runner, which makes him a candidate for halfback. At any rate, Brackins will be the tallest helper for Tobin Rote in two years. At 6-2, Charlie can look Tobin smack in the eye. Rote's last three aides, Bobby Garrett, Elry Falkenstein and Bob Burkhart, all measured under six.
PACKERS SIGN INDIANA'S BORDEN
FEB 10 (Green Bay) - The Packers took another peck at the Big Ten Conference today and came up with a four-year veteran from the University of Indiana by the name of Nate Borden. Borden is the third player announced as signed by Coach Liz Blackbourn and all three of them sharpened their teeth in the rugged Western conference. Others signed are guard Tom Bettis, the No. 1 draft choice from Purdue, and guard Norm Amundsen, the No. 6 pick from Wisconsin. Borden, a tackle and end at Indiana, was the Bays' 25th selection in the recent draft but his history would indicate a top-10 pick. The husky Negro from Jersey City, N.J., who packs 225 pounds on a 6-2 frame, "is a pretty good looking prospect," in the opinion of Blackbourn who added: "He is a quick, active kid that could make us a good defensive end." Blackbourn saw Borden in action when his Marquette teams played Indiana. Borden becomes the first to jump into the fight for defensive end work next fall. He'll be battling against veterans John Martinkovic, Stretch Elliott and Gene Knutson and a number of sparkling newcomers, including Wisconsin's Jim Temp. Indiana coach Bernie Crimmins, a guard on the Packers' 1944 championship team, rated Borden as "the best blocker" in the Hoosier line. He was considered vicious on defense the last two seasons. Borden hold the unique distinction of playing in all 36 Indiana games in the last four years. He came up in 1951 when freshmen were allowed to play and made the team immediately. He performed as a tackle as a freshman, an end during his sophomore and junior years and tackle as a senior. The newcomer also had a hand in scoring in his long career. As a soph, he caught 13 passes for 169 yards and one touchdown. The following season, he added two TDs on 11 catches for 214 yards...SCORED AS TACKLE: Even as a tackle last fall, Borden got into the scoring column. In Indiana's windup against arch-rival Purdue, Borden raced into the Boilermaker backfield to hurry a quick kick and, after the ball bounced off a Purdue player's back, grabbed it and raced for a touchdown. Against Ohio State, he pulled out of his tackle spot to run the Buckeyes' swift Bobby Watkins down the sidelines to kill a possible score. Borden, 22, is known as "Moccus" by his teammates. He developed the odd moniker when his fellow players, with the aid of the team physician, convinced him he had a bogus ailment. As a junior, Borden played 448 minutes and went over 50 in six games. Last fall, he worked 332 minutes - second highest total on the team. Borden played both tackle and fullback in high school in Jersey City. The Packers, who selected seven Big Ten players in the draft, have four left unsigned - Temp, guard Henry Bullough of Michigan State, tackle Art Walker of Michigan and halfback Fred Baer of Michigan.
GOOD REASON! KNUTSON SIGNS '55 PACK PACT
FEB 11 (Green Bay) - Gene Knutson, the brainy Scandinavian from Beloit, had one good reason to quit pro ball last fall and one good reason to continue a career in the play-for-pay ranks. The former University of Michigan star had an unfortunate experience in the non-league game against Washington at Raleigh, N.C., last Sept. 11 - one that would send the average rookie back to school. Knutson was getting his first real test at defensive end when he drifted out and into share a ball carrier. Washington tackle Paul Lipscomb, who played most of the game at both offense and defense that night, sideswiped Gene with an elbow, ending Gene's play for the night. The mighty blow "was enough to make an athlete think twice about pro ball," Coach Liz Blackbourn said later, since the sock was what might be termed entirely unnecessary. The brush with Paul, who later went to the Chicago Bears, never bothered Knutson and he proceeded to understudy veteran defensive ends John Martinkovic and Stretch Elliott. He never had a good opportunity to play until Elliott was hurt early in the Detroit game Thanksgiving Day. It was early in the game that Knutson pulled something that showed he was a thinker as well as a solid replacement for Elliott - not to mention a pro future. Shortly after the starting kickoff, Knutson went down to nail the receiver on a Max McGee punt. There was no receiver since the ball was bouncing into the end zone, but Knutson trailed the ball until the last moment and then batted it back away from the end zone just before it rolled in. The ball was downed on Detroit's three instead of on the 20 where it would have gone had it rolled into the end zone. Knutson also was instrumental in holding the Lions to three first downs by rushing, breaking through several times to throw ball carriers for losses. Gene was slowed by injuries the last two games but still played commendable ball. Looking back to the Detroit game, Blackbourn said: "Knutson played a real fine game. Actually, it was the first real chance he had to show what he could do. I was very pleased." Knutson's play in that game, plus his desire for action, prompted big Gene to return his contract to the Packers today - with his signature. The Packers' 10th draft choice in '54, Knutson won three letters at Michigan and had received all-Midwestern honors. He starred at Beloit High in football, basketball and track. He captained the basketball team and sill holds several track marks. Knutson is the second veteran to sign. Quarterback Tobin Rote inked a two-year pact last month. Three rookies have been announced as signed thus far - guards Tom Bettis of Purdue and Norm Amundsen of Wisconsin and end Nate Borden of Indiana. Steady signing activity is expected in the next few months. The coaches have returned from tours of the various sections of the country and this week launched day-to-day in-the-office preparations for the '55 season. Blackbourn and his aides, Tom Hearden, Ray McLean, Lou Rymkus and Jack Vainisi, are grading Packer veterans from films of 1954 games.
COATTA FIRST OF TWO NO. 16'S TO BACK ROTE
FEB 14 (Green Bay) - The quarterback who understudies Tobin Rote next fall should wear No. 16! Coach Liz Blackbourn has nominated two 16th draft choices for the position of No. 1 assistant to Rote - Johnny Coatta of Wisconsin and Charlie Brackins of Prairie View A. and M. Coatta, who signed his 1955 Packer contract over the weekend, was drafted No. 16 in 1952 while Brackins, oddly enough, was drafted in the same slot last month. Brackins is expected to sign shortly. No. 16 wasn't a lucky number last fall for one prospective aide to Rote - Elry Falkenstein, the hard-hitting free agent from Illinois, who was place on waivers shortly before the season started after giving it a wonderful try. And what about Bobby Garrett, who understudied Rote last fall while wearing No. 15? Garrett, who came here last fall in the trade with the Cleveland Browns for Babe Parilli and three other players, is expected to go into service shortly. Parilli, who went into service two weeks before practice started last fall, is due out in '56. Blackbourn is exceptionally high on Coatta. The Packer coach saw plenty of Johnny during his record-breaking career at Wisconsin. In addition, Liz has discovered that Coatta has grown into pro size. Now 24, Coatta is now carrying a normal 185 pounds - 15 more than he did at Wisconsin, and stands an inch under six feet tall. Johnny was shade over 5-10 at Wisconsin...JUST A KID AT UW: Coatta actually was "just a kid" at Wisconsin. He was Coach Ivy Williamson's first fulltime quarterback at the tender ages of 18, 19 and 20. Coatta beat out Jim Haluska as a sophomore in 1949 - Ivy's first year, and carried the load the next two seasons, climaxing his career with the famous "hard rocks" of '51. An exceptional short passer at Wisconsin, Blackbourn feels that Johnny now has the size to handle the long throws. The former Badger star, who set many Big 10 and Wisconsin passing records in 1951, is at present a first lieutenant in special services at Ft. Eustis, Va. He is expected to be discharged from service on April 30. Though he reportedly signed a Packer contract in 1952, Coatta did not compete that fall, choosing to continue his studies at Wisconsin. He graduated in June of 1953 with a degree in physical education and then entered the service. Last season, he quarterbacked and helped coach the Ft. Eustis football team which had as its head coach Gene Felker, another member of the 1951 Badger eleven. Coatta also coached the baseball team and in 1953 was assistant football coach at Camp Atterbury, Ind. Cleveland Brown Coach Paul Brown, who coached Coatta in the Senior Bowl game in 1951, is high on Coatta's abilities. "You have a better quarterback there than you realize," he told Blackbourn recently. But Blackbourn also rates Coatta highly. "I would rather have him play for me than against me." He won top honors as the best Big 10 passer in 1951 with 76 completions in 146 attempts for 1,030 yards (all figures were Big 10 records at the time). In addition, he had a completion percentage of .642 in 1950 which still stands as a Big 10 record. He set school marks in most attempts (185), most completions (91) and most yards (1,154). In addition to other honors, he was named to all of the Big 10 and All-Midwestern honorary first elevens. Coatta graduated from Dearborn, Mich., High School in 1947 and then attended Kiski prep for one year. At Kiski, he was a star in four sports, competing in football, basketball, hockey and baseball. He will be 24 years of age on April 4.
PACK SET AT QUARTERBACK
FEB 15 (Green Bay) - Packer Coach Liz Blackbourn is operating six months ahead of last year's schedule in the quarterback department. Here it is only Feb. 13 and already all three of the 1955 signal callers are signed, sealed and set for delivery next July. Latest and probably the last QB to sign - barring a free agent or two, is Charlie (Choo Choo) Brackins, the highly-touted Prairie View A. and M. signal caller, passer, punter, runner, punter and point and field goal kicker. Veteran Tobin Rote, who is expected to carry the load next fall, was the first QB to enter the fold; he signed a two-year pact last month. Wisconsin's Johnny Coatta officially joined the Bays over the weekend. Thus, nearly half of the seven players announced as signed so far are quarterbacks. A year ago this time, Rote was set by Blackbourn was haunted by Uncle Sam, who was after Babe Parilli. The two quarterbacks chosen in the draft, Clint Sathrum and Terry Campbell, decided not to play pro football and two free agents were picked up - Bob Burkhart and Elry Falkenstein. Parilli went into service, shortly before training started, bringing on the deal with Cleveland for Bobby Garrett. The situation this year is peaceful compared to a year ago, although Garrett may be called into service...REGULAR FOR FOUR YEARS: Brackins, the Packers' 16th draft choice, was Prairie View's regular quarterback for four straight seasons and in that span the Texas school lost only four games in 41 starts. All four setbacks were in intersectional competition as Prairie View dominated the Southwestern conference. Picked to the Negro All-American for three consecutive years, Brackins is rated as "one of the all-time Negro college players." He was also called one of the best quarterbacks in the South. As a passing ace, Brackins had 269 completions for a 3,485 net yards. He accounted for 78 of the 98 extra points the Panthers amassed in the four years, and besides punting, running and passing, he was a 60-minute player performing capably on defense. Captain in his senior year, he was considered an excellent team leader. Brackins stands 202 pounds and stands 6-2. Prior to his enrolling at Prairie View, he was an all-state athlete at Lincoln High Scholl in Dallas. He is 23 years of age and has four brothers and three sisters.
FIRST NEGRO QB REGULAR IN PROS BRACKINS' GOAL
FEB 16 (Green Bay) - When the Packers drafted and signed Charlie Brackins, they gave the 23-year old Prairie View A. and M. hotshot an opportunity to become the first fulltime Negro quarterback in the modern history of professional football. Negroes have had a place in pro ball as long as it has been
Black quarterback Charlie "Choo Choo" Brackins played in 1955 for the Green Bay Packers. Drafted in the 16th round of the 1955 draft by the Packers out of Prairie View A&M, where he was a four-year starter and led his team to 33 victories in 37 games. He was a big tall passer at 6-2 and 205 lbs. Brackins became the fourth black quarterback to play in an NFL game. He played in the closing minutes for the Green Bay Packers in a blowout game against the Cleveland Browns on October 23,1955. Green Bay won the game 41-10 and Brackins had two incompletions. His career only lasted seven games and the Packers placed him on waivers after he had broken curfew before a game in Chicago and other unnamed problems. After the "violations," Brackins never got a chance to return to the NFL. He had tryouts, mostly as a defensive back, but never caught on again and injured his knee before leaving the game. He died of cancer in 1990 at the age of 58.
(SOURCE: Packerville.blogspot.com)
played - unlike major league baseball, which accepted them in '47, but no member of their race has been able to make it as a quarterback. And it's unusual in view of the Negro stars playing other positions - such as fullback Joe Perry of San Francisco, halfback; Night Train Lane of the Chicago Cardinals, Veryl Switzer of the Packers and others; end Bob Boyd of the Rams - to mention a few. Undoubtedly a number of Negro players have gone out for QB and some of them - in the old days - may have stuck for brief periods, but the last, within close memory, to come up was Willie Thrower, the former Michigan State ace, who had a trial with the Chicago Bears in '53 and was credited with one pass in one league game...FOUR WORKING OUT: Brackins has tremendous qualifications for the role of "first quarterback". In addition to his mechanical skills - throwing, running and punting, Brackins is highly courageous and, according to scouts, an "excellent team leader." Packer Coach Liz Blackbourn, who selected Brackins No. 16 in the January draft and announced his signing yesterday, is pleased to note that Brackins is workout out quite often with quarterback Tobin Rote and end Billy Howton in Houston where the two Bay veterans reside. Also in the party is Emlen Tunnell, the Negro defensive halfback with the New York Giants. When Scout Jack Vainisi visited Brackins recently, Rote and Howton went along and all were impressed with the rookie quarterback's ability. Brackins will compete with Wisconsin's Johnny Coatta for the position of assistant to Rote in practice late next summer. And possibly with Bobby Garrett - if he remains out of service. Of the eight departments of football last fall, on which statistics are compiled, Negroes were prominent in all of them but passing - the quarterback's chief job. Negroes made off with three of the eight firsts - Perry in rushing, Switzer in punt returns and Lane in interceptions. They captured a second - Horace Gillom of the Browns in punting; two thirds - Tunnell in interceptions and Bob Boyd of the Los Angeles Rams in pass receiving; and a seventh - Deacon Dan Towler of the Rams in scoring. It is interesting to not that the league's top four rushers were Negroes - Perry with 1,049 yards, John Henry Johnson of San Francisco with 681, Tank Younger of the Rams with 610 and Towler with 599. Perry seems destined to become the league's all-time ground gainer. He now has gained 4,116 yards in five seasons - the third best total in league history. Only Steve Van Buren of Philadelphia with 5,860 and Tony Canadeo of Green Bay, with 4,197, have better lifetime marks. Only three Negroes have ever played as regulars with the Packers - Bob Mann, the offensive end who became the first of his race to join the Packers in 1950, tackle Tom Johnson and Switzer. The Packers selected five Negroes in the recent draft. Besides Brackins, there were Nate Borden, Indiana defensive end who already has signed; tackle Art Walker of Michigan; tackle Bob Carter of Grambling; and guard Charles Bryant of Nebraska. The Packers have two Negroes coming out of service - Johnson, Michigan tackle, and Bill Robinson, Lincoln halfback, both of whom played in '52.
CLEMENS HEAVIEST PACKER HB? 10 SET
FEB 17 (Green Bay) - It's been a long time since the Packers had a halfback weighing more than 200 pounds. Coach Liz Blackbourn thinks he may have the fullback who can do the job at the so-called breakaway position - Bob Clemens, a 212-pound speed merchant from Georgia. Clemens, drafted No. 7 last month, signed a 1955 Packer contract today along with a pair of free agents from Marquette - guard Marv Swentkofske and scatback Lou Spycalla. The Packers have had a number of HB's around the 195-pound bracket, topped by the all-time Tony Canadeo, but few over the 200-mark ever made it - chiefly because lack of speed and pass catching ability. Well fixed at fullback, Blackbourn said after the draft that "we drafted Clemens to play halfback." Liz has three veteran fullback to work with - Howie Ferguson, who led the squad last year, Freddie Cone. who specialized in field goal and extra point kicking in '54, and Bill Reichardt, who is expected to rejoin the club in '55 after two seasons in service. Known as "Foots", Clemens was rated as one of the best fullbacks in Georgia history and one of the better pass catching backs. He was Georgia's leading ball carrier in 1952 and 1953, but was hampered by hurts in '54, though he served as co-captain of the team and led in scoring with 24 points. He also was top scorer in '53 with 36 points. During this three years at Georgia, Clemens gained 1,297 yards in 276 carries for an average of 4.7. In 1952, as a sophomore, he carried 106 times for 360 yards. He moved 120 times for 586 yards in '53, and, alternating with Bobby Gerrard the past season, lugged 50 times for 251 yards. He also came in for a share of the punting, averaging 36.4 in 14 kicks. Clemens hails from Scottsboro, Ark., where he starred in both football and basketball at Jackson County High. He will graduate in June with a degree in General Agriculture. Both Blackbourn football students at Marquette in '53, Spycalla and Swentkofske are the first of the free agents to register. Spycalla is built along the lines of Doak Walker and Jug Girard - 176 pounds, 5-11, while Swentkofske carries 215 pounds on a six-foot frame. Sypcalla was hampered by knee trouble in '54 but averaged 6.8 yards per try in '53. Swentkofske won the Marquette most valuable player award last season. Both played prep football in Milwaukee – Swentkofske at Washington and Spycalla at Pulaski.
PACKERS ADD GIANT TACKLE, ANTKOWIAK
FEB 18 (Green Bay) - A couple of tackles – one the largest specimen selected in the January draft – were signed today by the Packers. The big boy is Bob Antkowiak, a six-foot, six-inch, 250-pound workhorse from Bucknell, and the little boy by comparison is Jack Nitz, a 218-pounder from South Dakota State. They are the first two tackles announced as inked thus far by Coach Liz Blackbourn. The Bays now have revealed the signing of 12 athletes. Antokowiak comes to Green Bay with the compliments of the New York Giants. The Giants gave the Packers their 20th draft choice last fall for a look at John Bauer, the former Illinois tackle received by Green Bay in a trade with Cleveland. On the 20th round, the Packers nominated Antkowiak for a possible shot at the hole left by the graduation of veteran Art Hunter into Uncle Sam's Army. The record doesn't show Antkowiak gaining All-America as an offensive tackle, but, as Blackbourn figures, the newcomer has the size and speed to play the spot. Oddly enough, Antkowiak started his Bucknelling as an end but then grew so hefty that he became more valuable as a tackle. As a senior in'54, Antkowiak bolstered Bucknell in an undefeated season under Coach Harry Lawrence. Lawrence believes Antkowiak will be particularly valuable on defense in the two-platoon plan as played by the pros, which places him in competition with veterans Dave Hanner and Jerry Helluin. Lawrence also believes the big boy is still developing…SIX DRAFTEES SIGNED: Antokowiak also won a letter in basketball at Bucknell – attesting to his speed. The new player hails from Baltimore where he was an all-around athlete for four years in basketball, baseball and football at Mr. St. Joseph High school. He is the youngest in a family of three boys and two girls. He was 22 last November and will graduate in June with a degree in economics. Nitz, a free agent, packs his 218 pounds on a six-foot frame. He alternated between guard and tackle as co-captain of SDS last year. His coach rates him a good offensive blacker and tough tackler on defense. The Packers now have signed six draft choices.
IT'S OFFICIAL - JOE (JET) PERRY IS NFL GROUND GAINING CHAMP
FEB 20 (Philadelphia) - Joe Perry, the big blast of the San Francisco 49ers, became the 1954 ground gaining champion of the NFL officially Saturday with the posting of his 1,049 yards as the top mark in the league last season. Joe the Jet nailed down the title for the second year running and became the first man in the league history to gain more than 1,000 yards in successive seasons. It put his five-year total at 4,116 yards to take over third place in the all-time ratings behind Steve Van Buren of the Philadelphia Eagles and Tony Canadeo of the Green Bay Packers. He and Van Buren are the only players to gain more than 1,000 yards in two different seasons. Perry's running mate, John Henry Johnson, finished second with 681 yards in 129 carries and Dan Towler of the Los Angeles Rams, who was second to Perry in 1953, finished fourth with 599 yards. Maurice Bassett of the Cleveland Browns was fifth with 588 yards. The top 10 was rounded out by Eddie Price of New York (555), Billy Wells of Washington (536), Hugh McElhenny of the 49ers (515), Floyd Reid of Green Bay (507) and Ollie Matson of the Cardinals (506). San Francisco, powered by Perry, Johnson and McElhenny before "Hurricane Hugh" was injured at the halfway points, won the team ground gaining honors with 2,498 yards. Los Angeles was second with 2,410 and league champion Cleveland was third with 1,793.
BARRY, GARRETT LOST TO PACK; END, HB LEFT
FEB 21 (Green Bay) - And then there were two – end Max McGee and halfback Veryl Switzer. They were the only remainees today of the original five outstanding Packer rookies expected to depart for duty with Uncle Sam. First to go were tackle Art Hunter, who entered service a month ago. Guard Al Barry is scheduled to enter the Army west coast Wednesday, and quarterback Bobby Garrett reportedly is already in the Air Corps, though no official word has been received here. The three were considered the most vulnerable to Uncle Sam's bite, and Coach Liz Blackbourn considered their departure only a meter of time. Hope is being held out for Switzer and McGee – two important figures in plans for next fall. A sixth player, defensive halfback Gene White, was an expected service lossee when the '54 season ended, but Blackbourn received word recently that he would be available for his sophomore season. The player draft last month was designed somewhat to cushion the loss of Hunter, Garrett and Barry. Tackles Ed Culpepper, Bob Carter, Art Walker, Bob Antkowiak and Jack Spears are possibilities to fill Hunter's shoes. Also a possible is Jim Temp, the 230-pound defensive end who may be tried at tackle – not to mention Army returnee and veteran Tom Johnson. Though No. 1 choice Tom Bettis is chiefly a linebacker, he is among three guards chosen in the first six rounds to take Barry's place. The others are Norm Amundsen of Wisconsin and Hank Bullough of Michigan State. Blackbourn selected one quarterback in the draft – Charlie Brackins, a 202-pounder from Prairie View A. and M., and is also depending on Johnny Coatta, the former Wisconsin QB who is due out of service shortly. The two replacement possibles for Garrett already are signed. The Packers have selected insurance in case Switzer is called in – John (Buddy) Leake, the Oklahoma fullback, who plays both offense and defense. Blackbourn likened him to Switzer.
LOUISIANA TECH FB JOINS PACK; 12 NOW IN FOLD
FEB 22 (Green Bay) - On the say-so of Ab Wimberly, the Packers today signed free agent James (Petey) Oliver, a fullback from Louisiana Tech. Overlooked completely in the draft, Oliver will enter professional football with a fancy college reputation – not to mention a solid recommendation from Wimberly, the former Packer now an assistant coach at alma mater Louisiana State University. Oliver is the second fullback announced as signed by Coach Liz Blackbourn, who earlier revealed the inking of Georgia's Bob Clemens, the club's seven choice in the January draft. Oliver carries 207 pounds on a 6-1 frame. He played four years with the Bulldogs, one the larger "small" colleges in the south, and led his team in rushing the last two seasons even though he missed the first four games of his senior year because of a broken hand sustained in preseason practices. Co-captain last fall, Oliver carried 61 times in five games for 333 yards and an average of 5.4, also scoring 30 points. As a junior, he led the Tech eleven to the Gulf State Conference championship with 515 yards in 74 attempts for an average of 6.9 per trip. He also counted 25 points, giving him 55 in two seasons. A rugged player, Oliver has a reputation as a good blocker. He has good speed, having competed in track in Bossier, La., High, where he was an all-state fullback and track star. Oliver is a senior petroleum engineering student and will turn 22 next April 18. Blackbourn has announced the signing of 12 players thus far…BRIEFS: Breezy Reid, the Packers' veteran halfback, is a used car salesman for Schaffer Motor Sales. His slogan – "Shoot the breeze with Breezy."…Charlie (Choo Choo) Brackins, rookie Packer quarterback, received his nickname for his liking for Charlie (Choo Choo) Justice, veteran Redskin back…The oldest Packer in point of service is Carl (Bud) Jorgensen, Packer trainer. He completed his 31st season with the club last fall. During the offseason, he is a salesman for Bertrand's…Veteran quarterback Tobin Rote, starting his sixth season of pro ball this fall, will be out to monopolize all the all-time Packer records. He now holds seven all-time marks with total touchdown passes his next goal. He needs only six more to eclipse the mark of 59 set by Cecil Isbell from 1938 to 1943…The youngest senior drafted by the Packers this year was Hank Bullough, Michigan State guard. Bullough was 21 Jan. 24 – three days before he was drafted.
IT'S OFFICIAL - THE PACKERS WILL TRAIN IN STEVENS POINT AGAIN!
FEB 24 (Stevens Point) - It was made official today that the Green Bay Packers again will train in Stevens Point this summer. The announcement came from the Board of Directors of the NFL member following a meeting earlier this week. The stay of the Packers here will be approximately seven weeks as compared to six last summer. Reason for the additional week is the earlier arrival of the rookies. Newcomers to the squad will get their training underway on July 16 while the 1954 personnel are scheduled to arrive on July 23. The Packers will break camp permanently on September 2 although they will be out of town for several occasions on weekends prior to that date to play exhibition games. Details of the Packers' training camp stay in Stevens Point are similar to the 1954 plans. The team will live in Delzell Hall and eat at Nelson Hall. both on the campus of Central State College, and practices will be conducted on the college practice field, Bukolt Park and Goerke Park. The itinerary of the training period calls for two-a-day practice sessions on most days. A highlight of the seven weeks will be an intrasquad game early in August. The Packers will also stage scrimmages from time to time which, like all workouts, are open to the public. Coach Liz Blackbourn, his staff and his players proved a welcome addition to the Stevens point sports scene last summer. Verne Lewellen, general manager of the organization, along with the officials were pleased with all aspects of the training site here and it had been hinted many times that Stevens point would be again be selected as the summer home. "The facilities at Stevens Point proved very satisfactory," Lewellen said on making the announcement. "We were invited back by several different organizations in Stevens Point and are happy to work with the people of that city. The facilities are such that we believe we can get the most out of the players during their pre-season training." Blackbourn was equally happy about the return to Stevens Point. "The arrangements are conducive to the development of our team.
PACK OPENS DRILLS EARLIER
FEB 24 (Green Bay) – The Packers chalked up two firsts in the Department of Practice today. They will open workouts in Stevens Point Saturday, July 16 – earliest in history, and will start the drill season with a seven-day rookie camp. Veterans will report one week later – Saturday, July 23, when Coach Liz Blackbourn and Aides Tom Hearden, Ray McLean, Tom Rymkus and Jack Vainisi will put the entire show into operation. The one-week head start for rookies is something new for Green Bay. Blackbourn expects to have a good idea on the caliber of his new material by the time the veterans report. It will be the first time the Packers ever held an earlier season for rookies. Both General Manager Verne Lewellen and Blackbourn expressed satisfaction with the return to Stevens Point. The Bays practiced there for the first time in '54. Lewellen said: "The facilities proved very satisfactory. We were invited back by several different organizations in Stevens Point and are happy to work with the people of that city. The facilities are such that we believe that we can get the most out of the players during their preseason training." Blackbourn pointed out that "the arrangement are conducive to the development of our team." Seven weeks will be spent at Stevens Point, which means that camp will break up about Sept. 2. The Packers will headquarter at the state college's Delzell Hall, a modern dormitory on the campus, take their meals at Nelson Hall. Most of the practice sessions will be held at Bukolt Park on the banks of the Wisconsin River while Goerke park will also be used to a limited degree. Goerke park will also be the site of an intra-squad game which is still in the planning stages…On the contract front, Blackbourn announced the signing of Fred Baer, 190-pound fullback from Michigan. Baer, the club's 14th
draft choice, will be used as a defensive halfback where Blackbourn believes he is best suited in view of his weight and speed. Baer will be out to win one of the positions held by Clarence Self, Jim White and Jim Psaltis. Baer played defense during his freshman and sophomore years and, when the one-platoon system was installed, he saw little action during his junior year. Showing greater speed during spring training, he developed into a two-way back as a senior and was an important cog in the Wolverine style last fall. His best game was the Wolverines' 34-0 upset victory over Minnesota, where he contributed two touchdowns to the triumph. At the end of the season, he was named Michigan's "Most valuable player". Baer won scholastic as well as athletic honors at Fenwick High School in Chicago and was named the school's top honor – the Scholar-Athletic Award. Besides playing four years of football, he also participated in basketball for four years. The climax to his prep career was when he played in the 1949 city championship game in Soldiers Field. He will graduate in June with a degree in Literature and Science with a major in history. Baer is the seventh draftee to sign for '55 and the 13th announced as inked thus far.
EAGLES SIGN THREE
FEB 24 (Philadelphia) - The Philadelphia Eagles Wednesday announced the signing of three more players, including their fifth round draft choice, West Virginia guard Gene Lamone. Also signed are William Buford, former Morgan State tackle and Don Green, a Miami (FL) tackle. Buford was waived by the Green Bay Packers last season before the season opened.
BILL REICHARDT SET, MOVED TO HALFBACK
FEB 25 (Green Bay) - Lt. Bill Reichardt, the Iowa product who will exchange his Air Corps status for that of civilian in April, will undergo additional change when he joins the Packers in July. Coach Liz Blackbourn, announcing the signing of Reichardt today, revealed that the onetime all-Big Ten fullback will seek his salt next fall as a halfback. And there is good reason. Reichardt, a 210-pounder when he played as a rookie with the Bays in 1952, has trimmed himself down to a new playing weight – 190. Swift even as a 210 pounder, Blackbourn expects him to be even faster as a halfback. He'll likely toil at left half and his knowledge of fullback, a position he played throughout his Iowa career, will make him doubly valuable. Blackbourn had two looks at Reichardt last season – in Baltimore when Bill, stationed near Washington, came out of watch the Bays nip the Colts 7-6, and in San Diego, where he played for Bolling Air Force in the Poinsettia Bowl. Shifting of Reichardt to halfback cuts the number of veteran fullbacks down to two – Howie Ferguson and Freddie Cone. Two rookie fullbacks have been signed thus far – Bob Clemens of Georgia, the seventh draft choice, and free agent James Oliver of Louisiana Tech. Clemens, a 212-pounder, was drafted to play halfback because of his speed, Liz said after the draft. Reichardt was one of Packer fullbacks in '52, sharing the rushing with Cone and Bobby Jack Floyd. Bill finished with a rushing average of 3.1 with 39 trips while Cone and Floyd each averaged 3.9. Cone lugged 70 times and Floyd 61. Reichardt did just about all of the Bays' field goal kicking in '52, booting 20 of the 21 attempts. He converted on five of the tries while Cone kicked one for one. On extra points, Reichardt made five for five while Cone made 32 out of 34. One of Reichardt's field goals, incidentally, was a 43-yarder against Detroit…BRILLIANT CAREER AT IOWA: Reichardt, the Packers' seventh draft choice in '52, came here after a brilliant career at Iowa, where he gained many honors including the Big Ten's most valuable player award and All-America ranking. In 27 games for the Hawkeyes, Reichardt carried the ball for 1,691 yards and an average of 4.2 yards per try. He later played in the Blue-Gray, Senior Bowl and All Star games. With two years in the Air Corps under his belt, Reichardt will turn 25 years of age next June 24. Reichardt is the 14th player and the third veteran announced as signed thus far by Blackbourn.
PACKERS OFFERED NO-RAID PACTS BY CANADIAN CLUB
FEB 26 (Green Bay) - The Packers have received communications from Edmonton and Winnipeg of the Canadian Inter-Provincial Football league offering no-raiding pacts, Packer General Manage Verne Lewellen revealed today. Lewellen said that "the Packers will go along providing details can be worked out." Negotiations presently are being made by the three clubs and indications are now that some sort of pact will be arranged. Under the no-raid setup, the clubs would not touch any veterans belonging to each other. The pact with Green Bay is one of several being worked out by the various clubs in the two leagues. Washington and Calgary have signed a similar agreement and several players have been exchanged under its terms. Ralph Misener, president of the Winnipeg Blue Bombers, said yesterday that he has been negotiating with all clubs in the NFL "for no-raiding pacts." Philadelphia Eagles General Manager Vince McNally said yesterday that Edmonton and Winnipeg have expressed a desire to arrange no-raiding pacts. McNally stated that the Eagles would be "happy" over a pact based on a suggested 10-point program. Also on the business front, Washington announced its home schedule today, including a non-championship game with Green Bay in Winston-Salem, N.C., Sept. 10.
COACHES GRADE PACKER VETERANS; CONE SIGNS
FEB 28 (Green Bay) - What's cookin' in the Packer coaches' sanctum these days? "Moving pictures" would seem to be the best answer but Head Coach Liz Blackbourn was more specific: "Two things are being studied in films of our 12 league games last fall – our own players and the opponents," Liz explained, adding: "The three coaches (Tom Hearden, Ray McLean and Lou Rymkus) are grading the individual Packers and I'm charting our opponents." Grading Packer performances is a long and tedious job "but they've finished half of the season already," Blackbourn said. Each player is graded on each play and a system of symbols is used to judge them. The results will be used in training next season and steps will be made to correct the mistakes or weaknesses shown by each athlete. The staff will complete an intricate 1954 file on each veteran when they report at Stevens Point July 23. Rookie report July 16. Blackbourn is making a complete study of enemy defenses – play by play and game by game. Thus, he is able to pick up characteristics of enemy operation under just about any circumstance. In addition to the picture phase, Blackbourn is busy dealing with draft choices, free agents and veterans by telephone or mail or, in some cases, in person. Already 15 players have been announced as signed, including three veterans, eight draft choice and four free agents. Many more are forthcoming and it's a good bet now that the Bays will launch practice with at least 60 athletes – a far cry from the 43 who were present at opening day a year ago…Latest to sign a Packer pact was veteran fullback Fred Cone, whose inking was revealed Sunday. Cone, who will be starting his fifth Packer season, has led the Packers in scoring three seasons and now has a total of 231 points for fifth in the all-time scoring list. Despite the fact that he never played high school football and never kicked an extra point or field goal until he joined the Packers. Cone has developed into one of the best extra point and field goal specialists in the league. He booted 27 out of 29 PAT's last fall, the two misses being blocked, and nine out of 16 FG attempts, two from 45 yards. He now has kicked 111 of 123 extra point tries and 20 of 40 field goal attempts. The former Clemson star learned his field goal kicking from Ted Fritsch who holds the all-time Packer record for field goals, 36…Blackbourn will be the honored guest at a dinner in the Miller Inn in Milwaukee tonight. He will be recognized by men who played football under Liz when he coached at Milwaukee Washington. In charge of arrangements is Pat Harder, one of Liz' star pupils who went on to stardom at Wisconsin, the Chicago Cardinals and Detroit Lions. Milwaukee Sentinel Sports Editor Lloyd Larson will be master of ceremonies.
ADD THREE DIRECTORS TO PACKER BOARD, NEW PLAN
FEB 28 (Green Bay) - A plan to add three new directors to the board of directors of the Green Bay Packer Football Corporation in each of the next three years will be proposed at the annual meeting of the stockholders to be held a week from tonight, March 7. The plan and nomination of directors to be elected at the meeting were both outlines in the annual notice to stockholders mailed out by the corporation late last week. The plan is the result of a request from stockholders a year ago to work out some way to get "some new young blood" on the Packer board. This means accomplishes that and also allows the corporation to retain the services of men with long experience in professional football here. The board of directors at present is composed of 36 men, one-third of whom are elected each year for three year terms. At least five must be chosen from outside Brown county. The amendment to the by-laws would increase the size of the board to 45, with three new directors being added this year for three-year terms and then three additional in 1956 and 1957…REELECTION OF 12: The nomination committee has proposed the reelection of the 12 directors whose terms expire this year, Fred Cobb, Emil R. Fischer, Les Kelly, Fred Leicht, Ed Liebmann, W. Heraly McDonald, Herb Olseon and A.C. Witteborg of Green Bay, Ed Fritch of Manitowoc, Harris McCormick of Milwaukee and Charles (Buckets) Goldenberg of Milwaukee. The committee has proposed Bernard (Boob) Darling to fill the unexpired term of W.J. Servotte, and will offer a name at the meeting to fill the term of the late Fred Miller of Milwaukee. If the stockholders approve the increase in the size of the board, the committee proposes Tony Canadeo and Richard Bourguignon of Green Bay and High Strange of Neenah be elected. Proxies were mailed out to all stockholders with the notices. General Manager Verne Lewellen urges stockholders to return all proxies. If the stockholder attends the meeting, his proxy will be returned to him, but this procedure will insure a quorum being present.
PACK INKS CARTER, 253-POUND TACKLE
MAR 1 (Green Bay) - The Packers put the name of Robert Carter in the tackle ring today for the "general election" to name a successor to Pvt. Art Hunter of the United States Army. Actually, Carter is only the second candidate in the big vote which will start July 16 and run for about four weeks when all of the returns should be in. Carter will oppose roughly a dozen seekers of Hunter's job – offensive right tackle. Only one other prospect has been named – Bob Antkowiak, the 245-pound Bucknell tackle who signing was announced some time ago. Carter is a 253-pound specimen out of Grambling College in Louisiana – the school Tank Younger made famous. Big Robert, the Packers' 19th draft choice, is the 16th player to be announced as signed thus far by Coach Liz Blackbourn. The list includes three halfbacks, three fullbacks, three quarterbacks, three guards, two ends and Antkowiak and Carter. Half of the signees are '55 draft choices. Carter stands 6-3 and is exceptionally fast for his weight. Blackbourn expects him to make a serious bid for the tackle spot vacated by Hunter. After the draft, Liz pointed out that "Carter comes to us highly recommended although he is not highly publicized." Younger, incidentally, was an unheralded Grambling star, too, when the Los Angeles Rams signed him as a free agent five years ago…HEAVYWEIGHT BOXING CHAMPION: Besides being a bulwark in the Grambling Tigers' line for the
past two seasons, Carter is also the school's heavyweight boxing champ and was a weight man on the track team. A Marine veteran, Carter served for two years in the Far East Theater. He was discharged in 1953 and returned immediately to Grambling and joined the football squad. Although on the squad for only a week, he broke in as a regular. Besides tackle, he also played end and one of his biggest thrills was the first time he carried the ball – an end around play that netted 50 yards and a touchdown. He first gained game in Louisiana as an All-State tackle at Monroe Negro High School. He also competed in boxing and baseball. Carter is married and will be 27 years of age on May 31. Blackbourn is expected back at his desk Wednesday night after a heavy weekend of banquets and talks. He was in LaGrange, Ill., Saturday night for the dinner given Otto Graham, Cleveland Browns' quarterback; in Milwaukee Monday night for a dinner given in his honor for men he coached at Milwaukee Washington High; and moves into Appleton tonight for a Junior Chamber of Commerce dinner.
DETROIT, BEARS, CARDINALS PACKER FOES IN STADIUM
MAR 2 (Green Bay) - Detroit, Chicago Bears and a surprise – the Chicago Cardinals – will be the Packers' opponents in NFL games in City Stadium this fall. Baltimore, Los Angeles and San Francisco will provide Packer opposition in Milwaukee, General Manager Verne Lewellen announced today. Detroit, two-time world champion in the last three seasons, will open the season here Sunday afternoon, Sept. 25. The following Sunday, Oct. 2, the Bears move into our town for their traditional battle. The next two
contests are scheduled in Milwaukee – Baltimore with Alan Ameche Sunday, Oct. 9, and Los Angeles Oct. 16. After three road tests, the Packers return to Green Bay Nov. 13 to battle the Cardinals – a rather historic event since the Cards haven't played a league game here since 1947. The final "home" test is set for Nov. 20 against San Francisco in Milwaukee. Green Bay's six road games remain a secret until the home team makes the announcement – a league law. The Packers, as in the past few years, will play home and home set with the five opponents in their own Western conference – making up 10 of their 12 games, and two with foes of the Eastern division, completing the dozen. Since the Packers will play all their Western foes once each on the road and the Cardinals of the Eastern sector are schedule here, the only mysteries remaining are the dates of the road games and, of course, the name of the other Eastern foe. A year ago, the Packers played Pittsburgh and Philadelphia in the opposite wheel. The Packers undoubtedly will play the Lions in Detroit Thanksgiving Day, Nov. 24 – four days after the Frisco test in Milwaukee. Last fall, they played the Lions in the "two a week" setup. The Packers almost played the opener against Detroit in Milwaukee, which would have given the two cities games on alternate Sundays. However, the Global World Series is scheduled in County Stadium that weekend and there was no chance of getting the park ready for football. The Lions, Western conference champs for the third straight season in '54, will be playing their first opening game here since 1950. Detroit led off that campaign by whipping the Pack, 48-7, but the Bays rebounded by whipping Washington and the Bears the following two Sundays. With Detroit and the Bears here on successive Sundays, the Packers will be facing the Western division's No. 1 and No. 2 teams in two weeks. The Bears closed with a rush last fall to rank behind Detroit. The Cardinal invasion will feature Ollie Matson, one of the league's leading lights. The powerful running fullback and halfback scored four touchdowns in one game last fall. The Cards, coached by Joe Stydahar – onetime Los Angeles head coach, Packer aide and Bear star, played their last league game in City Stadium 6 years ago when they nosed out the Pack 14-10 and went on to win the league championship. The Packers and Cards fought in Milwaukee in 1948-49. Green Bay hasn't played the Cardinals in league competition since the NFL and old All-America conference merged shortly after the '49 campaign. After the merger the Cardinals were placed in the Eastern sector and the two clubs were never matched in league play. The Packers and Cards have met in several non-league games since 1949, including two "all-timers" in 1950-51 when Curly Lambeau, former Packer coach, mentored the Cards. The Pack won both games by the same score, 17-14.
PACKER BACK LEADS IN PUNT RETURNS
MAR 2 (Philadelphia) - Veryl Switzer, rookie halfback of the Green Bay Packers, returned 24 punts for 306 yards, an average of 12.8 yards per try, to win the 1954 NFL punt return championship. Official league statistics today disclosed that Switzer, formerly of Kansas State, ran one punt 93 yards for a touchdown. Herb Johnson, of the New York Giants, another first year man, finished second with a 10.3 average. Johnson returned 16 punts for 164 yards. Detroit's Jack Christiansen wound up third with a 9.8 average on 23 returns for 225 yards. Green Bay topped the teams in punt returns with a 9.9 average. Detroit was second and New York third.
SANDERS RETURNS TO PACKERS
MAR 3 (Green Bay) - Clyde Sanders, the kid everybody liked in training last summer-fall, will take another stab at making the Packers in '55. Coach Liz Blackbourn announced receipt of Sanders' signed contract today and added that Clyde will be installed as a candidate for the fullback position. Sanders is the 17th player revealed as signed thus far. He's the fourth fullback in the fold, the others being veteran Fred Cone and rookies Bob Clemens of Georgia and James Oliver of Louisiana Tech. Sanders, a six-foot, two-inch, 215-pound workhorse saw action both at fullback and halfback in '54. A determined guy, Sanders is expected to give Cone, Howie Ferguson and all of the rookies a good run for their salt. A murderous runner with speed to burn, Sanders starred in the intra-squad battle at Stevens Point and then took a prominent part in the Packers' second touchdown drive in the non-league game against Cleveland here, carrying twice for 13 crucial yards. Sanders was hurt early in the Steeler game in Pittsburgh and saw little action the rest of the non-league season. Blackbourn had hopes of bringing him back for another try when he placed him on waivers last fall...TURNED TO PRO BOXING: With only position to mastermind, Sanders is expected to be more at ease in '55 action. Sanders added to his already tough competitive spirit by turning to professional boxing last winter. He's presently fighting out of Miami, besides serving as an instructor in Miami's recreational program. An all-around athlete, Sanders competed in baseball, basketball, track and football at Bethune-Cookman, a tiny college in Miami. He was a Negro All-American fullback for two years and ran the 100-yard dash in 10 flat in his conference meet. One of Sanders' greatest grid accomplishments in college was returning a punt for 98 yards as his team won the league championship. He captained the Bethune gridders for two years and was also football captain at Euclid High in Deland, Fla. Sanders, 22, is married and has one son, Clyde, Jr., six months old.
HB COZZA 18TH PACKER TO SIGN
MAR 4 (Green Bay) - Carmen Cozza, a hot baseball prospect in '51 and also one of the best defensive backs in the nation the same year, has decided to give pro football a whirl. Packer Coach Liz Blackbourn announced the signing of the ex-Miami (Ohio) University star today as a free agent. Cozza is the 18th player announced as signed thus far and the fourth halfback, joining Lou Spycalla of Marquette, a free agent; Fred Baer of Michigan, a draft choice; and Bill Reichardt of Iowa, a veteran switched from fullback. The newcomer stands 5-11 and weighs 185 pounds and plays the deep defensive halfback spot, which means that he'll be fighting with Bobby Dillon and Val Joe Walker - among others. Cozza was recommended by Clive Rush, the former Packer end, who was a teammate of Cozza's at Miami. Cozza has been out of football since he starred at Miami during the season of 1951. Since then he has been in organized baseball, signing with the Cleveland Indians that year...PITCHED NO-HITTERS: A pitcher-outfielder, he played with Cedar Rapids in the Three-Eye League, and with Fargo-Moorhead in the Northern League. During the past two summers, he played semi-pro ball in Minnesota. Cozza holds several all-time Miami records for interceptions. Against Ohio University in 1950, he pilfered four passes for a single game mark and in 1949 set the season record with six interceptions. During his senior year, he returned seven punts for a total runback of 129 yards and the season before, he carried the ball 19 times for 77 yards, or a 4.1 yard rushing average. Leading the Mid-American Conference in batting in 1952 with an average of .433, and pitching a no-hit game with a mediocre Miami nine, he caught the eye of major league scouts and the Indians signed him to a contract. At Parma (Ohio) High School, he starred in four sports lettering in football, basketball, baseball and track. He ran the 50 yard dash in 5.5 seconds; pitched five no-hit games; and threw 16 touchdown passes in his senior year. Cozza will be 25 years of age next June 10. He is married and has one daughter, Kristen Kay, 13 months old.
PACK SHOWS PROFIT OF $69,594 ON '54 OPERATIONS
MAR 8 (Green Bay) - The Packers realized a profit of $69,594.60 on 1954 operations. It was the largest profit for a single season in the 35-year history of the club. These astounding facts were revealed by General Manager Verne Lewellen at the annual stockholders meeting of Green Bay Packers, Inc., at the courthouse Monday night. The financial gain almost doubled that of any single previous year and, it must be reminded, that the Packers had some lucrative seasons in the past - six championship campaigns not to mention numerous winning seasons. Actually, the Packers had a profit of $86,368.63, but payment of income taxes will reduce the gain to $69,594.60. Lewellen, in reading the club's financial statement carefully, pointed out the corporation's big income from radio and television - $114,350. This figure boosted the corporation's total income to $644,482.37. Expenses were listed at $559,861.98. Thus, the income from television and radio helped to boost the Packers into the higher income bracket. Without the air and picture receipts, the Packers stood a chance of losing over $20,000. Profit on 1954 operations exceeded the profit in 1953 by $40,327.12. The profit in '53 was listed as $29,267.48. The big tribute to the Packers' new regime, headed by Lewellen and Head Coach Liz Blackbourn, is shown in the expenses. Expenses for '53 were $757,574.19 compared to $559,861.98 - a reduction of $197,712.21. The income in '54 was lower - $644,482.37 compared to $786,841.67 in '53, a difference of $142,359.30, but the lower expenses, streamlined along the way through efficient organization by Lewellen and Blackbourn, offset the dip in income. Lewellen emphasized that his report was "a complete statement" on all 1954 business and indicated that the club is starting anew on 1955. He pointed out that all settlements of player contracts, were of a controversial nature, have been made. (Dick Curran, Arizona State halfback who sued the Packers for $26,000 recently, said today that he had made a settlement with the Packers.) Lewellen broke his report into two sections - (1) Progress in 1954 and (2) Immediate Problems. Under progress, the general manager pointed out: "Our No. 1 goal was to stay sound financially. The report shows that we have attained that goal. Our other goal was to develop a team of championship abilities. We believe we have made a big stride toward that goal. Our four-win, eight-loss record does not adequately describe that progress. With a few breaks, that record could have been reversed (8-4) and, with a lot breaks, it could have been 11-1. We lost seven games by 35 points; one touchdown in each of the games could have made it seven wins. Our play last year increased our prestige all over the country, and I do know that the other teams now respect us and are worrying about us." Under "problems", Lewellen said that "we have two of them that are of major importance - No. 1, radio and television, and No. 2, increasing attendance at home." He continued: "Our radio and TV contracts expired after the 1954 season and it will be necessary to enter into new contracts. We expect no difficulty on the radio contract, but the TV picture is not good. We may not receive anywhere near the television money we received last year. This picture could change for the better in the next 60 to 90 days and we certainly hope so. Particularly if we lose much of our income from TV, our home attendance must increase and every effort must be made toward increasing it both in Green Bay and Milwaukee." Lewellen cited the need for a larger stadium here, saying "How nice it would be if we had a stadium seating around 35,000, with such an excellent home schedule coming up - Detroit, the Bears and Cardinals." The GM said he was optimistic about attendance in Milwaukee. "We play the Colts, Rams and Forty Niners there and the games do not conflict with Wisconsin home games. The play of '53 and bad weather hurt us in Milwaukee last year but off the play of '54, our prestige has gone up there." Lewellen said the Packers are arranging for five or six non-conference games before the league schedule, preparing to return to Stevens Point for training and, in general, getting ready for a 'big season'." During the business meeting, presided over by President Russ Bogda, stockholders voted to increase the size of the board of directors from 36 to 45 over three seasons. They added three new directors last night, each for three-year terms - Tony Canadeo and Dick Bourguignon of Green Bay and Hugh Strange of Neenah. Three more new directors will be selected in '56 and three in '57. Twelve directors, whose terms expire this year, were reelected: Fred Cobb, Emil R. Fischer, Les Kelly, Fred Leicht, Ed Liebmann, W. Heraly McDonald, Herb Olseon and A.C. Witteborg of Green Bay, Ed Fritch of Manitowoc, Harris McCormick of Milwaukee and Charles (Buckets) Goldenberg of Milwaukee. Elected to fill the unexpired term of W.J. Servotee, who resigned, was Bernard (Boob) Darling and Albert S. Puelicher, Milwaukee bank president, was chosen to fill the term of the late Fred Miller of Milwaukee. At a meeting of directors following the stockholders' session, Russ Bodga was reelected president; L.H. Joannes and Dominic Olejniczak, vice-presidents; and Emil R. Fischer, chairman of the board. John Torinus was elected secretary-treasurer to replace W.J. Servotte. The board voted to expand the executive committee from 12 to 13 members, and added four members, Bill Sullivan, W. Heraly McDonald and Les Kelly were named to fill vacancies left by Servotte, Lewellen and Gene Ronzani and Bernard Darling was named to the new seat. Position on the executive committee left open by the resignation of Lewellen and Ronzani were not filled at the annual meeting a year ago. The financial report and talks made by Lewellen and Blackbourn were given a hefty round of applause. Talks from the floor were made by former Packer Buckets Goldenberg of Milwaukee and Green Bay's Savvy Canadeo.
BLACKBOURN SEES 'MORE SOLID' PACKER ELEVEN
MAR 8 (Green Bay) - "The overall 1955 Packer team should be more solid," Packer Coach Liz Blackbourn said in his report to Packer stockholders at their meeting in the courthouse Monday night. "There will be more competition and we'll have bigger boys in the line and in the backfield," Blackbourn pointed out, adding: ""We are farther along in signing than we were a year ago at this time. I am glad this is so because one of the things is that we went to camp with too few men. Some of the men played all of the exhibition games and all of the league games - 18 games in all, and that's too much football. This caused some of the letdown after the two tough games with Detroit. Next season, we plans to let each man play about half of the exhibition schedule. As a result, we hope to have more staying power during the league season, thus guarding against any letdown." Liz told the stockholder that "we'll take more men to camp this year (they started with 43 in '53) and it will cost more money. But we believe it will pay off during the season." On the "worry side", Blackbourn said he has "a feeling we can't stay in contention until we can play one squad for at lease one full season." He was referring to the fact that the 1955 draft had to be aimed at "filling holes" instead of strengthening a team overall. At least four holes were left by the departure (service) of guard Al Barry, tackle Art Hunter and quarterback Bobby Garrett and retirement of Clayton Tonnemaker. "And it will be a miracle if we don't lost McGee and Switzer," Liz said. Both are expected to go into service. Blackbourn traced the work of the staff, including aides Tom Hearden, Ray McLean, Lou Rymkus and Jack Vainisi, from the time the '54 season ended until now and added: "We'll go into staff meetings May 1 and get our offense and defense set up. We'll take out vacations in June and then return about July 1 to start the season." Presently, Liz said, "we're picking up loose ends, watching the military situation, viewing movies, and carrying on public relations. Incidentally, the Alumni Association has done an excellent job in assisting with talks and showing movies." Blackbourn spoke of the college player draft, reviewing the first five picks, and revealed that a good share of the boys already have been signed. In addition, he said that "we plan to start with 33 free agents."
CURRAN GETS SETTLEMENT
MAR 8 (Phoenix) - Halfback Dick Curran Monday said a favorable out-of-court settlement has been reached in his $26,000 breach-of-contract suit against the Green Bay Packers. "I didn't get the full $26,000," Curran said, "but I'm perfectly satisfied with the adjustment the Packers made." Curran, one of the nation's leading collegiate ground gainers with Arizona State College at Tempe in 1952, was released by the Packers last fall following a training camp injury. He sued on the grounds that a NFL team cannot release a player who is on the injury list.
​PACKERS INK JENNINGS, MISSOURI OFFENSE 'E'
MAR 9 (Green Bay) - The Packers picked up another J-J today - one Jim Jennings, an end from the University of Missouri. He'll join the first and only member of the present Packer J-J club - Joe Johnson of Boston College, who was affectionately known as "J-J from B-C." J-J from M-O won't be in competition with his initialed teammate - if halfback Johnson decides to return, because the Missouri brand is an end. The signing of Jennings, announced today by Coach Liz Blackbourn, brings to 19 the number of closed contracts brought before the public. Jennings, who stands 6-3 and packs 205 pounds, was the Packers' 26th draft choice. He ranks as a leading contender for the position presently occupied by Max McGee - if Max goes into service. If Max stays, Jennings likely will give both McGee and Bill Howton a good rush. Jennings is the first offensive wing signed thus far, the other two acceptables being Nate Borden of Indiana and veteran Gene Knutson, both defensive specialists. Good agility in the secondary, speed and faking ability are Jennings' chief traits as a wing. He is rangy, sure-handed and, with his 205 pounds, can do a job at defensive end. Jennings had his best college season in '54 after a siege of illness had slowed him down in '53. He
​caught 11 passes last fall for 171 yards and three went for touchdowns. As a sophomore, he had 14 catches for 219 yards. Off the sick list only briefly in '53, Jennings caught three for 50 yards. At Crystal City, Mo., High, Jennings was a top quarter-miler and also threw the shotput 51 feet. He was an all-star performer as a prep and led his team to the state title. He did not compete in track in Missouri but won one letter in basketball before quitting to concentrate on football. Recently marries, Jennings, known as "Ike" in high school and college, will graduate in June with a degree in political science.
PACKERS AND PROFITS
MAR 9 (Green Bay) - The Green Bay Packers, Inc., have a profit of $69,594.60 for their efforts in 1954, which is the highest ever made during the 35-year history of the club. There have been occasions when the Packers closed a year with a deficit and the leaders of Green Bay cheerfully dug down to make it up and put the club back in business again. There is little doubt that many could be found in the city today who would give financial support again if needed, but it is a pleasure to know that there is no call for it now. The financial report indicates that teamwork has been practiced by the higher echelons of management as well as by the players. The coach provided a good box office attraction, and the general manager kept the expenses well within the income. It is important to win on the field, but no more so than to win in the business officer where the battle between expenses and income is unceasing. The Packer management has done well in both departments.
AVERNO, EX-COLT GUARD, JOINS PACK
MAR 10 (Green Bay) - The newest 1955 Packers is a rare bird, a weight-lifter with a degree in philosophy. This remarkable fellow is Sisto Averno, a study Italian from Paterson, N.J., with five years of NFL experience, whose signing as a free agent was announced today by Packer Coach Liz Blackbourn. Probably one of the most underrated performers in the NFL despite the consistently high caliber of his play, Averno has another quality that sets him apart from most pro linemen - the ability go both ways. A 5-11 1/2, 238-pound specimen, he is equally at home as a middle guard on defense or at running guard on attack. Further, the stocky Muhlenberg alumnus reportedly is blessed with excellent speed and alertness in diagnosing enemy plays. Averno played offensive guard for the Baltimore Colts last season before he was injured and subsequently released. Blackbourn will try him in the same position but indicated he may also use him as a middle guard on defense. Blackbourn is hoping that Sisto, who will be launching his sixth pro season when he joins the Packers at their Stevens Point training base in July, may be the man to replace the departed Al Barry, now in service. "Being an experienced linemen, on that basis alone, he will give the camp a lift," Liz said. Averno holds the distinction of having been a regular on four NFL clubs - with the possibility of increasing that number to five next autumn. The 1954 season was the third for Averno at Baltimore. He was the regular middle guard on defense in 1953 and had originally been signed by the Colts in 1950 after a brilliant four year career at Muhlenberg. When the Colts went out of business after the 1950 season, he was drafted by the Cleveland Browns, but was traded to the New York Yanks before the season started and played on both offense and defense. The following season, he went to the Dallas Texans and then back to Baltimore in 1953. Before entering Muhlenberg, he served in the Navy. His Navy career included 15 months of sea duty aboard a small craft and he collected the American Theater, Asiatic-Pacific Theater, Philippine Liberation and Victory medals with several battle stars. Sisto, whose jet locks are prematurely graying, keeps himself in year-round condition via weight-lifting. A philosophy major at Muhlenberg, and an auto salesman in the offseason, he will be 29 years of age in May. Averno is the fourth guard and 20th player signed for 1955.
DAWSON INJURED IN ARIZONA CRASH
MAR 10 (Douglas, AZ) - Gib Dawson, former University of Texas and Green Bay Packer football star, was in Douglas hospital Wednesday suffering from serious injuries. The 24-year old Dawson, who attended Douglas High School, suffered a cerebral concussion and a possible skull fracture when the car he was driving hit a gravel bank and overturned near here. (Dawson, who made his pro debut with the Packers in 1953 after winning the most valuable player award in the College All Star game that year, was out of football last season but had expressed an interest in returning to the Packers this year.)
BULLETIN
MAR 10 (Douglas, AZ) - The condition of Gib Dawson, former Packer halfback injured in an auto crash at Douglas, Ariz., Wednesday night, is satisfactory, Packer officials learned today after contacting Douglas hospital officials. Hospital aides said that Dawson had suffered a cerebral concussion, but no skull fracture, was "entirely rational" and should be released "within a week."
NEARLY HALF OF PACKER PICKS SET
MAR 14 (Green Bay) - With the signing of another player over the weekend, the Packers today neared the halfway mark in the official registration of eligible draft selections. Latest draftee to join the Green Bay colors is Ed Culpepper, the 260-pound tackle from Alabama and Coach Liz Blackbourn's ninth pick in the January draft. The Packers grabbed 30 players in the New York pickin' party, but seven of them were underclassmen with a season of college eligibility left. Of the remaining 23 available for '55, two went to Canada - tackle Art Walker of Michigan, the 12th choice, and halfback Carl Bolt of Mississippi Southern, the 20th selection. This leaves a total of 21 in the draft bus and up to to today 10 of those have been announced as signed. Of the remaining 11, two are in college baseball - No. 2 choice Jim Temp, Wisconsin end, and No. 3 pick John Leake, Oklahoma halfback. Both are expected to sign when their diamond play is completed in June. The remaining nine likely will be cleaned up before many weeks are completed. The Packers now have signed 750 pounds of tackle. Bob Antkowiak packs 240, Bob Carter 250 and Culpepper 260, bearing out Blackbourn's plan to have "bigger men in camp." Culpepper may required some extra attention from Line Coach Lou Rymkus. During the draft, Liz noted that "Culpepper has been hurt a lot and we'll have to find out whether we can keep him from getting hurt." The Alabama star comes highly recommended as one of the best linemen in the South. Hampered most of last season by injuries, Culpepper recovered late in the season and played outstanding football in the Crimson Tide's last three games. Extremely mobile for a big man, Blackbourn plans to give him a shot as a middle guard on defense where he'll tangle with veteran Bill Forester. Culpepper played in three Bowl games, including the 1954 Blue-Gray classic. He was the best South lineman until he broke a small bone in his ankle in the second quarter. The injury has since completely healed. His other Bowl games were the Orange and Cotton Bowls. He earned four letters in football at Alabama and also competed in track for one year as a shot putter. An All-Southern selection, he was captain of the Manatee High School team in Bradenton, Fla., where he competed for four years. Culpepper majored in physical education at Alabama and expects to find a job in the recreational field after his football days are over. He was 21 years old last Jan. 21.
PACKER SIGN GOPHER CENTER
MAR 15 (Green Bay) - The Packers signed a center from Minnesota today – one Chuck Stamschror. And there's more to that announcement than meets the eye. Chuck, a 210-pounder, is the first of his position signed thus far. And, until veteran Jim Ringo joins up, Mr. Stamschror is the club's No. 1 pivot. Stamschror has a good chance to make the Packers. Coach Liz Blackbourn closed out the '54 season with one pivot prospect for '55 – Ringo, since Jim's understudy, Trapper Stephenson, decided before the last game in Los Angeles that the tempo of pro football no longer "meets with desires of my muscles." What's more, Blackbourn drafted only one offensive center last January – a George Machoukas out of Toledo University, who carries 220 pounds. Machoukas was Liz' 15th choice. Looking back a few years, it can be noted that few centers were drafted. In '54, for instance, the Packers picked one pivot – Ken Hall of Springfield College. They bagged two in '53 – Ringo, No. 7, and Bob Orders, No. 13. Orders, an All-America at West Virginia after leaving West Point in the cribbing scandal, apparently has decided not to play pro ball, although he's presently in service…STANSCHROR FREE AGENT: The Packers grabbed three centers in '52 but one, Chuck Boerio of Illinois, was chiefly a linebacker – similar to Clayton Tonnemaker, the No. 1 pick in '50 who was listed as a pivot but never played anything but linebacker as a Packer except a couple of games as a rookie. Besides Boerio, the Bays picked Mel Beckett of Indians (8th) and Charles Stokes of Tennessee (27th), but both decided on civilian chores. The aforementioned Stamschror – a free agent since nobody drafted him – was the Big Ten's No. 2 center behind Wisconsin's Gary Messmer. Stamschror made the all-Big Ten second team and Messmer the first. Chuck played four years at Minnesota, starting there the season after Tonnemaker stepped out and lettering in his final three campaigns. He was the regular Gopher center during his junior and senior years…WORKED AS MORTICIAN: Stamschror has quick reactions and exceptional speed. After winning a letter in his sophomore year as a linebacker, he quickly adapted himself to the one-platoon system and was one of the better blockers in the line. Active as a linebacker, he was particularly adept as a pass defender. Starring at St. Felix High School in Wabasha, Minn., in three spots, he earned a total of 12 letters. He was an All-State fullback in football; all-Regional in basketball for three straight years; and a regular on the baseball team for four years. He worked his way through school as a mortician in a St. Paul mortuary and will graduate from Minnesota with a degree in mortuary sciences…This can't exactly be classed as bad news to the Packers: Chicago Bear Billy Stone, who received credit for that disputed touchdown in the Bears' 10-3 victory over the Packers in sloppy City Stadium last September, has been named head football coach at Bradley University. He succeeds Susic, who resigned last month to become backfield coach at Kansas State. And this isn't bad news either, although Stretch Elliott might like to meet up with him again: Thurman McGraw, tackle and co-captain last season with the Detroit Lions, said today he was quitting professional football to become assistant football coach at Colorado A. and M., his alma mater.
BEJABBERS! PATRICK JOSEPH RYAN BECOMES PACKER THIS DAY
MAR 17 (Green Bay) - The Packers did it up green this St. Patrick's Day. Coach Liz O'Blackbourn announced the signing of a full-blooded Irishman – Patrick Joseph Ryan, a signal-callin' quarterback and a hard-tacklin' defensive halfback from Holy Cross. Publicity Chief Bonnie Ryan – no relation – heralded the news to the press and radio in fittin' style. The announcement was typed in green ink and contained a picture of the player as well as the traditional Irish harp. O'Blackbourn promptly turned over the file on Patrick to two of his countrymen – Defensive Backfield Coach Tom Hearden and Offensive Backfield Coach Ray McLean, while Line Coach Lou Rymkus wondered why "they couldn't have announced some big Irish lineman instead this day." Now this Ryan is no stranger to O'Blackbourn. Liz saw him when his Marquette team played Holy Cross three years ago. "He didn't get to play much quarterback because he was playin' under another good Irishman – Charlie Malloy, who was one of the best passers in the school's history then." But, Liz said, "Ryan was a fine defensive halfback and we always knew he could throw." Ryan added to his football savvy after graduating from Holy Cross in 1953 with a degree in economics, entering the Marines and starring for the Quantico Marines. A lieutenant, Ryan expects to be separated from the service in time to don those green practice uniforms at Stevens Point July 16. Ryan won't have any Irish competition at quarterback. His opponents thus far, all signed, bejabbers, are Tobin Rote, a German from Texas; Johnny Coatta, a Scotch-Frenchman from Michigan; and Charlie Brackins, a Negro from Texas. When he works on defense, however, it's likely he'll have at least one Irishman to contend with – Bobby Dillon. Anyhow, O'Blackbourn's dash of green weighs 185 pounds and stands five feet, 11 inches tall. He was 24 years of age last New Year's Day. Ryan had a fine athletic record at Queen of Peace High School in North Arlington, N.J., his hometown. He took part in football, basketball and track for four years and was named to the all-New Jersey football team in 1947 and 1948. He played four seasons of football at Holy Cross. Ryan is the 23rd Packer announced as signed thus far. The group includes four halfbacks, four fullbacks, four guards, four quarterbacks, three ends, three tackles and one center.
PACKERS INK 5TH PICK BULLOUGH
MAR 18 (Green Bay) - Is the Big Ten better than the Pacific Coast Conference? Rose Bowl historians, and us folks from the midwest, think there's not much question but what the B-T is the toughest of the two Jan. 1 enemies. The Packers, on the fields of practice next July and August, may be able to advance an opinion on that torrid subject. The Bays, Coach Liz Blackbourn announced today, have signed offensive guard Hank Bullough of Michigan State. He joins another Big Tenner – Norm Amundsen, the Wisconsin "running" guard who signed some weeks ago. These two boys will be out to win the position vacated by a former Pacific Coast Conference standout – Al Barry of Southern California, who captained the Packers' starting offensive left guard last year as a rookie. Barry is now in service. If Bullough and Amundsen live up to their reputation as rulers of the Pacific Coast (they both saw Rose Bowl action), Blackbourn will be highly pleased and it will be another argument in favor of the Big Ten. In the Packer-Big Ten-PCC battle, the west coast unit already has a 1-0 lead, it might be pointed out. Barry beat former Big Tenner Steve Ruzich (of Ohio State) out of a starting job last fall. Although Barry won't be around to defend himself, Amundsen and Bullough will get ample opportunity to measure up to the rating the coaches gave Al. Bullough was the Packers' fifth choice and the first offensive guard selected. The No. 1 pick, Tom Bettis of Purdue, is listed as a guard but he was chosen chiefly to work as a linebacker. Bullough has been called the roughest and most powerful lineman on the Michigan State team. An expert diagnostician, Bullough is a fiery competitor, according to scouts and his coaches at MSC. The Spartan stands six feet tall and weighs 222 pounds (same as Amundsen). He has been a regular guard for the past two years and was one of the standouts in the Spartans' 28-20 triumph over UCLA in the 1954 Rose Bowl game. He competed in two postseason games last winter – the East-West Shrine and the Senior Bowl. Bullough's hometown is Canton, Ohio, where he starred for Tinken High in the Northeastern Conference. The fact that at least one player from this conference was on each Big Ten roster last season points to the high quality of play in that section. While participating in high school athletics, Bullough earned All-State honorable mention in football. As captain of the basketball squad in his senior year, he was selected for All-City and All-Conference. Hank isn't the only athletic member of the family. His father, Levi Bullough, was a notable soccer player in England. Bullough reached the age of 21 last Jan. 24. He will graduate in June with a degree in physical education.
LITTLE BULL DUE FOR BREAK AFTER WAIVERS, FRACTURE
MAR 21 (Green Bay) - Deral Teteak is about due to get the break of his young professional football life next fall. The Little Bull, who signed over the weekend for his fourth Packer season, has been plagued by bad luck the last two campaigns after breaking into pro ball in '52 in spectacular fashion. Teteak was so outstanding in '52 as a middle linebacker that Western Division coaches selected him to play on their team in the Pro Bowl game – an honor equivalent to being named all-pro. In 1953, Teteak was placed on waivers shortly before the league opener against the Cleveland Browns and remained inactive until the last six games, and then playing only part time. Last year, Teteak seemed headed for a good season but suffered a broken ankle midway through the training season. He missed the first six league games and never completely recovered from the injury the remainder of the season, developing a habit limp after weeks on crutches. Teteak did have one sparkling moment last fall, however – in the second Detroit game when he intercepted a Bobby Layne pass that almost led to a Packer victory. Coach Liz Blackbourn has planned plenty of competition for Teteak – chiefly Tom Bettis, the club's No. 1 draft choice who already has signed for '55. Actually, defenses have changed to such an extent that the position that Teteak (and Tonnemaker) starred at – middle linebacker – has just about been eliminated except on various situations. Teteak will play again chiefly as a "chugger" – a hole filler in the line, so to speak, Blackbourn said. Teteak's chief rival in '53-54 won't be back – Clayton (Big Bull) Tonnemaker, who announced recently that he is retiring from pro ball. Signing of Teteak and Bettis and the expected return of Roger Zatkoff means that the Packers will go to bat with three Big Ten linebackers. Teteak was a standout on Wisconsin's famed Hard Rocks of 1951 and Zatkoff played college ball at Michigan. Teteak, 25, will return to the football wars as a married man. He married a Madison girl recently and presently is living in Green Bay, and working as a salesman for a Madison sporting goods firm. A native of Oconto, Teteak starred at Oshkosh High before going to Wisconsin. Blackbourn has announced the signing of 25 players thus far, including five guards – the position-name Teteak carries.
PACKERS SHOULDN'T LACK FOR LB'ERS; SMID LATEST
MAR 24 (Green Bay) - One thing already appears certain about the 1955 Packers. Barring a major injury epidemic, they are not likely to lack for linebackers. Apparently determined that they will not be beset by the same problem that plagued them in 1954, when injuries reduced the Bays to one able-bodied LB'er, Head Coach Liz Blackbourn today announced the signing of a third college standout at that position, Capt. Jan Smid of Illinois. At times last autumn, Roger Zatkoff was the only man available to Blackbourn for his immediate second line of defense, since Clayton Tonnemaker was troubled with a pair of bad knees and Deral (Little Bull) Teteak had been sidelined early in the training season with a broken ankle. It should be different in '55. Smid is the third LB'er, along with Purdue's Tom Bettis and Teteak, set for for next fall and Zatkoff also is expected to return. Jan (pronounced YAHN) can play offensive guard as well as linebacker but Blackbourn indicated that he will be given his first trial at the latter position. He feels that Smid's power, aggressiveness and determination make him particularly suited for that duty. A 5-11, 225-pounder, he has been a regular for the Illini during the past three seasons and captained Coach Ray Elliot's squad in '54. He is also a fine blocker and was largely instrumental in clearing the paths for J.C. Caroline and Mickey Bates in their record-shattering ground gaining dashes in 1953. He was named to many All-Western and All-Conference teams the past two seasons and had the distinction of playing in three postseason Bowl games, the East-West, Senior Bowl and North-South games. Elliot is exceptionally high on Smid's abilities. "Whether Smid was in the line, or backing it on defense, you could expect a 100 percent performance. He isn't unusually on fast on offense but then he is no slow-poke either, and his blocking is better than average." Smid was a three sport star at Leyden Community High School in Franklin Park, Ill. He was named to the all-state team in football and also competed in basketball and track for four years. He will receive his degree in physical education in June and will be 22 years of age next September. Smid is the 26th player and sixth guard signed for 1955 action to date.
SPINKS TO TRY LUCK WITH PACK IN '55
MAR 25 (Green Bay) - Big Jack Spinks, the 240-pound pro-calloused fullback who in three seasons had to take a back seat to Mighty Mo Modzelewski, Johnny Olszewski and Ollie Matson, will try his luck with the Packers next season. Coach Liz Blackbourn announced the signing of the potential star today, raising to 27 the number of made-public contenders for Packer paychecks. Spinks is an interesting case and Blackbourn is anxious to see what the big Negro line smacker has to offer. Liz, in signing Spinkis, former Baltimore Colt Sisto Averno - plus others to come, is building up heated competition for the 1955 training season. Blackbourn, in hopes of building up the Packers ahead of schedule, is signing two types of sleepers - unknowns fresh off the college lots and pro veterans who were among the last to be cut by their previous clubs. Spinks came up to the Pittsburgh Steelers in 1952 after a spectacular career with tiny Alcorn A. and M., a college in Mississippi. He was Negro All-American for two seasons despite the fact that he played no high school football. With Pittsburgh, Spinks had to play in the shadow of the Maryland All-American, Modzelewski, who wound up
with an average of 2.4 yards in 82 trips. Spinks managed 22 carries for 94 yards for an average of 4.3. Spinks was traded to the Chicago Cardinals for insurance behind Olszewski in 1953 but suffered an injured foot early in the season, carrying only six times all year. Olszewski moved 106 times for an average of 3.6. However, in the Cardinals' 21-17 victory over the Chicago Bears, Spinks was credited with the win by Coach Joe Stydahar because of "Jack's terrific blocking for the passer." The season of 1954 saw the return of the great Matson from the cold wars and Spinks was the last Cardinal cut before league action started, Olszewski moving over to halfback and also acting as reserve fullback...12TH IN PASS CATCHING: Spinks, 25 last Feb. 4, won't be opposing any one with the reputation of Matson, Olszewski or Modzelewski with the Packers, but he will get plenty of spirited competition from such as veterans Howie Ferguson and Fred Cone and returnee Clyde Sanders - not to mention rookies Bob Clemens of Georgia and Jim Oliver of Louisiana Tech, the youngster recommended by Ab Wimberly. One of the key factors in the Packers' sticking fullback next fall likely will be pass catching. In Ferguson, fullback opponents will be running into the league's top pass receiving FB. Big Howie finished 12th in the league in pass catching last year, snaring 41 for 398 yards. It is interesting to note that the next highest pass receiving fullbacks were the aforementioned Matson and Detroit's Bob Bowman, each of whom caught 34 for a 21st place tie. Matson moved his catches 611 yards and Bowman 288...Coach Blackbourn will be out of the Packer office until next Tuesday morning. He addressed a group in Milwaukee Thursday noon and in Jefferson Thursday night and then, with Mrs. Blackbourn, went to the family farm at Lancaster, operated by their son, Lisle, Jr., before making an address in Cassville Sunday.
GOOD CHANCE IN '55? PACKER VETS ANXIOUS
MAR 28 (Green Bay) - Like a bunch of sophomores discussing what "we wanna be when we grow up," several Packers were waxing about '55 over their orange juice one morning in Pasadena, Calif., a certain week last December. "Betcha we'll all be back next year 'cept those who are going to retire. We might have a good chance next year - the way these guys (the coaches) operate. Maybe they can to get some help in the draft. We didn't have a thing when we started and we will win four and maybe we can make it five Sunday. Yeah, we'll be back." It is now nearly four months later and from what we've been able to hear the veterans are anxious to sign their pacts and get back into the saddle. So far, Coach Liz Blackbourn hasn't reported any contract troubles, and he isn't expecting anything serious. Five veterans have been announced as signed already and many more are forthcoming. Besides veterans who saw league action in '54, Blackbourn has inked Bill Reichardt who play here in '52 and then went into service and Clyde Sanders who remained with the club during the '54 training campaign. Latest of the fivesome to sign was Al (Hoagy) Carmichael, the Southern California halfback who registered for his third Packer season over the weekend. He joined quarterback Tobin Rote, fullback Fred Cone, end Gene Knutson and linebacker Deral Teteak. Carmichael, the Packers' No. 1 draft choice in 1953, will be out to score a bit for the Pack next fall. The USC star, who counted the touchdown that whipped Wisconsin 7-0 in the 1953 Rose Bowl game, scored just one TD in 22 league games with the Packers - that coming on a 45-yard run as a rookie against Baltimore in '53. Carmichael has had 187 chances to score on rushes from scrimmage, pass catches, punt returns and kickoff returns. He moved the ball 2,215 yards in his 187 trips. Al averaged 4.1 yards as a rookie on 49 trips in 12 games and measured 3.9 per attempt in 10 games as a soph, taking a back seat to Veryl Switzer most of the time. He caught 18 passes last year for 251 yards and nailed 12 in '53. He finished second in the league in punt returns in '53 and 18th last fall. He was third in kickoff returns in '54 and eighth in '53...PLAYED FULLBACK IN FINAL: Carmichael was hurt on the second last play of the first San Francisco game last fall and then missed the first Los Angeles and Baltimore games. Carmichael, 26, always played right half until his final game in '54 when he shifted to fullback when both Fred Cone and Howie Ferguson were injured. At Southern California, he was an All-Pacific Coast selection in 1951 and 1952. Prior to that he was named to the Little All-America team while playing for Santa Ana Junior College, a team that played Little Rock, Ark., in the Junior Rose Bowl. A three sport star at Gardena (Calif.) High School, Carmichael entered the Marine Corps before he matriculated at Santa Ana. He served three years with the Marines and was named to the All-Marine team in 1947 and 1948. During the offseason, he is a paving estimator in Los Angeles. The Packers now have announced the signing of 28 players.
PACKERS INK TOLEDO PIVOT
MAR 29 (Green Bay) - Two first draft choices, a veteran quarterback and a 15th pick figured in professional football player developments today. The Packers came up with the signing of George Machoukas, the only offensive center they grabbed in the January draft. San Francisco picked Dicky Moegle, the Rice Institute All-America halfback All-American halfback, who was the Forty Niners' first choice. Moegle had been entertaining notions of going to Canada but the Forty Niners were taking no chances of losing their second straight top pick to Canadian football. A year ago, first choice Bernie Faloney skipped. The other first choicer in the news is Ron Drzewiecki, the Marquette halfback and a onetime pupil of Packer Coach Liz Blackbourn. Drzewiecki has been dickering with both the Chicago Bears, who drafted him, and the Calgary Stampeders, who didn't, but word from Milwaukee is that the MU racer is ready to sign with the Chicago club. Drzewiecki turned down the Bears' first offer in favor of Calgary's first bid but since the Bears made another offer. The veteran QB a bit happier today is an old friend - Bobby Thomason, the Philadelphia Eagle pitcher who shared the quaterbacking with Tobin Rote on a lend-lease basis in 1951. The Eagles announced the signing of Thomason for '55, thus completing their quarterbacking setup. Adrian Burk signed earlier. Thomason finished 10th in the final throwing standings in '54. Together, Burk and Thomason completed 51.4 percent of their aerials, fourth best in the league. The new Packers is figured as the No. 1 troublemaker or helper for veteran Jim Ringo, who presently stands as Blackbourn's lone center with pro experience. Jim's aide last fall, Trapper Stephenson, has announced his retirement. Blackbourn feels that Machoukas, based on scouting reports, has a good chance to make the Packers. The University of Toledo star packs 235 pounds, stands 6-2, and has exceptional speed for his size. A member of the Mid-American Conference all-star team and the all-Ohio squad the last two years, Machoukas is also experienced in kicking off and booting extra points and field goals. A native of Cleveland, Machoukas starred for four years in football and basketball at Collinwood High. He earned four football letters at Toledo. Exceptionally ambitious, Machoukas is working his way through the university carrying a full eight-hour shift in a Toledo industry as well as a full scholastic schedule. Machoukas, who will be 22 next June, is married and has one son, David. Machoukas is the second center signed thus far. The other is Chuck Stamschror of Minnesota. The Packers now have announced the signing of 29 players.
MORE THAN 43 IN CAMP? LIZ MAKING SURE
MAR 30 (Green Bay) - Packer Coach Liz Blackbourn continued to make sure today there will be more than 43 athletes on hand when training opens at Stevens Point in July. Though many more were signed, only 43 were on hand when Blackbourn launched 1954 practice - what with service calls, changed minds, injuries, etc. Liz added another player today - the 30th revealed as signed thus far. He is Ernie Wickstrom, former Northern Illinois State Teachers halfback who had a whirl with the Chicago Cardinals last fall. With 107 days left before the start of workouts and 30 player in the sock, Blackbourn has plenty of time to fatten his stack of contracts, and thus clear the decks for an interesting and rugged training camp. Wickstrom is the 10th free agent signed to date. The satisfied list also includes eight Packer veterans and 12 draft choices. Wickstrom weighs 190 pounds and stands 5-0. He had a great reputation at Northern Illinois, averaging 7.2 yards per carry as a junior and 7.1 as a senior in 1950. He scored 48 points and caught 29 passes for 504 yards in his last year. After graduation, Wickstrom entered the Army and served in Germany and England. He played football, basketball and baseball with the 43rd Infantry Division in Germany and was named most valuable in football in 1953. Discharged from the Army in January of 1954, Wickstrom, 25, stayed with the Cardinals for more than a month before being cut loose. Wickstrom is the sixth halfback to sign....PRO BITS: Packer president Russ Bogda returned to Green Bay yesterday following the special meeting of the NFL in New York Monday. "We're all behind Commissioner Bell in his tangle with Canadian football," Bogda commented, adding "nothing can be worked out with Canada with real satisfaction until they get someone to handle their affairs." Bogda said that the Packers had received requests from four Canadian clubs, Montreal, Hamilton, Edmonton and Winnipeg, for working agreements. Packer General Manager Verne Lewellen broke into his vacation to attend the meeting with Bogda, and returned last night.
PACK SIGNS 6-8 1/2, 260-POUND T, END
MAR 31 (Green Bay) - There are several eye-openers about today's new Packer - Howard McCants: (1) The Washington State star stands like a basketball player - six feet, eight and a half inches, but weighs like a footballer, 260 pounds! (2) A year ago, he signed two contracts - one with the then-world champion Detroit Lions and the other with the Montreal Allouettes. (3) He once blocked two extra points booted by Hugh McElhenny, the great San Francisco Forty Niner. (4) He holds the Pacific Coast conference indoor high jump record with a leap of 6 ft.-7 1/2 in., which is just two inches short of the world mark. (5) He turned 27 years of age March 1, although he was graduated from Washington State in 1954. This 31st player announced as signed by Packer Coach Liz Blackburn can do a lot of things with his long frame and gigantic mitts. He played some offensive end at WS but rates highly as a defensive end or defensive tackle. In addition, he's a boxer and carries the nickname, Fritz, because he fights like Fritzie Zivic. What does Blackbourn plan to do with him? "We're listing him as a defensive tackle, but he'll also get a chance to show what he can do at defensive end," Liz pointed out. McCants was Detroit's fourth draft choice a year ago. He signed a Lion pact but decided to go to Canada, inking a Toronto pact before looking into the Detroit camp. He disliked the Canadian setup and then asked for a shot with the Lions. Detroit said no and the Lions placed him on waivers last Sept. 16 without taking a look. Roger Grove, the hard working Packer halfback of the early 1930's, recommended that the Packers give McCants another trial and Blackbourn promptly signed him as a free agent. Grove, one of the Packers' "alumni scouts" in the west, saw plenty of McCants when he served as Washington State backfield coach. One of the tallest players in pro ball, McCants has possibilities of developing into an outstanding pro gridder. He's rugged and has better than average speed. He showed considerable quickness in blocking McElhenny's boots which, incidentally, gave State a 27-25 victory over Washington U. McCants received his prep training in football, basketball and track at River Rouge, Mich., High School. He held the Wayne University Relays record in the high jump. He stayed out of school several years before going to WS where he played football and basketball for three years and competed on the track squad. Besides the high jump, he scored as a discus thrower. During the offseason, McCants worked in a steel mill in River Rouge. McCants is the fourth tackle announced as signed thus far.
EAGLES SIGN TWO
APR 3 (Philadelphia) - The Philadelphia Eagles today announced signing of two halfbacks, Bill Roffler, a 1954 rookie from Washington State, and George Hudak, Minnesota runner who had a brief tryout with the Green Bay Packers.
SCENERY SHIFT COULD HELP NEW PACKERS
APR 4 (Green Bay) - Liz Blackbourn and Jim Trimble are firm believers in a change of scenery for on-the-fence athletes. Packer Coach Liz picked up a former Dallas Texan, Gene Felker, whose roots are in Wisconsin, and Philadelphia Coach Jim grabbed off two former Packers, Bud Roffler and George Hudak in pro player action over the weekend. This isn't something new. Trimble, in an effort to rebuild the once-proud championship Eagles, is double-checking just about everybody cut loose by enemy clubs. His strategy with castoffs led the Eagles to second place in 1953, but Uncle Sam took him for a ride last fall – especially on several defensive backs. Blackbourn, out to supplement his draft with help from enemy camps, has grabbed off several athletes from other teams. Among the notables in this group are Sisto Averno, the former Baltimore Colt guard, and Jack Spinks, one-time Pittsburgh Steeler and Chicago Cardinal fullback. Felker, the former Wisconsin star end and brother of Packer draftee Art of Marquette (1951), stayed half of the 1952 season with the ill-fated Texans after he had been drafted by that club. He entered the Army in January of 1953 and was discharged two months ago. Blackbourn, who has seen Gene play many times in college and high school, is anxious to see him perform in the Packer camp. Gene gained considerably more experience coaching and playing with the Transportation Center team at Fort Eustis, Va., the last two seasons. Felker, whose weight has leaped from a solid 205 to a solid 215, will join Deral Teteak and Johnny Coatta, former teammate on the Wisconsin team that led the nation in defense in 1951. Blackbourn plans to give Felker a shot at defensive end…THREE BIG TEN ENDS: Felker is the fourth end announced as signed thus far and three of them are former Big Ten stars. The Big Tenners, besides Gene, are Gene Knutson of Michigan and Nate Borden of Indiana. The other wing is Jim Jennings of Missouri. Presently continuing his studies at Wisconsin, Felker figured in of the most spectacular plays in Badger football history in 1950. Playing Northwestern at Madison, Felker received a short pass from Coatta and weaved and twisted his way for a 57-yard touchdown. Felker once had the Badger record for pass receptions. After the 1951 season, he played in the East-West Shrine game and also the Hula Bowl. Felker had a brilliant prep career at North Division High School in Milwaukee and was nominated to the North squad in the annual North-South high school All-Star game. He scored the only touchdown and kicked the extra point in that game. Roffler of Washington State tried out with the Packers last fall and was among the last defensive halfbacks cut loose. Hudak, a halfback from Minnesota, tried out with the Pack in '52.
FLOYD HARAWOOD RETURNS TO PACK
APR 5 (Green Bay) - Floyd Harrawood is back. The 245-pound lineman, who gave way to veteran Gus Cifelli late in the 1953 non-league season and then spent two years at Calgary, has signed a '55 Packer contract, Coach Liz Blackbourn announced today. Harrawood, the Packers' ninth draft choice in '53, was unhappy when he left shortly before the league opener but promptly made a name for himself under Packer Line Coach Lou Rymkus, then line coach at Calgary. Harrawood, former Tulsa University star, had hopes of rejoining Rymkus in Green Bay a year ago but Floyd had signed a two-year contract. And rather than blow up a storm with the Canadians, Blackbourn told him to live up terms of his pact. After the '54 Canadian season, Harrawood asked for his release and received it, permitting him to join the Packers and thus preserve some of the so-called peace between the two pro grid groups. Rymkus was impressed by Harrawood's ability and aggressiveness and highly recommended signing of the experience young giant who will turn 26 in September. Harrawood is no stranger to Blackbourn either. Liz saw plenty of him in Marquette's loss to Tulsa in 1951 – the game that practically snapped MU-Tulsa relations after Blackbroun accused Tulsa of illegal tactics. Harrawood, the 33rd player announced as signed thus far, presently rates as a seven-position prospect and Blackbourn likely will give him a whirl at all seven before boiling down his talents to two or three. Listed as a tackle, versatile Harrawood can play (count 'em) offensive right tackle (the hole left vacant by Pvt. Art Hunter), offensive left tackles, defensive right tackle, middle guard on defense, offensive right guard, and offensive left guard (the spot left vacant by Pvt. Al Barry). Thus, among the seven positions, Harrawood stands a chance of filling two holes left by the departure of Hunter and Barry. Harrwaood worked at both offensive and defensive tackle here in '53 before Cifelli was obtained from Detroit. Cifelli was traded to Philadelphia. At Tulsa, Harrawood earned three letter as a defensive tackle and was named to the All-Missouri Valley honorary team. He was a shot putter and was named track captain in his senior year. As a prep athlete, he competed in five sports at Harland, Ky., High and at the Gulf Coast Military Academy, Gulfport, Miss. He was the Mississippi shot put champion and holds the distinction of scoring one of the fastest knockouts in Mississippi prep history as a boxer. He also was a catcher in baseball and a center on the basketball team. Son of a Methodist minister, Harrawood is married and has one daughter, three-month-old Theresa Lynn. He works in the Douglas Aircraft plant in Tulsa in the offseason. Harrawood is the fifth tackle signed thus far.
PACK CAN START DRILLS ANY DAY: BROWN'S BACK
APR 6 (Green Bay) - The Packers can start practice any day now. Ol' Buddy Brown has signed his contract. Brown represents a lot of noise and good football playing at offensive right guard – the spot he owned last fall. The onetime Arkansas star came to the Packers from the Washington Redskins about the time the Cleveland Browns were walloping our boys 27-0 in the league opener in '53. Buddy started his chores the following Sunday and hasn't missed a game since – 23 straight without a scratch that couldn't be stitched up. Buddy displayed so much holler, hard work and savvy in training last season that Coach Liz Blackbourn selected the drawler as his '54 offensive captain. Brown started every game last season. Brown is consistency personified, to coin a phrase. He can handle anything in the league, although there are some defensive tackles who might give him a fit – that 6-8 Bob St. Clair of San Francisco, for instance. But, as Buddy would say if he were asked this day, "we'll be playing him again!" Brown, the 34th player announced as signed thus far by Blackbourn, is the only returning co-captain. The other "officer", defensive co-captain Clayton Tonnemaker, recently announced his retirement. Actually, the jobs of captaining the Packers on defense and offense could change from season to season, Blackbourn said. "We'll decide on the 1955 captains during practice," Liz said. Blackbourn called both Tonnemaker and Brown "the ideal captain type", adding, "they're anxious to get it going, eager to improve themselves and an inspiration to the rookies because they, as veterans, play so hard." Brown was a steady performer before he joined the Packers. He played 36 consecutive games for Washington in his first two pro seasons including exhibitions. Brown played four seasons of football at Arkansas, closing with the 1950 season when he was elected captain. In postseason games, he participated in both the Senior Bowl and Blue-Gray classics. Before entering Arkansas, Brown saw Army
service for four years in India, China and Burma as a staff-sergeant. He was a member of the famed Merrills' Marauders. During the offseason, he sells insurance in Wynne, Ark., where he began his grid career with Wayne High School. Brown now weighs 230 pounds and stands 6-1. He will be 29 next Oct. 19. Brown is the sixth veteran announced as signed.
PACKERS EXPECT BETTER MANPOWER
APR 7 (Stevens Point) - The Green Bay Packers expect the manpower situation in their Stevens Point training camp to be considerably better this summer than last. Football fans recall that when the Bays came to town in July 1954 only a few more than 40 candidates were ready to begin drills. Although the number increased steadily thereafter, it never did come close to the anticipated figure. Coach Liz Blackbourn is now in his second year at the helm of the Packers. And when his charges invade the Point a little more than three months from now, the total number in the party will be crowding the maximum of 60, according to expectations. Based on announced signings of contracts, a dozen or more of the 30 college players drafted by the Packers are already in the fold. These include Tom Bettis, Norm Amundsen, Henry Bullough, Bob Clemens and Ed Culpepper, all of whom were in the first 10 selections. Also signed are at least four players who weren't with the Pack last year but have had pro experience. Included here are Bill Reichardt, a Green Bay back of two years ago who is just out of the service; Gene Felker, former Wisconsin and Dallas Texan end; Johnny Spinks, one-time Chicago Cardinal back, and Sisto Averno, ex-Baltimore guard. Going still further, the Packers have signed about a dozen free agents, a number which included Clyde Sanders, the big fullback who didn't quite make it last year; Jan Smid, Illinois guard, and Chuck Stamschror, Minnesota center. And last but not least, several veterans have signed contracts and others have one or more years to go on present pacts. Recent signees included Gene Knutson, Fred Cone, Deral Teteak, Al Carmichael and Buddy Brown. The Packers expect to lose a few players via the service but definite announcement on players like Art Hunter, Al Barry, Veryl Switzer, Max McGee and Bobby Garrett has not yet been given. Also one or two retirements can be expected, in fact, Trapper Stephenson has already announced he will not be back. Blackbourn, who spoke via telephone with Carl Wallace, Stevens Point Chamber of Commerce manager, this week appeared optimistic concerning the coming campaign. His many friends hope his team will play again the type of football they did last season when, despite a 4-8 record, the Packers were one of the toughest teams in the league. Blackbourn, incidentally, may make an appearance at the Athletic banquet of the Bleacher Coaches on Tuesday night at the American Legion Hall. He has been contacted, and he promised to make every effort to attend, tying in his visit with some official Packer business here.
PERINGER, NEWEST PACKER, RATED AS 'REAL SLEEPER'
APR 8 (Green Bay) - Bob Peringer carries the rating of "real sleeper" in the Packer book. The Washington State College offensive end, announced as signed Thursday by Coach Liz Blackbourn, can (1) run the 100-yard dash in 10 seconds and (2) catch the football. He has good size, 195 pounds on a six-foot, three-inch frame, and is rugged. He broke into college ball as a halfback but was quickly switched to offensive end where his sticky fingers could be put to better advantage – much like the operation Doc Blackbourn performed on Max McGee last fall. Peringer comes with the best wishes of Roger Grove, the onetime Packer halfback who also recommended Howard McCants, a six-foot, eight-inch, 260-pound defensive end. Grove, who studied both athletes as backfield coach at Washington State, feels that Peringer has his "best football ahead of him," noting the fact that the pass receiving ace is 27 years of age. Peringer was WS's leading pass catcher last fall until he broke a finger. He also averaged over 43 yards in punting. Peringer received a late start in college ball. He served two hitches in the Army. He put in 18 months in Japan from 1946 to 1947, and then was recalled for a year of duty at Fort Lewis in September of 1950. He played football on both tours of duty…AID TO JORGENSON: Although he still has one more year of college eligibility left, Peringer will graduate in June with a degree in physical therapy and plans on taking post graduate work in that subject. He could be a valuable aid to Packer trainer Bud Jorgenson, if necessary, as he also assisted in the Washington State training room. Peringer had a brilliant prep career in Olympia High in Olympia, Wash. He won three letters in football, three in basketball, three in baseball and four in tract. Peringer's father, Cecil, was captain of the University of Oregon basketball team in '23. Peringer is the 35th Packer announced as signed to date…PACKER BACKINGS: Breezy Reid went through the 1954 season with a fumble, despite the fact that he handled the ball 113 times – 99 on rushes and 14 on pass catches. In addition, he recovered one of his teammate's fumbles…The oldest player in point of service and of age on the Packer squad next fall will be Clarence Self. The former Wisconsin back will be 30 next October and will be in his seventh year. Would you believe that Tobin Rote will be returning for his sixth season? Seems like only a year or two ago that Tobin was a rookie. Time marches on!
PACKERS PUT DEFENSIVE TAG ON ACE PASSER
APR 12 (Green Bay) - John Bordogna, an offensive standout at Nebraska, will seek his pay in pro football on defense. This latest signee, the 36th announced as set thus far for '55 by Coach Liz Blackbourn, was a quarterback in 1952-53 and a Cornhusker freshman assistant coach last fall. He rolled up 2,121 yards rushing and passing and scored 88 points in his junior and senior years. In addition, he was named the all-Big Seven quarterback in '53. Packer scouts believe, however, that he has more potential for the pro grid as a defensive halfback and Blackbourn figures he will offer veterans Bobby Dillon and Val Joe Walker stern competition as a "deep" back. The newcomer stands 5-10 and packs 185. He has good speed and is noted for his rugged tackling. Bordogna was a real offensive workhorse in '53. He rushed 149 times for 706 yards in 10 games and hurled 81 passes, completing 30 for 532 yards. In addition, he scored 48 points. In 1953, when the one-platoon system was returned, Bordogna had no trouble working into defense. He still carried a heavy offensive program, scoring 40 points, rushing 80 times for 228 yards and hurling 52 completions in 116 attempts for 655 yards. In addition, he returned 14 kickoffs for an average of 19.8 yards and returned an intercepted pass 89 yards for a touchdown. Bordogna is a good example of the "flexibility" of the one-platoon system as far as the pros are concerned. Under that system, the pros' scouting is made much more complicated but the results are two-fold, so to speak, because each athlete can go both ways. Under the old two-platoon college plan, few offensive stars rarely played defense and vice versa. Bordogna played prep football at Turtle Creek, Pa., High, winning a trophy as the team's most valuable as a senior. He was graduated from Nebraska with a degree in industrial arts in '54 and continued there last year while coaching the freshman team. Bordogna, 24, was a teammate of Nick Aducci at Nebraska his senior year. Adduci tried out with the '54 Packers and was among the last to be cut. Nick signed recently with Wisconsin. The Packers selected two Nebraska stars in the recent draft – 11th choice Ron Clark, a 180-pound offensive halfback who also covers a lot of ground on defense, and 24th pick Charles Bryant, 197-pound linebacker. Bordogna is the seventh halfback announced as signed thus far.
NIX MAY GIVE SMU 1/11TH PACKER SHARE
APR 13 (Green Bay) - Doyle Nix, the Packers' 18th draft choice, will attempt to give Southern Methodist a one-11th share in the Green Bays next fall. If Nix makes it, the Packers will have three SMU stars on their 33-man roster come opening day, assuming, of course, Val Joe Walker and Bill Forester carry their '54 sparkle into '55. They were teammates in 1952. Oddly enough, all of them will be on defense, Nix being a corner linebacker, Walker a "deep" defender and Forester a middle guard. Nix will be out to do something a former teammate couldn't accomplish in the corner linebacker spot. Don Miller of SMU, one of the athletes the Packers received in the Parilli deal, was waived out after a couple of league games. Nix, the 37th player placed in the fold today by Coach Liz Blackbourn, has been rated as follows by former Packer Mike Michalske, line coach at the University of Texas: "A real toughie – good defensive man – corner linebacker." Blackbourn, in a constant search for defensive secondary material, indicated that Nix had the qualities for defensive halfback and linebacker. Actually, Nix is listed as an end – the offensive spot he handled in college, but he'll toil on defense as a pro. The newcomers stands 6-1 and packs 188 pounds. He can run the 100-yard dash in 10.2 seconds, which speaks for his speed. Nix caught 23 passes in three seasons at SMU. In 1952, he nailed two for 46 yards and a year later he caught 12 for 187 and three touchdowns. Last fall, he caught nine for 126 yards and one touch. Nix, no relation to Emery Nix, onetime New York Giant halfback, was a high school football star in Texarkana, Tex. He is 21 and married. Nix is the second defensive back signed in two days and the eighth halfback set for '55. Blackbourn has announced the signing of eight halfbacks, five fullbacks, eight guards, five ends, four quarterbacks, five tackles and two centers thus far – 37 in all.
PACKERS BATTLE CHAMP BROWNS IN LEAGUE TEST
APR 14 (Green Bay) - It appears that the Packers' complete 1955 NFL schedule is ready for official publication today. Green Bay's home card had been announced some weeks ago but, under a league directive, the Packers couldn't reveal their league road games until the home team makes with the news. Hosts of Green Bay now have made their proper announcements and here's the 12-game lineup of Murder, Inc. The "stranger" in the deck is Cleveland – the fifth card, at that. The Packers will be playing a league game against the defending champion Browns in Cleveland for the first time. The teams met one other time in a league game, the Browns winning 27-0 to start the '53 season in Milwaukee. The Browns join the Chicago Cardinals as the Packers' two Eastern Division opponents. The Cards, with or without Coach Joe Stydahar, will be playing their first league game in Green Bay since 1947. There isn't a Saturday night game on the 1955 schedule, which indicates less television, but that Nov. 24 date listed above is Thanksgiving Day – an annual nationwide TV feature. The Packer offices at 349 S. Washington takes two different looks at the schedule. General Manager Verne Lewellen, for instance, views it from the financial standpoint and Coach Liz Blackbourn from the won-lost column. Since the finances rise and fall a good deal on the performance of the team, let's explore Blackbourn's problem. Liz took time out the other day to inspect the opponents in the Western division, and came out with this capsule: "They're all improved and each will make our problem more difficult." It is interesting to note that the Packers open against the defending Western division titlist, Detroit – the same way our hates from Chicago, the Bears, opened '54 play. The Bears, who lost that game, followed up with a battle in Green Bay. One thing about opening against Detroit. It's better than playing 'em back to back in the short space of five days as they did last November. After Detroit and the Bears, the Packers get a look at the young Colt – Alan (The Horse) Ameche, in Milwaukee. With Wisconsin on the road the day previous, half of Madison should invade County Stadium Oct. 9. After Baltimore, the Packers face a new-coached Los Angeles eleven, now under Sid Gilman. They won't face a new coach the following Sunday – in that Paul Brown. Then, it's Baltimore and the Bears again for the first of the repeats. Any breathers in there, Mac? Blackbourn is convinced there's no such thing in pro football. And, besides, he blasted that word from his vocabulary long ago!
FERGUSON SIGNS, LOOKS TO SCORING FIRST TD
APR 15 (Green Bay) - Packer defensive backs have scored more touchdowns than the Packers' ace offensive fullback, Howie Ferguson, in the last two seasons. But Fergie hopes to correct that situation – at least one TD for the record – in '55. The plunging and sticky-fingered fullback, who signed for his third Packer season today, holds the rare distinction of going scoreless in 23 National League appearances (11 in '53, 12 in'54) with the Green Bays despite the fact that he piled up 894 yards rushing and pass catching in two seasons. A couple of noted defensive halfbacks, Val Joe Walker and Bobby Dillon, are much more accustomed to scoring than the laboring Ferguson, Walker counting one in '53 and Dillon one each in '53 and '54. The two defensive Texans have yet to carry the ball from scrimmage. Whether he scored or not, Coach Liz Blackbourn feels that Ferguson was a big help in the Packers' offense last year and expects the New Iberia, La., prep star to have an even greater season next fall. One of the most underrated backs in the league, Ferguson blossomed into stardom last fall in the pass catching department. He caught 41 for 398 yards to lead all other fullbacks in the circuit in that phase of offense, placing 12th in a list that includes a flock of top-flight ends. In rushing, Ferguson peeled off 276 yards in 83 attempts for an average of 3.3 per, bettering his '53 average of 2.6 considerably. Sharing the plunging with Fred Cone two years ago, Howie carried 52 times in 134 yards. In '53, he caught 15 passes for 86 yards. Ferguson's best rushing game last fall was against Baltimore in Milwaukee. He rushed 15 times for 112 yards – his first taste of three-figure yards. In the same game, he caught five passes for 44, giving him 156 yards in the game. Ferguson saved his pass receiving bests for three of the league's toughest opponents. He nailed seven for 51 yards against the
Los Angeles Rams in Milwaukee, grabbed six for 143 yards in the two Detroit games and nailed seven for 52 yards in the second San Francisco test. It was against Frisco on the coast that Ferguson suffered a harrowing experience. He had just caught a pass in the right flat and turned to jar ahead when the Forty Niners' famed hatchet man, Hardy Brown, shouldered Ferguson in the helmet. Just before the crash, Ferguson's tough plastic helmet slipped down on his forehead, cushioning the blow. The crash actually split the plastic, and, later, Ferguson wondered: "What would have happened if that helmet hadn't slipped down?" Ferguson was shaken up but continued in a few plays. The irony came the next Sunday in Los Angeles when Ferguson missed the last half with a bruised hip – suffered in the second quarter when he threw a block protecting for the passer. He caught two for 16 yards and rushed three times for 15 yards up to the injury. Ferguson, the 39th Packer announced as signed thus far, is fairly "new" to football since he never played college ball. He was a hero in prep ball in his native New Iberia but then went into the Navy for four years. He played with a Navy squad and made all-Navy in 1949-50. The Los Angeles Rams discovered him in service and signed him as a free agent in '52. He performed at fullback for the Rams in the College All Star game in '52, but was released prior to league play. The Bays picked him up at the start of the '53 campaign. Ferguson stands 6-2, weighs 212 pounds and, at 26, has his best years ahead of him.
ARCHITECT HIRED FOR EXPANSION OF STADIUM
APR 16 (Green Bay) - The Board of Public Works Friday afternoon hired the architectural firm of Foeller, Schober, Berners, Safford and Jahn to draw plans for improving and enlarging City Stadium. The firm made a preliminary study and test borings for the Packer Corp. several years ago, and the Board's action said Mayor Dominic Olejniczak has been advised by the executive committee of the Packers that the firm had made "extensive study and has performed considerable preliminary work in connection with the present stadium." The City Council Jan. 18 instructed the Board of Public Works and/or the Board of Education to engage an architect to prepare plans for "remodeling or repairing" the stadium. On Jan. 26, the Board of Education, which supervises City Stadium, requested that the Board of Public Works handle the job itself because of the school expansion program facing the Board of Education. The action of the Board of Public Works will be reported to a meeting of the Council's finance committee Monday and to the Council Tuesday night. The Board reported it has met with architect John Sommerville on the stadium project Feb. 15. The hiring of an architect was authorized by the Council after it received a report from the Packer Corp. suggesting a stadium with between 30,000 and 32,000 seats and after consideration of a new stadium on land later purchased by the Park Board at Military Ave. and Boland Rd. While it was aware of the better parking facilities and lure of a new stadium, the Packer Corp. reported these advantages had to be weighed against larger costs than improving the present stadium, which has a capacity of about 24,500. The report suggested new steel stands with entrances in the rear constructed at an angle for improved viewing with as many seats as possible between the two end zones. An increased seating capacity, the report said, could lead to the scheduling of a fourth league game in Green Bay, and the Packers pledged a percentage of the annual gate to help pay for the improved stadium. In addition to the obsolete wooden stands and poor angle of present construction, the Packers said the big reason for a better stadium was the "considerable handicap" the present stadium is in scheduling games for Green Bay because of the Milwaukee County Stadium. "Opponents compare the potential in the two stadium and object to playing in Green Bay. While the Packers have the final say on which games are played in Green Bay and Milwaukee, this will be more embarrassing as time goes by, and while it is true that few games have been sold out in Green Bay in recent years, the resurgence of the Packer team makes it probable that a larger seating capacity could be sold out for at least some games," the Packers told the Council.
QB 'SLEEPER', CLARENCE SELF JOINS PACKERS
APR 18 (Green Bay) - A Chicago milkman with six seasons of pro football under his belt and a Niles, O., resident who never played a season of college varsity football were included officially on the Packer signed-player roster today. The deliverer of the "most nearly perfect food" is Clarence Self, the onetime University of Wisconsin halfback who came to the rescue of the Packer defensive corps last fall. The gent without a college grid education is Jim Capuzzi, a six-foot, 190-pound quarterback who earned his "degree" after three seasons of service in the Marines. Coach Liz Blackbourn was extremely happy today with both backs, and he's expecting both to make it hot for veterans and rookies alike in camp next July. Self, who makes up for lack of height with savvy and sure tackling, won't be all along in training this season. Liz was down to one or two able-bodied defensive halfbacks when Clarence was removed from his Chicago milk route for emergency service. Self did himself a commendable job, playing the corner linebacker position…PURCHASED FROM LIONS: In working out his draft, Blackbourn picked a number of C-L'er prospects in an effort to strengthen the position. In addition, he has been on the lookout for top-flight free agent material for these spots. Thus, Self will have company when practice starts. Self was purchased from the Detroit Lions in 1952 after serving with the Chicago Cardinals and Lions. He was a key figure in the Packers' 6-6 season in '52 but was cut loose late in the exhibition season in 1953. A solid 5-9, 180, Self will be the oldest Packers in the Stevens Point premises. He'll turn 30 next Oct. 25. Capuzzi played freshman football at two schools before running out his college "time". After a brilliant career at McKinley High in Niles, Capuzzi enrolled at the University of Cincinnati in September of 1950. He put in one semester and then decided to enlist in the Marines. He served four years, playing the last three and quarterbacking the 1952 team to an 8-1 record and the Marine championship. Blackbourn has known of Capuzzi for a number of years. Liz tried to get him for his Marquette team in 1950 and Capuzzi, possibly remembering, enrolled at MU after being discharged last Sept. 7. Though not eligible for football last fall, he remained for a semester and then dropped out of school. Actually, Capuzzi was eligible to be picked in the 1954 draft but he escaped notice, thus becoming a free agent. Liz started the wheels of progress after Capuzzi dropped out of MU. The Capuzzi business came to light when the Pittsburgh Steelers selected him on the 30th round of the draft in Philly last January. Blackbourn promptly informed Commissioner Bert Bell that the athlete was already under contract to the Packers. Since Bell had approved the Capuzzi contract, the Steelers were given another 30th choice. Capuzzi is especially gifted as a passer and he can also run well. In addition, he's a punter. The sleeper turned 23 last March 12.
END CROUCH SET, GOES TO CORNER LINEBACKER
APR 19 (Green Bay) - Packer Coach Liz Blackbourn was highly successful switching rookie Max McGee from halfback to offensive end last fall. The raw-boned Texan, in the process of learning the duties of a wing, caught 36 passes for 614 yards and, more important, nine touchdowns. Blackbourn will reverse the procedure with his latest signee – Johnny Crouch, the Packers' seventh draft choice, who will be changed from end to halfback. Crouch was a two-way wing at Texas Christian University last fall, but he'll be converted into a defensive back during the process of practice at Stevens Point come next July 16. Crouch, TCU's captain and most valuable player in '54, will be a candidate for one of the corner linebacking posts – the key positions in front of the two deep defensive halfbacks, Val Joe Walker and Bobby Dillon. The newcomer's best qualification for the "tackling" and pass defense position is merely that he's a rough, tough customer. He is well known at TCU for his competitive spirit – especially on defense. Crouch carries 198 pounds on a 6-2 frame. The TCU star broke into college ball, as a sophomore in the two-platoon plan, playing only defense. A handy athlete, he had no trouble handling offense when the one-platoon program was installed in '53. As a senior, he caught 10 passes for 185 yards and two touchdowns. Crouch, 23 last March 7, was voted the Southwest conference's annual sportsmanship award last fall, chiefly on his performance in a game with Oklahoma. Playing the nation's No. 1 team to a standstill, one of TCU's passes went sailing into the end zone and TCU's Ken Wineburg came up with the ball, for an apparent touchdown as none of the officials were in a position to see the play. There was a moment of confusion on the field until Crouch, the TCU captain, walked up to an official and said: "The ball hit the ground before he caught it." The touchdown was nullified and TCU went on to lose to mighty Oklahoma by five points, 21-16. Crouch's sports career began at Vernon, Tex., High where he played four years of football, three in baseball and was an all-state nominee in basketball. His father, J.L. Crouch, was a crack 880 runner at Georgetown University. Young Crouch helps his father in the outdoor advertising business in the offseason. Crouch is the second corner linebacker announced as signed in two days.
HANNER HEFTS PROBLEM: FIVE OUNCES A DAY!
APR 21 (Green Bay) - Could you lose 30 pounds in 93 days? That's the problem facing Dave Hanner, the Packers' veteran tackle who signed his 1955 contract today. The pact is unique because it stipulates that the former University of Arkansas All-American must report to training camp at 250 pounds, or under, in order to collect the full amount of his contract. Hanner presently weighs 280 pounds, which means that he must drop off 5.1 ounces per day for the next 93 days – starting Friday and ending Saturday, July 23, when the veterans report to Stevens Point. And that's not all. Additional stipulations of the contract reveal that Hanner must get down to 245 pounds by the first league game – against Detroit here on Sept. 25, with an additional salary penalty if he fails to make the weight. The 245-pound weight maximum must be maintained the remainder of the season. "Dave is a real good player now," Blackbourn said, "but we feel that trimming his weight down will make him more active and that he will have more sustaining power. We think that he can be even a better player than he is now." Hanner presently is a Green Bay resident, living at 893 Howard St. with his wife and six-months-old son, Joel Dave III. He's employed at the Green Bay Fertilizer Co., and gets in plenty of hard work moving heavy bags of fertilizer around. In addition, he get a chance to get out in the county and talk with farmer. Hanner is right at home on the farm, having been raised on an Arkansas farm. Hanner said he expects to start shortly on his reducing program and he indicated that he should be able to make weight. A Packer regular defensive tackle since he broke into pro ball here in '52, Hanner has been one of the leading tackles in the league. He was selected to play in the last two pro bowl games in Los Angeles – a high tribute since the
players are picked by the coaches. Hanner earned three football letters at Arkansas and twice was named to the All-Southwest Conference team – plus several All-America lineups. Hanner is the first of the veteran tackles to sign for '55. One of the youngest veterans in the league, Hanner, despite the fact that he already has played three seasons, won't turn 25 until May 29. His family home is in Earle, Ark.
PACKERS SIGN 'SPIRIT' GUARD FROM COLGATE
APR 26 (Green Bay) - The Packers spirited away a spirit guy today – Don Tomanek of Colgate University and Johnson City, N.Y., High. Tomanek is an offensive guard and a candidate for the position vacated by Al Barry, a special friend of Breezy Reid. Coach Liz Blackbourn, announcing the signing of the free agent, has been informed that Tomanek ranks as one of the better guard in the east. The newcomer carries 235 pounds – 10 more than Barry, and stands six feet tall. Taking up where Barry left off won't be an easy chore but Blackbourn feels that the Colgate star may have the qualifications to plug the gap. Barry was particularly effective, along with left offensive tackle Len Szafaryn, at opening holes for the aforementioned Mr. Reid who finished as the Packers' leading ground gainer. Tomanek developed quite a reputation as a spirit player at Colgate. An untiring athlete, Tomanek came out of the infirmary after a tough bout with the flu one Friday in '53 and played 60 minutes the next day against Bucknell – in the snow. Tomanek was a mainstay in the Colgate line for four years, including three at guard and one at tackle. He played a key role as a blocker in Colgate's split-T formation. He works at tackle or linebacker on defense. Nicknamed "Cheta", Tomanek was 23 years of age last Jan. 14. He was graduated last February with a degree in history. Tomanek was a three-sport athlete at Johnson City, competing in football, swimming and track. Carrying a heavy scholastic load, Tomanek did not participate in any other major sport at Colgate, except football, but was prominent in intramural track, bowling and wrestling…PACKER BITS: If Packer halfback Veryl Switzer is a wee bit tired these days, he has a good reason. The new assistant manager of Farah's Liquor Store drove to Manhattan, Kansas Friday (800 miles away), played in Kansas State's annual spring Alumnus game, jumped in his car and drove back to Green Bay, arriving Saturday night. Oh yes, Veryl scored the touchdown that gave the grads a 7-7 tie in the last few minutes. Incidentally, Switzer, a real popular guy at KS, was told that the Kansas State football team will watch the Packers play Baltimore in Milwaukee Oct. 9. KS will meet Marquette Saturday afternoon, Oct. 8, and stay over to watch their favorite pro Sunday…Karl Kluckhohn, the onetime Wausau Lumberjack baseball player who was drafted by the Packers, is now an assistant coach at Colgate – his alma mater.
MANPOWER! 43 BAYS ALREADY SET FOR 1955
APR 27 (Green Bay) - The Packers opened training last July with 43 players. As of today, Coach Liz Blackbourn has announced the signing of 43 players. Added up, the two paragraphs boil down to one word: Manpower! How many players Blackbourn will herd into Stevens Point next July is a gridiron secret – at the moment. This much is certain: There will be many more than 43 opening day! The current announcement list includes 16 athletes who have signed pro football contracts here or elsewhere before 1955; 15 draft selections; and 12 free agents. The pro list includes 10 who were Packers in '54 – Al Carmichael, Clarence Self, Fred Cone, Clyde Sanders, Howie Ferguson, Deral Teteak, Buddy Brown, Gene Knutson, Tobin Rote and Dave Hanner; two who were Packers in '52 and then went elsewhere – Bill Reichardt (service) and Floyd Harrawood (Canada); and four who played with other pro clubs – Jack Spinks, Pittsburgh, Sisto Averno, Baltimore, Gene Felker, Dallas, and Ernie Wickstrom, Chicago Cardinals. Signees of nearly 20 holdovers from the '54 squad are still forthcoming which, incidentally, would skyrocket the roster to 63. Two of the '54 Packers have announced their retirement – Clayton Tonnemaker and Trapper Stephenson. Another three have gone into service – Art Hunter, Al Barry and Bobby Garrett. Of the 24 available draft choices (six were underclassmen), 15 have been announced as signed, including top choice Tom Bettis, the Purdue guard who is a likely successor to Tonnemaker. The second and third choices, end Jim Temp of Wisconsin and halfback Buddy Leake of Oklahoma, are unsigned at present since they are both competing in baseball at their
Packer Guard Buddy Brown - 1955 Vintage Press Photo
Green Bay Packers Football Player Bill Forester poses wearing uniform - 1955 Vintage Press Photo by MILWAUKEE JOURNAL SENTINEL.
schools. Temp is the Badgers' regular first sacker and Leake is Oklahoma's shortstop. The choices signed are the first, fifth, sixth, seventh, eighth, ninth, 14th, 15th, 16th, 18th, 19th, 20th, 25th, 26th and 27th. Three quarterbacks are among the dozen free agents – Johnny Coatta, the former Badger who almost joined the Packers two years ago before going into service; Pat Ryan of Holy Cross; and JimCapuzzi of Cincinnati. With veteran QB Tobin Rote and draft choice QB Charlie Brackins in the fold, Blackbourn will go to camp with at least five signal callers. The Bays started with three last year – Rote, Elry Falkenstein and Bob Burkhart. Garrett was obtained from Cleveland in a trade and joined the club in the middle of August. Halfbacks and guards have been plentiful in the early announcings as Blackbourn is making a move to bolster the squad in the middle of the line and on defense. Ten HBs and nine guards have been inked. In addition, there are six fullback, six tackles, five ends, five quarterbacks and two centers.
PACK SIGNS NEBRASKA HALFBACK - CLARK ON DEFENSE; POOL JOINS ALL STAR COACHING STAFF
APR 28 (Green Bay) - The Packers had a full team of halfbacks today, with the signing of their 11th draft choice – Ronnie Clark of Nebraska. Clark is one of a number of switch cases – made possible under college football's one-platoon system. Coach Liz Blackbourn announced that the 5-11, 182-pound back, who made his reputation as a ball carrier in college and Army ball but played defense "on the side", will be a candidate for the Packers' defensive section when practice starts in July. Clark is a safety man, which mean that he'll be fighting for a pay check against the likes of veterans Val Joe Walker and Bobby Dillon – the Packers' two deep men. Adept as a pass defender, Clark, however, made headlines as a broken field runner in his first college game in 1949, returning a kickoff 100 yards for a touchdown against Kansas State, and from then on few people considered his defensive ability. All except Packer backfield coach Ray McLean maybe! Ray saw him in action in Nebraska's losing cause in the Orange Bowl last Jan. 1 and figured the athlete has possibilities – especially in view of his speed. Clark, who will turn 24 May 27, is draft free since he already has served three years in the Army. He entered service in '51 after being rated one of the Big Seven's outstanding backs as a junior in '50. He continued the honor last fall at Nebraska and gained All-Army recognition in '51-52. Clark played four years of football at Revenna, Neb., High and was named to the all-state team. He also competed in track and basketball. Clark is the 11th halfback and the 44th player announced as signed thus far…OTHER SIGNINGS: Perry Moss, the former Illinois quarterback flash who played with the Packers in '48, signed a '55 contract yesterday with Hamilton of Canada's Big Four Football Union…The College All-Star coaching staff was "all pro" today, with the addition of Hamp Pool, former coach of the Los Angeles Rams. The Stars will play the Cleveland Browns in Chicago Aug. 12. Star head coach Curly
Lambeau announced that Pool will be assigned to offensive duties. Earlier this week, Lambeau selected Steve Owen, former New York Giant coach, as his defensive coach. Previously, Hunk Anderson, the former Chicago Bear line coach, was named All Star line mentor. This is the first year the All Stars will be handled by pro coaches. In past years, the mentoring was done by college coaches. Neither Lambeau nor the sponsoring Chicago Tribune Charities, Inc., wants a coach with allegiance either to a pro or college unit.
LAMBEAU IN CENTER OF TRIPLE-THREAT DIVORCE ACTION
APR 28 (Santa Monica, CA) - Earl "Curly" Lambeau, one-time coach of the Green Bay Packers, Wednesday was in the center of a triple-threat legal action in Superior Court. His wife, Grace, 54, filed suit for divorce, asking for half of Lambeau's ranch in the Santa Monica mountains which she valued at $150,000. Lambeau, 57, also filed for divorce and sought to have the court declare the 650-acre cattle and poultry ranch is not community property. Lambeau charged his wife owes him $4,616 which he said he lent her from 1946 through 1953. After a conference with the principals and their attorneys, Judge Orlando Rhodes continued the case to June 6. After leaving the Packers, Lambeau later coached the Chicago Cardinals and Washington Redskins and this year will tutor the College All-Stars in their annual classic in Chicago against the Cleveland Browns, champions of the NFL.
MCGEE IN SERVICE; ROG ZATKOFF SIGNS
APR 29 (Green Bay) - The Packers were in the market today for a pass catching end who can snare 35 or 40 passes for nine or 10 touchdowns and a punter who can average over 40 yards. In case you haven't heard or guessed, Max McGee, an athlete who did the above things as a Packer rookie in '54, is now in service. He's a second lieutenant in the Air Force and is presently training as a jet pilot at Lackland Air Force base just outside San Antonio. Coach Liz Blackbourn wasn't available for comment this morning but members of his staff, Tom Hearden, Lou Rymkus and Jack Vainisi, said "he was quite concerned." Liz was to give an address at the Milwaukee Athletic Club this noon and offensive coach Ray McLean was in New Hampshire where his father recently suffered a stroke. Blackbourn had hoped that the departure of McGee could be delayed at least a season – until a suitable replacement could be found. The McGee news was tempered somewhat today by the signing of Roger Zatkoff, the Packers' all-pro linebacker, who will be returning for his third season. Loss of McGee automatically makes last year's No. 3 offensive end, Gary Knafelc, the No. 2 prospect for '55. Billy Howton, the No. 1'er, is expected to return. Knafelc, the Chicago Cardinals' No. 2 draft choice a year ago, was cut loose by the Cards early last season in the now-famous Cardinal player purge and was promptly snapped up by the Packers. A long one at 6-5, Knafelc was used briefly, catching five for 48 yards, but showed flashes of form in practice and in his few games appearances. The Packers went light on offensive ends in the '55 draft, picking two of them – Jim Jennings of Missouri and Bob Peringer of Washington State, but both are already signed. McGee never played end during his college career at Tulane but had a good reputation as a pass catcher from a halfback and/or fullback position. With the Packers he caught 36 passes for 614 yards and nine touchdowns. His longest gain was an 82-yard TD reception from Tobin Rote at Detroit Last Thanksgiving Day. McGee was off to a slow start with his punting but finished the season with an average of 41.7 for fifth in the league behind Pat Brady, Horace Gillom, Norm Van Brocklin and Tom Landry. McGee is the fifth rookie from the '54 squad to enter service. Leaving earlier were Al Barry, Art Hunter, Bobby Garrett and Gene White. All were regulars except Garrett who understudied Rote. Zatkoff broke in with the Packers in'53 after playing tackle and linebacker at Michigan for three seasons. He was used as a defensive end some as a Packer rookie, in addition to linebacking, but last fall stayed at LB'er, and developed into one of the meanest and toughest in the league. He was chosen to play in the pro bowl game. Blackbourn said that Zatkoff was among the players who ranked the highest in the coaches' complicated rating system. In preparing the ratings, the coaches judge each athlete on every play in every game from game movies. Zatkoff packs 215 pounds and stands 6-2. He turned 24 last March 25. He is married and has three daughters, and recently purchased a home in a Detroit suburb. He teaches in a Detroit public school system in the "after season".
MCGEE HARD TO REPLACE BY COACHING: LIZ
MAY 2 (Green Bay) - Packer Coach Liz Blackbourn explained the loss of end Max McGee this way today: "It's a killer. There are two positions that are hard to fill by coaching – quarterback and end. The players in these positions have special skills inherent in them, skills that are hard to develop through coaching. It is difficult to teach an end or halfback how to maneuver for pass catching – one of McGee's special skills." Thus, Blackbourn and his staffmen, Tom Harden, Ray McLean and Lou Rymkus, had their work cut out today – finding and/or developing a successor for McGee who presently is getting his feet on the ground in the Air Force…MADE OVER FROM HB: McGee actually was made over when he entered pro ball a year ago. He was a halfback at Tulane with a special skill as a pass catcher and, if you will, maneuverer. Blackbourn drafted him to play end and Max responded with 36 catches and nine touchdowns. Who will replace McGee? "We'll work with Knafelc and see what the two new boys, Peringer and Jennings, can do," Liz pointed out. Gary Knafelc displayed flashes of promise as a rookie last year but played little because of the presence of McGee and Bill Howton. Knafelc came to the Packers from the Chicago Cardinals. Jim Jennings of Missouri and Bob Peringer of Washington State, recommended by ex-Packer Roger Grove, are draft choices and have signed…While player matters are fairly well set, Blackbourn is busy these days cleaning up other details for the '55 campaign. This morning he worked out plans to have the Packers' league and non-league games scouted – a rather difficult task with the exhibitions because they are played in non-league cities. Three of the club's six non-loopers were revealed over the weekend – the New York Giants in Spokane, Wash., Saturday, Aug. 13; the Cleveland Browns in the Rubber Bowl in Akron, Ohio, Saturday night, Aug. 20; and the Washington Redskins in Winston-Salem, N.C., Saturday night, Sept. 10…Blackbourn and his aides went on their own version of "daylight savings: time today, starting at 8 o'clock instead of the usual 8:30. They'll leave at 4 o'clock in the afternoon instead of the usual 4:30, permitting golf, fishing and all the relaxation possible before the big grind starts July 16. The coaches will work in their vacations before the opening of camp.
PACKERS SCHEDULE EXHIBITION GAME
MAY 2 (Green Bay) - The Green Bay Packers will meet the NFL champion Cleveland Browns in an exhibition game at Akron, OH August 20. The game is the third pre-season exhibition announced by the Packers. They will meet New York in Spokane, WA August 13 and Washington at Winston-Salem, NC September 10.
UNCLE SAM HAS MAKING OF OFFENSIVE LINE – FROM PACK
MAY 3 (Green Bay) – Uncle Sam has the making of a good offensive line – at the expense of the Packers. Now the trick is to get the threesome on the same team, but this might require orders from fairly high up since one of the individuals is in the Army and the other two are in the Air Force. The three of whom we speak today are left end Max McGee and left guard Al Barry of the AF and right tackle Art Hunter of the Army. They were good enough to make the majors as rookies last year, which means that they'll have no trouble cutting the service football buck. Hunter already has been dispatched to Fort Ord, Calif., which, from past records, does quite well in football. Barry turned up at Bolling Air Force base in Washington, D.C. – another noted football center, judging by past performances. McGee is presently being baptized at Lackland Air Force base in Texas, awaiting transfer to a jet base. Max probably won't see football action next fall since he's scheduled to be a jet pilot. Another former Packer, Bobby Garrett, has been sent to Castle Air Force base in California where the public relations department didn't wait long to get a picture of Bobby pitching a football along with former Southern Calif. QB Ed Demirjian. Barry saw a few familiar faces when he reported at Bolling – Menil Mavraides, the Philadelphia Eagles' guard; Johnny Lattner, Pittsburgh's halfback; and Joe Moss of the Washington Redskins. The whole crew probably will be playing on the same team next fall…WHITE TO GO NEXT: The Packers aren't playing all "give" with Bolling. Coming out of that base and already signed is former Packer fullback Bill Reichardt, who will perform next season as a halfback. In all, Coach Liz Blackbourn has noted the loss of four outstanding rookies from the '54 team and a fifth, defensive halfback Gene White, who is expected to go in next month.
FAST HARGROVE ZOOMS PACKER STOCK AT LHB
MAY 4 (Green Bay) - Lt. Lauren Hargove of Tank Company, 86th Infantry Regiment at Fort Riley, Kan., has signed a Packer contract for '55, Packer Coach Liz Blackbourn announced today. Hargrove was the Packers' eighth draft choice in '53 but Uncle Sam snapped him up after he labored a week in the Green Bay grid camp. The latest signee is a halfback from Georgia – and a fast one. He once did the 100-yard dash in 9.7 in his only season of track at Georgia. Hargrove, a lefthanded passer and kicker who doesn't particularly specialize in those departments, will report late – sometime in August when he expects to be separated from service, thus completing two years of duty. Hargrove, who stands 6-3 and carries 195 pounds, will bump into an old school chum when he reports to Stevens Point – one Breezy Reid, also a former Georgia star. Lauren was a freshman there in '49 when Breezy was running wild as a senior. Actually, the two ex-Bulldogs will be rivals since Hargrove will be tried at left half – the position at which Reid led the Packers in ground gaining last fall. Backing up Reid last year was rookie Joe Johnson, who is expected back again next fall. Blackbourn is looking forward to Hargrove's speed. The 25-year old Georgian's biggest asset has been his swift –on the takeoff and in the straightaway. Hargrove managed 133 yards in 33 trips in his sophomore season at Georgia in '50 and then led the squad the next year, rolling up 422 yards on 89 attempts for an average of 4.7 and four touchdowns. One of his greatest games was against Auburn, running 84 yards for a touchdown and finished with 167 yards. He was handicapped by an ankle injury in his senior year and carried only 15 times for 38 yards. He did not play football in service because his regiment did not field a team…KICKS EXTRA POINTS: Oddly enough, Hargrove is a gifted extra point kicker but his talents never were put to use at Georgia. The No. 1 booter there was Bobby Walston, Philadelphia Eagles' end and kicking expert. Hargrove had a sensational high school career at Fitzgerald, Ga., scoring 478 points in four years to win honors on the All-America prep team. When Fitzgerald played Decatur High of Atlanta for the state Class A championship, Hargrove scored 20 points in four minutes as Fitzgerald won the title 20-19.
TIMBERLAKE REJOINS PACKERS
MAY 5 (Green Bay) - The Packers had one dozen guards and/or linebackers in the fold today with the signing of George Timberlake of Southern California. And Coach Liz Blackbourn expects to make it a baker's dozen in June when Charley Bryant of Nebraska finishes his spring sports. Timberlake, the Bays' third draft choice in '54, will be taking his second crack at Packer employment when practice opens at Stevens Point in July. Timberlake joined the club after playing in the College All Star game last August but suffered a broken wrist in practice. Blackbourn advised him to lay off for the rest of the season and make a new start in '55. Timberlake made his name at linebacker and he'll try to win his pro spurs at that position, although he was considered a top-flight offensive guard. He carries 218 pounds on a 6-2 frame. Timberlake earned three football letters at Southern Cal and won numerous All-America honors. He was a teammate of Packer halfback Al Carmichael in the 1953 Rose Bowl game, in which Wisconsin was beaten 7-0. Since leaving the Bays, Timberlake, 22, served as director of a boys' club in his native Long Beach, Calif. With the exception of Bryant, veteran Steve Ruzich and a sleeper here and there, the guard and linebacker positions seem to be fairly well set. At least to a point where Joe Phan can start figuring if the Packers might or might not improve at those two spots! At offensive guard, for instance, Blackbourn and his line coach, Lou Rymkus, are looking first for someone to fill the hole vacated by former left guard Al Barry of Air Corps. The right guard starter, Buddy Brown, has signed for '55….BETTIS FOR TONNEMAKER: This linebacker spot also has a highly-thought-of departee – Clayton Tonnemaker, who has decided to retire from the spot. Blackbourn made his first draft pick, Tom Bettis of Purdue, a possible successor to Clayton, who also was a first selection – back in '50. Bettis, a 225-pounder, is considered a good bet to fill the gap left by Tonnemaker, although Clayton as captain also was a powerful morale force in practice as well as during games. Two veteran linebackers have signed – rugged Roger Zatkoff, an all-pro last fall, and Deral Teteak, the Wisconsin battler whose '54 season was all but ruined by a broken ankle suffered in training camp. The only rookie linebackers set other than Bettis and Timberlake are a couple of darkhorses – Jan Smid, a 205-pounder from Illinois, and John Nitz, 218, of South Dakota State.
PACKER DRILLS 67 DAYS AWAY; COACHES, GUESTS TALK FOOTBALL ON MAVOURNEEN
MAY 9 (Green Bay) - Packer practice opens two months from next Monday. Which means that there are 67 days left in what the players call the offseason and the coaches call the getting ready time. Well ahead of themselves in preparations, the Packer coaching staff experienced a well-deserved day off Saturday to enjoy a day of relaxation on Atty. Vic McCormick's elegant Mavourneen, a palatial yacht. The party, which boarded the craft at Snug Harbor in Sturgeon Bay, was made up of Head Coach Liz Blackbourn and aides Tom Hearden, Ray McLean and Lou Rymkus, Packer President Russ Bogda, Packer executive committee members Bernard Darling and Max Murphy, Packer Publicist Bonnie Ryan, Clair Stone, Harold Cross, Charley Brock, McCormick and the writer. The "football sailors" got an unusual treat in that the graceful Mavourneen was subjected to 25-mile winds at times on a cruise up the bay, then back to Sturgeon Bay and then out into Lake Michigan via a channel which slices the peninsula. McCormick had hoped to take the group to Washington Island, but the winds farther north (not to mention storm warnings) were considered too strong by Capt. Fred Sorenson, although the yacht is highly capable of handling a heavy sea. McCormick annually cruises to Georgian Bay in Canada, which requires crossing Lake Michigan. The Mavourneen was tied in at Snug Harbor in the afternoon and the guests spent the remainder of the day chatting about football, eating two excellently-prepared meals by Steward Ray Wood, playing cards, and listening to the Kentucky Derby. And it was Blackbourn's lucky day. He pulled Swaps in a derby pool. While Liz is an optimist, he isn't inclined to go out on a limb – especially on the matter of a football team's performance the next season. But the non-coach members of the party couldn't help but be wild with the kind of enthusiasm that makes Green Bay the football town that it is and keeps Packer fortunes alive. At one stage, the discussion got around to "how wonderful it is to live in Green Bay because of the football." As somebody said, "Just what would we, and everybody else in Green Bay and area, do without the Packers? Sure, we'd take a trip to Milwaukee to see a Marquette game and we'd take in a Wisconsin game. That would be fine but we'd have no real personal interest like we have now when the Packers are playing." The consensus: It's great to have the Packers, let's never let 'em get away!
PACKERS PLANT 14-TACKLE BRYANT AT CORNER LB'ER
MAY 10 (Green Bay) - Any player who can make 14 clean tackles while his team is getting shellacked 55 to 7 deserves to be drafted and given an opportunity to make a pro football team. That, in brief, is the story of Charles (Bruzzy) Bryant, who signing of a '55 Packer contract was announced today by Coach Liz Blackbourn. It was rather difficult for offensive backfield coach Ray McLean to find some gold nuggets in the Nebraska lineup that underwent a 55-7 overhauling by Oklahoma in the Orange Bowl last Jan. 1. But he did notice the tremendous aggressiveness on the part of Bryant, a six-foot, 197-pound offensive guard and linebacker. When the figures at the end of the game showed that Bryant had made 14 tackles, McLean recommended that he be drafted. Blackbourn selected the Omaha Negro on the 24th round and announced, at the time, that 'we'll try him at corner linebacker." Today, Liz said, "We've still got him down for that position." Bryant will join two other Packer draftees, Johnny Crouch and Doyle Nix; veterans Clarence Self and Jim Psaltis, and several free agents in the fight for corner LB'ing duty. Bryant was the only All-American nominee at Nebraska. His teammates gave him special honor by selecting him captain for the Cornhuskers' final game in '54 – against Pittsburgh. Gifted with surprising speed, and particularly aggressive, Bryant led the squad on offense and defense all last season. In addition, he was usually first down under punts and kickoffs. He played three seasons of football at Nebraska and also was a member of the Cornhuskers' powerful wrestling team, working as a heavyweight. Bryant first gained his name in athletics at South High in Omaha where he won all-state honors in football…SEVENTH NEGRO SET: Bryant, who was 22 last April 27, is the seventh Negro athlete signed thus far by the Packers. Blackbourn has announced the signing of 48 players thus far, including 12 guards and/or linebackers, 11 halfbacks, seven tackles, six fullbacks, five ends, five quarterbacks and two centers.
LIZ CITES NEED FOR PACKER SQUAD RETURNING AS UNIT
MAY 10 (Green Bay) – Green Bay Kiwanis Club members, in their annual visit from Packer Head Coach Lisle Blackbourn at Hotel Northland Monday noon, listened to an early preseason discussion of Packer plans and team policies for the 1955 season. Blackbourn touched on the principal Packer player needs of the season, as reflected in the National league draft procedure, and pointed to the continuing necessity of filling gaps in the Green Bay team from season to season. "It is necessary to have a team return as a unit once or twice before we can expect an advance in the standings, or find ourselves in the position of keeping the team in contention," he said. Blackbourn pointed to Tom Bettis, Purdue linebacker who'll be used as a replacement for Clayton Tonnemaker, and Jim Temp, the 245-pound Wisconsin end, as men upon whom considerable attention will fall this season. He related several anecdotes pertaining to the signing of veterans and free agents, and explained the new training procedure by which rookies will report to camp a week early this summer. Blackbourn was introduced by Packer President Russ Bogda. Players Dave Hanner and John Martinkovic also were guests.
'LEADING' RECEIVER TO SEEK MCGEE'S JOB
MAY 11 (Green Bay) - Can you imagine a player leading his team in pass catching with only nine receptions for a full season? The only answer is that said team didn't throw many passes. The player's name is Bob LaRue, a 6-3, 200-pound offensive end who was completely overlooked in the January draft shuffle because he never had much chance to show his stuff. You see, his school, Oklahoma A. and M., just didn't have a passer. The Aggies used the single wing and spent most of the time rushing the ball, giving LaRue a chance to polish up on his blocking, practice his maneuvering on fake passes and hope that the tailback might forget and actually throw the ball. The 49th player announced as signed by Packer Coach Liz Blackbourn, LaRue is due for a pleasant awakening when he starts practice next July 16. He'll have more passes thrown to him in one practice that he did in two seasons of games at A. and M. Blackbourn has placed LaRue in the "possible-successor-to-McGee" file. The newcomer will join with rookies Jim Jennings and Bob Peringer, veteran Gary Knafelc and several late comers in the fight for Max McGee's berth – a slot that accounted for nine touchdowns last fall. Max is presently training as a jet pilot in the Air Force. Free agent LaRue comes highly recommended. His coach, J.B. Whitworth, feels that he's a "natural as a pass catcher but we just didn't have anyone who could throw the ball for two years." Last fall, LaRue caught nine for 106 yards – an average of nearly 12 per. In 1953, the new Packer nailed 12 for 122 yards – one for a touchdown. He scored another TD in '53 by recovering a blocked punt. LaRue was also quite a star as a defensive end, though his weight might be against him at that position with the pros – another reason why the "pay" boys overlooked him. His real talent, Blackbourn has been informed, is his ability to catch passes. LaRue, who turned 22 years of age last Jan. 4, hails from Clinton, Okla., where he starred in high school track and football. In college, LaRue also competed in track, pole vaulting 12 feet, 6 inches –
one of the top marks in the Valley conference. LaRue is the sixth end signed thus far.
STATE DOWN TO TWO MAJOR LEAGUE TEAMS; HAWKS LEAVE
MAY 12 (Green Bay) - Wisconsin is down to two major league teams - the Packers and Braves, with the removal of the Milwaukee Hawks, a basketball team, to St. Louis. Neither the Braves nor the Packers will benefit by the loss of the Hawks, although there may be several rare birds who might turn their basketball savings into Packer or Brave tickets. The passing of the Hawks - not exactly a tribute to Milwaukee fandom due to their failure to properly support the cagers - was hardly noticed today. The Associated Press, with headquarters in the hometown of the Hawks, passed it off to state readers with a paragraph in "Wednesday's Sports in Brief" and the United Press buried it under a "lead" about the signing of a draft choice by Rochester.
PACKERS SET TWO SQUAD GAMES
MAY 13 (Green Bay) - Two intra-squad games, with a total potential gate of nearly 9,000 fans, will be played during the early training season. General Manager Verne Lewellen announced today that the first game will be played in Marshfield Saturday night, July 30. The second is set for Stevens Point - the Packers' training base - the following Saturday night, Aug. 6. The Marshfield test, sponsored by the Columbus High School Athletic Assn., will be played in the 4,360-seat Beell stadium. The Stevens Point match is set for Goerke field, with a seating capacity of 4,500, and the retail division of the Point Chamber of Commerce handling ticket sales. The Packers played one squad game last season - in Stevens Point, before 4,500, with the Golds defeating the Greens, 13-7, in a thrilling exhibition. The Marshfield battle will feature Packer rookies who, by that time, will have two weeks of training under their belts. The veterans, who start drills a week later than the newcomers, will make token appearances. Rookies and pro veterans playing with the Packers for the first time will report Saturday, July 16, and the Packer holdovers will gather July 23. The two squad matches give the Packers a total of five announced exhibitions thus far. Others are the New York Giants in Spokane, Wash., Aug. 13; Cleveland in Akron, O., Aug. 20; and Washington in Winston-Salem, N.C., Sept. 10. Lewellen is presently working out three more non-conference tests, including one in Green Bay and the annual Shrine benefit in Milwaukee. Another game, originally scheduled in Atlantic City, may be shifted to another city. The Packers open league play against the Detroit Lions in City Stadium, Sept. 25. That game, incidentally, may be the start of a new career for Harry Gilmer, the onetime Alabama jump passer who has played seven seasons with the Washington Redskins. The Lions currently are negotiating for Gilmer who would be played behind Bobby Layne, regular Detroit quarter. Reportedly, the Detroits are willing to give up two younger players, probably veterans, for Gilmer. Gilmer, 29, would replace Tom Dublinski, Layne's stand-in for three seasons, who jumped to the Canadian league.
PAT HARDER TO AID PACKER TICKET SALES
MAY 16 (Green Bay) - Pat Harder, the onetime Wisconsin fullback who hurt the Packers as a Chicago Cardinal and Detroit Lion, will help the Green Bay club - as director of ticket sales in the Milwaukee area. Packer General Manager Verne Lewellen announced over the weekend that Harder will start his new duties when the Packers open their ticket office in Milwaukee County Stadium June 1. Packer ticket sales are in charge of ticket director Carl Mraz, who has his headquarters at the Bay office at 349 S. Washington. Looking forward to one of their biggest years on the ticket front, the Packers are getting set for one of their toughest home schedules. The six-game card is split between Green Bay and Milwaukee, and each community will host to one non-conference contest. Green Bay will host Detroit Sept. 25, the Chicago Bears Oct. 2 and the Chicago Cardinals Nov. 13. The three league tests set in Milwaukee are Baltimore Oct. 9, Los Angeles Oct. 16 and San Francisco Nov. 20.
PUNTING TACKLES JOINS PACKERS
MAY 17 (Green Bay) - A tackle who once delivered a 93-yard punt. A major league baseball player. A guy who is getting to like Green Bay more and more every day! The names of the three descriptions are Jack Spears, Jim Pendleton and Veryl Switzer. They ganged up on this department yesterday and here's the pitch: Spears, the Packers' 28th draft choice, has returned his signed contract for the '55 season, Coach Liz Blackbourn announced. The tackle and punting specialist helped make the University of Chattanooga famous with his fierce action at offensive tackle and his long-distance punting - an unusual combination, incidentally. The only similarity in pro football today is Lou Groza of the Cleveland Browns, who plays offensive tackle and kicks extra points and field goals. Spears, who stands 6-4 and packs 230 pounds, produced one of the longest punts in the nation on Thanksgiving Day in 1953 when Chattanooga was playing Mississippi Southern. The Moccasins were backed up to their own one-yard line when Spears booted from the end zone. The ball first bounced on the Mississippi 40, a distance of 59 yards, and then kept rolling until it stopped on the six-yard stripe - 93 yards in all. He finished '54 with his best average - 42.5. Spears will be among the candidates for the position vacated by Art Hunter, who is now in service. He is the seventh tackle signed thus far. Spears, who will turn 25 Aug. 5, had his college career interrupted by two years in the Army, serving in Korea from October 1951 to September 1953. He's a native of Maryville, Tenn., where he played prep football. He played three years of basketball at Chattanooga and in '53 was voted the school's best all-around athlete. He was football co-captain in '54. The aforementioned Pendleton entered this grid picture by visiting Switzer Monday at Farah's liquor store where Veryl is working as assistant manager. Veryl and Jim met in Milwaukee last fall and they've been close friends since. While Pendleton confesses that "it sure is cold up here," Switzer couldn't help but tell how he liked it up here. "I liked it here fine last fall when we played and the fans were wonderful, but it's even better now because I get to know of lot of them personally. I'll have a different feeling when I play next fall - like everybody up in the stands are my personal friends. Can't help but do better." The talk got around to baseball and Switzer chuckled when he thought about his first game with the Billy Goats. "I came up to bat with the bases loaded, and the fans were yelling for me to hit one. They didn't know that I hadn't had a bat in my hands for five years." Pendleton got it out of Veryl that he never touched the ball. Switzer is planning to let his baseball career rest. "Too good of a chance of getting hurt with these spikes; I start my own training in June anyway." Pendleton was a bit uncomfortable about Sunday's six and a half hour doubleheader with the Phillies. "That's a long time to sit on the bench," Jim laughed. He can play all of the outfield positions and is Johnny Logan's replacement at shortstop.
PACKERS' AMUNDSEN IN ARMY
MAY 18 (Green Bay) - Norm Amundsen, the Wisconsin guard, Packer sixth draft choice and possible successor to serviceman Al Barry, is in the Army. Loss of Amundsen, who already had signed for the '55 season, "reduces our chances of finding a capable successor to Barry," Coach Liz Blackbourn said today. Blackbourn said he had hopes that one of the two high choice guard choices would make it - "all the better if they both could." The other guard is Hank Bullough, the Michigan Stater who was drafted No. 5. Both Bullough and Amundsen had good reputations as offensive guards in the Big Ten last fall. Amundsen stands 5-11 and packs 222 pounds, and Bullough, also signed, measures 6, 220. Blackbourn has 12 names on his signed guard list but, alas, all are not offensive guards. Only six carry that rating - Bullough, returnee Buddy Brown, Sisto Averno who saw service with Baltimore, Marv Swentnofske of Marquette, Don Tomanek of Colgate and Amundsen, who won't be available. The remaining half dozen are linebackers - Tom Bettis of Purdue, Jan Smid of Illinois, George Timberlake of Southern California, John Nitz of South Dakota State, Charley Bryant of Nebraska and veteran Deral Teteak. Amundsen is the first loss to the services among the rookie and, Blackbourn commented, "we lost a few about this time last year, too." Liz is keeping his fingers crossed for some of his other draft picks. The Packers already have lost five veterans from the '54 squad, all of whom would have played important roles next fall: tackle Art Hunter, end Max McGee, defensive halfback Gene White, quarterback Bobby Garrett and Barry....From the ticket department, director Carl Mraz announced that the ducat office at 349 S. Washington is being flooded with the return of season ticket renewal cards which were mailed out recently to past season ticket holders for league games in Green Bay. Mraz emphasized today that all renewal cards must be in the Packer office by June 1 in order to guarantee the same seats as were held last year. Those not wishing to renew their applications for the coming season should also notify the Packer office so that those seats can be allocated to new season ticket buyers. Renewal cards for the league games in Milwaukee will be mailed out in the near future. The Packer office is also accepting paid orders for individual games but those tickets will not be distributed until a later date. The Packer office is open weekdays from 8 a.m. to 5 p.m. and on Saturdays from 8 a.m. to 12 noon.
PACKERS SNARE SAM MORLEY
MAY 19 (Green Bay) - The Packers picked off one free agent today - a famous one named Sam Morley. And Coach Liz Blackbourn announced that the former Stanford All-American and favorite passing target of Bobby Garrett will join the fight for the berth vacated by Max McGee. Morley, who's built similar to the Air Forcer McGee - at 6-3, 185, isn't a stranger to pro ball. He was the Washington Redskins' 20th draft choice a year ago, played in several exhibitions and then was released after the Redskins' second league opener; he had been bothered by injuries. Blackbourn is anxious to see if Morley can make the pros in his second try. The ace pass receiver is convinced that he's capable of playing for pay and Liz is willing to give him a shot. Morley is joining a five-man fight for the McGee position, which produced nine touchdowns last fall. Others in the running are Gary Knafelc, who is expected to return for his season season, and rookies Bob LaRue of Oklahoma A. and M., Jim Jennings of Missouri and Bob Peringer of Washington State. Morley is one of six college players who have been credited with more than 100 pass receptions in a three-year period - at least since such statistics were started about 15 years ago. Sam's total for three seasons of nailing Garrett passes is 102...THIRD IN NATION: As a sophomore in '51, Morley caught 17 for 228 yards and one touchdown. In 1952, he snared 40 for 523 yards and six touchdowns. He grabbed 45 for 594 yards and six TDs in '53, helping himself and Garrett to All-American rating. Garrett finished first in the nation in passing for '53 and Morley was third behind John Carson of Georgia and Ken Buck of College of Pacific. Morley, who turned 23 a week ago today, hails from South Pasadena, Calif., where he played high school football and basketball. He's studying law at Stanford presently and is living in San Moreno, Calif., which is also Garrett's hometown. Morley will be married June 26. Unfortunately, the Garrett-to-Morley combo won't be revived next fall. Bobby presently is in the Air Force...Jim Temp, the Packers' second draft choice, was named Wisconsin Athlete of the Year by fellow athletes at a Badger banquet in Madison last night. Temp, who hails from La Crosse, was an outstanding end at Wisconsin and is presently captain of the baseball team. He has played first and third, the outfield and also caught in his four-year career. Jim, an end who stands 6-4 and packs 225 pounds, is expected to sign with the Packers after the Badger baseball campaign ends at Kenosha May 28.
BETWEEN THE LINES - GENE RONZANI
MAY 19 (Racine) - Gene Ronzani, former Marquette and Chicago Bear football star and coach of the Green Bay Packers, in Racine "peddling steel". In other words, he's sales representative for a big steel firm, which seems to be one of the favorite landing places for headliners when they forsake sports-for-pay, for one reason or another. Among other "steel peddlers" well known to football followers hereabouts is Tony Canadeo, the ex-Packer star who shone as "The Grey Ghost of Gonzaga".
NAME TEMP BADGERS BEST
MAY 19 (Madison) - James Temp of La Crosse, closing out his four-year career as a member of the Badger football and baseball teams, was named "Wisconsin's athlete of the year" by fellow athletes Wednesday night. University "W" members selected Temp, an outstanding end on the gridiron and baseball captain, who has played first and third bases, the outfield and also caught. Temp was drafted by the Green Bay Packers in January. He is expected to sign after the Badger baseball campaign ends at Kenosha May 28. A big fellow, Temp stands 6-4 and weighs 225 pounds.
PACKER FB FIGHT DEVELOPING; HLAY SET
MAY 20 (Green Bay) - A fierce fullback fight is in prospect for the Packers. Seven battering rams have been signed already, including the two holdover regulars from last year - Howie Ferguson and Fred Cone. Latest to join the battle is John Hlay of Ohio State, whose inking was announced today by Coach Liz Blackbourn. Hlay, a 220-pound Croatian, was drafted No. 16 by the Packers in '53. Uncle Sam called him into the Army before he had a chance to
consider pro football; he was discharged last winter and presently runs a trophy shop in Columbus, O. Until unseated somewhere along the non-conference trail, Ferguson and Cone remain as the best fullback bets for next fall. Ferguson carried the load last year and turned up as the league's top pass catching fullback. Cone specialized mostly in field goals and extra points kicking. Besides Ferguson, Cone and Hlay, Blackbourn and his offensive backfield coach, Ray McLean, will view rookies Bob Clemens of Georgia and Jim Oliver of Louisiana Tech; Clyde Sanders, the Bethune-Cookman unknown who almost made the squad last year; and Jack Spinks, former Pittsburgh Steeler and Chicago Cardinal. Spinks is the heaviest of the lot - at a Motleyish 238. Clemens and Hlay each pack 220; Sanders 215; Ferguson 210; Oliver 207, and Cone 200. Actually, the Packers have an eighth fullback - Bill Reichardt, the Iowa star who played at the position as a Packer rookie in '52 before going into service. Signed recently, 190-pound Reichardt was shifted to left halfback, placing him in competition with veteran Breezy Reid. Hlay had plenty of experience at Ohio State, what with three different defensive systems in three seasons. As a sophomore in 1950, Hlay was a fullback in the single wing and a year later, when the squad shifted to the straight T, Hlay found himself playing mostly as a defensive linebacker. As a senior in '52, Hlay was the club's No. 1 fullback in the split-T. His substitutes carried only four times all season as he ripped off 535 yards and two touchdowns in 133 carries for an average of 4.02 yards per try. Hlay, who saw some action at guard during his early days at OS, is also considered highly as a blocker for the passer - welcome news to Packer quarterbacks. Hlay will turn 25 next Sunday. He hailed from Niles, O., where he played football and competed in track at McKinley High. He was an all-Ohio guard in prep football. In one high school game, Hlay carried the ball only four times but scored three touchdowns. Hlay was a second lieutenant in a Tank division in the Army but played no football. Hlay hails from an athletic family. He has three brothers who are top-flight in their sports - Steve in football at Baldwin-Wallce, Nick in wrestling and Paul in golf.
MASON TO COACH
MAY 20 (Detroit) - Joel Mason, who played professional football for seven years with the Chicago Cardinals and Green Bay Packers, has been named freshman coach at Wayne University. Mason, 43, is a graduate of Western Michigan College.
SALVUCCI PENS FINAL LETTER!
MAY 25 (Green Bay) - Letter writer Gayton Salvucci has sent his last missive to the Packers. The best player in the history of American International College at Springfield, Mass., and one of the best in Army football, mailed in his signed contract today with a note saying: "You won't hear from me until practice starts in July." Packer Coach Liz Blackbourn has been impressed by the keen interest halfback Salvucci is showing in his first attempt to make the pros. Gayton introduced himself when the Packers played Philadelphia in Hershey, Pa., last August, driving over from Fort Dix, N.J., where he served in the 272nd Infantry regiment. Salvucci, who stands six feet tall and weighs 180 pounds, was signed as a free agent in 1953, but was called into service before he had a chance to wear the Packer colors. During his Army career, Salvucci wrote Packer scout Jack Vainisi quite frequently, each letter pointing to the day he could join the Packers. Blackbourn announced that he will give Salvucci a shot at both defensive and offensive halfback. He'll work at left half on offense - a position at which he set all sorts of records at AIC and gained plenty of yardage at Fort Dix. Salvucci served as player-coach of the service team, proving himself far and away the best player on the post. In 10 games, he scored 18 touchdowns and averaged 11 yards per rush. He led his team to the post title with a record of 8-1-1. At American International, Salvucci played LH for three seasons, gaining over 3,000 yards and figuring in 42 touchdowns with his running and passing. Benny Friedman, former Michigan star and present football coach and athletic director at Brandeis University, said in '53 that "Salvucci is a player that could make any college team in the country." In his senior year, Salvucci had a hand in 18 of the 20 touchdowns scored by AIC, passing for 10 and scoring eight himself. He picked up 1,196 yards rushing and passing, more than half of the yardage made by the entire team in seven games. Also a baseball player and track star in college, Salvucci majored in education and was a better than average student. He ran the 100 in 10 flat in one meet. He turned 26 last May 8 and calls cartooning his hobby. He prepped at Quincy, Mass., High where he won all-Massachusetts scholastic honors. Salvucci is the 11th halfback announced as signed thus far.
30TH DRAFT PICK SAIA OUT TO PACK MARK
MAY 26 (Green Bay) - Bob Saia (pronounced see-ya) will attempt to set a new all-time record with the Packers next fall. The Tulane fullback hopes to become the second straight 30th draft choice to make the Bays - a record in itself. Al Barry, the Southern California guard, started the unique string last year. Thirtieth - or last - draft choices get all the consideration of first picks in Packer training, but somehow the No. 30 seems to be a jinx. There hasn't been a famous "30" anywhere since Danny Fortmann popped George Halas's eyes back in the 30's. Barry is the only Packer 30th to make the team in the last nine drafts. Records are a wee bit hazy before that. The Packers actually drafted a pro-experienced quarterback in '50 - Ray Mallouf, the onetime Chicago Cardinal who was thrown into the draft
HOWTON TOPS DON AT 3-YEAR MARK - BUT!
MAY 30 (Green Bay) - Billy Howton has signed another Packer contract, which means it's time to compare his record thus far with the old master - Don Hutson. The one thing to remember is all this comparison is that football - as played during Hutson's first three seasons - is a darned sight different than it is now. In Hutson's day, the teams passes about 25 percent less. What's more, Hutson also played defense in those days - 1935, '36 and '37, the period of comparison. Actually, Howton is ahead of Hutson's pace in everything but touchdowns - that
when the National League and All-America Conference merged and all clubs threw not-wants from their reserve lists into a pool. Mallouf never joined the Pack. Saia and Barry have something in common. Both were drafted as juniors. Barry was drafted in January of '53 for delivery in '54, while Saia was picked last January for use in '56. However, Saia became something of a gift from Upstairs when he informed Coach Liz Blackbourn that he will be graduated next week with a degree in physical education, although he has a year of grid eligibility left. Graduation, of course, ends his college football career. Saia, a little light for fullback at 183 and six feet tall, is known as a natural athlete which means that Blackbourn and staffmen Ray McLean, Tom Hearden and Lou Rymkus can't be blamed if they see possibilities for another position in the fact newcomer. Saia had a rather mixed-up college career, playing under three different coaches and skipping a year. He started at Tulane in '51, averaging 3.9 yards in 47 carries and scoring an important touchdown against Vanderbilt under coach Henry Franka. In 1952, Saia stayed out of the school, but in '53 he labored as a reserve under Coach Bear Wolf. Andy Pilney, the old Notre Dame star, took over in '54 and Saia performed as the team's regular fullback and linebacker. He led the team in rushing with a 4.3 rushing average and in kickoff returns with 278 yards in 13 attempts - 20 plus. Saia was a teammate of Packer Max McGee for three seasons. The newcomers, who will turn 24 next Oct. 5, had a fantastic high school record at Warren Easton in New Orleans. He took part in six sports - football, golf, track, swimming, baseball and basketball, lettering in all of them. In one prep game, Saia rushed for 183 yards in five attempts, scored three touchdowns, caught six passes and intercepted three others. He played 47 minutes, resting the one other minute. Saia works in the Louisiana oil fields during the offseason. He's married and has one son, Salvador, 15 months.
which counts the most. Hutson, who eventually played 11 seasons, caught 23 touchdown passes in his first three seasons at left end - seven in '35, nine in '36 and seven in '37. Howton, working at right end, nailed 19 in his first three seasons - 13 as a rookie in '52, four in '53 and two in '54. In number of passes caught and yardage and averages, it's just about all Howton, although, it must be reminded the difference in pro attack figures heavily. In three campaigns, Howton caught 130 passes for 2,462 yards. Hutson nailed 93 for 1,508 yards. Howton averaged 18.9 yards per catch; Hutson 16.2. Hutson's longest catches were 83, 87 and 78 yards; Howton's 90, 80 and 59 in the three years. Don's longest in '35, incidentally, was on the first pass he caught in a pro league game - enough to beat the Chicago Bears, 7-0. Howton's total might even be higher, and he could possibly be leading Hutson in touchdowns but for an injury in '53. He suffered broken ribs in the final exhibition against the Browns and missed the first four games. He finished with 25 catches for 463 yards and four touchdowns. With young Max McGee in the Air Force, Howton will carry the brunt of the pass catching in '55. The one-time Rice rocket, now an insurance executive in Houston, and McGee gave the Packers a fearsome combination last fall. Howton's chief P-C'ing mate will be Gary Knafelc, who was McGee's understudy in '54, unless one of the rookies beats out the former Colorado star. Packer Coach Liz Blackbourn is expecting Howton to have a big year next fall. In Bill's first two years, he concentrated on the long pass but Liz changed that with emphasis on the short pitch and catch last fall. Howton, Blackbourn figures, should be even more accustomed to the short style in '55.
PACKERS SIGN BADGER JIM TEMP FOR DEFENSIVE END
JUN 1 (Green Bay) - "A strong boy with good size and great competitive nature, he should do well with us as a defensive end." That's how Packer Coach Liz Blackbourn today sized up his newest signee – Jim Temp, the "athlete of the year" at Wisconsin and the Packers' No. 2 draft choice. Temp, regular first baseman on the Badger nine, didn't wait long to sign his grid contract. Wisconsin played its final baseball game Saturday. There was considerable speculation earlier that Jim might wait out baseball offers before decided between the two sports. Although he could still switch to baseball, Temp indicated his preference by signing a Packer pact almost as soon as his college action was over. Temp, who stands 6-4 and packs 230 pounds, will be confronted with three veteran defensive ends when training opens in Stevens Point next month – John Martinkovic, Stretch Elliott and Gene Knutson, but Blackbourn feels that the big Badger has the stuff to make it…CAUGHT 13 VS. MSC: Temp won four letters in football at Wisconsin, starting in 1951. He worked as an offensive end as a freshman and sophomore and then played both ways in '53 and '54. Oddly enough, Temp, despite his pass catching ability, was a standout on defense in his last two seasons. One of his greatest games was against Michigan State last fall. He held the Spartans to a minus yardage around his end and caught 13 passes for 81 yards and one touchdown – the only score in Wisconsin's 6-0 victory. Temp also earned three letters in baseball, batting around .300 in his three campaigns. He was honored early this spring by being selected to represent the United States in the Pan American games. Temp was named Wisconsin's athlete of the year at the school's recent all-sports banquet. A native of La Crosse, Temp captained football, basketball and baseball teams in his senior year at La Crosse Aquinas. He won all-state in football and basketball, copping the cage honor in the state Catholic tournament at St. Norbert College. Temp will turn 22 next Oct. 14. He graduates from Wisconsin this month with a degree in economics…SEVEN OF FIRST NINE SET: With the addition of Temp, Blackbourn now has signed seven of his first nine draft choices. One of the two can't be signed – halfback Paul Reynolds of Notre Dame, who was traded to the Cleveland Browns in the deal that brought the Packers Jerry Helluin a year ago. The other unsignee in the first nine is halfback Buddy Leake of Oklahoma, the third choice. Leake, like Temp a baseball player, is weighing an offer to play football in Canada.
FB PINO SIGNS PACKER PACT; SWITCHED TO HB
JUN 2 (Green Bay) - Packer Coach Liz Blackbourn announced the signing of a five-foot-eight-inch college fullback today and quickly shifted him to halfback. The newest arrival is Sam Pino, a 195-pound ball carrier from Boston University, who ranked fourth in ground gaining in the nation in '54. Pino, the Packers' 29th draft choice, will remind a lot of folks of Walt Schlinkman, the former Packer fullback who stood 5-8 ½ and packed 190 pounds. Pino is probably more versatile than Walt, who was chiefly a plunger, since he possesses a bit of scat-back despite his barrelish appearance. Pino is also rated as a better than average pass receiver. Despite his low stature in the draft – not to mention his own lack of height, Pino comes highly recommended. Tom Dowd, a National league official who also works college games in the New England area, calls Sam "as good a running fullback I've seen all season – college or pro." Pino received the Bolger-Lowe award after last season for being named "the outstanding college player of the New England season." Pino established two all-time ground gaining records at Boston U – 933 yards in '54 and 1,636 yards in a three-year career. The Boston hero carried 154 times last fall for an average of 6.06. His yardage total topped all fullbacks in the country, and he was among the country's top scorers with 10 touchdowns. Pino played at Boston U as a sophomore in '50 and rolled up 35 yards. He spent the next two seasons in the Marines but returned in '53 to gain 253 yards in 66 trips, setting the stage for his big senior campaign. Pino is Italian all the way since both his parents were born in Messina, Italy. He has seven brothers and four sisters. Pino, who turned 25 last March, played high school football in Somerville, Mass., where he rushed for over 900 yards in three years. Signing of Pino just about wraps up the draft list – with one important exception, halfback Buddy Leake of Oklahoma, the No. 3 choice. Leake is shortstop and captain of the Oklahoma baseball team, competing in the NCAA district playoffs with Oklahoma A. and M. Oklahoma won its opener last night and needs one more win in the two out of three series to gain the NCAA finals, which start June 10. Thus, Blackbourn will be delayed until after that date before any official announcement can be made. Leake also is considering offers from Canada. Leake gave a sample of his "football fight" in a recent game, getting into a scrap with an opponent on a play around second base.
PACKERS GET ONE FROM UNCLE SAM, LOSE TWO
JUN 3 (Green Bay) - All is not sunshine today. The one ray from the great ball of fire is Tomie Ward, a 225-pound fullback who has signed a Packer contract for '55 and, what's more, expects to report for training. Ward signed a '54 pact a year ago but Uncle Sam wouldn't let him out of the Army. Tomie expects to finish his service period early next month. On the cloudy side, Coach Liz Blackbourn has been informed that two more signees have signed contracts with Uncle Sam – Pat Ryan, the Holy Cross quarterback who was announced, appropriately enough, last St. Patrick's Day, and Marv Swentkofske, the Marquette guard. Earlier, Norm Amundsen, the former Wisconsin guard and the Bays' sixth draft choice, changed from a mister to a private. Blackbourn was hoping Ryan would spice competition in the quarterback department behind veteran Tobin Rote. But Liz still has three rookie signal callers to instruct – Johnny Coatta, the former Wisconsin ace fresh out of service, draftee Charlie Brackins of Prairie View A. and M., and Jim Capuzzi, a highly-touted gent with some service at Cincinnati U and a brief whirl at Marquette. Loss of Amundsen and Swentkofske will complicate things at offensive guard where Blackbourn is looking for somebody to replace departee Al Barry and, in general, make life easier for any back who might want to run through guard. The aforementioned Ward might be the answer to the Packers' '55 punting problem, which became just that when Max McGee, the team's regular booter last fall, went into the Air Corps. Still a youngster at 22, despite the fact that he has two years of service under his skin, Ward played at Midwestern University in Wichita, Tex., in '52 but made his reputation at Tyler Junior College in '51. For Tyler, Ward compiled a fantastic 46.9-yard punting average and lugged the ball 189 times for 949 yards and an average of just over five yards. In one game against Wharton College, Ward scored five touchdowns and gained 289 yards. He scored two touchdowns in the Junior Rose Bowl game and was picked to the Junior College All-America team. Ward also competed as a high jumper and once soared six feet, five and one-half inches. At Ball High in Galveston, Tex., Ward played football and basketball and competed in track. He was picked to the all-star grid team and still holds the state punting record of 43.8 – unusually high for a prep. Playing in the annual Texas All-Star game, Ward scored three touchdowns for the South team – a mark that still stands. Ward is one of nine fullbacks signed thus far.
TWO HOLES LEFT IN PACKER CARD
JUN 6 (Green Bay) - The Packers had only two holes left today in their 1955 schedule. In all, the Packers will make a total of 20 public appearances for the purpose of playing regulation football games. Twelve of those are championship NFL games, six are non-championship battles and two are known as intra-squad contests. The two open spots are in the "non" section – the last week in August and the first in September. Announcements on those two games will be made as soon as contracts are signed by the participants. The fourth non-league game was announced Sunday and will send the Packers against the Chicago Cardinals in the sixth annual Shrine game in Milwaukee's Marquette Stadium Saturday night, Sept. 17. Proceeds of the game will go to the Shriners' hospital for crippled children. Other non-loop matches set are: New York at Spokane, Wash., Aug. 13; Cleveland Browns at Akron, O., Aug. 20; and Washington Redskins at Winston-Salem, N.C., Sept. 10. Thus, the Packers already have arranged bouts with four of the six teams in the Eastern division. The remaining two tests, under league rules, also will be played against teams in that wheel. This leaves Pittsburgh and Philadelphia as the remaining foes. Incidentally, it is permissible to play an exhibition against an opponent in the same conference only after games are arranged with all six foes in the opposite loop. It is under this rule that permits the Los Angeles Rams to meet the San Francisco Forty Niners in an occasional non-looper. The Packers make their first public showing in an intra-squad rookie game in Marshfield Saturday night, July 30, with the veterans making token appearances. The following Saturday night, Aug. 6, the entire group will engage in an intra-squader in Stevens Point, the training base. League activity opens against Detroit in City Stadium Sept. 25…The Packers issued their first SOS of the season to Green Bay house and apartment owners today. Coach Liz Blackbourn said that "we'll need a number of furnished one, two and three-bedroom apartments and houses." Quarterback Tobin Rote plans to report here July 1 with his family, including three children, and needs a three-bedroom apartment or house. Now a golf representative for Miller Brewing Co., Rote will be one of the hosts at the Miller Open in Milwaukee before football season opens. Tom Bettis, the Packers' first draft choice who was married in Lafayette, Ind., Saturday, plans to come here after his honeymoon – about June 13. He'll need a one-bedroom furnished apartment. Anyone with apartments or houses for rent is asked to call the Packer office, Hemlock 2-4873…Vice President Nixon displayed quite an interest in the Packers during a recent visit to the White House by Green Bay's Frank Tease. Tease was making a tour in Washington and Nixon "happened to be in and available for introductions when we went through the White House." Nixon, the Bay resident said, "wondered how we were able to support the Packers and said he had been a Packer fan for many years and an admirer of Don Hutson." He wished the Packers "the best of luck for 1955," Tease said.
LIZ CROSSES LEAKE OFF LIST; DEMANDS TOO HIGH
JUn 7 (Green Bay) - Packer Coach Liz Blackbourn crossed Buddy Leake off his 1955 list of halfback prospects today following official word that the Oklahoma football and baseball star has decided to (1) submit to a tryout in the St. Louis Cardinal farm system and (2) play professional football in Canada. Signing of Leake was announced today by Ralph Misener, president of the Winnipeg Blue Bombers of the Western Inter-Provincial Football union. Misener said the club has agreed to allow Leake, who earlier Monday had signed a baseball contract with the Cardinals, to play with Rochester of the International League until the start of fall training July 15. Blackbourn, after weeks of dealing with the two-sport star, including a telephone talk yesterday, explained the Packers' position today: "We hate to lose him because it means loss of a reasonably good prospect – plus a good choice in the draft. But his salary range was completely out of line and it would not have not been fair to the rest of the club to compete further with the Canadian team." Leake came to Green Bay a few days after the draft last January and indicated a liking for the football setup here. However, as the college baseball season wore on, Leake became more out of line in his demands and Liz had just about given up hope of getting him. Blackbourn said that Leake will be kept on the Packers' reserve list, thus making it impossible for him to play with any other team in the NFL in '55 or in the future. Leake is the third member of the Packer draft list to select Canadian football. The other two are tackle Art Walker of Michigan, the 12th choice, and halfback Carl Bolt of Mississippi Southern, the 20th choice. Bolt, contacted before the draft by the Packers, had been signed by Canada at that time but failed to let the Bays know of his circumstances…DRAFT LIST CLEARED UP: Blackbourn is now cleaned up on the Packer draft list – with the three Canadian exceptions and five juniors who were selected for use in '5. A sixth junior, fullback Bob Saia of Tulane, has been graduated and has signed a Packer pact for '55. Had Leake signed here, he would have been one of 15 halfbacks laboring in Stevens Point, including veterans Al Carmichael, Clarence Self and Bill Reichardt, who was shifted from fullback, and more HB's are coming in yet! Leake was one of two halfbacks drafted among the first 10. The other is Johnny Crouch, the eighth choice from Texas Christian who will work on defense.
LAMBEAU DIVORCED
JUN 7 (Santa Monica, CA) - Mrs. Grace Garland Lambeau, 54, has been granted a divorce from Earl (Curly) Lambeau, 55, former Green Bay Packers coach. Mrs. Lambeau testified Monday that the former professional football coach seldom took her out socially, was away frequently on unexplained absences and criticized her before friends. They were married 8 1/2 years. The court gave Mrs. Lambeau a half interest in an 840-acre ranch. She also retains title to a lemon grove in Ventura County, CA and a home and furnishings in nearby Malibu.
RINGO OUT TO INCREASE 'HANDLE' TOTAL
JUN 8 (Green Bay) - Quick now! Who handled the football the most on offense for the Packers last fall? Tobin Rote, the quarterback? Breezy Reid or Howie Ferguson, who carried many times? Nope. Jim Ringo, the center, holds the distinction of fondling the pigskin the most. The former Syracuse hero mitted the ball 780 times out of a possible 797 – the total number of Packer offensive plays. The 230-pound pivot, who signed today for his third Packer season, actually only missed 17 plays in the Packers' 12 NFL games in '54. Trapper Stephenson, who announced his retirement after the '54 campaign, did the honors on those 17 occasions. Ringo averaged an even 65 handles per game in '54 against the team's 66.4. Offensive plays are rushed, passes, punts, points after touchdown and field goals. Coach Liz Blackbourn is hoping Ringo can increase his handle total in '55 because it will mean that the Packer offense will be getting in more plays and thus controlling the ball more. Ringo started every Packer game in '54 after missing the last seven in '53 because of a knee injury. He's looking forward to a full season and presently is keeping in condition between making insurance calls in his hometown, Easton, Pa. Ringo, the Packers' seventh draft choice in January of '53, ranked second on the '54 squad in the number of offensive plays participated in. Guard Buddy Brown was first with 791 out of a possible 797. Tackle Art Hunter, now playing for Uncle Sam, ranked third behind Ringo with 768 and tackle Len Szafaryn was fourth with 743. And speaking about tackles, Dick Afflis, who also plays guard, stopped in two the other day sporting a beautiful shiner. Dick is wrestling out of Minneapolis and stopped en route from Chicago where he lost a match to Pat O'Connor and gained a black eye in the process. Afflis will go back to Chicago Friday night to battle Ivan Rasputin. Dick was picked as a substitute in the big match when Rasputin's original foe, Yukon Eric, had his license revoked.
JIRSCHELE 15TH HALFBACK SET FOR PACKERS
JUN 9 (Green Bay) - Don Jirschele, a famous name in Clintonville, joined a long line of Packer halfbacks today. The former Kentucky back, now closing out a stint in the Army, is the 15th halfback announced as signed and sealed by Coach Liz Blackbourn thus far. The HB total could go to 20 since a number of veterans are still out – Bobby Dillon, Val Joe Walker, Veryl Switzer, Breezy Reid and Joe Johnson. Only three of the signed HBs are Bay veterans – Al Carmichael and Bill Reichardt of the offensive platoon and Clarence Self of the defensive unit. Reichardt played fullback for the Packers as a rookie in '52, entered the Air Corps for two years, and recently was switched to halfback. He'll carry 190 pounds – about 10 less than he did as a FB. One other halfback has had some pro experience, Ernie Wickstrom of Northern Illinois, who had a shot with the Chicago Cardinals. Jirschele is typical of the heavier-type offensive halfback Blackbourn will chase into action this season. He packs 198 pounds and stands six feet tall. Six others are in the 190-pound-or-over class – Reichardt, Carmichael, Wickstrom, Johnny Crouch, Lauren Hargrove and Sam Pino, although Crouch will play defense. Today's newcomer wound up a brilliant career at Clintonville High in 1950 and then entered Kentucky where he played in the same backfield with Babe Parilli, former Bay quarterback. Jirschele was Kentucky's kickoff expert but carried the ball little – 13 times for 42 yards in '51 as a freshman and 13 for 59 in '52, before going into the service. He rates his biggest thrill as delivering the opening kickoff in the Cotton Bowl Jan. 1, 1952, when Kentucky beat TCU 20-7. At Clintonville, Jirschele was named to the all-state football team in 1950 and qualified for the WIAA state track meet in the 100-yard dash. In football, he broke Billy Reed's Mid-Eastern conference scoring record with 108 points and holds the mark for most TDs in one game – seven. He climaxed his prep career with a 102-yard touchdown scamper. He played in the North-South game here in August of 1951. Jirschele, with service in Korea and Guam, played no contact football in the Army but coaches and played with an island touch team that won 28 straight. He also coached a championship Army volleyball team. Jirschele is in the Army now but expects to be discharged in time to report for practice in Stevens Point July 16.
BLACKBOURN CAN REALLY CHUCKLE IF JIM CAPUZZI MAKES PACKERS
JUN 10 (Green Bay) - If Jim Capuzzi makes the '55 Packers, Coach Liz Blackbourn can really have himself a laugh – one that should piped out of Los Angeles. Capuzzi is a six-foot, 190-pound quarterback who gained all of his advanced football learning as a passer, punter, ball carrier and defensive stalwart in the Marines. He enrolled as a freshman at Marquette last fall and stayed something short of a semester, meanwhile popping out Coach Frosty Ferzacca's eyes in football practice. Capuzzi suddenly left MU and reportedly took a stab at entering Cincinnati University with no apparent lick since his name never appeared in the Cincy lineup which was then coached by Sid Gilman, present coach of the Los Angeles Rams. Somewhere along the line last winter, Capuzzi decided to play pro football and Blackbourn was Johnny on the spot, nailing him for the '55 season. Let us now drop the curtain and prepare the scene for late Tuesday afternoon, Jan. 25 last. Gilman, then still Cincinnati coach, was calling for Liz and decided to discuss Capuzzi. Sid said something like this: "We don't think it's fair that you should sign Capuzzi. I've got important plans for him for next fall here (Cincinnati). I'm calling to ask you to allow him to enroll at Cincinnati." Maybe it was intuition – plus Liz' earlier conversation with Capuzzi, who said he preferred to play pro ball, but Blackbourn nixed Gilman right then and there. The payoff came the next day when Blackbourn picked up the morning papers and read the sports page headlines which announced: "Gilman signs as Rams' head coach!" Blackbourn, to this day, chuckles to think how close Gilman came to scoring a "steal" less than 12 hours before the announcement as Ram coach. Liz, however, had no intention of falling for Gilman's story even though he was unaware that Gilman was to be the Rams' mentor. Or is there anyone in the house naïve enough to think that Sidney was really plugging Capuzzi for Cincinnati? During the draft in Philadelphia two days later, Capuzzi's name came up again – this time from our friends in Pittsburgh. Blackbourn quickly informed the "bench" that Capuzzi already was under contract and Commissioner Bert Bell just as quickly recalled the case and announced officially that Capuzzi was rightful property of the Packers. The Packers will have 20 to 25 sleepers in training next month, and if Blackbourn was to pick a "first choice" among the players who escaped the Bay draft he'd probably name Capuzzi. Liz admitted the other day that "I like the sound of that boy's qualifications and we're pretty sure he might be able to do us a job – if not at quarterback, maybe on defense." Capuzzi, like Howie Ferguson, gained his reputation in the Marines – at San Diego, incidentally, where Ram scouts probably saw him many times. Jim turned 23 last March and put in nearly four years in service – from Dec. 27, 1950 to Sept. 7, 1954.
LULL BEFORE STORM FOR COACHES; LIZ 'FARMING'
JUN 13 (Green Bay) - It's the lull before the storm on the Packer coaching front. The big relax is on! Tom Hearden, defensive backfield coach, was the only mentor of duty today as head coach Liz Blackbourn and head line coach Lou Rymkus launched three-week vacations. Offensive backfield coach Scooter McLean is on the tailend of his vacation and will return next week when Hearden had been off earlier for Naval Reserve duty and part of his vacation. Blackbourn will do some gentlemen farming for the next three weeks - plus Packer telephone business. He's on the family farm at Beetown, Wis., which is operated by Lisle, Jr., and the bulk of his work will be building a good-sized fence around the front yard. He'll get in plenty of golf in the afternoon. Blackbourn will pick up contract odds and ends via the telephone from the farm. Rymkus and his family are visiting in Cleveland where they lived for seven years while Lou played with the Browns. McLean, relaxing at golf and fishing, is finding it hard to stay away He stopped at the office to keep Hearden company for a spell today. The coaching crew will join up to officially start the '55 season Tuesday, July 5. Practice will open Saturday, July 16 at Stevens Point - for rookies. The veterans report July 23. Actually, the groundwork already has been laid for the '55 season. Ninety-some percent have been signed and complete scouting reports have been finished. Each player's performance in each play in every game in 1954 is in black and white - all set up through weeks of watching movies. Basic strategy already has been arranged on offense and defense for the 1955 schedule. This can be changed as the coaches view the prospects. In addition, the complete training program has been organized - day to day programs, etc. Hearden presently is preparing examinations for the defensive players. The exams will be given "after the boys have a chance to demonstrate the problems on the field." Blackbourn already has announced the signing of 15 halfbacks, 10 guards, nine fullbacks, nine ends, eight tackles, four quarterbacks and three centers. Most of the remaining signees to be announced are '54 holdovers, although Blackbourn may pop a surprise or two year. Business on the '55 draft is finished. Twenty-one of the picks have signed, three went to Canada and the rest are juniors who won't be available until '56. Most serious loss is No. 3 choice Buddy Leake, the Oklahoma halfback who also signed a baseball contract. Others going north were tackle Art Walker of Michigan and halfback Carl Bolt of Mississippi Southern.
CLINK MCGEARY REJOINS PACK, GOES TO GUARD
JUN 14 (Green Bay) - Clarence V. McGeary, a well known radio and television personality in Bismarck, N.D., and area, will attempt a comeback with the Packers in '55. McGeary, known as Clink when he played tackle here in '50, is three seasons removed from football combat, having spent the '51 season with Montreal of the Canadian league. Starting in '52, McGeary went to work for the radio and television stations of Bismarck's KFYR, winding up the play by play of Minnesota's football game and his own Pigskin Preview, in which he averaged 86 percent right on his predictions. In making a personal prediction, McGeary is 100 percent certain that he can overcome three years of comparatively soft living and successfully win himself a job playing with the Pack. Coach Liz Blackbourn is giving Clink an little extra challenge. He has shifted the former Minnesota and North Dakota State star from tackle to offensive guard. Liz believes McGeary has the necessary speed (the 100 in 11 flat) to play guard despite his size - six feet, five inches and 250 pounds. McGeary, who will be 29 in August, has always kept himself in good physical condition. He played 30 to 40 basketball games in each of the last three winters. He already has started getting into shape for football, running four to five miles a day. McGeary was drafted by the Packers in 1948, but didn't report until '50. In his first pro season, he appeared in all 12 National league games and started the last five. He was a surprise release early in the '51 training and immediately went to Montreal, playing out the season. Rather than try out here or go back to Canada in '52, McGeary decided to enter the radio field...TWO YEARS IN AIR FORCE: McGeary has five years of radio experience, starting in the offseason in '50, and two years in TV. He feels that he can play two or three seasons of pro football before setting down to a radio and TV career. Clink started his footballing with Hastings, Neb., High where he won al-state honors. He played two seasons at Minnesota, dropped out for two years in the Air Force, and then finished out at North Dakota State, winning all-conference honors. McGeary is married and has three children - Don 4, Nancy 3 and Kathy Ann 1. McGeary is the 11th guard announced as signed thus far, but only the third with pro experience on offense. The other two are holdover Buddy Brown and Sisto Averno, who formerly played with Baltimore.
PACKER OFFENSIVE PLATOON SET; END GLENN DILLHOFF SIGNS
JUN 15 (Green Bay) - The Packers, offensively at least, were broken down today into lefts and rights - all except the centers, quarterbacks and fullback. Which means that everyone reporting for training at Stevens Point next month will have a specific title and/or job. The offensive platoon is composed of 25 backs and 29 linemen, including rookie right end Glenn Dillhoff of the University of Cincinnati whose signing was announced today. The attached roster-layout is somewhat tentative in view of the fact that some of the players are still unsigned and some are uncertain about reporting. The offensive roster is a sort of a master worksheet - one that likely will undergo many changes early in training as difference needs develop. Coach Liz Blackbourn has promoted a double windup battle royal for the fullback and right halfback slots. The FB post has nine candidates, including the two holdovers from '54 - Howie Ferguson and Fred Cone, not to mention Clyde Sanders who looked so good in training a year ago. Seven will fight for right halfback, including veterans Al Carmichael and Veryl Switzer, who may or may not see most of his duty on defense in '55. Incidentally, only one of the players is listed on both the offensive and defensive rosters - Jim Capuzzi, a quarterback on offense and safety on defense. The defensive unit will be presented later. Graduation into the armed services robbed the team of three key figures in the offensive line - left end (Max McGee), left guard (Al Barry) and right tackle (Art Hunter). Veterans are due back in each of the other four holes in the offensive line - left tackle Len Szafaryn, center Jim Ringo, right guard Buddy Brown and right end Billy Howton. Who'll fill those three holes? Blackbourn had a pro-veteran replacement for each spot but he's hoping to get some help from the rookies. Gary Knafelc is set to step into McGee's shoes but Jim Jennings of Missouri may give him a push. In Barry's spot, Steve Ruzich is the only veteran available but big things are expected of Henry Bullough, the former Michigan Stater. Floyd Harrawood, who started with the Pack in '53 and then starred in Canadian football that season and in '54, is the No. 1 candidate to fill Hunter's boots, backed by two rookie Bobs - Antkowiak and Carter. Left halfback has three veterans - Breezy Reid and Joe Johnson of '54 and Bill Reichardt, the former Packer fullback coming out of service. Tobin Rote is the lone veteran at QB, with Capuzzi, Johnny Coatta and Charley Brackins fighting for the assistantship. Also expected back is Tom Johnson, a rookie tackle in '52 who is presently slated to work with Szafaryn and George Rogers at left tackle. Johnson is coming out of service. Blackbourn had planned some good competition for Howton - Dillhoff, Sam Morley, who had a shot with Washington in '54, Bob Peringer and Johnny Verdon. Dillhoff, who will report late - early in August because of summer school, was coached by Cincinnati for four years by Sid Gilman, present Los Angeles Rams coach. Dillhoff led Cincy in pass catching the last three seasons, snaring 51 for 970 yards and 48 points. He grabbed 26 for 452 in '52, 13 for 265 in '53 and 12 for 253 last fall despite the fact that Cincinnati did little passing. In his four seasons, Cincy lost only five games, while winning 35 and tying one. In '53, incidentally, the Blackbourn-coached Marquette eleven handed Cincy its only loss, 31 to 7, but Gilman got revenge last fall, beating MU 30-13. Dillhoff, who stands 6-2 and weighs 197 pounds, won four football letters, being the only gridder to caputre one as a freshman. Gilman considered Dillhoff one of the finest downfield blockers in college football last fall. Dillhoff starred at Chaminade High in Dayton, Ohio, winning all-city, district and state at end. The fourth youngest of seven brothers, Dillhoff turned 22 last March. He's married and has an eight-month old daughter, Diana. Tom Bettis, the Packers' first draft choice, and his new wife arrived in town yesterday from their honeymoon. They were married in Lafayette, Ind., recently and are presently looking for an apartment.
HEAVIER JOHNSON SIGNS PACKER PACT
JUN 16 (Green Bay) - Tom Johnson will carry an extra 10 pounds next fall. The Packer rookie of '52, who was discharged from the Army recently, plans to pack 240 pounds when he reports for training in Stevens Point next month, and, what's more, he expects to keep it. He lugged 228-230 three years ago. The onetime All-American from the University of Michigan figures the extra weight will give him a better chance to win employment at left offensive tackle – the position assigned him by Coach Liz Blackbourn. Johnson, whose signed 1955 Packer contract was received today, won't have an easy chore. He'll be battling with veteran Len Szafaryn, the 225-pound sure blocker who helped Breezy Reid on a number of good gains last fall. Johnson did considerable switching around in his rookie year. He missed the first half of the league season with an injury but played in the last six, starting at offensive tackle against the New York Giants. He was a standout in a tight victory over Philadelphia. Blackbourn plans to start him in practice on the left side on offense and keeps him there unless a need develops elsewhere. Johnson won't be coming in cold. He played with Fort Hood last year and led the squad to a 10-4 record, making an honorary Army team in the process. The giant Negro ace, who stands 6-2, expressed his anxiousness to return to the Packers in Baltimore last fall when the Packers nipped the Colts 7-6. Johnson sweated with the rest of the Pack through the tight tussle and later said, "I almost asked the coach for a uniform." With Johnson in the fold, all but two of the offensive tackles are set. Still out are George Rogers, a 247-pounder from Auburn, who is making up his mind on whether or not to play, and Szafaryn, who is expected along any day now. Rogers, a junior and drafted No. 10, has said he will be available. All three offensive right tackles are signed – Floyd Harrawood, the ex-Packer and Canadian, and rookies Bob Antokowiak of Bucknell and Bob Carter of Grambling. Johnson will be joining two former Michigan teammates for the first time as a pro – Roger Zatkoff and Gene Knutson. They were important cogs in Michigan's 1952 Rose Bowl champions that whipped California 14-6. Johnson was an all-stater in football, basketball and track at Muskegon Heights, Mich., High. Tom once held the Michigan state prep shot put record with 54 feet, 5 ¾ inches and continued shot putting at Michigan and in the Army. Johnson, single, turned 24 last January.
PACKERS REST DEFENSE - UNTIL ARGUMENTS START JULY 16
JUN 18 (Green Bay) - The defense rested today in the case of the Packers vs. the offenses of 11 NFL clubs. And it'll stay resting until Judge Liz Blackbourn and his ace defense attorney, Tom Hearden, can hear argument from 40 witnesses in a grass-covered court in Stevens Point July 16. The old hands on the bench – the veterans are in the pro field in this case, are likely to have an edge since they've been through the toughest football legal action in the land. This defense ranked one, two, three through the first 10 games last fall before submitting to pressure after two games with then-champion Detroit in five days. While the Packer defense "caved" only once last fall (35-0 to San Francisco in the 11th game), Blackbourn and Hearden aim to improve on the average of 20.9 points permitted last fall. Going in to the Frisco game, the Packers allowed an average of only 18.1. The Packers, according to the tentative training camp defensive roster, will have at least one veteran for each of the 11 defense positions except left linebacker. The left LB'er spot represents the hole created by the retirement of Clayton Tonnemaker. Liz took a big step toward filling that position by selecting Purdue's Tom Bettis as his first draft choice. Bettis, a 225-pounder, was the first to sign for '55 and since Blackbourn has added two capable rookie to give Bettis a good battle – John Hlay, 212, of Ohio State and Jan Smid, 205, of Illinois. Thus, it will be up to the Big Ten to replace Tonnemaker, himself a member of the BT clan from Minnesota. The defensive line will return intact, but the big competition will be at defensive end where Jim Temp of Wisconsin will try to unseat veterans Stretch Elliott and Gene Knutson and Bob McCants, a 6-8, 260-pound number, will be out to oust veteran John Martinkovic and rookie Nate Borden. Dick Afflis, the would-be wrestler, has been placed in the No. 2 slot behind regular middle guard Bill Forester who has improved each season. Dave Hanner and Jerry Helluin are the key men at defensive tackle, though both are bothered annually by weight problems. Right linebacker seems to be in good hands – Roger Zatkoff, an all-pro, and Deral Teteak, the Wisconsin ace who was handicapped badly last year by a broken ankle. The key corner linebacker spots are up for grabs. On the left side, Clarence Self will fight it out with three hot prospects – Fred Baer of Michigan, John Crouch of TCU and Jack Patterson of Houston. On the right side, Jim Psaltis, off and on last fall, will go against Doyle Nix of SMU and Charley Bryant, a highly-touted Nebraska produce. Crouch, Bryant and Nix are considered the best bets. The safety spots seem to be in good hands what with Val Joe Walker, left side, and Bobby Dillon, due to return. However, Blackbourn is banking on nine safety prospects to keep the fire going. One of the nine possibilities is Gene Helwig, a top Tulsa defender who was drafted two years ago and is just now coming out of service. The only on-the-roster two-way back is Jim Capuzzi, the Cincy and Marquette passer, who will work under Tobin Rote on offense and at safety on defense. Veteran Veryl Switzer worked in this capacity a year ago but thus far has appeared only on the offensive roster. Blackbourn is quick to point out that today's assignments are tentative, and will be changed to fit the various needs as the players, especially the new ones, show their qualifications in camp…On the homey side, it can be repeated that the Packers are desperately in need of one, two and three-bedroom houses and apartments. House and apartment owners are urged to call the Packer office, Hemlock 2-4873.
PACKERS' BETTIS ON STAR TEAM
JUN 20 (Green Bay) - The Packers' Tom Bettis will play in the College All Star game, and chances are good that two more of Green Bay's high draft choices will get the call to battle the Cleveland Browns in Chicago Friday night, Aug. 12. Selection of Bettis, the Purdue all-time linebacker, was announced today by Curly Lambeau, All Star coach, and the official word on Packers Jim Temp and Hank Bullough is expected shortly. Bettis, the Packers' No.1 choice in the draft, likely will be a key in the All Stars' defensive plans and could wind up as one of the team's leaders. Tom twice co-captained Purdue and served as co-captain of the East team in the Shrine game and the North squad in the Senior Bowl. Playing in the All Star game means that Bettis, Temp and Bullough won't report to Coach Blackbourn at the Packer camp until Aug. 13 – the day the Packers open their exhibition drive against the New York Giants in Spokane, Wash. At that, the '55 Packers are getting off easy from their All Star duty. A year ago, they had seven in the game and in '53 six competed. Lambeau was figuring on the three Big Ten stars ever since the draft was completed last January. Temp, the Wisconsin defensive end ace, was the Packers' second choice and Bullough, who starred at Michigan State, was No. 5. Halfback Buddy Leake of Oklahoma, the Packers' No. 3 pick, was lost to baseball and Canada. Lambeau said last January that he planned to pass up Leake "because he was a split-T back and there wouldn't be enough time to convert him, although he's a fine back."…Bettis and his new wife settled down in Green Bay today and Tom went out looking for a short-term job to tide him over until practice opens in Stevens Point July 16. If you prospective employers are wondering what kind of fellow Bettis is, here's a yard that followed Tom since the Shrine game in San Francisco. The athletes competing in the game are paid nothing but are given expense money to make up for their lost time. Bettis took one look at the crippled kids in the 'Frisco hospital and turned his expense check of more than $100 back to the Shriners and told 'em to use it to help the youngsters. Sponsors of the game were dumbfounded and announced that "it was the first time in the 20-year history of the game that any athlete ever turned back his expense money."
​HELWIG, BEST BET AT SAFETY, JOINS PACKERS
JUN 21 (Green Bay) - The best rookie bet to make the Packers at a safety position was announced as signed today by Coach Liz Blackbourn. The wager is Gene Helwig, a six-foot, 195-pounder who played nothing but defense at Tulsa University. Blackbourn listed Helwig as the top candidate for either left or right safety in the Packer secondary but the blond pass-defense specialist will compete first at left safety – or more specifically against Val Joe Walker. Helwig is one of six possibles at left safety, including Walker. Others, all rookies, are Billy Bookout of Austin College, Carmin Cozza of Miami, Ted Muirhead of Mississippi and Lou Spycalla of Marquette. Helwig was the Packers' 15th draft choice in '53 and consented almost immediately to turn pro. However, Uncle Sam came first and the Tulsa ace went into the Army. He was recently discharged after serving with the Army of Occupation in Germany. Blessed with quick reactions and better than average speed, Helwig was one of the mainstays of the Tulsa defense for three seasons during which time the Hurricanes won 26, lost only five and tied two. He was named to the all-Missouri Valley honorary team his last two years. Helwig was one of two Tulsa heroes drafted in '53. The other is ninth-choice Floyd Harrawood, who also has joined the Packers in '55. Harrawood, a hot Packer prospect at tackle in '53, played in Canada in '53 and '54. Three other members of the '53 draft list are coming out of service to join the current Packers – back Lauren Hargrove of Georgia, the eighth choice; John Hlay of Ohio State, 16th; and tackle Bill Turnbeaugh of Auburn, 22nd. Helwig is a Chicagoan. He played prep football at Leo High and was named to the All-Catholic League team in his junior and senior years…BRIEFS: Packers' Veryl Switzer and Dave Hanner already have started light workouts at City Stadium. Hanner, confronted with a weight problem, is gradually losing extra pounds and expects to report to training camp below 250.
​START A FIGHT! STRETCH ELLIOTT IN PACKER FOLD
JUN 23 (Green Bay) - Don't recall this story about Stretch Elliott ever getting into print. And since the Stretcher signed a '55 Packer contract today, let's spill it. It was during the Packer-Lion game in Detroit last Thanksgiving Day when Elliott suffered a rather painful ankle injury. Stretch had been butting noses, elbows and knees with Detroit's ace offensive tackle, Lou Creekmur, and it was something of a disappointment to Elliott when the hurt knocked him
below par, forcing Coach Liz Blackbourn to call him to the bench. Come the last quarter when the furious battle reached a climax, Elliott rushed up to Blackbourn and insisted that he be put back in. Liz took one look at Stretch's swollen ankle and nixed the idea right there and then. But Elliott had something else in mind: "But coach, lemme in there and I'll get a fight going with Creekmur and get him booted out of the game." Blackbourn was pleased with Elliott's display of team spirit, but left Creekmur up to Gene Knutson, Stretch's replacement. Elliott might have had a personal feud going, too, since on the previous Sunday in Green Bay, Stretch and Lou were making like Archie Moore and Bobo Olson when the gun ended the game – only there wasn't a knockout. Late in that game, Creekmur knocked the cap off one of Elliott's front teeth. Elliott landed a couple of blows in retaliation. Despite the hurt on Turkey Day, Elliott saw action in the final two games on the coast, thus giving him a record of appearing in 48 consecutive league games. Elliott, you may recall, came to the Packers in 1950 after being drafted No. 12 earlier that year. He looked good in practice but was shipped out to the Erie Vets, a semi-pro team. The former University of Virginia athlete returned in '51 and never missed a game since, playing both offense and defense until '54 when he worked only on defense. As an offenser, Elliott caught an even 60 passes for 581 yards and six touchdowns. He nailed 35 for 317 and five TDs in '51, 12 for 114 and one TD in '52, and 13 for 150 in '53. Elliott will be fighting for steady employment against two pro veterans – Knutson and Gene Felker, who had a shot with the Dallas Texans before going into service, and Jim Temp, the promising University of Wisconsin youngster. All are stationed at right defensive end…BEARS SIGN SCHROEDER: At 6-5, Elliott is among the tallest players in the league. He plans to carry
230 pounds into action next fall – 15 more than he lugged as an all-around athlete in Virginia and five more than he weighed in '54. An Army veteran who served 18 months in Italy, Elliott is an insurance salesman in El Paso, Texas, during the offseason. Stretch will turn 28 next Nov. 12 – the day before the Chicago Cardinals visit Green Bay. The Chicago Bears also announced the signing of an end today – pass-catching Gene Schroeder. Schroeder was sidelined by a leg injury last year after coming out of service.
PACKERS WORKING OUT - INFORMALLY; MAY BE SHORTAGE OF GUARDS
JUN 25 (Green Bay) - A half a dozen Packers are working out informally at City Stadium these days. All are veterans but Tom Bettis, the Purdue linebacker who came in a week ago. Bettis started doing heavy work last week at the F. Hurlbut Co. and will continue until practice opens officially July 16 for the rookies at Stevens Point. Veterans getting the winter kinks out are John Martinkovic, Breezy Reid, Dave Hanner, Veryl Switzer, Fred Cone and Deral Teteak. All wintered in Green Bay or Milwaukee…Remember Langdon Varicola? Cut loose by Canada a year ago, the former Fordham back tried out with the Packers. Before cutting the player loose, Coach Lisle Blackbourn landed him a high school coaching job in northern Wisconsin. Varicola finished out the school term, including a shot at chemistry teaching and now wants to try his hand at footballing again. Unable to rejoin the Pack, Varicola signed on with the Washington Redskins…Ray Pelfrey, the onetime Packer, Colt and Giant, is prep coaching somewhere in the east. One of the finest end or halfback prospects to come along in years, Pelfery never quite learned the signals well enough to make it, though all three clubs thought they had the original Johnny Blood when he took the field. Only difference was that Johnny had it upstairs. Pelfrey drifted up to Canada after the Giants cut him last fall, but he didn't make it there either…Stan Andrie, an undrafted guard from Marquette who was expected to join the Packers, has decided not to play pro football. With the loss of guards Mark Swentkofske of MU and Norm Amundsen of Wisconsin to the Army, the Packers may be short at that position. Hank Bullough, the Michigan State ace who already has signed, will be late reporting because of duty in the All-Star game. And nothing has been heard from veteran guard Steve Ruzich. Other guards are Dick Gordon and Gene Snipes on the left side and Sisto Averno, Buddy Brown, Clink McGeary and John Nitz on the right.
'PHONE PACKER FREE AGENTS, DRAFT PICKS
JUN 28 (Green Bay) – The Packers' telephone bill is mounting. Jack Vainisi, assistant coach, office assistant, and right hand man to Coach Liz Blackbourn, is presently contacting the horde of musclemen ticketed to start practice at Stevens Point July 16. "And most of them are coming," Vainisi chortled today as he checked off another name. Most of the calls are made to signed draft choices and free agent – just to make sure they'll report. Letters of information on everything from how to get to camp to body blocks have been dispatched to the athletes. The opening workout for rookies is hardly three weeks away. The veterans join the crowd Saturday, July 23…Blackbourn is presently enjoying his vacation with one of his favorite pastimes – golf. He's competing in the state senior golf championships over at the Blackhawk Country Club in Madison, and doing quite well. Liz fired a 42-38–80 to place among the state's best senior shotmakers in the first round Monday. The second and final 18 is set for today and Liz will be among a field of 17 threesomes and one foursome. Contestants must be over 50. Rich Everiz, the bakery man from Fond du Lac, is leading with 36-35-71. Marshall Smith of Green Bay is just in front of Blackbourn with 40-39-79. Blackbourn is spending his vacation at the family farm in Beetown, Wis., near Lancaster. He's been working on the farm in the morning and golfing in the afternoon – getting in shape for the football grind. The coaches will pull the string together next Tuesday morning and make final preparations to open camp…Curly Lambeau, head coach of the Chicago All Stars, is in town relaxing a bit before the start of drills for the Star's battle against the Cleveland Browns in Soldier's Field Aug. 12. Lambeau conferred with his assistants in Chicago over the weekend – Steve Owen and Hunk Anderson. Hamp Pool will join the group later, though he and Lambeau had been in conference in Los Angeles through the spring…Packer publicity chief Bonnie Ryan is back at work after a painful bout with a kidney stone. Bonnie was in the midst of arranging the programs for Packer home games when the attack came…The aforementioned Vainisi was in Wausau yesterday to address the Kiwanis Club and was surprised to learn that Wausau's Elroy Hirsch, who retired as a Los Angeles Ram end last December, is working out every day. Visiting his folks in Wausau, Hirsch has been running a couple of miles every day – "to get his legs and wins in shape," the fans say up there. He's either getting ready to play an athlete in a movie or end with the Rams, it can be guesses…Stan Heath, the onetime Packer quarterback, has signed for a shot with the Chicago Cardinals. Heath tried out with the Cleveland Browns after leaving the Pack early in the '50 training season and then buried himself in Canada.
'ONE OF BEST' FOR 1955, TAG PLACED ON FORESTER
JUN 29 (Green Bay) - Bill Forester "should be one of the best defensive players in the league this year." That's how Coach Liz Blackbourn feels about the "baby-veteran" of the Packer squad. Just 22, Forester signed today for his third Packer season, and Blackbourn announced the one-time Southern Methodist fullback, tackle and linebacker will be back at his old pro stand – middle guard on defense. Blackbourn first saw Forester in action in movies of '53 games when he took over the head coaching reins in January of '54. As a rookie in '53, Bill did just about everything, including a shot at fullback. Planted at middle guard in '54 and told to grow, Forester gradually mastered the technical job of decided when the other team was going to pass or run. He used his 235 pounds well in jamming up running plays and his speed in back-pedaling when the air raid sirens were blowing. Blackbourn conceded one time last fall that "everything is pretty new to Bill out there" and added last winter that "he'll be at home in' 55 and he should develop into one of the finest middle guards in the league." Forester, who will be backed up by Packer veteran and rookie wrestler Dick Afflis, pulled one clutch interception last fall, grabbing a pass against the Baltimore Colts in Milwaukee with 20 seconds left in the half to set up a Fred Cone field goal that cut the Colts' lead to 13-10. While big things are expected of Bill, it's a similar situation in Cleveland, where the Browns are expecting Bill's brother, Herschel, to become one of the best offensive guards in the league next fall. Herschel, although he's a year older than Bill, will be playing his second pro season at Cleveland. Herschel was drafted by the Browns in '52 and was one of two Texans traded to Dallas in the deal that brought George Ratterman to Cleveland. Before the '52 season opened, Herschel was inducted into the Army Air Force and when the Dallas franchise was transferred to Baltimore, Herschel was regained by the Browns in the big 10-for-5 deal with the Colts in the spring of '53. He joined Cleveland after being discharged in '54. Bill will never forget his first game against his brother – a non-conference test here last fall. "It was a funny feeling," Bill admitted later, "and I had a hard time bringing myself to playing my best against him." The two brothers are due for two meetings this season – in a non-league test in Akron, Ohio, Aug. 20, and in a league game in Cleveland Oct. 23. The Forester boys were brought up on a football. Their father was football coach for 18 years at Woodrow Wilson High in Dallas where both starred before entering SMU. Bill Sr. was an outstanding tackler at Mercer U in Georgia. Bill, who will turn 23 Aug. 9, sells insurance in Dallas during the offseason. He is married and has two sons – Byron Herschel, 2 years, and Michael William, 7 months.
MARTINKOVIC SIGNS; 7 IN D-END COLLISION
JUN 30 (Green Bay) - It'll be three veterans against four rookies, including a No. 2 draft choice, when Packer defensive ends start squaring away in Stevens Point next month. The seventh and last defensive wing to sign a Green Bay contract for '55 is veteran John Martinkovic, whose registration was announced today by Coach Liz Blackbourn. Martinkovic, the 245-pound Czechoslovakian, joins returning veterans Stretch Elliott and Gene Knutson. Big John and long Stretch are back for their fifth campaigns here and Knutson will be a sophomore. In the newcomers' corner will be Jim Temp, the second pick who did his play-for-play footballing at Wisconsin; Nate Borden of Indiana; Bob McCants of Washington State; and Gene Felker of Wisconsin, who actually did get a sniff of pro ball during a brief stay with Dallas before going into service. Martinkovic, despite the competition, is looking forward to his best season – which could mean touchdowns. John's best previous campaign, as a Packer most will agree, was the '52 campaign when he did himself proud on defense and also turned up as the highest scoring defensive end in the league. Martinkovic managed 12 points on two touchdowns in '52. He recovered a punt blocked by Deral Teteak for the touchdown that gave the Packers a 12-10 victory over Philadelphia in Milwaukee. Then, on the following Sunday in Chicago, Whizzer White muffed a catch of a short field goal by Bill Reichardt and Martinkovic charged the ball into the end zone and fell on it for a touchdown. Martinkovic, former Little All-American from Xavier, was selected to play in the pro bowl game in January of 1954 and received honorable mention on several all-pro teams in 1953-54. Martinkovic has played in 48 straight Packer league games since coming to Green Bay late in the training season of '51 in a trade with Washington for offensive end Ted Cook. Martinkovic worked opposite Elliott, who also played in 48 straight, the last two seasons and in '51 and '52 paired with Ab Wimberly, now a coach at Louisiana State…MCCANTS GIANT OF TEAM: The tentative training camp shows Martikovic battling Borden and McCants, at left defensive end. Borden, a hard-fighting shifty boy, carries 204 pounds, but McCants will be the giant of the team – at 6-8, 260. Temp and Felker are pitted against Elliott and Knutson. Temp packs 230 – the same weight as Stretch, although Elliott may come in at 235 this year. Felker carries 210 and Knutson 225. Martinkovic, a native of Hamilton, O., spent the offseason in Green Bay, selling car for Crust Buick.
CANADIAN 'HOMEBREWS' DON'T LIKE IMPORTS' FAT SALARIES
JUL 2 (Green Bay) - How about the Canadian-born football player? He plays for peanuts in Canada's Big Four Union while the teams up there pay fantastic salaries to untried and tried American stars. Based on the 20 grand offered Packer quarterback Tobin Rote last winter by two Canadian clubs, it would seem logical to assume that, had Rote accepted, some of his Canadian teammates would be getting as much as $18,000 less – from what we hear of sums paid the homebrews. This ridiculous situation is bound to create confusion and dissatisfaction among the Canadian athletes. And to give you an idea of what can happen, take a squint at the following column written by Jack Koffman in the Ottawa Citizen: If the weather has left you somewhat sour and you're looking for a laugh, analyze one of the remarks credited to Harry Sonshine the other day: "He hasn't the proper mental attitude for our club," remarked the Argonaut GM, in reporting that Johnny Fedosoff was one of three Toronto players traded to Hamilton. Now, what could be wrong with Fedosoff's mental attitude? Could be the young backfield sensation (and he's a good one) is one of those clubhouse lawyers? Or is it possible Johnny is too complacent to satisfy the lavish-spending Mr. Sonshine? If you're thinking along these lines, you're not even warm. The answer is that Fedosoff, as promising a youngster as
any to hit Big Four ranks in recent years, has been demanding more money than the Argos were prepared to pay for him. Imagine the nerve of Fedosoff! Sure, everyone in the Big Four agrees he's a backfield champion either offensively or defensively, but he ought to be tickled he's been offered an Argo uniform again. At least, it appears Mr. Sonshine thinks so. This is the same Harry Sonshine who has been spending the Toronto Football Club's money like a chap who has just received an unexpected and very handsome return from Income Tax headquarters. While other clubs in the Big Four have been counting pennies in an effort to stay alive, the Argos have announced the acquisition of name grid stars from across the border at fancy prices. There certainly has been no sign of a retrenchment policy in the Argo camp. Somehow or other, you find it hard to blame young Fedosoff, a beautiful, broken field runner, for trying to get as much dough as possible out of the Toronto Club. Canadian football teams must learn that, if they want to cry "wolf", they've got to reduce salaries right down the line – not only for the homebrews. Teams these days are in the habit of giving American stars, almost sight unseen, the parliament building while quibbling with Canadian talent saving a buck or two here and here. Everyone knows the influx of talent has provided Canadian players with a higher standard of living. It doesn't alter the fact, however, that homebrews shouldn't be dismissed with a little consideration as possible. A promising gridman like Johnny Fedosoff has every right to shake his head in bewilderment when he compares his own contract with those of unknown American players.
WALKER RETURNING ON TWO GOOD LEGS
JUL 6 (Green Bay) - Val Joe Walker almost quit Packer football a year ago. He was knee deep in the oil business. This season, he's knee deep in football – with a new knee, at that. Walker had an operation on his knocking knee last winter, and Packer Coach Liz Blackbourn announced today that (1) the operation has been a success and (2) Walker has signed for '55 warfare. Walker reported late for practice last year; he was waging a personal battle between a job with an oil firm and showed up at camp two weeks late and about 10 pounds underweight – a shock for Blackbourn who then was conducting his first Packer camp. V.J. put on the necessary weight and carried on in his usual competent manner until his knee started to kick up midway in the season. He was floored late in the first Detroit game, missed the second Lion test in Detroit and then hobbled through the two closeouts on the west coast. Return of Walker with two good knees means that the Packers' deep defensive halfbacks, Walker and Bobby Dillon, will be operating on four good legs for the first time. Dillon underwent a similar cartilage operation a year ago last winter and experienced no trouble last fall, playing out the entire season for the first time. In Dillon's two previous seasons, he missed the west coast windup. Walker had knee trouble occasionally, as a rookie in '53, too. Val Joe will be starting his third season and Dillon his fourth. Despite troubles, Walker managed to intercept four passes last year and return 'em for 83 yards – an average of 20.8 each. In '53, Walker stole four enemy throws and returned 'em 74 yards – an average of 18.5. One return in '53 was 54 yards for a touchdown – fourth longest in Packer history. Walker was drafted by the New York Giants in 1953 and traded to Green Bay for Arnie Galiffa, the former Army quarterback. Val Joe was rated one of the best defensive halfbacks in the Southwest Conference while at Southern Methodist. He was also an outstanding hurdler for the Mustangs for three years. He is credited with a 92-yard punt return when the Mustangs played Texas in '52. Walker is now living at Seminole, Tex., where he first gained athletic fame at Seminole High. He is an insurance salesman in the offseason in Seminole.
PACKERS HAVE SPOTS TO FILL
JUL 6 (Milwaukee) - The loss of several players to the armed forces will force the Green Bay Packers to rebuild for the 1955 NFL season, head coach Liz Blackbourn said today. Blackbourn, who coached Marquette University before entering the pro ranks last year, said the Packers were certain to be stronger defensively this year, but the offense still is a question mark. "We draft boys from the colleges and Uncle Sam drafts them from us," he said. Blackbourn is getting set for Packer drills which start July 16 at Stevens Point State College. There'll be intra-squad games July 30 and August 6, and then the Packers launch a pre-season exhibition series against the Giants, Browns, Steelers, Eagles, Redskins and Cardinals. "By the time the regular season starts we will know what we have," Blackbourn said. "I'm afraid it's all going to depend on our rookies. Our first job is to fill the vacancies which have occurred since last year." The retirement of linebacker Clayton Tonnemaker and the departure for military service of offensive end Max McGee and reserve quarterback Bobby Garrett left the biggest holes in Green Bay's lineup. Blackbourn said he hoped Tonnemaker's shoes would be filled by Tom Bettis of Purdue, No. 1 Packer draft choice. "We have a couple of good prospects at quarterback, but where can you find good ends these days?" Blackbourn asked. "Right now we've got only one, Billy Howton, but we have to find another one between now and the start of the season. McGee's replacement may be Gary Knafelc, a 215-pound, six-four end from Colorado, Blackbourn said. With a little luck Green Bay could improve on its 1954 mark of four wins and eight losses, but the team is not expected to be a title threat this year.
GRIPE! GRIPE! LIONS, BROWNS, FRISCO CHOICES
JUL 7 (Green Bay) - Back in the old days, the boys in the big towns griped about the "two or three teams" NFL every time the schedule came out. The two or three teams were generally the Packers and Bears and Washington or New York. The Packers and Bears, for sure, were always the teams to beat. It seems needless to say that times have changed, but to refresh your memory, Green Bay hasn't been in the "two or three" team class since the middle 1940's. In fact, the Packers' last above .500 season was 1947 – eight years ago! Since the big towners have had their gripes in their days, it seems okay for a guy in a little town to start bellyaching on this schedule-announcing day. The two or three teams, darn it all anyway, for '55 – as has been the case the last couple of years – are Cleveland, Detroit and San Francisco. Yep, the Browns of the American conference have been in five straight playoffs now and we can't see who is going to stop 'em again this season – unless maybe it's the Packers for one Sunday in Cleveland, Oct. 23. But that's only one game, says this Optimist. You just must figure Detroit since the Lions are defending National Conference champions and they still have Bobby Layne and a flock of other high-priced articles. San Francisco is loaded to the teeth – as it has been for four years – and this time the Forty Niners might strike gold. How about the other nine? Grippety-gripe! The Packers, Bears, Rams and Colts in the National and the other five in the American all have a chance thanks to the shape of the ball, plus the desire of the underdog. What's more, the schedule, devised by our beloved Commissioner, Bert Bell of Philadelphia, has a funny way of balancing things up – sometimes, at least. Some teams get murder right at the start; others get it later; the fortunate have it spread out. If you've got nine lives you're okay, since a 9-3 record usually wins, although a 7-5 is possible this year. Our hates from Chicago, for instance, get Baltimore and Green Bay in their first two games and then play the Forty Niners and Rams each twice in four of their next five games. The Packers get murder right away. Who's on first? Detroit! The Bears and Baltimore are on second and third. Then come the Rams and Browns. Detroit gets off against Green Bay and Baltimore. Then it's blue blades – Frisco and LA – in four straight games. Come to think of it, maybe Green Bay can slip in while the big buzzards pick each other dead. Anyhow, if you desire some harmless fun, look over the following league schedule and try and figure a winner.
HELLUIN SIGNS IN - AT 255!
JUL 8 (Green Bay) - Today's Packer shock: A 255-pound Jerry Helluin! And we might add, Believe It or Not, because this same Packer tackle weighed in a year ago at 292 and played at around 275. How did he shed the weight? "Special diet from my doctor. Started last January first," Helluin said here today after signing his 1955 Packer contract and getting his family (mother and twin daughters, Janice and Janet) installed at 817 E. Walnut St. Helluin is mighty proud of his new and lower weight because the reduction represents a lot of work - "especially at the start." After while it was easy to keep my weight at about 255." Jerry said he made up his mind after talking with Coach Liz Blackbourn after last season. "The coach made an agreement with me that I was supposed to weigh 270 when I reported for practice and then hold 260 during the league season," Helluin smiled, adding: "I feel wonderful and I don't think I'll ever carry as much weight as I had before. The doctors told me that I'd suffer when my football days are over and advised me to always watch my weight closely." Helluin took a lap around the City Stadium track the other day with Veryl Switzer and discovered that "I felt wonderful. Of course, my wind is short yet but it wasn't like a year ago when a run like that would be much harder work." The burly tackle, obtained from the Cleveland Browns in June of 1954 in a trade for a fourth draft choice, is anxious to meet his buddy-buddy in the defensive line, Dave Hanner. "Wait'll old Dave sees me," Helluin told Line Coach Lou Rymkus today. "I'll bet right now when he hears about my weight, he'll shift that tobacco to the other side of his mouth and say out of the other side, '255, heh, that far so-and-so.'"...START FOURTH SEASON: Dave, who worked here during the offseason and is presently on vacation at his homestead in Arkansas, also has a weight deal with the coach. Dave is supposed to weigh in at 250 and maintain 245 during the season. At the last report, Hanner was working hard but may report with the rookies July 16 to get in an extra week of shaving down. Veterans report July 23. Jerry will be starting his fourth season in pro ball. The onetime Tulsa star, drafted by the Browns in 1951, stayed out a year before reporting to Cleveland in '52. He was a regular Brownie defensive tackle and/or middle guard for two seasons before coming to Green Bay. Helluin, who will turn next Aug. 8, worked with Bill Svoboda, the New York Giant linebacker, during the offseason in a filling station at Houma, La., about 50 miles from New Orleans. Jerry also carried the mail during the Christmas rush.
PACKERS SHIFT FB SPINKS TO GUARD
JUL 9 (Green Bay) - Packer Coach Liz Blackbourn marked time today until practice starts - in Stevens Point next Saturday - with a remark or two. "We'll be on the lookout for boys to till the gaps left by the losses you are well aware of," Liz started. He referred to end Max McGee, guard Al Barry and tackle Art Hunter in the offensive line - not to mention quarterback Bobby Garrett and linebacker Clayton Tonnemaker. "And we'll have to find a second center behind Ringo," Liz added. The Bay mentor, preparing for his second season, admitted he wasn't too pleased with the offensive guard setup and announced that Jack Spinks, the 240-pound fullback, "will be at guard right from the start." Liz added: "Jack has had three chances to make it as a fullback and he hasn't yet. He has the size and the speed to make a good guard. That's the type of thing we'll have to do, shift players around and see if we can't fill some of the gaps and strengthen other positions." Spinks was signed recently as a free agent after serving part of the '54 season with the Chicago Cardinals. He came up with the Pittsburgh Steelers two years ago and showed flashes of promise. Blackbourn said that "our biggest problem is on offense because most of the losses are there. We'll be starting out weaker on offense than when we finished last year. As an illustration, we have Gary Knafelc at left end in place of McGee." Any trades coming up, coach? "Nothing now," Blackbourn said, "but if we're at any dead end streets about two weeks after the start of practice we'll get on the telephone." Compared to a year ago, Blackbourn said that "we're more ready, more efficient in the presentation of our material. We have more athletes to work with and as a result the percentage of finding unexpected help is greater." Blackbourn and his aides, Tom Hearden, Lou Rymkus and Ray McLean, have the benefit of "their own" season behind them. They entered 1954 training cold, so to speak, since all they knew abut the '53 squad was what they saw in the pictures - with the exception of McLean, the lone holdover coach. What's more, they started camp with only 43 athletes; this year, there will be many more. Blackbourn won't wait long to give the rookies their first bumping. The first-on-the-field drill is set for Sunday, July 17 after checking in July 16 and by the end of the week "we'll be cracking plenty." The veterans will get some of the same by the end of the second week which will be climaxed by the first public intra-squad game at Marshfield Saturday night, July 30. This test will be primarily for the rookies but the veterans may make some token appearances. After the second week, Blackbourn said "we'll cut the squad down to just those newcomers who will be in actual contention for positions." The Packers will hold two practices per day, as usual, but "they'll be starting earlier in the morning," Liz said. Breakfast will be served starting at 7 a.m. instead of 7:30 last year and the athletes will start suiting up at 9 o'clock, with no meeting before the drill which will start about 9:30. The squad will be given a rest period after the noon meal but there will be a half-hour meeting before each afternoon workout, scheduled to start about 3:30. The main squad meetings will be held in the evening. At the moment, Blackbourn and his aides are getting playbooks set up. Offensive and defense books are being prepared and Blackbourn feels that numbering the pages according to the various plays will streamline classroom work.
PACKERS ARE COMING A WEEK FROM TODAY
JUL 9 (Stevens Point) - It's nearing the middle of summer, and in Stevens Point, among other things, that means it's almost time for the Green Bay Packers to start their training camp here. The first invasion of Packer football candidates will begin one week from today, when approximately 60 men - all of them tough and brawny as well as rookies or other newcomers - will come to town. Along with these "new faces" in Packer drill togs will be the same coaching staff to the man as last year headed by Liz Blackbourn who will commence his second season at the helm of the Green Bay pros. Scooter McLean, Lou Rymkus and Tom Hearden are Blackbourn's assistant coaches. It won't be until one week later on Saturday July 23 that the better-known Packer players - the 26 veterans who will battle the rookies for their jobs - start their drills. By that time, too, the original list of 60 men likely will have been trimmed by 25 or more to make room for the veterans. League rules limit teams to 60 or fewer men in camp at one time. This number, of course, must be pared down to the regular season maximum of 33 by the start of hostilities on September 25. Once again as during 1954 when the Packers trained here for the first time the players and coaching staff will be housed in Delzell Hall on the campus of Central State College. They will eat just a few doors down on North Fremont at Nelson Hall also on the CSC campus. Also as last summer the Packers will work out on three fields - Schmeekle Field behind Delzell Hall, Bukolt Park and Goerke Stadium. The latter, however, will be used on a limited basis, possibly for one or two scrimmages and for the annual intra-squad game on Saturday night August 6. The regular drills will take place on the college and Bukolt fields on an alternate basis. No official welcoming parade is planned this year for the Packers since unlike last summer when all arrived at one time the candidates will drift into town at different intervals both next Saturday and the following weekend. Some sort of citywide program on behalf of the Packers is being planned however during the stay in Stevens Point. Prospects look good for the Packers this year although several holes must be filled, particularly those left by a handful of men who have either retired or entered the service. Generally speaking, the Pack shaped up strong defensively, especially in the line. The offense is not as strong on paper now due to the absence of key veterans. The busy and efficient Packer publicity man, Bonnie Ryan, stopped in Stevens Point Friday and pointed out features of the Packer lineup as it appears now before drills have gotten underway. Veterans Stretch Elliott and John Martinkovic at ends. Dave Hanner and Jerry Helluin at tackles and Bill Forester at middle guard are back to form an imposing forward wall on defense. Roger Zatkoff, backed by Deral Teteak, is a cinch at one linebacker spot while a highly-regarded newcomer and No. 1 draft choice of the Packers this year, Tom Bettis of Purdue, is being groomed for the other linebacker position. Bettis will be one of the Packers who won't be here at the start of drills since he will play with the College All-Stars and will train with them until sometime in August. Bettis will be taking the spot of the retired Clayton Tonnemaker. In the deeper secondary defensively, Bobby Dillon and Val Joe Walker appear to be the two safety men with Jim Psaltis as one cornerback and another regarded new man, John Crouch, of TCU, probably taking over for the veteran Clarence Self as the other cornerback. Among other good newcomers on defense are safetyman Gene Helwig of Tulsa, linebacker Jim Smid of Illinois and ends Jim Temp of Wisconsin and Nate Borden of Indiana. Other veterans include Dick Afflis at middle guard and Gene Knutson at end. Lost to the service from the defensive platoon was safetyman Gene White. Offensively, the need is for an end to take Max McGee's place, a tackle to replace Art Hunter and a guard to fill in for Al Barry. These three as rookies were regulars last year and will obviously be sorely missed, especially McGee who was an outstanding performer. Back for more action are Billy Howton at end, Len Szafaryn at tackle, Buddy Brown at guard and Jim Ringo at center in the line. Gary Knafelc stands a good chance of being McGee's replacement. The ex-Colorado player was on the squad last year. Glenn Dillhoff of Cincinnati and Bob Peringer of Washington State are highly rated. There are three highly considered rookie tackles to take Hunter's spot - Bob Antkowiak of Bucknell, Bob Carter of Grambling and Floyd Harrawood of Tulsa. At guard Henry Bullough, a high draft choice from Michigan State, may be the man to replace Barry. Ringo is expected to be pushed by an outstanding center candidate, George Machoukas of Toledo. Trapper Stephenson was the No. 2 center last year but retired. Steve Ruzich at guard is a holdover from last year's team. The backfield likely will be mostly veteran except for a quarterback spot behind the veteran Tobin Rote. Johnny Coatta, well known as the former Wisconsin passing star, appears to have an inside track to follow up Rote but Jim Capuzzo, who did not play college ball although he attended Marquette briefly, is highly regarded. Al Carmichael and Veryl Switzer provide a strong punch at right half and Breezy Reid and Joe Johnson are back at left half. Howie Ferguson is the returning fullback along with placekicker Fred Cone. The highest regarded newcomer among the running backs is Gayton Salvucci of American International.
BURGLAR GETS SET FOR GRID SEASON; SWIPES EQUIPMENT
JUL 11 (Green Bay) - A burglar apparently eager to begin his football training early broke into the Green Bay Packers training quarters at the rear of East High School Sunday evening. The intruder gained access to the locker room by breaking a pane of glass in a hinged window. His loot included two white footballs and two pairs of shoulder pads.
FRIDAY 'M-DAY' FOR LIZ; FIRST PRACTICE SUNDAY
JUL 12 (Green Bay) - Friday will be "M-Day" for personable Liz Blackbourn, who Saturday launches his second season as head coach of the Packers by opening the first rookie camp in the team's long history at its Stevens Point training base. "M" in this case stands for "moving", and since coaching a professional football team has become a complicated operation in recent years, this will be a project of no small proportions. One of Blackbourn's Friday functions will be greeting "some of the boys who will be coming in" but a good part of his time will be taken up with assembling the impediments he and aides Tom Hearden, Lou Rymkus and Ray (Scooter) McLean employ in tutoring Green Bay's NFL representatives during the next five months. Just how much and what does this involve? "We're having a truck take it over for us," Liz responded. "There are projectors, screens and scouting equipment on other teams that we have assembled last season, for a starter. Then, of course, we have all of our plays, scouting assignments, defensive operations and examination paper, I guess," he chuckled, "that's about it. Jack Vainisi will be going with me to help set things up." Announcing a departure from past practice, Liz revealed that all players will report directly to camp for both the first week's rookie session and July 23, when the veterans will join the fledglings. Last year, all players reported here and made the excursion to Stevens Point by chartered bus. The '55 training season will be launched offensively with a meeting Saturday night, Liz said, adding that "it probably will be a long one. There, of course, will be church Sunday morning and we'll have our first practice at 2:30 Sunday afternoon." Liz also announced that Bill (Earthquake) Turnbeaugh, giant 265-pound tackle from Auburn, will be late in reporting. He is attending summer school in Ohio "and may be delayed a couple or three days because of his exams."
BLACKBOURN MUST SORT OF IMPOSING ROOKIE CROP
JUL 13 (Green Bay) - Coach Lisle Blackbourn of the fast-improving Green Bay Packers, who has a modest sized squad of 43 players for tryouts in 1954, faced the pleasing prospect of having too many hopefuls this season. Last year, the league rule prohibiting more than 60 men in camp at any one time couldn't have meant less to the undermanned Packers. Since then, things have changed and Blackbourn has been forced to schedule two tryouts. A rookie camp, the first in the team's history, will start Saturday and some 60 men who weren't on the roster a year ago are expected to arrive at Stevens Point for the trials. Veterans of a year ago, about 30 of them, will show up a week later when the rookie squad is pared to 30. Blackbourn's bonanza of rookie football players came in four groups - college draftees, free agents, returning servicemen and Canadian league refugees. The gridders fresh from college ball made up the most glamorous segment of the squad, but there were top names among the ex-GI's, free agents and migrants from the north. Free agents included these top college draft choices of the past few years; end Sam Morley, Stanford; fullback Jack Spinks, Alcorn A&M; tackle Howard McCants, Washington State, and end Gene Felker, Wisconsin. Such names as fullback Bill Reichart, Iowa; quarterback Johnny Coatta, Wisconsin; fullback John Hlay, Ohio State; tackle Tom Johnson, Michigan, and Bill (Earthquake) Turnebaugh are on the list of service veterans. The college draftees provide the real glitter to the rookie camp, however, with players such as tackle Tom Bettis, Purdue; end Jim Temp, Wisconsin; guard Henry Bullough, Michigan State; halfback Johnny Crouch, TCU, and tackle Ed Culpepper, Alabama, set to report. The Packers also will look over center George Machoukas, Toledo; end Doyle Nix, SMU; and tackles Bob Antowiak, Bucknell, and Nate Borden, Indiana. All this is very well, but Blackbourn has been hard hit by losses among last year's regulars and the failure of 10 of his 30 draft choices to report. Green Bay had a 4-8 record last season, but its first six losses were by a total of 23 points and the general consensus was that the Packers, with a few breaks, could have finished far better. Blackbourn has hopes of doing better this time - if his rookie camp works out.
SET PRO GRID OPENING DATE
JUL 14 (Philadelphia) - The NFL season will get underway Sunday September 25 and close December 11, under the complete schedule announced Wednesday by Commissioner Bert Bell in Philadelphia. The Green Bay Packers will open against Detroit at Green Bay and close against the Los Angeles Rams in Los Angeles. The traditional game with the Bears, with which the Packers through most of their recent league history have opened the season, will be played the second Sunday of the season. Three of Green Bay's games will be played in Milwaukee. Baltimore will be played here in a nationally televised game Saturday night October 16 and San Francisco Sunday November 20. The Packers will play home-and-home games with the five other clubs in the western division - San Francisco, the Bears, Los Angeles, Detroit and Baltimore - and two single games with clubs in the rival eastern division - Cleveland and the Cardinals. The Packers will play at Cleveland Sunday October 23 and will meet the Cardinals at Green Bay November 13.
AB WIMBERLY REJOINS PACK AS COACH AIDE
JUL 14 (Green Bay) - Drawling, soft-spoken Abner Perry Wimberly, a stalwart here not too many moons ago, today rejoined the Packers - for a two-week "engagement". Ab, a durable, highly competent regular at defensive end here from 1950 to 1952 and now an assistant coach at his alma mater, Louisiana State University, is not returning, unfortunately, in a playing capacity. But Head Coach Liz Blackbourn expects the still youthful Louisianan to make a major contribution to the 1955 Packer cause. He has been hired to polish the freshman defensive ends, beginning Saturday when the Packers open the first rookie camp in their history at Stevens Point, for the first two weeks of the training season. "We would have liked to have had his services for at least four weeks," Liz said today, "but he has to report back to LSU by Aug. 1 when their coaching staff begins work down there." Blackbourn feels that Abner's presence will be a "big help to us. Since we have quite a few ends to go through, it will simplify matters to have someone who will be able to work exclusively with them. It's one way of having a closer check of just what we can expect from those fellows." Among the candidates who will be under Wimberly's scrutiny are Nate Borden, 6-foot, 204-pounder from Indiana, Robert McCants, 6-foot, 8 1/2-inch Washington State giant, and Gene Felker, former Wisconsin athlete. He will not have an opportunity to work with another leading recruit, Jim Temp, since the Badger star will be in the camp of the College All Stars. Wimberly, now 29, joined the Packers in 1950 after being selected in the pro draft provided by the dissolution of the All-America Conference. Abner played his rookie season with the Los Angeles Dons in 1949 before joining the Packers. At the close of the '52 season, Abner announced his retirement to assume his present position under Gaynell Tinsley, another former NFL star at LSU. Wimberly is a rare football bird since he never played the sport in high school, yet made the LSU varsity as a freshman and scored a touchdown against Georgia in his first game. Ab, who was accompanied by his wife, now makes his home in Baton Rouge, La...Blackbourn's satisfaction over the prospect of Wimberly's assistance was tempered to a degree by the discovery today that Fred Baer, a highly regarded rookie from Michigan, has decided not to report. Baer, regarded as a leading candidate for left corner back in the Packers' defensive secondary, "has a good job," Liz said, "and he's afraid of the uncertainty of making the team."...Blackbourn and assistant coach Jack Vainisi will leave Friday noon for Stevens Point to make final preparations for the opening of camp Saturday. Trainer Carl (Bud) Jorgenson, beginning his 32nd year with the Packers, and assistant Gerald (Toby) Sylvester left Wednesday with a truckload of equipment. Liz and aides, Lou Rymkus, Tom Hearden, Scooter McLean and Vainisi, will work with the rookies exclusively next week, then greet the returning veterans July 23.
ROOKIE CAMP OPENS 37TH PACKER YEAR SATURDAY
JUL 15 (Green Bay) - The oldest team in the NFL, the Green Bay Packers, will launch its 37th season with one of the game's most recent innovations - a rookie camp - at Stevens Point Saturday. Lisle W. (Liz) Blackbourn, beginning his second season as Packer head man, will greet 58 "freshmen" at a meeting Saturday night, which will be the first official assemblage of 1955. The first practice is scheduled to follow at 2:30 Sunday afternoon. Though not brand new, the rookie camp is of recent vintage and will be the first in the history of the Packers, who came into being back in 1919 and joined the NFL in '21. The first week of the training season will be devoted exclusively to screening the freshman crop. The 26 veterans returning from the 1954 squad will report July 23, at which time Liz and his aides will have whittled the entire squad to approximately 60 players. At least four rookies will report late due to discharge from military service or attendance at summer school. These include George Machoukas, Toledo center; Lou Spycall, Marquette halfback; Bill Jack (Earthquake) Turnbeaugh, Auburn tackle; and Richard Gordon, guard from Toledo. Bill Reichardt, a fullback here in 1952 who has been shifted to halfback in 1955 planning, will not report until July 23. Blackbourn has given him permission to complete arrangement of his personal affairs...Three others, Tom Bettis, Purdue, Jim Temp, Wisconsin, and Henry Bullough, Michigan State, all top Packer choices in the NFL's 1955 college draft, have been selected to play in the College All Star game but will report to the Stevens Point camp for the first four days of drills before joining the All-Star camp. Blackbourn has indicated that Bettis will be groomed to replace the departed Clayton Tonnemaker as middle linebacker while Bullough will be tried at offensive guard, the position left vacant by the loss of Al Barry to military service, and Temp will battle veterans John Martinkovic and Carleton (Stretch) Elliott at defensive end. Liz also will keep a sharp eye out for replacements at two other positions, offensive left and right tackle, problems that have been occasioned by the induction of Max McGee and Art Hunter...Glenn Dillhoff, 6-foot, 2-inch, 197-pound recruit from Cincinnati, or Jim Jennings, a 6-3, 195-pound Missourian, could be the answer at LE. Hunter's shoes may be filled by Floyd Harrawood, who was released by the Packers during the 1953 training season and played in Canada the last two years. All of Saturday's reportees will not be bona fide rookies since 11 of them have had previous professional experience, most of them with other NFL entries, but since they will be new to the coaching staff they also must undergo preliminary scrutiny. Chief among these is Tom Johnson, former Michigan tackle, who was a Packer rookie in 1952 before entering service. Another "name" freshman is tackle Clink McGeary, a Packer in 1950 and '51, and still another is guard Sisto Averno, a veteran of four seasons with the Baltimore Colts...Other better known "rookies" include Jack Spinks, ex-Pittsburgh Steeler and Chicago Cardinal fullback, who will be given a whirl at guard, end Gene Felker, who spent a year with the defunct Dallas Texans before entering service, and halfback Bill Robinson, tried out by both the Packers and Steelers on previous occasions. In addition to these, guard John Bove played for Ottawa in the Canadian League the last four years after being released by the Philadelphia Eagles in 1951, and three others, halfback Sammy McWhirter and guards Howard McCants and Gene Snipes, had pro tryouts last year, McWhirter with the San Francisco 49ers, McCants with Toronto and Snipes with the New York Giants. Two intra-squad games will serve as "breaks" in training routine. The first is scheduled at Marshfield July 30 and the other at Stevens Point Aug. 6. All practices will be open to the public...The Packers hit the non-league trail at Spokane, Wash., Aug. 13, where they meet the New York Giants. Blackbourn's staff, which helped the former Marquette strategist return the Packers to NFL contention a year ago, remains unchanged. He again will be assisted by Lou Rymkus, Tom Hearden, Ray (Scooter) McLean and Jack Vainisi, along with Abner Wimberly, who will coach the rookie defensive ends for the first two weeks of the training season. The 1955 roster, which appears elsewhere on this page in offense-defense form, is broken down thusly: four centers, 10 guards, six tackles, eight ends, five quarterbacks, 10 halfbacks and six fullbacks, on offense, and two middle guards, five tackles, seven ends, six linebackers, seven cornerbacks and 10 safeties, on defense.
PACKER ADVANCE SALE UP 20 PERCENT OVER '54
JUL 15 (Green Bay) - Carl Mraz, Packer ticket director, reported today that advance ticket sales for 1955 home games in Green Bay are 20 percent heavier than in 1954. Because of the heavy sale, Mraz urged season ticket buyers who have not picked up their tickets for the games this season to do so immediately. Orders are still being accepted for season tickets. Prices are listed at $14.25. $10.50 and $7.20 and include the three league games: Detroit Lions, Sept. 25; Chicago Bears, Oct. 2 and Chicago Cardinals, Nov. 13. Tickets are also being sold for the non-league game with the Pittsburgh Steelers on Aug. 27. These are priced at $3.50, $2.50 and $1.50. The Packer ticket office, at 349 S. Washington St., is open 8:30 to 5 p.m. daily and 8:30 until noon on Saturday.
PICK CANADEO ALL-STAR AID
JUL 15 (Green Bay) - Tony Canadeo, former Packer great, today was named an assistant coach of the College All Stars, who meet the Cleveland Browns at Soldier Field in Chicago Aug. 12. The announcement was made to the Press-Gazette via telephone by Wilfrid Smith, new sports editor of the sponsoring Chicago Tribune, this noon. Curly Lambeau, head coach of the All Stars and Canadeo's coach with the Packers from 1941 through 1949, said that the erstwhile "Grey Ghost of Gonzaga" will serve as assistant backfield coach. Lambeau's other assistants include Steve Owen, Hunk Anderson and Hampton Pool.