The 1956 Green Bay Packers - 4-8 (T-5TH - Western Conference)
Head Coach: Lisle Blackbourn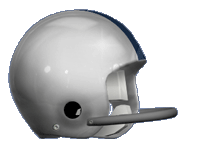 1956 PRE-SEASON RESULTS (4-1)
OFF DEF
AUGUST (2-0) RESULT RECORD ATT RSH PSS RSH PSS STARTING QB LEADING RUSHER LEADING PASSER LEADING RECEIVER
18 M-PHILADELPHIA EAGLES W 27- 6 1- 0-0 12,138
25 G-NEW YORK GIANTS W 17-13 2- 0-0 16,448
SEPTEMBER (2-1)
1 at Cleveland Browns W 21-20 3- 0-0 15,456
8 Washington at Winston-Salem, NC L 10-17 3- 1-0 13,500
15 Chicago Cardinals at St. Louis W 29-21 4- 1-0 31,454
1956 REGULAR SEASON RESULTS
SEPTEMBER (0-1)
30 G-DETROIT LIONS (0-0) L 16-20 0- 1-0 24,668 72 88 175 200 Tobin Rote Howie Ferguson (34) Tobin Rote (98) Billy Howton (5-76)
OCTOBER (2-2)
7 G-CHICAGO BEARS (0-1) L 21-37 0- 2-0 24,668 127 140 278 184 Tobin Rote Howie Ferguson (72) Tobin Rote (109) Billy Howton (6-97)
14 M-BALTIMORE COLTS (1-1) W 38-33 1- 2-0 24,214 184 187 206 124 Tobin Rote Howie Ferguson (88) Tobin Rote (192) Gary Knafelc (5-87)
21 M-LOS ANGELES RAMS (1-2) W 42-17 2- 2-0 24,200 158 334 153 232 Tobin Rote Al Carmichael (50) Tobin Rote (279) Billy Howton (7-257)
28 at Baltimore Colts (1-3) L 21-28 2- 3-0 40,086 20 253 318 100 Tobin Rote Al Carmichael (9) Tobin Rote (292) Howie Ferguson (6-48)
NOVEMBER (1-3)
4 M-CLEVELAND BROWNS (1-4) L 7-24 2- 4-0 28,590 127 145 222 50 Tobin Rote Al Carmichael (66) Tobin Rote (159) Fred Cone (4-71)
11 at Chicago Bears (5-1) L 14-38 2- 5-0 49,172 62 249 195 299 Tobin Rote Howie Ferguson (22) Tobin Rote (137) Two tied with 4 each
18 G-SAN FRANCISCO 49ERS (1-6) L 16-17 2- 6-0 17,986 138 181 226 149 Bart Starr Rote/Losch (45) Tobin Rote (147) Two tied with 3 each
22 at Detroit Lions (7-1) W 24-20 3- 6-0 54,087 84 289 206 146 Tobin Rote Tobin Rote (45) Tobin Rote (301) Howie Ferguson (7-106)
DECEMBER (1-2)
2 at Chicago Cardinals (6-3) W 24-21 4- 6-0 22,620 194 157 80 129 Tobin Rote Fred Cone (92) Tobin Rote (168) Billy Howton (5-70)
8 at San Francisco 49ers (3-6-1) L 20-38 4- 7-0 32,433 74 201 246 181 Tobin Rote Howie Ferguson (25) Tobin Rote (194) Billy Howton (6-71)
16 at Los Angeles Rams (3-8) L 21-49 4- 8-0 45,209 181 174 314 297 Tobin Rote Tobin Rote (76) Tobin Rote (127) Billy Howton (5-68)
G - Green Bay M - Milwaukee
1956 IN REVIEW
On successive weekend, the Packers knocked Detroit temporarily out of first place with a 24-20 win, then killed the Cardinals' Eastern Conference title hopes with a 24-21 victory. But outside of those two spoiler victories, the 1956 season bogged down in a swamp of internal turmoil. Green Bay's Executive Committee began growling at head coach Lisle Blackbourn when the Packers won only two of their first eight games. One executive member blasted Blackbourn for not playing the team's number one draft choice, RB Jack Losch, more often.
​
THE NFL DRAFT "BONUS PICK"
From 1947-1958, finishing last in the NFL did not guarantee a team the first pick in the following draft. The "bonus pick rule" was in effect. Each year, one team received the first pick in the draft, usually in exchange for its thirtieth-round choice. In 1949 and 1950, the bonus pick was a true bonus. In each of those years, the team selecting didn't lose its final-round choice; Philadelphia had a twenty-fifth-round selection in 1949 (the draft had been dropped to 25 rounds), and Detroit had a thirtieth-round choice in 1950. Each team was eligible for the bonus pick only once, and it was selected by lottery. Ironically, the first year the system was in place, the Bears, defending champions, won the lottery:
1947 - Chicago Bears - Bob Fennimore, B, Oklahoma A&M
1948 - Washington - Harry Gilmer, HB, Alabama
1949 - Philadelphia - Chuck Bednarik, C, Penn (Hall-of-Fame)
1950 - Detroit - Leon Hart, E, Notre Dame
1951 - NY Giants - Kyle Rote, HB, SMU
1952 - Los Angeles - Billy Wade, QB, Vanderbilt
1953 - San Francisco - Harry Babcock, E, Georgia
1954 - Cleveland - Bobby Garrett, QB, Stanford
1955 - Baltimore - George Shaw, QB, Oregon
1956 - Pittsburgh - Gary Glick, QB, Colorado State
1957 - Green Bay - Paul Hornung, HB, Notre Dame
1958 - Chicago Cardinals - King Hill, QB, Rice
Since 1977, the NFL has held a Supplemental Draft to accommodate players who did not enter the regular draft. Players generally enter the draft because they missed the filing deadline for the NFL Draft or because issues developed which affected their eligibility (such as athletic or disciplinary matters). The draft is scheduled to occur at some point after the regular draft and before the start of the next season. The only time the Packers chose came in 1998, when they selected Navy OT Mike Wahle in the second round. Wahle had been suspended for senior season after testing positive for steroids.
NAME NO POS HGT WGT COLLEGE YR PR A G HOW ACQUIRED
Emery Barnes 85 DE 6- 6 235 Oregon 1 1 26 2 1954 Draft (18th)
Tom Bettis 65 LB 6- 2 230 Purdue 2 2 23 12 1955 Draft (1st)
Billy Bookout 20 DB 5-11 180 Austin 2 2 24 7 1955 FA
Nate Borden 87 DE 6- 0 225 Indiana 2 2 24 12 1955 Draft (25th)
Buddy Brown 62 G 6- 1 225 Arkansas 4 6 29 12 1953 FA-Wash (52)
Hank Bullough 67 G 6- 0 220 Michigan State 2 2 20 12 1955 Draft (5th)
Jim Capuzzi 26 DB 6- 0 190 Cincinnati 2 2 24 7 1955 FA
Al Carmichael 48 HB 6- 1 190 USC 4 4 27 12 1953 Draft (1st)
Fred Cone 31 FB 5-11 200 Clemson 6 6 30 12 1951 Draft (3rd)
Dick Deschaine 80 P 6- 0 210 No College 2 2 24 12 1955 FA
Bobby Dillon 44 DB 6- 1 180 Texas 5 5 26 12 1952 Draft (3rd)
Howie Ferguson 37 FB 6- 2 215 No College 4 4 26 11 1953 FA
Bill Forrester 69 DT 6- 3 235 SMU 4 4 24 12 1953 Draft (3rd)
Ken Gorgal 26 DB 6- 2 210 Purdue 1 5 27 5 1956 FA-Bears
Forrest Gregg 75 T 6- 4 240 SMU 1 1 22 11 1956 Draft (2nd)
Hank Gremminger 46 DB 6- 1 195 Baylor 1 1 23 12 1956 Draft (7th)
Dave Hanner 77 DT 6- 2 255 Arkansas 5 5 26 12 1952 Draft (5th)
Jerry Helluin 72 DT 6- 2 265 Tulane 3 5 27 12 1954 Trade-Cleve
Billy Howton 86 E 6- 2 190 Rice 5 5 26 12 1952 Draft (2nd)
Joe Johnson 40 HB 6- 0 180 Boston College 3 3 26 11 1953 Draft (11th)
Don King 70 DT 6- 3 265 Kentucky 1 2 27 6 1956 Trade-Cleve
Gary Knafelc 84 E 6- 4 215 Colorado 3 3 24 12 1954 FA-Cardinals
Gene Knutson 81 E 6- 2 230 Michigan 2 2 23 6 1954 Draft (10th)
Larry Lauer 58 C 6- 3 265 Alabama 1 1 27 6 1956 Trade-Bears
John Losch 25 HB 6- 1 205 Miami (FL) 1 1 22 12 1956 Draft (1st)
John Martinkovic 83 DE 6- 3 245 Xavier 6 6 29 12 1951 Trade-Wash
Floyd Reid 24 HB 5-10 190 Georgia 7 7 29 7 1950 FA-Bears
Jim Ringo 51 C 6- 1 235 Syracuse 4 4 26 12 1953 Draft (7th)
Bill Roberts 22 HB 6- 0 200 Dartmouth 1 1 27 4 1956 FA
Tobin Rote 18 QB 6- 3 215 Rice 7 7 28 12 1950 Draft (2nd)
John Sandusky 77 DT 6- 1 250 Villanova 1 7 30 12 1956 Trade-Cleve
Joe Skibinski 63 G 5-11 230 Purdue 2 3 27 12 1955 Trade-Cleve
Bob Skoronski 76 T 6- 3 250 Indiana 1 1 22 12 1956 Draft (5th)
Jerry Smith 61 G 6- 0 230 Wisconsin 1 3 26 3 1956 FA-San Fran
Jack Spinks 61 G 6- 1 240 Alcorn State 2 4 26 1 1955 FA-Cards-53
Bart Starr 15 QB 6- 1 200 Alabama 1 1 22 12 1956 Draft (17th)
Len Szafaryn 68 G 6- 2 225 North Carolina 5 6 28 12 1950 Trade-Wash
Deral Teteak 66 LB 5-10 210 Wisconsin 5 5 26 12 1952 Draft (9th)
NAME NO POS HGT WGT COLLEGE YR PR A G HOW ACQUIRED
Val Joe Walker 47 DB 6- 1 180 SMU 4 4 26 12 1953 Trade-NY
Glenn Young 23 DB 6- 2 205 Purdue 1 1 25 4 1956 FA
Roger Zatkoff 74 T 6- 2 215 Michigan 4 4 25 12 1953 Draft (5th)
NO - Jersey Number POS - Position HGT - Height WGT - Weight YR - Years with Packers PR - Years of Professional Football AGE - Age at Start of Season G - Games Played FA - Free Agent
1956 PACKERS DRAFT (November 29, 1955 (1-3) and January 17, 1956 (4-30))
RND-PICK NAME POS COLLEGE
1 - 8 Jack Losch HB Miami (Fla.)
2 - 20 Forrest Gregg T Southern Methodist
3 - 32 to Los Angeles Rams in Tom Dahms trade
4 - 44 Cecil Morris G Oklahoma
5 - 56 Bob Skoronski T Indiana
6 - 68 Bob Burris HB Oklahoma
7 - 80 Hank Gremminger E Baylor
8 - 92 Russ Dennis E Maryland
9 - 104 Gordon Duvall FB USC
10 - 116 Bob Laugherty FB Maryland
11 - 128 *-Mike Judock C Miami (Fla.)
12 - 140 Max Burnett HB Arizona
13 - 152 James Mense C Notre Dame
14 - 164 Charlie Thomas FB Wisconsin
15 - 176 Buddy Alliston G Mississippi
16 - 188 Curtis Lynch T Alabama
17 - 200 Bart Starr QB Alabama
18 - 212 Stan Intihar E Cornell
19 - 224 *-Ken Vakey E Texas Tech
20 - 236 *-Clyde Letbetter G Baylor
21 - 248 Hal O'Brien FB SMU
22 - 260 John Popson HB Furman
23 - 272 *-Jesse Birchfield G Duke
24 - 284 Don Wilson C Rice
25 - 296 Frank Koeneke E Minnesota
26 - 308 Dick Goehe T Mississippi
27 - 320 Dick Kolian E Wisconsin
28 - 332 Bob Lance QB Florida
29 - 344 Vester Newcomb C Southwest J.C.
30 - 355 Rod Hermes QB Beloit
* - Juniors
1956 PACKER TRANSACTIONS
APRIL 29 - Traded 1957 5th round choice to CLEVELAND for OT Don King and OG Gene Donaldson
AUG 12 - G Cecil Morris and HB Bob Burris left team.
AUG 13 - Traded 1957 6th round choice to CLEVELAND for OT John Sandusky and HB Chet Lyssy. Claimed C Larry Lauer off waivers from CHICAGO BEARS.
AUG 17 - Placed OF Gene Donaldson on waivers.
AUG 28 - Placed T George Schussler on waivers. Returned HB Chet Lyssyto CLEVELAND.
SEPT 19 - Traded OT Tom Dahms to CHICAGO CARDINALS for 1957 6th round choice
NOV 5 - Relased LB Don King. Placed DB Billy Bookout on injured reserve.
NOV 11 - Placed HB Glenn Young and DE Gene Knutson on active roster.
NOV 13 - Released HB Breezy Reid and DB Jim Cappuzzi.
NOV 14 - Signed DB Ken Gorgal off waivers from CHICAGO BEARS and HB Bill Roberts.
PACK CONFIDENT TERP ACE WILL MAKE GRADE
JAN 4 (Green Bay) - The Packers are confident that their No. 17 pick in the 1955 draft will turn out to be their No. 2 quarterback in '56. That's been the feeling of Coach Liz Blackbourn in the last few weeks and Scout Jack Vainisi, after talking with the coaches in the field, explained: "We feel we don't have a problem at quarterback." Chief reasons, of course, is the showing of Lynn (Ed) Beightol, the Maryland No. 2 signal caller, in the Terps' last few games of the season, including the 20-6 loss to Oklahoma in the Orange Bowl. Beightol was drafted as a junior a year ago this month. The ticket on him read: "Good T-formation quarterback, excellent passer, but will probably play under Frank Tamburello who is a better split-T quarterback. Beightol is much better passer of the two." The Orange Bowl game upheld this prediction. When Oklahoma went ahead, Beightol did most of the QB'ing because of his throwing ability. Ironically, just after he completed a pass putting Maryland in Oklahoma territory, Beightol overshot a receiver and the Sooners' Carl Dodd intercepted and returned 82 yards for a touchdown. Beightol is also a skilled punter, judging by his performance in the Orange Bowl. He punted three times for an average of 53 yards, one of his boots sailing 76 yards - six yards short of the Orange Bowl mark of 82 set by Ike Pickle of Mississippi State against Duquesne in 1941. Packer coaches discovered that Beightol, who stands six feet tall and packs 190 pounds, is capable of running. He's a strong runner and crashes the line well. Blackbourn checked with Maryland coaches again before the recent preliminary draft in Philadelphia. The purpose was to make sure that Beightol would be capable of filling in behind veteran Tobin Rote and thus relieve the Packers of going for a quarterback in the early rounds. The Packers have another quarterback possibility in mind - Gil Reich, the club's No. 2 choice in 1953. Reich, the Kansas football and basketball star who started his grid career with Army, is due out of service shortly and will be contacted. Blackbourn had him signed early in '54, but Reich decided to get his service in. Reich never played service football but concentrated on basketball. Reich is also a defensive halfback standout and could be a candidate for corner linebacker if Doyle Nix is called into service. The Packers will also have two veteran quarterbacks available - Rote, who signed a two-year contract a year ago this month, and Paul Held, who understudied Rote last fall...Superstitious? Beightol was the Packers' 17th draft choice, as pointed out. What happened to some previous No. 17s? Here they are: Wisconsin guard Harold Otterback in 1950, decided not to play; Eastern Kentucky State halfback Ray Pelfrey in 1951, played one season, then was traded; Wisconsin quarterback Johnny Coatta in '52 went into service, quit the squad after tryout last fall; Texas end Bill Georges in '53, failed to make team; Oklahoma guard J.D. Roberts in '54, went to Canada, then stopped briefly at Packer camp. Beightol may be the one to break the No. 17 jinx!...BRIEFS: Bonnie Ryan has resigned as Packer publicity director. The former University of Wisconsin publicity aide, who came here in the summer of '54, plans to do similar work in Madison or Milwaukee...Tackle Forrest Gregg of SMU, the Packers' No. 2 choice in the recent picking, will play in the Hula Bowl in Hawaii next Saturday. Gregg played nearly 60 minutes for West in the East-West game in San Francisco and displayed good lateral movement and an apparent desire to mix it. Gregg turned down an invite to play in the Senior Bowl game so as not to lose his amateur standing for track...The No. 1 pick, halfback Jack Losch of Miami, has been in conference with backfield coach Ray McLean in Florida over the weekend. McLean will scout the Senior Bowl battle Saturday. Coaches Lou Rymkus and Tom Hearden returned today after bowl assignments, while Blackbourn remained on the west coast. Rymkus, Hearden, McLean and Vainisi will join Liz in Los Angeles next week to take in the collegiate convention and prepare for the draft there Jan. 16.
PROFESSIONAL FOOTBALL IS BIG BUSINESS
JAN 4 (Green Bay) - The reported offer of a million dollars for the New York Giants of the NFL and its refusal by the owners, Tim Mara and his sons, Wellington and Jack, indicates how far professional football has come in the past 30 years. The Green Bay Packers have been in the league for 36 years and their financial history includes a period of passing the hat. Perhaps there is no more primitive or more unreliable method of financing an organization that lacks a religious or benevolent fervor. The mere fact that it worked, even briefly, for the Packers may indicate something of the deep attachment the fans have for the game. The New York offer is interesting in that the team is not one of the leaders at the box office. During the past season, New York was ninth among the 12 teams in attendance at home games. While the league was rolling up record attendance of 2,722,685, which was 12.7 percent above the 1954 season, the Giants had a loss of 26,000 at their home games. In refusing the offer, the Maras did not go into the matter of heavy taxes on the profits, although that might have been a consideration. They bought the Giants in 1925 for $2,500, which seemed to have been the going price for a league team in those days. But now 30 years later, the Maras turned down one million dollars with the remark that "football is our business and we intend to remain in it." The successful owners of professional football teams have usually had an interest in and a loyalty to the game that was more impelling than the possibilities of cash profits. They have been willing to give in much the same spirit that the early Green Bay fans have given through the years of their money, time and energy without thought of remuneration when the Packers needed support. The offer of a million dollars for the New York club does not provide a sound basis for estimating the value of a club in Green Bay, but it does indicate that professional football is firmly established both as a sport and a business, no less in Green Bay than in New York.
DELAY REQUESTED ON PARK ADDITION PLAN
JAN 4 (Green Bay) - Any plan to buy a 37-acre addition for Perkins Park and turn it into a parking lot for a new Packer stadium, advanced as one of the main advantages of a new stadium site, will meet with Park Board opposition. That conclusion emerged Tuesday night as the City Council voted 13-12, with Mayor Otto Rachals breaking a tie vote, to ask the Board to seek an extension of its purchase option for the proposed addition from Feb. 1 to June 2. It was the second tie vote since the 1953 charter change which gave the mayor a veto power but took away his Council vote. The Council also authorized the Park Board and Board of Education to obtain a joint school-park site on Biemeret Street, east of Oneida Street. The request for an option extension was recommended by the finance committee, which decided Dec. 29 that no action on buying the land should be taken until a final stadium decision is reached. Ald. E.J. Perkins, Park Board president, disputed a linking of the stadium question with the proposed purchase...LOTS OF CONFUSION: "There is a lot of confusion about the Park Board wanting to buy this land as a parking lot. We would be incompetent to run our parks if we wanted to buy this virgin timber for parking. If we reject this, the city is losing the greatest opportunity it ever had to obtain a park with a wooded area," Perkins said. The people of the west side are "sick and tired" of having news reports describe the tract as a possible parking area, Perkins said. Rachals pointed out the tract "was definitely suggested for parking" in the architect's plans for a Perkins Park stadium and that report estimated it would cost $136,000 for 45 acres of parking space for 6,450 cars. "I can't visualize any architect suggesting the turning of a heavily wooded park into a parking lot." Perkins replied...DOWN PAYMENT MADE: "Parking was the cry when this thing was first asked for," said Ald. Fred Foerster, referring to the addition of a $3,300 down payment for the tract to the 1956 budget at a November council session. He questioned whether the Park Board wasn't "putting the cart before the horse" in wanting the land bought before a stadium bonding referendum reaches the voters. "You will never, never get this land for parking," Ald. Wilner Burke predicted flatly, saying he knew its owners would sell to the city only if the land became a park. Ald. Leonard Jahn said the requirements of the off-street parking ordinance could be met and "the six or eight acres of wooded land could be left." The Park Board request to the finance committee asked for a completion of the purchase "for park purposes only." The option would enable the city to buy for $33,000.
PACK WON'T SELECT 27 TACKLES BUT...
JAN 5 (Green Bay) - Don't be surprised if the Packers pick 27 tackles in the forthcoming draft. That may be stretching a point, but Coach Liz Blackbourn, after running down college player weights, has discovered that "we've got to draft tackles to play three positions - tackle, guard and defensive end." All of which makes a college tackle - 220 pounds or over, a handy item! "Most tackles in college are too small to play pro tackle, but they make good guards and defensive ends - if they can move," Blackbourn said the other day. The trend toward smaller linemen in college football is starting to hit the pros, although the play-for-pay boys never will get down to a 195-pound center or 200-pound tackles or guards for the simple reason that the pros' emphasis in on passing. And no 200-pound linemen will afford a passer much protection. The Packers' No. 2 choice in the recent preliminary draft, tackle Forrest Gregg, packs slightly over 220 pounds. But he has good speed, is rugged and play defensive end. In addition, he likely will put on more weight. It's a sure thing that the Packers won't pick 27 tackles when they take part in the college player draft at the NFL convention in Los Angeles Jan. 16, but you can bet the emphasis will be on tackles...Slightly on the newsy side today came a report from Madison that University of Wisconsin head coach Milt Bruhn is considering filling the vacancy, created by his promotion, with Don Kindt, Phil Bengtson or Tom Hearden. It was real news to Hearden, the Packers' defensive backfield coach who just returned today from a scouting trip in the southwest. "Somebody must be picking names out of a hat down there. I don't know anything about it," Hearden laughed. The names were suggested by Hank McCormick, sports editor of the Wisconsin State Journal. Kindt is the most likely prospect for the job. His playing days are about over with the Chicago Bears and he undoubtedly would like to return to his alma mater. Bengtson, one-time Minnesota star, is an assistant with San Francisco but was mentioned as a possible successor to Red Strader, who resigned as head coach recently. Hearden, incidentally, assisted at Wisconsin after leaving St. Norbert, while continuing his studies. Bruhn is expected to make his selection Jan. 15 - after returning from the collegiate convention in Los Angeles, starting Monday...Hearden and Lou Rymkus both reported today on weekend scouting trips. Tom witnessed the Salad Bowl, involving all stars of two conferences, and the Cotton Bowl, while Lou viewed the North-South game and the Sugar Bowl. Their reports added to Scout Jack Vainisi's filed which, by the way, also contain information on promising sophomores and juniors for future drafts. Hearden, Rymkus and Vainisi will leave Sunday for the west coast where they'll join Blackbourn and Ray McLean to take part in the college parley and plot their strategy for the draft.
CIVIC COMMITTEE PLANS MEETING NEXT WEDNESDAY TO DISCUSS STADIUM PLANS
JAN 5 (Green Bay) - A committee consisting of four representatives from each of two west side business organizations, four from an east side group and four from the Association of Commerce, will hold the first of a series of meetings next Wednesday night with Mayor Otto Rachals to discuss the location of a Packer stadium. The mayor's plans call for the group to reach a site recommendation which would be submitted to the City Council. A discussion session on the stadium question was held Wednesday evening at the Beaumont Hotel by members of the Association of Commerce. According to Jerry Atkinson, chairman of the Association of Commerce sports committee, the meeting was designed to stop "a growing split between the East and West sides on the location of the stadium."...MUST EXAMINE FACTS: "No east-west argument based on partisan thinking can be a healthy one," Atkinson declared. "We all stand to lose unless we stop thinking merely in terms of east or west and begin examining the facts logically." Atkinson said he called the meeting Wednesday night for the purpose of "sane and sensible comment" on the stadium location and not for "criticism based on mere geography." Atkinson also emphasized that many persons have looked upon the Association of Commerce as being an east side organization because it is located in the east side business district. "This certainly is partisan thinking meant to stir up an east-west argument," Atkinson declared. "The association wants to go on record as stating it definitely is not an east side organization but an organization acting in behalf of all Green Bay."...TIMING IS IMPORTANT: In asking the facts on the stadium location be examined logically, Atkinson expressed the opinion that time is of great importance. "The city's bond indebtedness is such that if we don't act on the Packer stadium now we don't get another chance until 1970," Atkinson said. He added that time is also important because the Packers should be expanding as Green Bay is expanding. "The Packers we should think of and their stadium should be those of the St. Lawrence Seaway era and not of the 1950's," Atkinson declared. Pointing to the average 1955 NFL attendance of 43,000, Atkinson said: "It's certainly safe to say that 32,000 seats in a new stadium is not a large estimate. We should be thinking in terms of 45,000 to be on a part with the rest of the league."...OUTLINES PROPOSAL: John Borgenson, Association of Commerce manager, outlined the four proposals which already have been submitted on stadium improvement or relocation. These include a final estimate of $780,000 not including improved lighting for rebuilding the present City Stadium with 20,000 permanent seats and movable bleachers with 11,982 seats. Also included is a minimum estimate of $1,172,000 for a new stadium at Military Avenue and Boland Road, with 26,450 permanent seats and 4,760 movable seats. This total includes a $75,000 estimate for lighting but does not include preparation of a 37-acre parking area in Perkins Park adjacent to the site and estimated at $136,000. The third and fourth proposals, involving remodeling of the present stadium, would include a plan to purchase movable seating through a ten-year lease purchase plan and a plan to install 32,000 permanent seats on the present site. The former plan would cost about $500,000 for seats only and the latter about $855,000, Borgenson said. Borgenson urged the civic leaders to make as clear-cut a decision as possible to present to the Council...CITES NEGATIVE VOTES: Based on political background, Borgenson said, about one-third of the Green Bay voters have voted no on bond issues in the past. Another one-third would vote against a bond issue when it actually came to a vote, he contended, "meaning that two-thirds conceivably could vote no on any stadium proposal." He urged all representative groups to unite in securing a clearly defined bond issue "which will stand a chance of meeting public approval."
SUIT AGAINST PACK IN DIFFERENT COURT
JAN 5 (Detroit) - The $25,000 breach of contract suit filed by Bob Mann against the Green Bay Packers was transferred to Federal District Court in Detroit Wednesday. The Packers, as an out-of-state corporation, requested the transfer from Wayne County Circuit Court. The Packers have 20 days to file an answer to Mann's suit. Mann, a former star end for the University of Michigan and the Detroit Lions, claimed in his suit filed November 23 that the Packer released him after he suffered a knee injury in an exhibition game, without giving him a written notice.
LIST TRIO IN LINE FOR U.W. STAFF
JAN 5 (Madison) - Head coach Milt Bruhn may select one of three men as assistant to round out his University of Wisconsin football coaching staff, a Madison editor said today. Henry J. McCormick, Wisconsin State Journal sports editor, said Bruhn was considering filling the vacancy, created by his promotion, with Don Kindt, Phil Bengtson or Thomas Hearden. He also said Bruhn would make LaVerne Van Dyke a full-time assistant. Van Dyke worked only part-time for Ivy Williamson, now athletic director. Kindt, who played halfback here from 1943-46, has finished nine years as a Chicago Bears player. Hearden is an assistant coach for the Green Bay Packers and formerly coached St. Norbert. He played at Notre Dame. Hearden began his football coaching career at St. Catherine's High School in Racine. After four years he transferred to Washington Park High, where he coached for two years before taking a job at Green Bay East High School. After serving as an assistant at Iowa Pre-Flight during a Navy career, Hearden took the St. Norbert post. Bengtson, whose alma mater is Minnesota, is an assistant for the San Francisco 49ers and has been mentioned as a possibility for the head job with that pro team. McCormick said an announcement by Bruhn would not be made until January 15. Bruhn will attend the meeting of the National College Football Coaches Association which starts on the West Coast Monday.
AC DECLINES MEMBERSHIP ON STADIUM GROUP
JAN 6 (Green Bay) - Because of its city-wide membership, the Association of Commerce will not participate as one of four groups on a 16-member citizen group, which will study four plans for proposed new Packer stadiums, W. Heraly McDonald, association president, said today. The four committee members who Mayor Otto Rachals originally asked to be furnished by the association will be selected from east side business or professional men. At the same time, it was announced that the association's sports committee would be host at an organizational dinner meeting for the committee Wednesday night at the Beaumont Hotel. Four members each for the committee also will come from membership of the Northside Businessmen's Assn., the South Side Civic Assn., and the West Side Merchants Assn., Rachals had announced previously that the four organizations, including the Association of Commerce, had agreed to furnish four men each for the study committee. The mayor's plan calls for the study group to analyze all facts of the various stadium proposals in an effort to raise the issue above any east side versus west side controversy. A recommendation will be made to the City Council's finance committee, which has the responsibility of bringing a plan to the Council. The plan chosen will eventually reach the voters in a bonding referendum. In letters to the Council in December, the three geographical business groups pointed out advantages for locating the stadium on their sides of the city.
PACK SEEKS 70-POINT STAR TO REPLACE CONE
JAN 6 (Green Bay) - The Packers were in the market today for an athlete who can score at least 70 points with his right or left toe. Said players would replace fullback Fred Cone, the Packers' veteran extra point and field goal kicker, who made his retirement plans stick. Cone talked of putting the moleskins away during his record '55 season, but it wasn't official until Thursday when the University Military School of Mobile, Ala., announced that Fred had signed as an assistant coach of the school football team under Erastus Hanks. Cone, 29, will succeed Bruce Filippini, who will become the school engineer when the
Cadets move into their new building early next fall. Fred, one-time boys' counselor at summer camps in his home state, hopes to make a career of coaching. Packer coach Liz Blackbourn has been aware of Cone's plans to retire, and undoubtedly will make an effort to get him back. Cone's decision will add emphasis to the search for a kicker via the draft, but the pickings are slim in that field, according to Scout Jack Vainisi, who presently is running through the names of every field goal and extra point kicker in the country in hopes of finding a possible successor. The Packers had two Cone-candidates in camp last fall - Jim Capuzzi, the all-around halfback who was placed on the inactive list during the league season, and Paul Held, the No. 2 quarterback. Capuzzi displayed considerable accuracy from 25 yards or less. Both are expected to return. Cone closed out his pro career with a total of 309 points - fourth highest in the all-time Packer scoring total. Above him is Clarke Hinkle, with 373, and below him is the general manager, Verne Lewellen, with 301. In his five-year Packer career, Cone scored 10 touchdowns, 141 extra points and 36 field goals. He played in 58 out of a possible 60 league games, missing the last two in '52 due to an injury in the Thanksgiving Day battle at Detroit. The Packers' third draft choice in '51, Cone counted 810 yards in 245 attempts for an average of 3.3 per trip and caught 59 passes for 604 stripes. Cone served as an understudy to Howie Ferguson in the fullbacking department in the last two years. Freddie injured his back in the Packers' opening exhibition game in Minneapolis in '54 and never regained the power he displayed in his first three campaigns. But the injury never bothered his kicking. He improved in the next two seasons, booting nine out of 16 field goal attempts in '54 and a league-leading 16 out of 24 in '55. He had a perfect extra point record last fall, making 30 out of 30, although he had to run the 30th point over against Los Angeles because of a bad pass from center. His 16 FGs last fall set a new Packer record and his 36 total tied the career total of Ted Fritsch. Fred finished up with 78 points - about the total the Packers hope to get out of his successor. Cone won numerous games with his field goal boots. His three-pointer nipped the old New York Yanks in the last 16 seconds in '51 and just last fall his field goal downed the Rams 30-28 in the last 24 seconds - among the more hair-raising. Cone is a rarity in that he never played high school football before entering service and then Clemson College, where he ranked as the school's all-time fullback. To make his kicking feats more unusual, Cone never kicked extra points or field goals at Clemson. Freddie always gave credit to Fritsch, the Packers' No. 2 all-time scorer, for "teaching me to kick." They were teammates for part of the '51 season, but Fritsch continued to work with him after leaving the squad.
ROGER ZATKOFF, BOBBY DILLON ON AP SQUAD
JAN 6 (Green Bay) - Roger Zatkoff and Bobby Dillon of the Packers were named to the defensive platoon of the Associated Press 1955 all-pro football team today. Dillon, selected earlier on the United Press squad, is a repeater on the AP team. Both defensive standouts were chosen to play in the Pro Bowl in Los Angeles Sunday, Jan. 15 - along with Packers' Howie Ferguson, Billy Howton and John Martinkovic. Otto Graham, who came out of retirement to lead the Cleveland Browns to the championship, was a shoo-in for quarterback but No. 2 in the voting was Green Bay's Tobin Rote. Rote, annually overlooked in the balloting, was Graham's only opposition, gathering eight votes to 28 for Graham, who was selected for the sixth time to the AP squad. Alan (The Horse) Ameche, bull-driving fullback of the Baltimore Colts, was the only rookie names to the team, which included three members each from the NFL champion Browns and Los Angeles, western division titleholders. Ameche, the league's ball carrying champion, received 26 of the 40 votes cast in the annual balloting by Associated Press member paper football writers and AP staff men. The former University of Wisconsin powerhouse earned the nomination by rolling up 961 yards in his first season...BEARS PLACE FOUR: Although they finished a half game behind the Rams for divisional honors, the Chicago Bears placed four players on the 22-man two platoon squad. They included end Harlon Hill, guard Stan Jones and tackle Bill Wightkin on the offensive eleven and middle guard Bill George on the defensive team. Pittsburgh was the only team not represented on either squad. Other Browns voted on the AP "dream team" were offensive tackles Lou Groza and Frank Gatski. Rams named were guards Duane Putman on the attacking unit, end Andy Robustelli and halfback Willard Sherman on the defensive group.
PACKERS SIGN JACK LOSCH, NO. 1 CHOICE IN DRAFT
JAN 7 (Green Bay) - Halfback Jack Losch of the University of Miami, the Packers' first choice in the recent preliminary draft, has signed a Packer contract for the 1956 season,. it was announced today by Coach Liz Blackbourn. Losch, the first player to officially register for next season,. represents the No. 1 need for '56. Blackbourn is counting on Losch to strengthen the club at left halfback - a position that was shared by veterans Breezy Reid and Joe Johnson in '55. The Florida star, who hails from Williamsport, Pa., possesses the three chief qualifications for a successful pro halfback - ruggedness, speed and ability to catch a pass. And he has a good size, standing 6-1 and packing 196 pounds. Losch has been highly recommended as a pro prospect. At least four other pro clubs, including the talent-stuffed Cleveland Browns and Los Angeles Rams, were interested in him. The new Packer drew raves in the recent North-South Shrine game, playing 60 minutes in the South's 20-6 victory. One of his pass catches set up a South touchdown and an interception stopped a North drive. In a pregame practice, South coach Rex Enright, a former Packer, commented that "he's big for a halfback; I can see why he was the first draft pick of Green Bay." John Sanders of the Los Angeles scouting staff said, "I wish we could have that boy; he looks like the best athlete on the field." Packer offensive backfield coach Ray McLean rarely gets excited about anything or anybody, but after the North-South game he was bubbling with Losch's performance...GOT A RACEHORSE: Perry Moss, a onetime Packer on the Miami coaching staff, has exceptional praise for Losch. "You got a racehorse who likes to mix it; he has all the drive to make the pros as a runner and is especially good at catching the ball and staying in stride." Losch had his best season at Miami in 1955. He scored five touchdowns and carried 47 times for 426 yards for a Miami-record average of 9.06. He caught seven passes for 206 yards - nearly 30 yards per, indicating that he knows what to do after catching the pigskin. He led the team in pass interceptions, four, and turned in his longest run in Miami history - 90 yards against Bucknell. Losch put aside a chance to play baseball and compete in track this spring to sign his Packer contract. He's a dashman in track, going to the 100 in 10 flat, and an outfielder in baseball. The newcomer will come up to Green Bay at the close of the semester early in February. He was invited up shortly after the early draft but decided not to break into his studies. He's in the school of business administration. The Packers' second choice, tackle Forrest Gregg of SMU, may not sign until after the track season - to carry out terms of his scholarship. He's playing in the Hula Bowl in Honolulu today...The Packers will have eight representatives at the league's annual draft and convention in Los Angeles starting Jan. 16. Leaving Sunday to join Blackbourn, who is there now, and McLean, who will fly in from the Senior Bowl game in Mobile, Ala., will be coaches Tom Hearden and Lou Rymkus and Scout Jack Vainisi. They will talk over with college coaches attending the collegiate convention next week. Later next week Packer President Russ Bogda, General Manager Verne Lewellen and Packer attorney Fred N. Trowbridge will leave for the meet. Going with the coaches will be trainer Bud Jorgenson, who has been selected as trainer of the Western Division team in the Pro Bowl battle Sunday, Jan. 15. The Packers will have five players in the game - Howie Ferguson, Billy Howton, Bobby Dillon, Roger Zatkoff and John Martinkovic.
BELL AGAINST MOVE TO ADD TO TWO CLUBS TO NFL
JAN 10 (Chicago) - A proposal to increase the NFL from 12 to 14 clubs will not get support from Commissioner Bert Bell. Bell passed through Chicago Monday en route to Los Angeles and the league's annual meeting opening next Monday. He said in an interview that a proposal had been filed with him to enlarge the circuit. He declined to say who made the proposal. "In my opinion, however, the league should never be increased until the two lower clubs can win at least four games," he said. "It would take three or four years for a new club to get strong enough to win that many." According to him, any new members would weaken this balance until they would get strong enough to win three or four games. In the meantime, they would have to prepare to operate at a loss as the league's doormats. Bell indicated that when the time comes for expansion - and he concedes this possibility - four new clubs instead of two would be preferable. Drawing up a schedule of seven clubs in each of the two divisions would be a headache, he said. The proposal for expansion also would boost the cost of a new franchise to $200,000, specifying that it could not be issued to cities with major league baseball. If agreement to expand is reached at the league's meeting, Dallas and Buffalo reportedly have the inside track. Dallas folded when it entered the league as the Texans in 1952. Buffalo was a charter member of the old defunct All-America conference. Among 17 proposed changes in the rules to be considered at the meeting next week are there: 1. Kickoff from the 30-yard line instead of the 40. If the kickoff goes out of bounds, the receiving team has the option of taking over the ball at the spot or demanding another kickoff after a five-yard penalty is assessed. 2. Raise the player limit from 33 to 35. Clubs now can carry 35 for the first two weeks of the season before trimming. 3. A punter cannot be more than 10 yards behind the line of scrimmage. This would minimize the number of fair catches, for the linemen who usually break down the field to tackle the receiver would have to pay more attention to defending the punter. If a punter drops 15 or more yards back, he usually has time to get off the kick, giving the linemen a chance to stampeded to the receiver. 4. Rule that a ball carrier is down when he is on the ground and within the grasp of a tackler. Many times, ball carriers will try to wiggle for extra yardage and immediately be piled upon. The new proposal is designed to reduce injuries.
COMMITTEE FOR STADIUM STUDY NAMED
JAN 10 (Green Bay) - Names of the men who will serve on Mayor Otto Rachals' advisory committee on the new stadium were announced today by John A. Borgenson, general manager of the Green Bay Association of Commerce. The committee's first meeting will be held at 7:30 Wednesday evening at the Beaumont Hotel. After a review of the various plans proposed for the stadium, the committee will elect a chairman and secretary, Borgenson said. W.H. McDonald, president of the Association of Commerce, will serve as host of the committee. Representatives of the Central West Side will be J.C. McGinnis, Peter M. Platten, Don Engebos, Frank Walker and L.L. Mohlke. The South Side will be represented by Carl Zoll, Howard Bindauer and John Scannell. From the North Side will be Chester Racine, Wally Counard, Ed Wolf and Norbert Jacobs. Downtown Green Bay will be represented by Al Swanstrom, John Rose, Jr., Cletus Chadek and Ben J. Rosenberg. In addition to these committee members, the first meeting Wednesday will be attended by representatives of the architects, city officials and the Packer Corp.
PROS 'PROTECT' STARS IN BOWL!
JAN 11 (Green Bay) - One of the reasons for holding the 1956 NFL convention in conjunction with the Pro Bowl game in Los Angeles Sunday is to give member clubs an opportunity to "protect" some of their brightest stars from signing Canadian contracts. Since '51, when the first Pro Bowl was played, Canadian team scouts and coaches camped in LA and passed contracts under the noses of the 70-odd greats making up the Eastern and Western teams. This year, the coaching staffs of the 12 teams in the National league are also on the premises and most of them went out early to keep in touch with their valuable property. The two squad assembled last Sunday and will train all this week. Coach Liz Blackbourn has five stars in the Western lineup - the largest delegation ever to represent the Packers in the game. They are fullback Howie Ferguson, end Billy Howton, linebacker Roger Zatkoff and John Martinkovic, and halfback Bobby Dillon. The Canadians could use all five of them, banish the thought, but the No. 1 object is Howton, the Packers' ace pass catcher for four years. It was just a year ago this time that the Canadians dangled a fat chunk of dough in front of Packer quarterback Tobin Rote. Tobin gave it considerable thought and then signed a two-year Green Bay contract, which means that he's set for '56. At the same time, the Canadians sought Howton but Billy told 'em that '55 would be the final year of a two-year contract. Which means that the Canadians probably will be back on Howton's doorstep - now that the pact is run out! This week in LA will give Packer coaches an opportunity to talk over next season with the five stars and, incidentally, mention contract...Also keeping Packer coaches Blackbourn, Tom Hearden, Lou Rymkus, Ray McLean and scout Jack Vainisi busy is the national collegiate conference and, of course, the forthcoming draft. The college affair gives the coaches an opportunity to get information first-hand on prospects from their mentors. Some 300 universities and colleges have their coaches at the big parley. The draft will start at noon Monday, Green Bay time, and each team will select 27 players. The first three players were picked at a preliminary draft in Philadelphia last November. Purpose of the early draft was to give NFL coaches a jump on the Canadians in signing their prospects. And on that subject again, Blackbourn reported that Canadian coaches were at the East-West Shrine game practice camps in San Francisco two weeks ago. Several Canadian clubs were interested in the Packers' No. 2 choice in the earlier draft, tackle Forrest Gregg of SMU, but Gregg decided to put off signing any contract until after competing in spring sports. The Canadians were also interested in the Packers' No. 1 pick, halfback Jack Losch of the University of Miami, but Jack decided to stay in the United States, signing last Saturday.
BOND POTENTIAL OF CITY OVER 19 MILLION
JAN 11 (Green Bay) - A new Packer stadium, a new city hall, another $850,000 storm sewer bond issue, a future $2,500,000 west side junior high school, nearly $8,000,000 suggested for improving traffic. These and other future Green Bay needs have prompted the question of just how far the city could and should go into debt by issuing bonds for these projects. Answers to how far the city should go into debt might be varied based on economic theories. But the answer to Green Bay's debt limit is established by state statute: eight percent of the city's state equalized valuation or presently $19,960,108. Wisconsin voters last year by referendum substituted state equalized value for local assessment totals as the basis for determining municipal and school district debt levels. Green Bay assessments are about 55 percent of state equalized values. Statute allows the city to bond up to five percent of equalized valuation for municipal and school purposes and an additional three percent, if need be, for school purposes only...DEBT LIMITS CITED: On the basis of the 1955 state valuation for Green Bay of $249,501,350, the city could reach a debt limit of $12.475,067.50 for both public works and schools and an additional $7,495,040.50 could be issued in school bonds only. The debt limit of $19,960,108 compares with the city's present municipal and school debt of $3,795,000. In addition, the city has $5,498.21 in outstanding annexation obligations, and former Sewer Districts 1 and 18 owe a total of $10,200 in bonds the last of which will be paid off in 1960. The old sewer district debts are being paid by annual district assessments in the areas of the former districts. Of the present debt total, $2,138,000 is in municipal bonds and $1,657,000 in bonds for school purposes. Green Bay, in 1956, will pay $412,658.24 toward bond issue interest and maturing bonds. The $5,790,000 Lake Michigan water supply bond issue and the $350,000 Parking Utility issue will be paid off from revenues and are not part of the legal debt limit...HOW ABOUT FUTURE?: What of financing for future projects? Three bond issues are considered in the definite class. These are: $1,750,000 for the new city hall, approved in a referendum last April; $850,000 for 1956 storm sewer work, the second phase of a stepped-up program started last year which has gained initial Council approval, and an estimated $2,500,000 for a west side junior high school. These issues will raise Green Bay's debt to $8,895,000, $4,738,000 for municipal purposes and $4,157,000 for school purposes. It is also probable that a $70,000 difference between the 1955 Elmore School addition bond issue and construction contracts also will be tagged to a future issue to make the total debt $8,965,000. Then, of course, there is the proposed
stadium. The choices appear to be $780,000 for new seats and added facilities at City Stadium or $1,172,000 for a new stadium at Military Ave. and Bond St. The total for the new stadium on the west side does not include preparing a parking lot on a proposed addition to the stadium site, estimated at $136,000...WOULD INCREASE DEBT: The new Packer stadium would increase the debt to either $9,745,000 or $10,273,000, including the parking total for the Military Ave. proposal. The plan which gains City Council approval will have to be endorsed by the voters in a mandatory referendum. With this "immediate future" debt of about $9,000,000 under the present legal limit, what other longer view projects must be considered? For one thing, a new southwest side elementary school in about five years is viewed as definite by the Board of Education. A Biemeret St. tract for the school was purchased this month. In a December report to the Council, the city engineer estimated that $250,000 a year or a total of $4,500,000, based on present costs, would have to be spent in the next 20 to 25 years to complete Green Bay's storm sewer and sewer separation work. The Williams Traffic Survey estimated the city would have to spend $7,825,000 on west side street improvements to correct traffic problems, an estimate viewed as conservative by most authorities. This work, of course, would not be tackled as one project and would depend on railroads making changes estimated to cost $7,250,000, considered remote at present...OTHER BUILDINGS EYED: In addition to future schools, other buildings in the conversation stage include another west side fire station, a west side library, and improvements to the Kellogg Library and Neville Museum. Annual budget appropriations raised a $100,000 sinking fund for the fire station, but the council is November decided the purchase of new fire equipment from the fund had greater priority. Appropriations of $20,000 each were made the past two years for a sinking fund for a west side library. The proposed $1,125,000 Veterans Memorial Arena, it it becomes a reality, would be financed by a county bond issue. All discussion of the debt limit and future bond issues must take into account that present issues are being paid off and that the limit will increase with annual boost in the city's valuation by the state. Since the end of World War II, the annual increase has been between $8,000,00 and $28,000,000. Present bond issues will mature between 1957 and 1970.
LARGER STADIUM IS A MUST, GROUP TOLD
JAN 12 (Green Bay) - "There is no use kidding ourselves. We are doing more than deciding on a stadium. We are deciding whether we want to keep the Packers in Green Bay." With this blunt explanation of its task from Fred Leicht, Packer Corp. grounds committee chairman, a 16-member citizens committee Wednesday night began its assignment of working toward a recommendation on what type of stadium plan should go to the City Council and voters in a bonding referendum. Cletus Chadek was named committee chairman, Frank Walker was named vice-chairman, and L.L. Mohlke was elected secretary. The group will meet again at 7:30 p.m., Jan. 17 in Chadek's office. Aside from Leicht's prediction that failure to provide more seating capacity would spell the end of the Packers, the meeting added two developments in the stadium effort. These were the pledge of Mayor Otto Rachals to accept whatever recommendation the committee agreed upon and the emerging of a lease-purchase plan for 32,000 bleacher seats for the present stadium as a serious rival to plans for a $780,000 remodeling of City Stadium and a $1,136,709 new stadium at Military Avenue and Bond Street...WILL SUPPORT DECISION: "I want to assure you that as mayor of Green Bay I will abide by the decision of this group," Rachals said. In his presentation, Leicht said the Packers were "depending entirely on the road schedule to stay in the black" and that opposing teams were pressing to have their games with the Packers played in Milwaukee because of greater seating potential. Compared to the league average 1955 gate of 35,000 paying $103.000, Leicht said the Packers averaged 24,600 persons paying $81,000 in Green Bay and Milwaukee games. City Stadium gates averaged 22,000 persons and $74,000, he said. Illustrating the Packers' problem, Leicht said the team received about $261,000 as its share of 1955 gates on the road, while teams meeting the Packers in Green Bay and Milwaukee received a total of about $161,000 as their share. With 32,000 seats, he predicted that the Packers would get gates of from $105,000 to $110,000, slightly above the 1955 league average...MUST SELL SEATS: Packer problems would not end when a new stadium is built since the added seating would have to be sold, he said. Leicht predicted more season tickets could be sold if there were 20,000 sideline seats. About 10,000 of the present 13,000 sideline seats are now season tickets and many of the remaining seats are difficult to sell because of their locations, he said. "But if the Braves can average 35,000 for 75 home games, I feel certain we can fill that new stadium three times a year," Leicht said. The city could expect the Packers to pay 10 percent of their Green Bay games, Leicht said. A $20,861 payment was made by the Packers Dec. 30. In addition to previously outlined plans for improving City Stadium by architect Ed Berners and the proposal for a new stadium by architect John Somerville, the meeting heard the plan for 32,000 bleacher type seats for James Jay, vice-president of Safway Products, Inc., Milwaukee, and an explanation of concrete structures from W. John Hufschmidt, president of Steel-Crete Construction, Milwaukee, which built the Brown County fairgrounds grandstand...GIVES READINESS DATE: Jay said 32,000 seats could be in place by Sept. 1 if ground was cleared by Aug. 1. The city could buy the seating for $400,000 or sign a 10-year lease-purchase agreement in which case about $500,000 would be spent. The total do not include facilities under the stands, lighting improvements, press box, or tearing down the present seats. Jay said up to 50,000 Safway seats could be installed at City Stadium. The bottom 10 rows would be placed on the track but could be removed during the non-football season, he said. His plan had the advantages of speed of construction and the avoiding of a bond issue, at least a sizable one, Jay said. Both Berners and Somerville said their plans left room for further expansion, a requirement Leicht said was necessary. City Stadium could be expanded to an eventual 40,000 to 45,000 seats, Berners said, and Somerville said his plan had space for expansion to from 47,000 to 60,000 seats. Committee members indicated that parking would be one of the factors in their decision. Somerville explained parking lot possibilities near the Perkins Park site, including the Detry property under option to the Park Board until Feb. 1...COULD BUILD BRIDGE: Rachals said a footbridge might be built over the East River to parking east of City Stadium at a cost of from $10,000 to $12.000. Other parking could be provided east of East High School, he said. Ben J. Rosenberg questioned whether parking area couldn't be purchased along the south bank of the East River west of Baird Street. Answering a question about the off-street parking ordinance which requires one parking space for every five seats in new stadium, Rachals said the ordinance could be amended by council action if it was impossible to provide the parking. Sgt. Ray Sloan, one of four officials asked to the meeting to supply information, reported that an estimated 5,000 cars are now able to park within four blocks of City Stadium. The stadium area is cleared of traffic within 30 minutes, but the real problem is later traffic jams downtown because of bridge crossings, he said. About 2,000 more cars would be added by increasing the seating to 32,000, he said. Other background for the stadium study was supplied by Fred Wandrey, superintendent of schools, Al Manders, inspection superintendent, and John Tease, comptroller...CONCERNED ABOUT TRACK: Wandrey said the Board of Education's only concern was that a track was left if City Stadium was improved. West High School might use a new Packer stadium at the suggested west side site, he said in answering a question. Tease explained that bond issues of $2,500,000 for a west side junior high school, $1,750,000 for a new city hall, and the 1956 issue of $850,000 storm sewer bond issue would more than double the city's debt this year. Rachals, summing up later, asked the committee to remember these bond issues and future city, school and storm sewer needs when reaching a decision on the stadium expansion. Manders reported maintenance costs for City Stadium, $10,000 this year, would continue to climb. He said it should be made clear that the stadium is not condemned but that extensive rebuilding would be required in the future. "I hope you come to a unanimous conclusion, a recommendation best for the city of Green Bay, and that this can be carried through to keep the Packer team here," Rachals told the committee.
PACKERS SELECT 7TH IN DRAFT
JAN 12 (Green Bay) - The Packers will draw in the seventh position in the college player draft in Los Angeles next Monday. It's the lowest spot the Packers have "enjoyed" in nearly 10 years - in the mid-1940s when the Bays reached as low as sixth in a 10-team league. Drawing seventh indicates a good season, which the Packers had (6-6) in 1955, but for the draft it means that six other clubs will pull names ahead of Green Bay. The Packers also had a 6-6 season in '52, but the Bays drew sixth in the following draft in January of '53. From '49 through the '52 draft, the Packers had the "privilege" of selecting among the first three. Packer Coach Liz Blackbourn isn't complaining about the position in the draft. "It shows that there has been some success in the previous season and we expect some of that success to carry over to the following season - with some luck in the draft," Liz pointed out. The west coast draft will not be a complete draft since each team already made three selections in a preliminary to the '56 pickings at a special draft in Philadelphia last Nov. 28. Oddly enough, the Packers also picked in the seventh spot in that draft despite the fact that the Packers split their final two games, which followed the draft, beating San Francisco but losing to Los Angeles. In that draft, the Baltimore Colts drew eighth but they will select fifth in front of the Packers since they lost their last games. In cases of ties, the knotted team will flip coins for the right to draw first in the opening round. They will alternate in the remainder of the draft. The top oddity of the draft is that Detroit, defending Western division champion, will make the first selection. They selected in the No. 11 position a year ago, finishing with a 9-2-1 record in '54 compared to 3-9 last fall. Most of the players selected Monday likely will be unknowns since most of the name stars, what few there were, were chosen last November. The teams are also expected to select a number of eligible juniors.
CHANGE DAY OF PRO GRID DRAFT
JAN 13 (Green Bay) - The NFL college player draft will be held Tuesday night or possibly Wednesday morning instead of Monday as originally scheduled, the Associated Press reported today from Los Angeles. The draft will be held in the Ambassador Hotel in Los Angeles. The business meeting will start Monday morning. Normally, the player picking opens the pro football convention and business sessions follow. No reason was given for the switch in procedure but observers felt that the change was made to give two new coaches an opportunity and more time to organize their teams' drafts. Selected only yesterday as head coach of the San Francisco Forty Niners was Frankie Albert. The Philadelphia Eagles picked Hugh Devore as their head coach earlier this week. It's also possible league representatives may have legislation in mind affecting the draft, although the '56 draft is something of a "shortie" in that the first three choices were made last November. Each team will select 27 players in LA. The Packers will draw seventh in the draft on the basis of their 6-6 finish in the '55 season. Participating in business sessions for Green Bay will be Russ Bogda, president; Verne Lewellen, general manager, and Fred N. Trowbridge, attorney. Handling the Packer draft will be Coach Liz Blackbourn and aides Tom Hearden, Ray McLean, Lou Rymkus and Jack Vainisi. Pro football people started taking over LA as early as Wednesday when Commissioner Bert Bell arrived. Most of the coaches are also taking in the national collegiate convention. Several pro meetings will be held over the weekend. As a highlight, most of the club representatives will be viewing their first pro bowl game, scheduled in the Coliseum Sunday. The Packers will have five players in action - Bobby Dillon, Billy Howton, Howie Ferguson, Roger Zatkoff and John Martinkovic.
Unless last minute arrangements are made, the game will not be televised. The Western division team holds a 3-2 edge in the bowl series and will be favored Sunday. In '55, West came from behind, 19-3 at one point, and won out in the last quarter 26-10. At San Francisco, Albert, who succeeds Red Strader, told a news conference he would field a "colorful, representative team." But, running the team - at least on the field - will be nothing new for Frankie. It was well known that Buck Shaw, the 49ers head coach until last year, gave his star T-formation quarter a free rein at handling the offensive strategy. After the announcement, Shaw said in Los Angeles: "Albert has lots of potential as a coach. I sincerely wish him much success." Albert will inherit three assistants in Phil Bengtson, Howard (Red) Hickey and Mark C. Duncan.
TOM HEARDEN JOINS UW FOOTBALL STAFF
JAN 14 (Green Bay) - The Packers lost Tom Hearden today to the University of Wisconsin. The one-time East High athletes and East football coach has been appointed to Coach Milt Bruhn's Wisconsin football staff, it was announced in Madison today by Ivy Williamson, Badger athletic director. The resignation of Hearden as defensive backfield coach of the Packers was confirmed by Packer head coach Liz Blackbourn in Los Angeles where he is preparing for the NFL's college player draft. Blackbourn pointed out: "I'm very sorry we couldn't keep him and I'm still surprised. Tom has done a good job handling that defense and I had hoped he would remain but he wanted to go. Tom's future security was the deciding factor in his decision. He stands to gain eventual pension benefits by returning to the public school system. Tom's current salary was not a factor in his decision." Hearden, who will leave Los Angeles today to return home and begin his new duties, was the first assistant hired by Blackbourn when Liz was named Packer head coach in January of '54. Hearden organized the Packer defense to a point where it ranked fifth in the league in '54 and seventh in '55 - a far cry from previous years. Only twice in 24 league games were Packer foes able to exceed 40 points on the Bays. Blackbourn said he has "no plans yet on a successor to Tom." Loss of Hearden reduces the Packer coaching staff to three - Blackbourn, offensive backfield coach Ray McLean and line coach Lou Rymkus. They, plus scout Jack Vainisi, are in Los Angeles working on draft strategy...COMPLETES BADGER STAFF: Signing of Hearden, a 1927 graduate of Notre Dame, completes the staff that will work under Milt Bruhn, new head coach will took over when Williamson became athletic director. Hearden was born in Appleton, Sept. 8, 1904, and was graduated from Green Bay East High School in 1923, then enrolled at Notre Dame. He coached at St. Catherine's High School of Racine from 1930 to 1934, then spent a year at Racine Washington Park High School. He was at Green Bay East until 1943, when he was called into naval service. Upon release from the Navy in 1946, he became head football coach and director of athletics and physical education at St. Norbert College. He resigned from the St. Norbert post in 1953 and for the past two seasons served as an assistant coach with the Packers...Blackbourn said that "we'll finish our work on the draft today or Sunday. This means classifying all of the boys in the order we hope to get them." The draft will be held Tuesday night or Wednesday. The Packer coaches will take in the Pro Bowl game Sunday, and, Liz added, "we'll work Sunday night." Blackbourn said he watched the five Packers on the West squad (Billy Howton, Roger Zatkoff, Howie Ferguson, John Martinkovic and Bobby Dillon) in practice and "they all look good." He said Ferguson is working at left half for different series of plays and Howton is at right half - as a flanker. He marveled at the size of "that team, Zatkoff is the lightest up front but he'll give a good account of himself." The National League convention will open Monday morning and the draft will follow "as soon as all other business is finished," Blackbourn said.
ARGUMENTS RAGE AFTER EAST'S 31-30 WIN
JAN 16 (Los Angeles) - The sixth annual Pro Bowl football game goes into the books as a thrilling 31-30 victory for the East. But arguments continued to rage today in the wake of an official's decision which may have cost the West two winning points. The dispute centered on field judge Joe Gonzales and the call he made in the final seconds of this sixth annual postseason All-star duel between top talent of the NFL. The situation: The West, trailing 31-30, tried a 50-yard field goal by Bert Rechichar of the Baltimore Colts. It was obviously short of its goal and Joe (Scooter) Scudero of the Washington Redskins took the catch. Enter the controversy. Did Scudero catch
the ball on the two-yard mark, as most observers believe, and then almost casually take a step or two back and ground the ball in the end zone? Or did he catch it on the goal line, or perhaps be forced back into the end zone by the momentum of the ball? Whatever the case, the field judge ruled it an automatic touchback and the ball was placed on the East 20 a moment before the game ended. So the score stands, and Ollie Matson, the fantastic ball carrier of the East, was the outstanding player of the game. The 210-pound powerhouse of the Chicago Cardinals returned the second half kickoff 91 yards for a touchdown, he ran 15 yards over most of the West team, and his 50-yard gallop on a punt return set the stage for a third touchdown. Other highlights of a rousing affair were: A 103-yard touchdown run on the opening kickof by Jack Christiansen of the Detroit Lions. A 73-yard touchdown pass from Ed Brown of the Chicago Bears to Billy Howton of the Green Bay Packers for the West. Ram rookie Ron Waller, with one touchdown and 90 yards rushing, was the leading runner for the West. The kicking specialists also starred. Cleveland's Lou Groza booted one from 50 yards and Baltimore's Rechichar kicked one 46 yards.
NFL MEET OPENS
JAN 16 (Los Angeles) - The NFL opened its annual sessions here today, taking under consideration 35 proposed rules changes. But when the smoke clears away, there won't be enough difference between the present rules and the new ones to be noticeable. "We have about 35 suggestions for rules changes, but we won't make any changes of major importance," says Commissioner Bert Bell. Among the rules that may be approved are ones to make it mandatory to mark the one-yard stripes the full length of the field; having linemen unable to shift after coming to a three-point stance to eliminate the "sucker shift"; and when the ball goes out of bounds on a kickoff, giving the receiving team the choice of taking the ball where it went out of bounds, or the five-yard penalty. Most of the interest in the lobbies of the Ambassador Hotel, where the owners and coaches are meeting, centers around the draft that is expected to get underway Tuesday night. In the spotlight on the draft is Garet Garry Reichow, the University of Iowa's brilliant quarterback who looked like a second Otto Graham while piloting the East to victory over the West in the annual Shrine all-star classic on Dec. 31. "If we finish all our other business, we will start the draft meeting Tuesday night and hope to get through about 15 rounds before ending work for the evening. Then we would finish off on Wednesday," Bell said. The clubs made their first three choices a month ago, but they still have 27 selections to make.
RESIGNING FROM PACKER STAFF NO EASY TAKE FOR HEARDEN
JAN 16 (Green Bay) - It was no easy task for Tom Hearden to resign from the Packer staff. "I paced the floors for two nights straight in Los Angeles last week before making up my mind," Tom said here Sunday after returning from LA where the Packer mentors are preparing for the draft. The onetime East High athlete had this to say: "My decision to leave the Packers and Green Bay was not arrived at early. I've always been proud to call Green Bay my hometown. I'm happy I'm not going very far away. I feel that the Packer organization, the board of directors, the executive committee, the management and coaching is in good hands. My association with Liz Blackbourn, Ray McLean, Lou Rymkus, Verne Lewellen and Jack Vanisi have been most congenial. I don't think you could find more loyal and enthusiastic fans anywhere than in Green Bay. They are responsible for the Packers being able to compete with the big cities. I hope Liz and the Packer organization have continued success. I want to thank the Press-Gazette, especially the sport department, for treating me so kindly during my coaching days in Green Bay." We'll all miss Tom around Green Bay - not only for the wonderful guy he is but for the outstanding work he did as defensive backfield coach of the Packers. The University of Wisconsin and Madison will benefit aplenty! Finding a successor has added to Blackbourn's problems in Los Angeles. He is expected to make an announcement shortly since Liz undoubtedly would like to have the new aide in Green Bay to start the gigantic task of rating the '55 Packers and drawing up picture-scout reports on all opponents. Blackbourn will probably attempt to find an assistant schooled in defense - the category handled by Hearden. Liz, himself, is an expert in defense, although he had placed his own personal emphasis on offense in the last two years. At the moment, Green Bay and Philadelphia are the only teams in the market for assistants. The new Eagle coach, Hugh Devore, signed his first aide over the weekend - Stout Steve Owen, a defensive specialist who formerly head coached the New York Giants. Owen's going with the Eagles likely will mean that he'll be unable to assist Curly Lambeau in coaching the College All-Stars. Frankie Albert, the new San Francisco Forty Niners coach, is expected to keep the three holdover aides.
PACKERS EYE TACKLE, BIG BACK IN DRAFT
JAN 17 (Los Angeles-Green Bay Press-Gazette) - "If possible, we'll take a tackle and a good sized back in the first two rounds." That's how Packer Coach Liz Blackbourn explained the Packers' strategy for the early part of tonight's college player draft at the NFL convention at the Ambassador Hotel here. "If we are able to obtain a good tackle and a good sized back in those first two rounds, we'll then go for the best players available - regardless of position," Blackbourn said, adding: "Our plans, at least for the first two rounds, could be changed if other clubs select the tackles and big backs we are interested in." Thus, Liz indicated that the Packers need help at the tackles - not to mention an assistant to fullback Howie Ferguson. In the preliminary draft last November, Blackbourn grabbed a big back, 195-pound Jack Losch, who is already signed, and tackle Forrest Gregg. Blackbourn said that "this is the poorest draft I've been in. There are very few prospects and the drafting probably will be slow as the different clubs take more time to study their lists." Blackbourn presently is in his third draft since signing as Packer head coach early in January of 1954 - shortly before the selections that year. Liz indicated that the Packers would start drafting eligible juniors "later on, but some of the other clubs will be taking them earlier."...PASS DEAD BALL RULE: The draft will start shortly after dinner tonight - about 10 o'clock Green Bay time. About 15 rounds will be completed and the reminder will be finished Wednesday. Blackbourn and his aides, Ray McLean, Lou Rymkus and Jack Vanisi, worked 15 hours putting final touches on Packer draft plans yesterday, starting at 8 a.m. While this was going on, Blackbourn scored something of a victory at the business meetings attended by Russ Bogda, club president, Verne Lewellen, general manager, and Fred N. Trowbridge, Packer attorney. That would be passage of a dead ball rule designed to eliminate piling on the ball carrier. Blackbourn and Packer officials had been harping on the rule for three years and each year it came closer to approval. Henceforth, when a ball carrier in the open or running through the line is contacted by a defensive player and any part of his body except his hands or feet touches the ground, the play will be whistled dead at that point. Under the old pro rule, a ball carrier was considered fair game for tacklers until, in the judgment of officials, he no longer could advance the ball...CAN AVOID PILEUPS: Commissioner Bert Bell termed the new statute "a great rule." "The rule won't stop a man from getting up and running after he's fallen or slipped of his own accord," said the commissioner, "but it does protect him from the danger of being piled on after he's been knocked off his feet by an opponent. In the past, when a man went down from a tackle, the defense wasn't sure whether he'd get up and run again, and probably the runner himself wouldn't know what to do. So this brought on piling on, and a lot of injuries and a lot of hard feelings," Bell explained. The dead ball rule was the most important of several measures adopted...AIM AT SUCKER SHIFT: Another new rule adopted was aimed at the so-called "sucker shift". It prohibits an interior lineman (tackle to tackle) who has taken a three-point stance from moving before the ball is snapped, and calls for a 5-yard penalty. This will eliminate the little jig step used by the Packers. Until now, an interior lineman could take a three-point stance and then shift, just so long as he didn't draw an opponent offside...OUTLAW WHITE BALL: The white football commonly used for night games was outlawed. Henceforth, a brown ball with two white stripes will be used in night games and a plain brown ball in day games. Extended goal posts, a gimmick suggested by Ram Coach Sid Gillman to reduce the human error in judging field goals, will be given a trial during next season's exhibition games - at the option of the home team. The Rams undoubtedly will test the idea in the Coliseum. The owners voted to have all league fields marked from goal to goal with 1 yard hash marks that were popularized last season by Green Bay and Detroit...THREE PROPOSALS VETOED: Among proposals vetoed were: 1 - That the punter must stand not more than 10 yards behind the center. 2 - That the scoreboard clock be designated as the official timepiece (the umpire is the official timer). 3 - Kickoff off from the 30 instead of the 40 yard line. The 12 owners started this annual meeting by voting Bell a $10,000 bonus and then swung into discussion of the rules. Bell's bonus was voted after the commissioner announced that league attendance for 1955 was up 15.1 percent over 1954. Bell holds a 10-year contract calling for $40,000 a year. All clubs except Pittsburgh and New York showed increases in home attendance for the year. The clubs also remembered two other league veteran officials. Dennis J. Shea, 79, treasurer of the league since 1940, was retired and voted a pension of $5,000 per annum. Hugh L. (Shorty) Ray, former rules technical adviser, was presented with a check for $1,000 and a plaque for meritorious services rendered over the years.
PACKERS GRAB MORRIS, SKORONSKI, BURRIS IN DRAFT
JAN 18 (Los Angeles) - The Green Bay Packers moved to strengthen their line, assist their defensive secondary, beef up the offensive backfield and replace kicking specialist Fred Cone in the first 17 rounds of the NFL's annual college player draft here Tuesday night. The last 10 rounds of the shortened draft (three rounds were completed last November) started in the Ambassador Hotel at noon today, Green Bay time. In the first two selections last night, the Packers selected linemen, opening with Cecil Morris of Oklahoma - a 230-pound guard who will be converted into tackle, and then taking 235-pound tackle Bob Skoronski of Indiana on the fifth round (or second pick). Green Bay grabbed another Oklahoma ace next - Bob Burris, the Sooners' all-Big Seven halfback who packs 190 pounds. Burris is a brother of Buddy, the one-time Oklahoma All-American guard who played with the Packers in the late 1940s. Another brother, Kurt, a linebacker, was drafted first by Cleveland a year ago but played in Canada. Packer Coach Liz Blackbourn has said earlier that Burris had agreed to play in Green Bay if drafted by the Packers. End Henry Gremminger of Baylor, a 192-pound end, was the next choice and Blackbourn announced that he'll be a defensive halfback candidate with the Packers. The next player picked - end Russ Dennis of Maryland - will try out for offensive end with the Packers. Dennis carries 215 pounds. The Packers picked two fullbacks on the next two rounds - 200-pound Gordon Duvall of Southern California and 210-pound Bob Laughery of Maryland. Laughery would replace Cone if the veteran placekicker makes his retirement stick. Fred recently signed to serve as an assistant football coach at a prep school in Alabama. Laughery has handled Maryland's extra point and field goal booting in the last two years. The Packers picked three eligible juniors in the last 10 rounds last night - Mike Hudock, 220-pound Miami center on the 11th round; Ken Vakey, 200-pound end of Texas Tech on the 19th, and Clyde Ledbetter, 225-pound guard of Baylor on the 20th. After Hudock, the Packers picked off the highly-touted Max Burnett of Arizona. Burnett will use his 192 pounds as a defensive halfback. Then came Jim Mense, a 220-pound Notre Dame center, and Charlie Thomas, the 217-pound Wisconsin fullback who worked in Alan Ameche's spot last fall. Other choices: 15th - Buddy Vaughn, 210-pound guard from Mississippi; 16th - Curtis Lynch, 230-pound end and tackle from Alabama; 17th - quarterback Bryan Bartlett of Alabama; and 18th - Stan Intihar, 220-pound end from Cornell. Bartlett will join the fight to become top assistant to Tobin Rote. He's rated a good passer and has good speed. Blackbourn said he thought "we were fortunate in the draft in being able to select, for the most part, men we wanted for the different positions. We're well split up and all positions could possibly be strengthened if the selections make the grade."
STADIUM GROUP IS SEEKING TO CLARIFY PLANS
JAN 18 (Green Bay) - The 16-man Packer Stadium Advisory Committee, meeting Tuesday night in the offices of Cletus Chadek, chairman of the group, voted to arrange a joint session next week with Mayor Otto Rachals, the City Council's Finance Committee, and the Packer Corporation's Executive Committee. Committee members said they were of the opinion that the recommended joint meeting would "clarify" detailed studies of four stadium proposals outlined at the committee's organizational session a week ago. Before recommending the joint session, the group heard a suggestion by Chadek that the stadium proposals might be put in a form of a referendum at the April election which would give voters the choice of voting for a new west side stadium or remodeling of the second structure. Chadek said this type of referendum could possibly "go a long way toward clarifying the stadium possibilities."...SESSION OPEN TO PRESS: Committee members at Tuesday night's meeting took a vote as to whether the session should be open or closed. A Press-Gazette reporter was instructed to wait in the outer lobby while the vote was taken. Then the committee voted unanimously to open the meeting to the press. The stadium proposal discussed in the most detail Tuesday night was the plan of the Safway Steel Products, Inc., Milwaukee, which would provide 32,000 new bleacher seats at City Stadium for $491,000 under a 10-year lease-purchase plan. James C. Jay, vice president of the Safway firm, appeared before the committee to outline his company's plan. Jay said 32,000 bleacher seats under the plan would cost $491,000 to install and that the price under the 10-year plan would be $553,000 with interest included. In addition, Jay informed the group that his engineers have estimated the plan would cost $659,000 with improvement of existing press facilities, showers and locker rooms. Jay said his plan would result in boosting seating capacity in each of the north and south stands of City Stadium to 14,333. Seating capacity of each side is about half that much at the present time. The seats installed by Safway are removable, Jay explained, and the stands could be dismantled and re-used at a different location at a later date if desired...IT'S CHEAPEST PLAN: The plan would boost the seating capacity of the present stadium by about 8,000 over the present capacity. It is the cheapest plan advanced thus far. Other plans include a new $1,136,000 stadium in Perkins Park, an estimated $900,000 improvement of City Stadium to 32,000 permanent seats, and a $780,000 plan for 20,000 permanent seats and 12,000 bleacher seats at City Stadium. Chadek said Safway could get a contract on the five, eight or 10-year lease purchase plan only if the following legal procedure, as outlined by City Atty. Clarence Nier, were followed: 1. Bids must be taken on the remodeling and the bid awarded to the lowest bidder; 2. No contract could be let unless the city comptroller shows that there are sufficient funds available for such a project in the city treasury. Therefore, in the legal opinion of Nier, the project would have to be submitted for public bidding. Chadek also submitted to the committee figures in the NFL last season for consideration by the committee. The figures indicated that the Packers' average game attendance, including both Green Bay and Milwaukee, was 24,675. This figure ranked above Washington and the Chicago Cardinals, who had average attendance of 24,442 and 19,104 respectively. The average crowd in Green Bay last season was 22,074 and the average in Milwaukee was 27,261. The Packers' average game net receipts were $81,669 per game and this figure ranked ahead of Washington, $80,737; New York, $74,578; and the Cardinals, $48,686. Average game attendance in the NFL last season was 35,451.
​STADIUM ISSUE SESSION SET FOR JAN. 26
JAN 19 (Green Bay) - The night of Jan. 26 has been set for a meeting of the citizens stadium advisory committee with the City Council's finance committee and officials of the Packer Corp., Mayor Otto Rachals announced today. The 16-member advisory group asked for the session at its session Tuesday night. The group decided the meeting was needed to clarify the attitude of the city and Packers toward possibilities for a new stadium or improving the present City Stadium. It was learned today that one plan for which opinions might be sought would be the addition of 8,000 seats to the present stadium seating. This would provide a test for next season on whether the additional capacity could be sold as a first step to entirely new facilities. The original plans considered by the group were a new stadium in Perkins Park, 32,000 permanent seats at City Stadium, 20,000 permanent seats and 12,000 bleacher seats at the present stadium, and bleacher-type seating at the present site.
PACKER STAFF EXCEEDS DRAFT EXPECTATIONS
JAN 19 (Green Bay) - The Packers went into the draft fixin' to strengthen up two or three positions and came out with additional help in all spots. That may smack of optimism and success but that's how Coach Liz Blackbourn felt after the picking party in Los Angeles Wednesday afternoon. "Everybody admits that the '56 crop of players didn't compare with other groups," Blackbourn said via telephone, "but for us it turned out to be a well balanced draft. We managed to land enough boys to help us in all positions - if, and that's a big if, the boys can carry their reputations in pro competition." Blackbourn entered the selection parley intent on bolstering the offensive backfield and the tackles. He came up with five tackles and two or three heavy and fast offensive backs - to handle the original hope - plus good prospects at both offensive and defensive ends, a center, several defensive halfbacks and linebackers. Guards? Liz plans to convert the tackle prospects into some - if necessary, and vice versa. The two Oklahoma stars, fullback Buddy Burris and guard-tackle Cecil Morris, "don't need much explanation. They are stars in their own right and should help us." Blackbourn will skip off to Oklahoma, himself, after returning home briefly today or Friday. Aides Ray McLean, Lou Rymkus and Jack Vainisi are presently en route to other part of the country to sign athletes. Oklahoma athletes are notorious for playing in Canada, but Blackbourn is confident that he can get them for Green Bay. Burris' older brother, Buddy, played with the Packers in the late 1940s. Another brother, Kurt, played in Canada last fall. All played at Oklahoma. The second choice in LA, tackle Bob Skoronski of Indiana, "is the best in the Big Ten and we all know that's a tough league," Liz said, adding: "That Henry Gremminger (end from Baylor) has action like Doyle Nix. We'll use him as a defensive back. He has good hands and should make those interceptions. He's a tough competitor, too." Gremminger packs 192 pounds and stands 6-1. The next pick, Russ Dennis, an end from Maryland, was a "pleasant surprise," Liz said. "He is one of the most underrated offensive ends in the country and was recommended to us by Ab Wimberly. He has good size, 215," the coach said. The Packers picked fullbacks on the next two rounds. "Out here (LA) they feel that Gordon Duvall (of Southern Cal) is the best. The other (Bob Laughery of Maryland) carries 210 pounds and he's one of the two good place kickers in the country." The 12th choice, halfback Max Burnett of Arizona, is a 10-second man. "That speed should come in handy and we'll probably start him on defense, although his offensive ability is well known. He's another 190-pounder," Liz said. The Packers managed to get what Liz called the "only pro prospect at the University of Minnesota." That would be end Franz Koeneke, a 220-pound end, who goes both ways. He was recommended by Bernie Bierman. The Packers picked off six eligible juniors, including 202-pound quarterback Rod Hermes of Beloit, for delivery in '57...The Packers came out of the longest draft in pro grid history with 29 players, including 11 backs and 17 linemen. The draft started with three rounds last November and stretched over two days in LA this week. In the earlier picking, the Packers grabbed halfback Jack Losch of Miami and tackle Forrest Gregg of SMU. The third choice went to Los Angeles in the Tom Dahms deal. Losch already has signed, but Gregg is holding off until after spring sports...Blackbourn said he has started to give considerable thought to a successor to Tom Hearden, defensive backfield who resigned last weekend to join the University of Wisconsin. "But there's nothing yet; this draft has kept us too busy," Blackbourn said...The Chicago Cardinals picked Wisconsin quarterback Jimmy Miller. The other twin Badger QB, Jim Haluska, was selected by the Chicago Bears two years ago. The Packers picked two Badgers - fullback Charlie Thomas, a senior, and Dick Kolian, a junior end. Kolian started the UW season on the bench but was called to action at both end positions after Dave Howard was sidelined with injuries.
LIZ HAS DEPTH AT TACKLES - ON PAPER
JAN 20 (Green Bay) - For the first time since he stepped into Green Bay, Packer Coach Liz Blackbourn has an abundance of tackles – at least on paper! Tackle – sometimes called the most vital position in football next to quarterback – has been a headache for Liz. One of his first moves shortly after arriving in January of '53 was to pick tackle Art Hunter as a first choice. One of his first trades was obtaining tackle Jerry Helluin from the Cleveland Browns. When Hunter went into service, the big need was, you guessed it, a tackle. So Liz traded the departed Hunter for Bill Lucky, a good rookie tackle, and veteran guard Joe Skibinski. When appendicitis floored Lucky, Liz obtained Tom Dahms in a trade with Los Angeles. Blackbourn has 13 tackles on his list, including five veterans, three juniors drafted a year ago for delivery next season, and five seniors chosen in the recent draft. Liz figures lightning won't strike twice in the same place next August – like Lucky's appendectomy and guys like Floyd Harrawood and Bob Antkowiak walking out of camp. All of the veterans are expected to return and the remaining eight rookies are all interested in playing pro ball. Of the returnees, big Lucky, a 245-pounder out of Baylor, is expected to really blossom into a top-flighter. He came along fast near the end of '55 and the strong Texan showed potential for offense and defense. Another late improve last year was Californian Dahms, who apparently needed some time to adjust himself to Wisconsin weather. The other veterans are Len Szafaryn, steady on offense, and the defensers Dave Hanner and Jerry Helluin. Improving this fivesome, Blackbourn feels, is a must if the club expects to boost its '55 record of 6-6. Heaviest of the newcomers is 247-pound George Rogers of Auburn. All slightly over 230 are Cecil Morris of Oklahoma, Bob Skoronski of Indiana and Curtis Lynch, also an end prospect, of Alabama. The other four range around 225 – Lavell Isbell of Houston, Elton Shaw of LSU, Dick Goehe of Mississippi and Forrest Gregg of SMU. Blackbourn and Line Coach Lou Rymkus will be keeping an eye open next season for defensive tackles who can put a good rush on the passer. Most of the rush extended on enemy quarterbacks generally had to come from the defensive ends, although Hanner will get in occasionally. The Packers undoubtedly will come up with a number of free agent tackles to make the fight even more interesting.
PACKERS INK NINTH DRAFT PICK, DUVALL
JAN 21 (Green Bay) - Rough enough to protect the passer. Big enough to dent a line. And fast enough to break away! Those were some of the tags Packer coach Liz Blackbourn placed on Southern Cal's Gordon Duvall today after announcing the signing of the 205-pound fullback. Duvall, the Packers' ninth
choice in the draft this week, is the second member of the '56 draft list to officially register. Jack Losch, Miami halfback who was drafted in the preliminary picking last November, signed in December. Duvall was a popular back on the west coast and made the Pacific Coast conference team. The Californian, who stands 6-1, played fullback in Southern Cal's single wing. Blackbourn said "we drafted backfield men as just plain backs since we used the split backfield 75 percent of the time last year, with both backs behind the quarterback working as halfbacks." Thus, Duvall will be in competition with Howie Ferguson, Breezy Reid and Joe Johnson - the three chief running backs during the '55 season. Duvall is considered one of the fastest backs on the west coast, Liz pointed out, and "he's a fine pass receiver; he also has a reputation for being rough which means that he'll protect the passer well. His size also helps him in that phase." Duvall was one of five heavy backs drafted mostly for offensive duty. The others are Losch, 195; Oklahoma's Bob Burris, 192; Maryland's Bob Laughery, 210, who is also a placekicking specialist; and Wisconsin's Charlie Thomas, 217. Blackbourn's next big target is Burris and his Oklahoma teammate, guard-tackle Cecil Morris. The Bay mentor was hoping to leave today for Norman, Okla., for contract talks with the two stars. Burris was the sixth choice; Morris No. 4. Liz expects no easy task in Oklahoma since the Sooner heroes are noted for shuffling off to Canada. The Packers' No. 3 choice last fall, halfback Buddy Leake of Oklahoma, played in Canada. Burris and Morris indicated before the NFL draft that they would like to play pro football in the states. Although Burris' brother, Kurt, played in Canada last fall. Kurt was Cleveland's first choice a year ago. Also leaving this week will be Coach Lou Rymkus, who will contact draftees in the Big Ten, and Coach Ray McLean, who will go east. Scout Jack Vainisi is presently in the south talking with draftees. Among other top targets are Bob Skoronski, Indiana tackle; the three Maryland choices, end Russ Dennis, quarterback Ed Beightol and Laughery, an end; defensive halfback Max Burnett of Arizona; and fullback Charlie Thomas of Wisconsin.
LIZ IN OKLAHOMA! MILLER EYES PACTS
JAN 23 (Green Bay) - The Packers' Liz Blackbourn went after "big game" in Oklahoma today, while the nation's leading small college ground gainer- Norbert (Nubbs) Miler of Stevens Point - studies the backfield rosters of the Packers and Baltimore Colts. Coach Blackbourn left Green Bay for Norman, Okla., and he was scheduled to talk turkey this day with his No. 4 and No. 6 draft choices, guard-tackle Cecil Morris and halfback Bob Burris, respectively. Liz is facing a most difficult task in Oklahoma - if past performances of Sooner stars are any indication. Most Oklahoma aces head for Canada - probably because of the oil connections, and there were two startling examples just one year ago. The Cleveland Browns' first choice, Kurt Burris, who is a brother of the aforementioned Bob, played north of the border in '55; so did Buddy Leake, the Packers' third pick. Both Morris and Burris, however, indicated before the draft that they prefer to play their professional football in the states. Which is why Blackbourn decided to select them! Morris, who would be switched to tackle in Packer plans, and Burris, an all-Big Seven halfback for 2 years, are considered sure-fire pro material. Burris, a brother of former Packer Buddy, scored 11 touchdowns last fall and has a 3-year rushing average of 5.2. He has a good passing arm and catches well. Miller was to make a decision today on the Packers or Colts. Baltimore offered him a contract early last week and the Packers bettered the Colt figure late in the week. At Stevens Point where Miller starred for Central State Teachers, a spokesman for the athlete said that Nubbs would sigh with the team he figures he has the best chance of making. Thus, Miller is viewing with interest the veteran and rookie backs with the two clubs. Miller was a fullback in college, but both teams plan to work him as a halfback because of his size, 5-10, 185 pounds. He gained 1,159 yards rushing - nearly 145 per game in leading the Point to an unbeaten season - and led the team in pass catching. Miller is draft free, having served two years in the Army. The Colts have a good talking point in that Buddy Young is about at the end of the trail, leaving L.G. Dupre as their top halfback. The Colts drafted halfback Lenny Moore of Penn State as their first choice. The Packers also picked a halfback as their top choice - Jack Losch of Miami.
DILLON AVERAGING SEVEN INTERCEPTIONS A SEASON
JAN 24 (Green Bay) - They had Bobby Dillon at corner linebacker in the Pro Bowl game. Maybe it's a good thing it wasn't televised! Not that Dillon couldn't handle the job but we don't relish the sight of slim Bobby collapsing a flock of 240-pound blocking guards - not to mention a fullback or two. "He did a good job in that position," Coach Liz Blackbourn, "and he got his share of tackles. No, I have no intention of making him a corner linebacker. He's too good back there deep with Val Joe Walker." The records show that Dillon has done his work efficiently "back there". Official interception figures on the '55 season, released today by the NFL, show Dillon "up
there" again. Dillon snagged nine enemy passes to rank in a three-way tie for second behind Willard Sherman of Los Angeles, who led with 11. Dillon, Ed Bawel of Philadelphia and Don Burroughs of LA each bagged nine. Dillon's sidekick, Walker, stole six pitches to rank near the top while corner linebacker Doyle Nix, a rookie in the league, came in with five. The next three Packers were, oddly enough, men who don't generally get much chance to roam around - Bill Forester, middle guard, with four; linebacker Roger Zatkoff with three; and Deral Teteak with two. Rookie cornerbacker Billy Bookout also swiped two. Dillon's 55 stealing gave him a grand total of 29 thefts in his four Packers seasons - an average of seven-plus per. He returned the 29 for 411 yards and two touchdowns. One of Dillon's chief rivals in the Western division has been Jack Christiansen, Detroit's fine defensive back, who like Dillon, became a pro in '52. Bobby has an edge on Jack in interceptions, 29-25, although Christiansen missed part of the '55 season with injuries. Dillon also had injury troubles, missing the last two games in '53. Teamwise, the Rams won the interception championship with a percentage of 8.7. The title is based on percent intercepted. The Chicago Cardinals finished second with 7.82 and the Packers were third with 7.75. The Packers and Rams finished with the most interceptions - 31 each. The Cardinals had 29, Cleveland 25 and New York 23. Low on the pole was Pittsburgh with 10.
MILLER SIGNS WITH COLTS
JAN 24 (Stevens Point) - Norbert (Nubbs) Miller, Stevens Point State College fullback who had a big hand in the Pointers' undefeated 1955 football season, said today he signed a 1956 contract with the Baltimore Colts. The contract is said to call for $5,000. Miller, who led small college ball carriers with 1,159 yards, had a better offer from the Green Bay Packers, he said. The 5-9, 185-pound Miller said he chose the Colts because he felt the Colts are more in need of halfbacks than the Packers. Baltimore's Buddy Young plans to restore. Because of his size, Miller probably will try out as as a halfback.
PACKERS BREAK CANADIAN SPELL, SIGN TOP CHOICES
JAN 25 (Green Bay) - The Packers broke the Canadian spell in one mighty stroke today, signing three players including two from Canada's backyard - Oklahoma. Signed to 1956 Packer contracts in a series of developments that started Tuesday afternoon were: Guard-tackle Cecil Morris of Oklahoma, halfback Bob Burris of Oklahoma, and tackle Bob Skoronski of Indiana. They are the Packers' fourth, fifth and sixth draft choices, respectively, and all three were high on the lists of Canadian teams. Packer Coach Liz Blackbourn admitted after the draft that "we had to gamble on those Oklahoma boys," and it was no secret that other National league clubs stayed away from them because of Canada's stranglehold on Oklahoma's athlete. Blackbourn started talks with Morris and Burris in Norman, Okla., Monday. Actually, the shift of Oklahoma athletes to Canada started five years ago when Canada grabbed the famed Billy Vessels from Baltimore and offered him a connection in Canadian oil interests. Since, Canadian teams have snared a steady stream of Oklahomans, including Billy Leake, the Packers' No. 3 draft choice last year. Skoronski had been weighing offers from the Packers and a team in Canada before deciding to stay in the states. Big Bob's signing was announced Tuesday by Julius Tucker, South Bend attorney, who had served as Skoronski's agent. The Packer office is presently awaiting Skoronski's signed contract. The Packers now have signed four of their top six choices. No. 1 pick Jack Losch, halfback from Miami, signed during the holidays. The No. 2 selection, tackle Forrest Gregg of SMU, is in track and won't sign until after the last meet. Canadian coaches, incidentally, displayed interest in him during the East-West game. The No. 3 pick belongs to Los Angeles - payment in the Tom Dahms deal. Skoronski adds 230-pounds of possibility to the Packer line. He plays offense and defense. A large, alert athlete, Skoronski averaged 50 minutes per game for Indiana last season and recovered eight enemy fumbles - a real rarity. He stands 6-4. Morris played offensive right guard at Oklahoma, but Blackbourn expects to make a tackle out of him. An all-Big Seven guard, Morris, at 235, was the biggest man on the Oklahoma team which won national championship honors and beat Maryland in the Orange Bowl. Morris tri-captained the team with Bo Boligner and Bob Loughride. The new Packer earned three grid letters and was a starter the last two seasons. He hails from Lawton, Okla., and is 21, 6-2, and married. Burris carries 193 pounds on a 6-1 frame, and is expected to give added power to the Packers' rushing attack - along with Losch. Burris' three-year ground average (including two Orange Bowl appearances) was 1,206 yards in 231 carries for an average of 5.2 per. He ran 445 net yards in 106 plays in '55, averaging 4.2. Great faking by the all-Big Seven halfback averaged quarterback Tommy McDonald run the ends and make All-American. In the '56 Orange Bowl game, he took a 19-yard pass from McDonald to set up Oklahoma's first touchdown on the seven-yard line. In the '55 Orange Bowl test against Maryland, Burris blocked out two Terps on the game-winning play - a 25-yard touchdown run by Larry Grigg. Oklahoma coach Bud Wilkinson says Burris "is best when the going is tough." When OU fell behind 14-0 to Colorado last fall, Burris scored three of Oklahoma's first four touchdowns in a 56-21 win. Burris handles the ball well on pass receiving. Though Oklahoma did little passing, he led the team with eight catches last fall and two in the Orange Bowl game. In 1955, he passed seven times and completed three. He also led the team in scoring last fall, with 11 touchdowns. A major in education, Burris is a brother of former Packer Paul (Buddy), who played here in 1949-50-51, and Kurt, the Cleveland Browns' first draft choice a year ago, who played in Canada.
BOB BURRIS TURNS $500 GIFT OVER TO OLYMPICS
JAN 26 (Green Bay) - Packer coach Liz Blackbourn told a heart-warming story about Bob Burris, the new Packer halfback. Liz came across "this fine gesture" when he was in Norman, Okla., earlier in the week to sign Burris and Cecil Morris, the University of Oklahoma stars. To start with, there was a spontaneous burst of feeling on the part of Oklahoma football fans when they discovered that Burris didn't get to play in the Senior Bowl game in Mobile, Ala. So they started taking up a collection and piled up close to $500 - the amount each player in the Bowl game receives. Presentation of the check was made at a big athletic banquet in Oklahoma City. The affair was sponsored by the Hillcrest Golf club and the featured guest and speaker was the golfing immortal, Ben Hogan. Burris accepted the check from the presenter at the banquet, okay, but he turned around and announced that "this will go into the United States Olympic fund." Blackbourn said it was "an entirely unexpected gesture and won the admiration of sports fans throughout Oklahoma and the country." Burris' contribution was similar to one made by Packer Tom Bettis, the Bays' first draft choice a year ago. Tom took the expense money he received for playing in the East-West Shrine game and turned it back for use in the Shrine's Crippled Children's Fund. Blackbourn was in the office today after a whirlwind
trip to Oklahoma. He said he was "more than pleased" with being able to sign the two Sooner stars. Also back today after an absence of three weeks was Scout Jack Vainisi. Jack took off for the southwest and east after the draft meeting in Los Angeles, talking with a number of draft choices and Packer veterans, including the Texas crew. Val Joe Walker and Bill Forester are neighbors in Dallas. Walker recently purchased a home next door to Bill. They're both in the insurance business along with Herschel Forester, Bill's brother. Billy Howton has sold his insurance agency and is now in the construction with his dad in Houston "and doing very well," Jack said. Tobin Rote, back from a trip to Mexico, is doing public relations work for a trucking concern in Houston. Coaches Ray McLean and Lou Rymkus are still on the road. Rymkus is talking with Packer choices and free agents in the Big Ten and McLean is out east. A visitor in the Packer office today was veteran Dave Hanner - plus his young son, Joel. Dave plans to work here during the offseason.
PACKERS OFFER PLAN TO FINANCE STADIUM WORK
JAN 27 (Green Bay) - The citizens stadium advisory committee, meeting with Packer officers and the City Council's Finance Committee Thursday night, continued its effort for a recommendation but made little progress toward agreement on preliminary issues. The meeting brought these developments: 1. A Packer plan for 10-year joint financing of a $780,000 project with 20,000 permanent seats and 12,000 bleacher seats. While the Packers said they were neutral on stadium location, the $780,000 total covered the estimate for improving City Stadium. 2. A test plan to determine whether the Packers can sell 32,000 seats for each game by replacing present south stands with bleacher-type seating for 14,000, which would increase capacity by 8,000. Safway Steel Co. set this cost at $231,000 plus interest if a lease-purchase plan was used. 3. A decision to obtain the cost of 20,000 permanent seats and 12,000 bleacher seats for the proposed Perkins Park stadium by revamping the original plans of 27,500 permanent seats and 4,760 portable seats. This would permit a type-for-type comparison with the City Stadium improvement. 4. Suggestions that the stadium location and size of bond issue be put to the voters in the required bonding referendum. If a referendum is to reach the voters at the April 3 election, it will have to clear the Council by Feb. 17, Mayor Otto Rachals said...ANOTHER MEETING PLANNED: The committee asked the Packer executive committee for its opinion of the Safway plan for enlargement of the present stadium and will meet again with the Packer committee. While he said he could not speak for the committee. Fred Leicht, Packer grounds committee chairman, said he doubted that the seating would be suited for season ticket sales. The plan would not be a true test of whether the Packers could sell 32,000 seats for each game, he said. Despite repeated agreement that the question must not become an East versus West Side issue, committee members continued to spar over location with previously-covered views of parking and traffic advantages for the new site and economy for improving the old. In covering this ground, the meeting heard that the city would reap advertising from a new stadium on Military Avenue, Highway 41 and that city business in general, and its 133 taverns in particular, would be harmed by moving Packer games to the far West Side. The decision to obtain an estimate of a combined permanent seating and bleacher west side stadium was prompted by Peter Platten's assertion that past comparisons of the $1,136,000 new stadium plans with the $780,000 City Stadium improvement were not fair. In presenting the Packers financing plan, Leicht proposed that the city regard the cost of 10,000 permanent seats, high school game maximum, at a cost of $230,000 and half the auxiliary construction, $70,000, as its obligations. This would total $300,000. The Packers would bear the cost of seating above 10,000 - $230,000 for 10,000 permanent seats and $180,000 for 12,000 bleacher seats and half of the auxiliary cost, $70,000, for a total of $480,000. By agreeing to pay 10 percent of gate receipts for 20 years, Leicht said the Packers would pay off their share of the debt, which with interest was estimated at $600,000. Noting that the city received $20,861 as rent last year on this basis, he said a 32,000 capacity stadium would boost this 10 percent to between $30,000 and $36,000. Asked whether the Packers could not make the same percentage offer for a more expensive West Side stadium, Leicht said the Packers would be unable to go above the $600,000 maximum as its share...CAN'T FINANCE COST: "We think this West Side stadium is a wonderful deal, but we can't pay our share of it. If the people want to give it to us, we would be happy," he said. The Packers had never received a complaint about lack of parking at City Stadium but only about poor seating and toilet facilities, Leicht said. He said there was no question but that the Packers could sell two of its league games to 32,000 capacity and that the third home game also could be sold out if its date were moved up to around Nov. 1. Season ticket sales required a watertight area under the stands also free from winds, he said, in an apparent reference to the Safway seating idea. A team can't expect to play in the NFL and have a "second-rate stadium," he said. Entering into the 20-year plan would be no risk to the city if the Packers ceased to operate, Leicht said, because the rent obligation would be assumed by the Packers' replacement...MAYOR ENDORSES PLAN: Endorsing the financing plan, Rachals said the city's $300,000 share would have to be faced at another time for an East High field if City Stadium were not improved. West side committee members had little sympathy for Rachals' view and questioned why all high school games couldn't be played in a new Packer stadium. The Perkins Park plan can be revised downward to a comparable 20,000 permanent seats and the possibility of using the $230,000 Del Marcelle trust funds should be considered, they said. Cletus Chadek, citizens committee chairman, reminded the group that six heirs to the trust fund's earnings remained, the youngest 55, and predicted a court ruling would have to be obtained on whether the money was intended for a new West High stadium or any West Side stadium. Chadek outlined the 14,000 seat improvement of the present stadium as being "from the practical standpoint," a view shared by Ald. Jerome Quinn...SALES PROMOTION LAGS: "The Packers have been exceptionally lame on sales promotion outside of the Green Bay area. They have to prove that they can fill 32,000 seats for every game," Chadek said. The Packers' 1955 rent could be used to prepare the ground for the new bleachers and improve toilet facilities, Chadek suggested. Calling the idea a "test plan", Quinn said it had his support because the seats could be moved to a new West Side stadium later. Spending $800,000 to improve City Stadium without parking would be false economy and spending $1,500,000 for a new stadium was too risky before it was established that it could be filled to capacity, he said. Rachals said this plan could be financed without a bond issue provided the Council committed itself to annual payments. The project also would have to put to competitive bidding, it was explained. Criticism of the idea termed it short sighted since a new stadium need was a certainty. "Let's not put a patch on a patch," Howard Blindauer said...SUGGESTS 10,000 SEATS: If the committee was thinking along these lines, Leicht suggested 10,000 permanent seats as a start to increase season ticket sales chances. Ald. Roman Denissen suggested it be held in reserve as an alternate after the revised West Side estimate is received and a bonding referendum is held. The $780,000 plan would have section of 10,000 permanent seats along each side with bleachers seating 4,556 behind each end zone and bleachers seating 1,440 each placed in front of the permanent stands. The original Perkins Park plan is for a U-shaped stadium with 13,725 permanent seats on each side and 4,760 bleacher seats behind the south end zone. It was expected the advisory group would meet in about a week following the Packer executive committee's next meeting Monday.
SOUTHPAW QB FOR PACK IN '57
JAN 27 (Green Bay) - It may be slightly early to harp about 1957 Packer prospects, but one of the eligible juniors claimed by Green Bay in the recent draft might bear watching. The prospect is Rod Hermes, quarterback from Beloit College and the Bays' 30th or last choice. Few small college quarterbacks make the majors but observers in Southern Wisconsin, including Beloit Coach Carl Nelson, rate Rod as definite pro material. Hermes is a rarity in that he passes from the left side. Pro football has had only one southpaw standout - Frankie Albert, the onetime San Francisco chucker, who is now head coach of the Forty Niners. This is Coach Liz Blackbourn's second bid for a "rarebird" at QB. A year ago, he selected unknown Charlie Brackins of Prairie View A & M (that's in Texas) and gave him a chance to become the first successful Negro quarterback in pro history. Charlie set the training camp on fire but then dwindled in his ability. He finally had to be dispatched in midseason after getting a trial at end. Hermes is built like Tobin Rote - about 200 on a 6-1 frame, which means that he has the size. Rod's chief rave is his ability to thrown the ball. In addition, he's a dashman runner and an expert field goal and extra point kicker. He's also Beloit's defensive star. Hermes led Beloit to a 7-1 record last fall - one of the Buccaneer's best marks in recent history. He produced 841 yards last season, including 652 on 36 completions in 81 pass attempts. His air record might have been higher except that Beloit was relatively
weak at end and some of the receivers had trouble holding his bullet-like throws, according to Beloit publicist Dave Mason. Hermes led Beloit in scoring with 60 points on eight touchdowns, nine conversions and one field goal. The FG sailed 28 yards and gave Beloit a 9-6 win over Carroll. It was the first successful field goal by a Beloit player since 1925. The Packer property won all-state honors at Racine Horlick in '51. He transferred to Beloit after playing freshman ball for the University of Wisconsin. At Wisconsin, Hermes was converted from quarterback to end - "much to his dissatisfaction," Mason said...The Packers had no prospects to announce as signed today, but, as they say, tomorrow is another day. Generally, Packer coaches are having considerable success signing the draft choices. A good indication was the signing of the two Oklahoma boys, Bob Burris and Cecil Morris.
LYNN BEIGHTOL, DENNIS SIGN PACKER PACTS
JAN 28 (Green Bay) - Two guys from the University of Maryland - a passer with a good pitching arm and an end who could move Billy Howton to flanker - are the latest to sign Packer contracts for '56. They are Lynn (Ed) Beightol, a 185-pound quarterback, and Russ Dennis, a 215-pound end. Packer Coach Liz Blackbourn, announcing the signing of the pair today, said "both are important additions and both figure in our plans for next season." Beightol was drafted No. 17 as an eligible junior a year ago for delivery in '56. Dennis, a senior, was the Packers' eighth choice in the recent draft in Los Angeles. Blackbourn now has announced the signing of seven draft selections - the first, fourth, fifth, sixth, eighth and ninth from the '56 list and Beightol. "We selected and signed Beightol for his quarterback and punting." Blackbourn said, adding, "we have every reason to believe he is an excellent prospect. And he is a fine passer." Beightol stands six feet tall and weighs 185 pounds. Lynn is strictly straight-T offense. Maryland's split-T, not to mention the one-platoon system, put Beightol in the background at Maryland, though he was recognized as the club's best passer in the last four years. Beightol became the team's top clutch player last year when he took over the Terps for injured Frank Tamburello against Clemson. He guided the team to a crucial 26-12 win to clinch the Orange Bowl bid, completing four of eight passes for 83 yards and two touchdowns. For the season, he hit on nine passes in 20 attempts for 159 yards and three scores. When Maryland fell behind in the Orange Bowl against Oklahoma, Beightol took over the QB'ing to take advantage of his superior passing. Beightol averaged close to 40 yards punting during his college career and booted three times for an average of 51 in the '56 Orange Bowl game. Beightol, who has three children despite his tender 22 years of age, has the distinction of having played in three bowl games - the Sugar Bowl as a frosh in '53, the Orange Bowl in '55 and the Orange Bowl again in '56. He hails from Cumberland, Md. Blackbourn said Dennis "is the kind of athlete who's coming to camp to make the team. We won't decide whether he'll go on offense or defense until we watch him. If he makes end, we may be able to shift Howton out to a flanker. There are a number of possibilities." Dennis, a native of Norwalk, Conn., was the unsung hero of the Maryland line and is rated as the most consistent "one-platoon" end on the team. Noted for his desire, Dennis is exceptionally fast, has good hands and excels in blocking. Known as the "Connecticut Yankee" among his teammates, Dennis caught six passes for 170 yards and three touchdowns last fall - an average of nearly 30 yards per catch. Canada was hot after Dennis but Russ decided to join Beightol and make it with the Packers. Incidentally, former Packer Ab Wimberly said Dennis was the best college end he'd seen all season. Dennis stands 6-2. The Packers picked one other Maryland player in the draft - tenth choice Bob Laughery, a fullback and the Terps' field goal and extra point expert.
DESCHAINE MADE LEAP AFTER 2 36-YARD PUNT PERFORMANCES
JAN 31 (Green Bay) - The Packers' luxury from Menominee, Mich., a long-distance punter by the name of Dick Deschaine, ranked second in the NFL in his specialty in '55. Official figures, released today by the league, gave the title to Los Angeles Ram quarterback Norm Van Brocklin, who finished with an average of 44.6 on 60 punts. Deschaine closed out with 43.2 on 56 boots. Adrian Burk of Philadelphia was third with 42.9 on 61. Deschaine, hauled out of a private job last August to sharpen the Packers' booting - what with the absence of Max McGee, leaped from seventh in the league to No. 2 in the last five games. After averaging a mere 36 yards - and that's low after viewing him in practice, in the Baltimore game there Oct. 29 and the Bear game in Chicago Nov. 6 (both Packer losses), Deschaine did an about face as follows: Chicago Cardinals in Green Bay, 45.5; San Francisco in Milwaukee, 48.8; the Lions in Detroit, 47.6; the Forty Niners in 'Frisco, 46.7; and finally the Rams in Los Angeles, 41.2. In his league-game debut against Detroit, Deschaine averaged 37 yards but followed it up with his season best - 50.2 against the Bears here. He then averaged 39.2 against the Colts in Milwaukee, 44.4 against the Rams in Milwaukee and 42 against the Browns in Cleveland before the two 36'ers. Deschaine experienced joy and unhappiness in his windup on the west coast. He delivered a sky-high 73-yarder - his longest and the second longest in the league in '55 - against the Forty Niners. He punted from in front of his own end line and the boot saved the Packers from possibly torture...BEAT JUG GIRARD: In the wrapup in LA, Deschaine got off a line drive that broke the Packers' back. Skeets Quinlan took the ball on a dead run, giving him a 30-yard start on Packer tacklers. He went all the way - 55 yards for a touchdown. Deschaine had the fun of beating out his crosstown rival, the Detroit Lions' Jug Girard of Marinette, who finished fifth with an average of 41.3. Deschaine never opposed Jug as a prep but Dick and Jug rank as the top two punters in Twin City history. Eddie LeBaron of Washington was fourth with 41.6. Nine of the 760 punts delivered last fall were blocked and two players experienced six of them - Horace Gillom of Cleveland and Bobby Luna of Frisco. How Gillom ever had three punts blocked behind that massive Brown line is a mystery but that's what the final figures showed. One of Luna's punts was blocked by Packer Pat O'Donahue with the assistance of Len Szafaryn. Gillom still managed to finish with an average of 41.2 while Luna averaged 40.6. Pat Brady of Pittsburgh, the league's punting champion of '54, was injured during the exhibition campaign and never played during the championship season. Deschaine likely will get some stiff competition next fall from Lynn (Ed) Beightol, the Maryland quarterback who averaged close to 41 yards during his college career. Beightol recently signed a '56 Packer contract. Deschaine, like Brady in '54, played as a specialist last fall. Coach Liz Blackbourn drilled him as an offensive end - the position he played at Menominee High. Brady is a quarterback. Gillom, used as a third end, was practically a specialist last fall since he caught no passes.
TEXANS BOLSTER PACKERS; O'BRIEN, WILSON SIGN
FEB 2 (Green Bay) - The Packers heard from the State of Texas today. That's nothing new but the signing of Texans Hal O'Brien and Don Wilson is the first Packer business with fellers from that-there state this year. The Packers drafted six athletes from the great hotbed of football in the '56 picking program. Registration of fullback O'Brien of Southern Methodist and center Wilson of Rice gives Coach Liz Blackbourn one-third of the total. Green Bay finished its 1955 season with eight Texans fighting for dear old Wisconsin - about one-fourth of the 33-player roster. The team's entire deep defensive secondary was Texan - Val Joe Walker, Bobby Dillon, Billy Bookout and Doyle Nix. Others are Tobin Rote, Billy Howton, Bill Lucky and Bill Forester. The two new Texans, oddly enough, will be fighting against Texans for '56 sale. O'Brien will be used as a defensive back, which puts him in competition with Walker, Dillon, Bookout and Nix. Wilson, a possibility under veteran center Jim Ringo, also will work close behind the line which puts him up against Forester. With O'Brien and Wilson in the fold, Blackbourn now has announced the signing of nine athletes since returning from the draft. Eight are members of the current draft and one, quarterback Lynn Beightol of Maryland, was picked as a junior a year ago. O'Brien has been rated by scouts as the best defensive back at SMU last fall despite an injury that slowed him down some. He has good speed and is a sharp tackler. In his three seasons, O'Brien carried 118 times for 523 yards - an average of 4.4...MAJORED IN INSURANCE: O'Brien will turn 23 in April. He hails from Port Arthur, Tex., and majored in insurance at SMU. He stands six feet tall and carries close to 200 pounds. Wilson, a 220-pounder who soars 6-3, has been a steady performer for Rice for three seasons. Still quite young at 21,
scouts in the Southwest conference figure Wilson may develop into a future pro star. He hails from San Jacinto, Tex.
BUILD NEW STADIUM ON WEST SIDE: LAMBEAU
FEB 2 (Green Bay) - Curly Lambeau was born and raised on the east side. He played football at East High and then coached the Packers for 30 years in the shadow of East High. "But," he said here Wednesday, "a new stadium for the Packers should be built on the west side. I've been visiting here since last Friday and I've heard many arguments on which side of town it should be built. You know I'm an east sider, strictly, but I firmly believe that a stadium on the west side is the best answer to bigger attendance and easy access to the stadium," he added. Lambeau cited "the highways" as his principal reason for favoring the west side site. "That super highway is a temptation for fans in Milwaukee, south of there and in the valley to come. Same for fans coming from the north and west," he pointed out. In construction of a stadium, he suggested that it be placed "east and west but not a true east and west, with no seats in the east stand. It should be 'tilted' some, with no seats in the east end, so that no fan has to look squarely into the sun." Lambeau said "the future of the Packers look excellent" and added that "a new stadium will make it even brighter." Looking back, Lambeau said that "the Packers survived trouble three times and each time came back strong. Back in '28, they said we were too small to compete but three straight championships took care of that. Then in '34, the same thing came up but it was quickly forgotten. You know what happened in the late 1940's, but the Packers are going stronger than ever again and I'd like to add that Liz Blackbourn is doing a terrific job in bringing the team back up there." Lambeau, coach of the College All Stars, left for Chicago today to set up the final roster for the Cleveland-Star game in Chicago next August. He's not sure of the number of Packers who will be invited but admitted that he's interested in Jack Losch, Forrest Gregg, Cecil Morris, Bob Burris, Bob Skoronski and Jim Mense. "All of them are good ones," he added. He was particularly pleased with Burris. "He's a real sparkplug and should be of great value to the Packers. He put the fire in Oklahoma last year," Lambeau said. Lambeau said he plans to start building a home at Bailey's Harbor next spring. He purchased 10 acres of wooded land near there last summer.
GROUP ASKS $960,000 STADIUM, SPLITS ON SITE
FEB 3 (Green Bay) - The citizens stadium advisory committee Thursday night agreed that the city should build a $960,000 stadium but split 8-6 in approving "a site other than the present location." While the majority report did not designate a stadium location, in effect, the report represented an endorsement of a revamped Perkins Park plan estimated to cost $950,450, not including parking. The committee's vote was a direct division of its east and west side members with two east side members being absent. The majority recommendation was that "Green Bay build a new stadium with a minimum of 20,000 permanent seats and 12,000 auxiliary seats at a site other than the present location for use of the Green Bay schools and the Packers at an estimated cost of $960,000 of which the Packers will play one-half, $480,000, over 20 years." The minority report contained the same wording except for the phrase ruling out improvement of City Stadium. Authors of the minority report explained their purpose was to pose the first question to be answered: Will a $960,000 stadium bond issue be supported in a referendum regardless of stadium location? The committee's report, ending a four-meeting study, will reach the City Council Tuesday night. Mayor Otto Rachals predicted the reports would be sent to the finance committee which will have the task of writing a recommendation including one for a needed bond issue. The revised Perkins Park estimate by architect John Somerville, from an original $1,136,000 cost, was in response to a committee request at its last meeting for a plan to compare with the proposed City Stadium improvement of 20,000 permanent seats and 12,000 bleacher seats. This expansion of the present stadium is estimated at $780,000, not including any lighting changes...OUTLINES REVISION: Somerville reported his original plans could be changed to provide 20,160 permanent seats and 12,000 bleacher seats for $652,500, that facilities under the stands could be reduced from 28,000 to 15,200 square feet of floor space at a reduction of from $395,000 to $224,200 and that lighting would cost $73,750. The revised plan would have 60 rows of seats, the bottom 26 on the slope of a ground bowl, between the 17-yard lines on each side and stepped-down sections from the 17-yard lines to the goal lines. End zone bleachers sections would have 6,000 seats each. The original U-shaped plan has 13,725 permanent seats on each side and a 4,760 bleacher section behind the south end zone. Somerville said 15 acres of the north side of Perkins Park would provide space for 2,500 cars and 8.2 acres of the adjoining Detry property would park 1,500 cars. He estimated the cost of preparing these lots at $89,500. To the original plan was added a $136,000 cost for a 45-acre lot with space for 6,450 cars...INCLUDES WHOLE TRACT: This included all of the 37-acre Detry tract, which the owners have since said will be sold to the city only if it becomes a park. Using the 8.2 acres would not involve cutting trees on the Detry property and enough space would be left east of the stadium in Perkins Park for the proposed county arena, Somerville said. On the parking subject, Don Engebos, a citizens committee member. said the 10 acres adjoining the Perkins Park on the north was available for lease or purchase. Rachals reminded the committee that parking costs would have to be included in the bonding referendum. Somerville said a $14.05 per square foot average was used in computing the cost of construction under the stands. Leonard Schober said his firm had used a $12 average for 11,650 square feet of this type of work in the City Stadium proposal. Construction at the present site would take into account the existing Packer team room and use of storage in East High School and its hearing plant, Schober said...WILL SHARE COST: The reference in the committee reports to the Packers' share of costs followed a pledge at the last meeting by the Packers to pay 10 percent of annual gate receipts for 20 years. This would average $30,000 yearly or enough to pay for $480,000 of construction and $120,00 of interest charges, the Packers said. The financing plan was submitted for a $780,000 project with the Packers paying for half of the 20,000 permanent seats, all of the 12,000 bleacher seats, and half of the auxiliary construction. At the start of the meeting, the committee, in response to an inquiry at its last session, was told the Packer board of directors was unanimously opposed to a suggestion for 14,000 bleacher seats for City Stadium as a test of selling to 32,000 capacity. Eight members of the Packer board joined in saying the plan would not be a fair test because of the difficulty in selling this type of seating and could well result in a loss of ground on plans toward a new stadium. All recommended a stadium with at least 20,000 grandstand seats and at least a 32,000 capacity. A location is up to the city, they said...BROCK OPPOSES PLAN: Only support for the plan was voiced by Charley Brock, a former Packer player, who doubted whether bonds for a new stadium would gain referendum approval. City Stadium is filled to capacity only once a year at present, and the Packers should prove 32,000 seats
can be sold, he said. Packer directors who spoke were Fred Leicht, Bernard Darling, Jerry Atkinson, Herbert Olson, Richard Bourguignon, Tony Canadeo, W. Heraly McDonald and Lee Joannes. The Packers are the city's greatest promotional asset and the team's future stadium must be "big league" if the Packers are to increase ticket sales and maintain their position in football. "Sid Gillman (Los Angeles Rams coach) wrote me that he hoped to always play in Milwaukee until Green Bay has a big league stadium," Atkinson said. The two opposing reports were drafted by Norbert Jacobs, A.E. Swanstrom, Frank Walker, Peter Platten and Carl Zoll during a 25-minute recess. The five were names as a resolutions committee by Cletus Chadek, chairman, after the Packer presentation and after Chadek's prodding brought only two comments from committee members. During the brief discussion, Swanstrom predicted the smaller cost of improving City Stadium would have a better chance of referendum approval, particularly in view of the Packers' promise to assume $480,000 of the $780,000 cost. Walker said public opinion was against remodeling City Stadium…OPPOSES PRESENT SITE: "I'm not saying where the stadium should be, but it shouldn't be where it is now. That's throwing money in the river," Walker said. There was no debate after the opposing reports were ready. The roll call on the majority report for a $960,000 expenditure at a site other than City Stadium was: Yes - J.C. McGinnis, Peter Platten, Don Engebos, Frank Walker, L.L. Mohlke, Carl Zool, Howard Blindauer, and John Scannell. No – Chester Racine, Norbert Jacobs, Cliff Conrad, A.E. Swanstrom, John M. Rose and Cletus Chadek. Absent – Ed Wolf and Ben J. Rosenberg.
WHERE WILL GEORGE SIT AT CITY STADIUM?
FEB 3 (Green Bay) - George Halas has announced his intention of becoming a "stands coach," turning over the head coaching to Paddy Driscoll. The question today is: Where will Uncle George sit when the Bears play the Packers at City Stadium? "In the pressbox with you," Packer Coach Liz Blackbourn chuckled. And, we might add, George will need room if he makes with his usual business of throwing down his hat and jumping on it. This could disturb the writers. Tsk. Tsk. Put him in the stands back of the visitors' bench? That might not be safe. Cleveland Brown coach Paul Brown, after his first game here, remarked that "they really give you a going over from up from there." Seriously though, Blackbourn commented today that "Halas will be missed around the league; he's been wonderful and he's a real gentlemen. I've known Paddy for a number of years and I know he's an experienced coach." Driscoll coaches at Marquette University in 1939-40 and worked with Liz considerably when he coached at Milwaukee Washington High. From Chicago today, Driscoll said his new job calls for organization and direction. "George will have to sign the contracts and handle the business affairs and we won't let citable on the bench. No more of this pacing the sidelines and throwing down his hat and jumping on it. He's a stands coach now." In praising Driscoll, Halas said, "I know of no one who has made a greater contribution to the game of football. And as for signing a formal contract, I've had a one-year contract with Paddy ever since he joined the club, but we never got around to signing one. It's a little late to start now." Driscoll said the Bears' staff is solid and indicated there will be no charges unless someone leaves of his own accord. His staff includes Clark Shaughnessy, Luke Johnsos, Phil Handler, Bulldog Turner, and Sid Luckman. It is generally believed that Halas will still figure in the coaching next fall but will step down completely and carry out executive duties in 1957. Halas celebrated his 61st birthday yesterday – the day he made the Driscoll announcement. Paddy is 59. Paddy has been on the Bear staff the last 15 years and a Halas favorite ever since the two played together on the Great Lakes team which defeated Mare Island in the 1919 Rose Bowl game. Paddy's career in football includes starring at halfback for Northwestern University playing with the Chicago Cardinals and also coaching them in 1921 and 1922, a long term coaching job at St. Mel's High of Chicago, head coach of Marquette in 1939-40. He played with the Bears in 1926 and retired as a player in '28. Driscoll was an all-time great as a dropkicker, now a lost art. He dropkicked 40 field goals during his pro playing day.
HANK GREMMINGER REPLACES NIX IN '56 PACKER PLANS
FEB 6 (Green Bay) - The Packers substituted Gremminger for Nix today, and Coach Liz Blackbourn wouldn't be surprised if that was still the case come the '56 opener. Doyle Nix goes into the Air Corps Feb. 13. The streamlined SMU'er, who did so well as a rookie cornerbacker last fall, is in the Air Corps ROTC, and Blackbourn is hoping Doyle won't be gone for three seasons. Henry (Hank) Gremminger of Baylor, the Packers' No. 7 draft pick who was announced as signed over the weekend, and Nix are similar. Both were offensive and defensive halfbacks in college, while Gremminger also worked as a defensive end. If anything, Gremminger is more skilled than Doyle as an offensive end. "So we'll give him a good shot at that position before looking into his defensive possibilities," Blackbourn pointed out. Liz is interested in finding a wing mate for Gary Knafelc. Nope, Billy Howton isn't planning to retire but Blackbourn would like to shift Howton out to right halfback or flanker giving him more room to roam. Signing of Gremminger puts the meat of the Packer draft list in the icebox. Blackbourn now has revealed the signing of the first (Jack Losch), fourth (Cecil Morris), fifth (Bob Skoronski), sixth (Bob Burris), seventh (Gremminger), eighth (Russ Dennis) and ninth (Gordy Duvall) draft choices – not to mention No. 21 (Hal O'Brien), No. 24 (Don Wilson) and Lynn Beightol of the '55 list…NO LETTER AS SOPH: Gremminger, who is 22 and married, stands 6-1 and 191 pounds. He made the all-Southwest conference team as an end in his senior and junior years. This is quite an accomplishment in view of the fact that he failed to win a letter as a sophomore. He came to Baylor at Weatherford, Tex., with only a small high school reputation. As a junior, he was the surprise of the team. Gremminger, a fierce competitor, led his team in pass catching in his last two seasons. He caught 15 for 181 yards and two touchdowns last fall and nailed 18 for 323 and two TDs in '54. He finished second in pass receiving in the conference both years. Gremminger scored a third touchdown last fall when he smeared the Villanova passer in the end zone, knocked the ball loose and fell on it. One of his catches last fall was for the winning touchdown that broke a 7-7 tie with Washington. Blackbourn was impressed by Gremminger's performance in the East-West game…BRIEFS: Blackbourn is taking his time seeking a successor to defensive backfield coach Tom Hearden, who resigned recently to join the University of Wisconsin staff. Liz says he wants to make sure "we can get the best possible man available." He's looking for a defensive expert.
PACKERS AHEAD OF '55 SIGNING PACT
FEB 7 (Green Bay) - The Packers are eight signed draft choices ahead of their '55 pace. A year ago today, Coach Liz Blackbourn had announced the signing of one picks – Tom Bettis, the Purdue linebacker and first selection in the draft. As of this day, Liz has revealed the official registration of nine '56 choices. The '56 draft was earlier than usual – Jan. 16 as compared to Jan. 27 a year ago. This, plus the fact that three picks were made last Nov. 24, gave Blackbourn and Aides Ray McLean, Lou Rymkus and Jack Vainisi an earlier start but the results have more than offset the early kickoff advantage. The Packers came out of the draft with 29 players, the one lossee (Pick No. 3) going to Los Angeles in the Tom Dahms deal. Of the 29, six were underclassmen selected for later delivery. Nine of the remaining 23 choices have been signed – a fountain pen percentage of .391. Of the first 10 choices, only the second and 10th are still unsigned. Both are spring sports cases. No. 2 choice Forrest Gregg, tackle from SMU, is a weight man in track while No. 10 choice Bob Laughery, a fullback and kicking specialist from Maryland, is a member of the Terp baseball team. At the moment, Blackbourn has 14 eligible draft choices left to sign and announce. The Bays grabbed a half dozen underclassmen a year ago. Tackle Elton Shaw of LSU, 23rd, can be ruled out for '56 since he was picked as a sophomore and has two more years of college eligibility left. Fullback Bill Brunner of Arkansas Tech, 22nd, is not expected to play pro ball but the remaining three, all tackles, could cause some commotion in camp. George Rogers packs 247 pounds and Lavell Isbell and Jack Spears 235 each. Other than free agents, that's how the Packers stand at the moment.
SUPREME COURT UPHOLDS DECISION IN JOHNSON CASE
FEB 7 (Madison) - Eight words and numbers scribbled on the back of a contract gave tackle Clyde Johnson a two-year job with the Green Bay Packers, the Wisconsin Supreme Court ruled today. The court upheld a $8,918 award to the former professional football player by Green Bay Municipal Judge Raymond Rahr. Rahr held that a player contract signed by the former University of Kentucky star guaranteed him $7,000 a year for both the 1948 and 1949 seasons. Rahr deducted Johnson's other earning during the period to arrive at the award total. The controversy was over two lines of writing by former Packer coach E.L. (Curly) Lambeau on the back of Johnson's contract.
THE PACKER STADIUM PROBLEM
FEB 7 (Green Bay) - The Citizens Stadium Advisory Committee has recommended to the City Council that a stadium of 32,000 capacity be built as a home for the Packers. The stadium problem is not a new one. It has been looming on the football horizon for a long time and it has had careful study by Packer Corporation officials as well as by the citizens committee. It is clear now that a stadium of the size mentioned is a necessity if the Packers are to remain in Green Bay. The problem has gradually become more pressing until now there must be action or soon there will be nothing to build a stadium for. There have been differences of opinion in the committee over the location of the stadium. Those who have favored rebuilding on the present site have been influenced by estimates of lower costs there. It has seemed that there would be a better chance of getting voters to approve a bond issue if the expense could be held to the minimum. However, many who urge this course freely admit that a new stadium in the proposed Perkins Park location would be a much more forward-looking plan. The difference in cost may not be as great as it appears when all factors are considered. The recommendation calls for spending $960,000 at a "site other than the present location." The estimate for remodeling City Stadium is $780,000. There will be additional costs at either location. The cost of providing parking space is not included in the "other" location. There will not only be additional expense for lighting City Stadium but possible also for a bridge across East River to reach a proposed parking lot. While the city is weighing the possibilities of location, it might be well to look ahead 20 years. If at the time, further expansion is needed, will it be possible at City Stadium?" What will the growth of the city and the increase in traffic congestion do to the City Stadium site? If in the future there must be accommodations for crowds of 40,000 or 50,000, will any present investment at City Stadium be lost? On the other hand, there can be no question about the future possibilities of the Perkins Park site. The city can now protect itself against encroachment of other buildings and it can acquire sufficient land for any possible future needs. As for the cost, is it too great for the values of the city is buying? The estimate of the cost is $960,000, but the Packer Corporation has offered to contribute $30,000 annually for 20 years. That is about half of the original investment and $6,000 per year toward the interest. The Packers have been a part of Green Bay for 35 years. During that time, they have entertained thousands and they have brought distinction to the city. They are one of the things that makes Green Bay different from thousands of other cities it size. No one can say how many millions of dollars the Packers have been worth to Green Bay, but everyone can be sure they will work many millions more in the years ahead.
back in the recent draft – Starr No. 16 and Lynch No. 17. Starr, known as Bart Starr, is a quarterback with four Crimson Tide football letters on the wall. He started pitching as a freshman in '52 – most unusual for a QB – and finished four years later with a total of 285 passes and 155 completions for a gaudy 54.3 percent. Lynch is a tackle who experienced the joy of catching passes. Nicknamed "Big Cow", Lynch is presently listed as an end-tackle and Blackbourn says he'll try him at both positions. Liz is highly interested in word that the 230-pound Lynch was the hardest working, the strongest and the "hustlingest" player at Alabama during the last three seasons. With the State of Alabama in, the Packers now have announced signing of 11 members of the '56 draft list – not to mention quarterback Lynn Beightol of the '55 list. Barring a free agent quarterback or two, Blackbourn has about completed quarterback business for '56. Starr joins Beightol as the two rookie possibilities against veterans Tobin Rote and Paul Held. Rote will return on the second season of a two-year pact and Held is expected to rejoin the wars. Blackbourn has high hopes for Beightol but Starr's history at Alabama makes Bart look like a serious contender, too. Starr was the heart of the Alabama attack for the last three years. The six-foot, 188-pound back has been rated one of the best passers in Alabama history and the list includes Harry Giomer, Riley Smith and Dixie Howell. Starr had his best season in 1953 when he completed 59 passes in 119 attempts for 870 yards – just short of Gilmer's record 930 – and eight touchdowns despite the fact that he missed one game. He was injured most of the '53 season, but percentaged 57.3 in '55. Starr also handled most of Alabama's punting and had his best year in '53 when he averaged 41.4. The new quarterback was tutored by Babe Parilli, the former Packer QB, three years in spring practice. Starr is 22 and married. He hails from Montgomery, Ala. Lynch lettered two years at end before being switched to tackle in his senior year. As an offensive end, he caught nine passes for 103 yards and one touchdown in '54. Lynch, who stands 6-2 and hails from Wadley, Ala., was particularly outstanding on defense in his last two campaigns – at both tackle and end. The Alabama ace has been an all-around star most of his football career. Besides playing two or three positions at Alabama, Lynch performed at nearly all positions on a 15-player high school team in Wadley.
COUNCIL AIMS AT APRIL VOTE ON STADIUM BONDS
FEB 8 (Green Bay) - Aiming at a stadium bonding referendum for the April 3 election, the City Council will meet Thursday night as a committee of the whole to begin work on wording the referendum question. The Council agreed with Mayor Otto Rachals Tuesday night that this procedure would avoid duplication of an effort resulting from action on split reports of a citizens' advisory group by a single Council committee. The Council also awarded the combined $1,750,000 new city hall and $850,000 storm sewer bond issue for 2.097 percent, the lowest of eight bids. The Thursday night session would allow the entire Council to devote an entire meeting to the stadium question rather than scheduling carbon-copy debates before a committee and again when the committee report reaches the Council. "Meeting as a committee of the whole, there will be less trouble in putting this thing through at the next Council meeting or before if necessary," Rachals said...APRIL 3 VOTE POSSIBLE: Answering a question of Ald. Wilner Burke, City Atty. Clarence Nier said initial approval of the bonding referendum at the next regular Council meeting, Feb. 21, would make it possible for an April 3 vote. Ald. Jerome Quinn asked that the 16-member citizens' committee be invited to the Thursday night meeting. Rachals reminded Quinn the meeting would be public. State law requires bond issues to be approved by at least a three-fourth Council vote or 18 votes. In view of this requirement and the split of opinion on stadium location, it was questioned today whether a referendum could contain more than the actual question of whether bonds should be issued for a new stadium. Thus far, however, there has been no Council vote on a related question which could be regarded as a test of its attitude toward a site…PROPOSES NEW SITE: The Feb. 2 majority report of the citizens' group, which reached the Council Tuesday night, called for construction of a $960,000 stadium "at a site other than the present location." The minority report was identical except for elimination of the location phrase. The committee vote was 8-6, with eight west side members supporting the majority view, six east side members the minority report, and two east side members are absent. The study of the group narrowed four plans to a choice between a $780,000 improvement of City Stadium, not including lighting changes, and a $950,450 new stadium in Perkins Park. Neither estimate includes costs for parking lots. Either plan would provide 20,000 permanent seats and 12,000 bleacher seats, the minimum recommendation of both committee reports and the Packer Corp. Both reports also recommended the Packers assume $480,000 of the cost. The Packer pledged between $30,000 and $36,000 annually for 20 years, enough to cover the amount plus interest costs of this portion of a bond issue.
PACKERS SIGN TWO CARROLL FREE AGENTS
FEB 9 (Green Bay) - With 11 draft choices signed, sealed and in the vault, the Packers turned to free agents today. Coach Liz Blackbourn announced the signing of two Carroll College stars – tackle George Schussler, a 250-pound tackle from Peshtigo, and end Chuck Foster, rated by Carroll Coach F.J. (Mickey) McCormick as "the best end I ever coached." A free agent is a football player who is not selected in the college draft. The Packers signed about 20 of them a year ago and one – Billy Bookout – turned out to be a real find. Bookout was a regular corner linebacker throughout the National League campaign. Few free agents make the major leagues in these days of minute scouting by the professionals, but every teams brings in a flock in hopes of finding a couple of gold nuggets. The Carroll College inkees have a tremendous desire to make pro football, which sometimes is half the battle. Schussler fulfilled a lifelong ambition when he signed a Packer contract. He has been point to the chance ever since he started playing football at Peshtigo High. The hefty, two-way tackle, who plays best at 240 pounds, was the mainstay of the Carroll line which held opponents to 989 rushing and helped Pioneer backs rush for 1,602 yards. Born in Yugoslavia, Schussler won four football letters at Peshtigo and participated in baseball, basketball and track. He was president of Badger Boys State in 1951. At Carroll, he was named to the second team of the national All-Teke selections by Alex Agase as a senior. Foster is two years out of Carroll, having graduated in 1953. He went into service and played two years with an Army team in the European theater. He was discharged recently…NONE IN HIGH SCHOOL: Actually, Foster played only four years of football, none in high school, two at Carroll and two in the Army, and McCormick feels he has his best football ahead of him. He was considered too small to play prep football, although he now stands 6-1 and weighs 195 pounds. McCormick said Foster "has good speed with exceptional pass receiving ability. He is a fine competitor and has a terrific desire to win; he trains all the time. He could be used as an offensive end or a defensive back." Foster hails from Wauwautosa and is now 25 years old. He returned to Carroll this winter to take a post-graduate course in education.
ALABAMA'S 'STARR' QUARTERBACK, LINE ACE JOIN PACKERS
FEB 8 (Green Bay) - Bryan Bartlett Starr and Curtis Randall Lynch have signed 1956 Packer contracts, Coach Liz Blackbourn announced today. The long-handled football players were teammates at the University of Alabama and were selected back-to-
CITY COUNCIL APPROVES STADIUM BOND QUESTION
FEB 10 (Green Bay) - "Shall the city of Green Bay issues its general obligation bonds in an amount not to exceed $960,000 for the purpose of constructing a stadium in the city of Green Bay?" A referendum on this question at the April 3 election was all but certain today after action by the City Council, meeting as a committee of the whole, Thursday night. The Council agreed 22-0 that an affirmative vote by citizens on a referendum was the firm, formal step needed toward building a new Packer stadium in time for the 1957 season. At the same time, however, the report pledged the Council not to issue any bonds until four specific fact-finding steps were taken. The report will be introduced at the Council meeting Feb. 21 and could be finally adopted at the March 6 meeting. A three-fourths Council vote is needed to submit a statutory bonding referendum to the people. This would be 18 votes, four less votes for the approved committee report…AGREE ON PROCEDURE: If the procedure gains approval, the Council agreed that the following steps would be taken before any bonds would be sold: 1. Bids would be obtained to replace the estimates for both a new Perkins Park stadium or reconstruction of City Stadium. 2. A detailed report from proper city departments would be obtained on the parking situation at both sites. 3. A written agreement with the Packer Corp. promising payment by the corporation of $480,000 over 20 years would be sought. Such an agreement, which the Packers have pledged verbally, would secure "the indebtedness to the City of Green Bay to the fullest extent legally possible." 4. The Board of Education would be asked for a report as to the future use of a new stadium by Green Bay schools…WILL RECONSIDER REPORTS: If the referendum gains approval, the report also called for the split reports of the citizens stadium committee to be reintroduced to the Council April 19. "It is expressly understood that the submission of the bonding resolution to the voters does not constitute an endorsement of the stadium project on the part of the Common Council at this time. The council reserves its legal right to order the sale of all, any, or none of the bonds if approval is given by the electors," the report, introduced by Mayor Otto Rachals, said. Only opposition to the plan of action was voiced by west side members of the citizens group and Gordon Jarstad of the West Side Merchants Assn., who questioned whether a location could not be included in the referendum question. "I think this question is going to kill this vote. How can a voter who doesn't think it is wise to spend any money on the present site cast his ballot?" asked J.C. McGinnis, a member of the citizens group…CAN'T INCLUDE SITE: The referendum question must follow the form dictated by statute, which makes it impossible to include a location, City Atty. Clarence Nier said. This limitation also makes it impossible to include the Packers' $480,000 share or a possible eventual $230,000 grant from the Del Marcelle trust on the ballot, he said. Rachals, who carried the results of a water referendum to the Supreme Court, said the decision made it clear what form must be followed. "You can never make an advisory referendum a binding one. I can assure you of that. I had that experience in the water question, and the Supreme Court has ruled," Rachals said. If the Council deadlocked on the eventual site, Ald. Rhynnie Dantinne pointed out an advisory referendum could then be ordered. A three-fourths vote also will be needed for the sale of any of the bond authorized by the April 3 referendum, Nier explained. "If we take a vote on the location now (in the Council), it could end in a tie and the stadium and the Packers would be lost," Ald. Wilner Burke said…PROVIDES PROTECTION: Calling for adoption of the report, Rachals said it provided four protective steps to the taxpayers before any money would be spent and also was fair with the citizens committee reports since it promised they "will not be sidetracked but will be reintroduced." Both reports agreed that a $960,000 stadium should be built, but the group split 8-6 in calling for construction "at a site other than the present location." The first point to be resolved, Rachals' report said, was to determine whether the voters could agree to bonding for construction of a stadium. "It might be well to point out, in conjunction with consideration of a referendum, that there are hundreds of small home owners in the city, who at the present time look with disfavor upon taxation as a method of producing the necessary finances for stadium construction. They are not lesser citizens of Green Bay for so thinking...MUST SELL STADIUM: "If a referendum were had, it would be the task of Packer backers to convince a majority of the electorate to vote for the bond issue. It will be a difficult task, even with unity of purpose. With sectional division, it will fail hopelessly of achievement," the report said. While it was explained the Council could take no promotional role in the referendum, several aldermen indicated they would work for approval as individuals. "I was pretty cool toward this at the start because of all the other city needs, but I was happy to see the Packers make their commitment. I think I'll go out and try to do a good selling job on this issue," said Ald. Roman Denissen, Council president…COULD BE FINANCED: The two plans which gained most consideration by the citizens group could both be financed by a maximum $960,000 bond issue, expect for providing parking. The estimate for a new stadium in Perkins Park was revamped by increasing bleacher seating and reducing auxiliary work to $950,450. The project to reconstruct City Stadium was estimated at $780,000, not including any lighting changes.
NAME STUBER PACKER AIDE
FEB 11 (Green Bay) - Emmett R. (Abe) Stuber, 52, a veteran of 29 years of football coaching, is the new defensive backfield coach of the Packers. Head Coach Liz Blackbourn announced that Stuber will start work here March 1. Stuber replaces Tom Hearden, who resigned recently to become an assistant coach at the University of Wisconsin. Blackbourn said today that "I am very happy to get a man of Abe's splendid background in football. He's a high-type individual and is active in community affairs." Blackbourn also said he plans to hire a part-time assistant coach who would serve as a "swing man", explaining: "He'll work in the office on Mondays, on the field with the team on Tuesday, Wednesday and Thursdays, then over the weekend will scout a college game on Saturday and our opponents on Sundays. This will permit us to put more emphasis on player personnel and give Jack Vainisi more time in that phase." Stuber is well schooled in all phases of football and Blackbourn noted that his Iowa State College teams ranked second to powerhouse Oklahoma in defense in the Big Seven Conference in five of his seven years at the ISC helm…WITH EAGLES IN '55: A native of St. Joseph, Mo., Stuber served as the Philadelphia Eagles' backfield coach in 1955. He was cut loose when the Eagles dismissed head coach Jim Trimble. In his long coaching tenure, Stuber had 22 championships in all sports. He had five undefeated seasons in football and experienced 25 winning years and four losing seasons. His record in football shows 147 wins, 69 losses and 15 ties. In track, his teams won 113 meets and finished below first in 15. His basketball squads produced 81 victories and 35
setbacks. Thus, in 475 football, track and basketball events, his teams came out with 341 wins, 119 losses and 15 ties. A one-time star athlete at the University of Missouri (Class of '27), Stuber started coaching while working at the American Rolling Steel Mills in Middleton, O., mentoring and playing with the Armco Blues professional team in 1927 and '28. Abe entered the college coaching field at Westminster College as head football and track coach in '29. He then handled football, basketball and track at Southeast Missouri State for four years, starting in '32…HAS TWO CHILDREN: With continuous success there, especially in football, Stuber signed as football coach at Iowa State College, remaining at this coaches' "hot spot" longer than any other coach. Stuber was backfield coach at Washington University in '54 after which he joined the Eagles. In addition to his coaching, Stuber served as instructor at many coaching schools; conducted an overseas sports clinic during World War II; published three football booklets on offense, defense and football organization; head coaches three all-star football teams; served as president of Big Seven coaches; worked as a member of the public relations, program and motion pictures committees of the NCAA; and conducted radio and television football programs. Stuber, a resident of Piedmont, Mo., is married and has two children – a daughter, Martha, who is now teaching school in St. Louis, and a son, Richard – a student at the University of Missouri.
PACKERS SIGN BOB KENNEDY, SOFTEN FIRST CANADIAN LOSS
FEB 14 (Green Bay) - The Packers suffered their first 1956 loss to Canada today, but the blow was softened by the signing of Bob Kennedy, the onetime Wisconsin Hard Rock who leaves the Army in June. Packer Coach Liz Blackbourn isn't exactly in tears over the Canadians' success in grabbing Vaughn (Buddy) Allison, a 210-pound guard from Mississippi, since Buddy Boy was the club's 15th choice. It would have been more serious, for instance, had the Canadians swiped one of the Packers' first 10 choices. Our "friends" north of the border will have to do some humping to dent that first 10 since seven of them already have signed Packer papers. Of the remaining three, Forrest Gregg, the SMU tackle, is competing in track; Bob Laughery, the Maryland fullback and kicker, in in baseball; and the "odd" choice belongs to Los Angeles in payment for Tom Dahms. Allison was to get a crack at offensive guard and linebacker. Kennedy is a fair exchange for today's black report from Canada. Big Bob is best remembered in these parts for two things: (1) His outstanding play at Wisconsin and (2) his unannounced skip from the Packer camp at Grand Rapids, Minn., in 1953. Kennedy, a 230-pounder, was a member of Wisconsin's famed Hard Rocks – one of the top defensive combinations in the country, whose ranks included present Packers Deral Teteak and Pat O'Donahue. Kennedy played middle guard and wound up with a stack of honors, including all-Midwest, all-Big Ten, all-Players, all-Western and honorable mention on three All-America teams in 1951-52. Kennedy was drafted No. 6 in '53, signed a contract and reported for training late in July that year. Bob was worked at both offensive guard and defensive middle guard and was showing plenty of potential. Then it happened. One Saturday afternoon, Kennedy and Jim Ringo, a now a top-flight Packer veteran, fled camp without telling a soul. Ringo was tracked down at his home in Pennsylvania and
returned a few days later. It developed that Kennedy was torn between returning to Wisconsin to obtain his degree in chemical engineering and entering service. Bob went on to Wisconsin, finished his work and went into the Army in June of '54. Kennedy is presently with the Army Chemical Corps, stationed near Baltimore. He stayed in touch by correspondence and attendance at the Packers' last two games in Baltimore. Kennedy, who stands 5-11, presently has something of a problem. His weight is up to 245 pounds – about 15 over his playing figure. That, it goes without saying, will have to come down and Blackbourn has advised the young man to start work immediately so that he won't be handicapped come the start of workouts in July. Blackbourn plans to give him a shot at offensive guard, where the Packers may need help, and at center guard. He has always had good speed. Kennedy now is 24 years of age. He's a native of Rhinelander where he played his high school football under Russ Leksell, former Minnesota gridder. Leksell's background influenced Kennedy to consider Minnesota as the spot for his college football days, but a relative persuaded him to go to Michigan. After staying on the Michigan campus for a few days, he picked his suitcase and went to Wisconsin.
GREEN BAY PACKERS ARE FACING QUESTION OF BIGGER STADIUM FOR FOORBALLGAMES
FEB 14 (Oshkosh Northwestern) – While the Green Bay Packers of professional football fame and their friends are trying to decide whether to enlarge the present stadium to accommodate more fans or build an entirely new stadium in another part of Green Bay, there is a plan at Brooklyn, New York, to construct a 30 million dollar Sport Center. The Brooklyn stadium would not only be a new and bigger home for the Brooklyn Dodgers baseball team, but also would serve to provide facilities for various professional and amateur sports, for exhibits and community activities in general. In the instance of Green Bay, the attendances at Packer games have grown so large that a bigger seating capacity and a correspondingly larger intake of revenue are almost imperative, if the crack Wisconsin team is to stay almost in the city which has loyally backed its football heroes from the start of the enterprise. No doubt Milwaukee would be delighted to grab on to the famous Packer team for its own, if that became possible. Green Bay people and those residents throughout the Fox River Valley and other portions of this section of Wisconsin have always been splendidly enthusiastic in supporting the Packers. Their loyalty and pride have been so strongly demonstrated, both when the Packers were up and when they were down, that it seems hardly likely that Milwaukee will win in efforts to move them to the Milwaukee stadium. Green Bay will find a way to provide a bigger stadium, we confidently believe. And certainly the Oshkosh and Winnebago County area will be glad if the team stays where it began its career. If it should be decided to construct a new stadium on the Northwest side of the city, that location could overcome much of the downtown traffic congestion. Also with Highway 41 slated for four-lane "super highway" treatment next summer, between Green Bay and De Pere, entrance and exit travel would be much simplified in relation to the stadium parking area.
TOMMIE WARD SIGNS THIRD PACKER CONTRACT
FEB 17 (Green Bay) - Tomie Ward will report to the Packer camp next July! That's news because the 225-pound fullback already signed three Packer contracts but has yet to make an appearance. But Coach Liz Blackbourn revealed today that Ward, a long range punter of Midwestern University at Wichita, Tex., expects to make Packer training for sure in '56. Ward, who stands 6-3 ½, signed his first Packer pact in '54 as a free agent while stationed at Camp Chafee, Ark., expecting to get out in time for action that fall. Uncle Sam said nix so Ward inked a '55 Packer contract. Tomie almost made it, getting out of service in October. Blackbourn advised him to wait until '56 since the Packers were well formed in October. Now a resident of Abilene, Tex., Ward has enrolled at Hardin-Simmons to continue work on his degree. He'll also get a chance to work with the H-S squad and get some expert tutoring on punting from Sammy Baugh, the Washington immortal who coaches H-S. Besides passing, Baugh was the
Redskins' punter for years. Ward, who will turn 24 next Oct. 14, has bounced around considerably. He was at the University of Texas in 1950, at Tyler Junior College in '51 and at Midwestern in '52. A steady crasher at Midwestern with a 43-yard punting average, Ward made his reputation at Tyler. He scored two touchdowns in the Junior Rose Bowl game in '51 and was picked on the Junior College All-American team. He carried 189 times for 949 yards and a five-yard average in the 1951 season. Against Wharton College, he scored five touchdowns and gained 289 yards and finished the season with a punting average of 46.9. He also competed as a high jumper, his best effort being 6-5 1/2. Ward played football and basketball and was a standout high jumper at Ball High in Galveston. He was picked to the all-state football team and still holds the state punting record, an average of 43.8. Playing in the annual Texas all-star game, he scored three touchdowns for the South – a mark that still stands. Blackbourn now has the signing of 16 players for the '56 campaign.
PACKERS KEEP SIGNING STARS; BEARS LOSE NO. 1 DRAFT PICK
FEB 20 (Green Bay) - The Packers went on their merry way today, signing up draft choices by the "dozen" while several other clubs are having difficulty grabbing their top picks under Canadian pressure. Our friends in Chicago, the Bears, lost their first choice to the Toronto Argonauts. The escaped is Menan Schriewer, an end from the University of Texas. For consolation, the Bears inked free agent Preston Bullard, an end from Sam Houston State college. Schriewer was considered one of the better offensive ends in Texas, while Bullard is an unknown by comparison. Detroit reportedly is still having difficulty signed halfback Hopalong Cassady of Ohio State, the Lions' No. 1 pick. Earl Morrall, the Michigan State quarterback drafted No. 1 by San Francisco, is still unsigned. Washington is having trouble with Ed Vereb, the star Maryland halfback, who has been offered a considerable amount by a Canadian team. The Packers, thus far, have lost one player to Canada – 15th pick Buddy Allison, a 210-pound guard from Mississippi. Blackbourn won't weep so long as
choices higher than 12 or 10 skip north of the border. The Packers dented their '56 draft list by a dozen with the signing of halfback Max Burnett of the University of Arizona over the weekend. The Packers have announced the signing of 17 players already. Blackbourn is happy to corral Burnett for the simple reason that he's a good all-around football player. He stands a shade under six feet, weighs close to 190 pounds, and plays offense and defense. Burnett will be given his first duty on defense where Blackbourn will determine whether he has speed enough to compete at safety with Bobby Dillon and Val Joe Walker. After a trial there he may get a shot at corner linebacker where he can join the fight for Doyle Nix's vacant position. Burnett also will be watched for his offensive value. He carried 59 times for Arizona last fall and picked up 214 net yards – an average of 3.6. That may not be eye-opening, but in the Salad Bowl battle last Dec. 31, Burnett romped for 160 yards in 24 carries – a fancy average of 6.6. Tom Hearden, former defensive backfield coach
of the Packers, was among seven pro scouts viewing that Salad Bowler and recommended him highly. Burnett paced the Border Conference seniors to a 13-10 victory over the Skyline Conference seniors. For his outstanding offensive and defensive work, Burnett was named the most valuable player in the bowl. A native of Drumweight, Okla., Burnett, 25, entered Oklahoma A&M in 1949, but later joined the Navy. He was selected to the all-service team while stationed at San Diego Naval Air Station. He entered Arizona in 1952 and twice was selected on the all-Border Conference team.
DICK LOGAN BACK WITH PACKERS; 18 NOW SET FOR 1956
FEB 22 (Green Bay) - Dick Logan moved back into the Packer picture today after an absence of two years. The former Ohio State guard, who played here in 1952-53, was discharged from the Air Force recently and has signed a '56 Packer contract, Coach Liz Blackbourn announced. Logan, an offensive guard in his previous Packer experience, will be tried at that position and offensive tackle, Blackbourn pointed out. Logan played tackle at Ohio State, where he won all-Midwest honors and with the Elgin Air Force base in Florida. His play in service football gained him a tackle berth on the all-service All-American team. Blackbourn has observed Logan in a number of Packer films and observed that "he's big and could play the type of football that would benefit the Packers." Logan stands 6-2 and weighs 235 pounds and has stayed in good condition during his service. He expects to report for training next summer at close to that weight. A native of Mansfield,
O., Logan, 25, was a three-year standout at Ohio State. He was a member of Ohio State's 1950 Rose Bowl champions that defeated California, 17-14. Logan came to the Packers in April of 1952 in a trade with the Cleveland Browns, who had drafted Dick. The Bays sent linebacker Walt Michaels to Cleveland for Logan, Chubby Grigg and Elmer Costa. Logan is the 18th player announced as signed thus far. Two other guards have been signed – Bob Kennedy, the former Wisconsin ace who tried out with the Pack in '52 and will be released from the Army soon, and Cecil Morgan of Oklahoma.
INITIAL RESOLUTION FOR STADIUM BONDS OKAYED
FEB 22 (Green Bay) - Another required step was being taken today toward an April 3 referendum to decide whether $960,000 in bonds should be issued to finance a new stadium. The City Council Tuesday night unanimously approved an initial bonding resolution and ordered it to be published twice before its March 6 meeting. Approval by a three-fourths vote at that meeting will place the question on the ballot for the April election. The Council also adopted a report of Mayor Otto Rachals to step up the city's civil defense planning. In adopting the bonding resolution, the Council also approved a report of a committee of the whole on the stadium subject Feb. 9 which pledges that, if the referendum is approved, no bonds will be sold until four fact-finding steps are being taken...STEPS ARE PLEDGED: These steps are: To obtain construction bids to replace present estimates for a new Perkins Park stadium or for a new stadium on the present site; to get a report on parking at both sites; to sign an agreement with the Packer Corp. under which it would pay $480,000 of the cost over 20 years; and to obtain the views of the Board of Education on its use of a new stadium. The report limits the referendum question to the bond issue only with no reference to location. The proposed bond issue would cover the estimates of either two plans, except for providing parking. The estimates for a new stadium in Perkins Park was revised early this month to $950,450. The estimate for rebuilding on the present site is $780,000 plus lighting changes. Either plan would provide 20,000 grandstand seats and 12,000 bleacher seats...LAW REQUIRES VOTE: State law requires a referendum on a bond issue for city construction of a stadium.
FASTER DON BARTON RETURNS TO PACK; 19 PLAYERS SIGNED
FEB 24 (Green Bay) - The Packers reclaimed a faster Don Barton today. The 175-pound scatback, who made such a big impression at the start and finish of the 1953 season, has signed for the '56 campaign, Coach Liz Blackbourn announced. Barton is presently in service. He's a lieutenant in the Army at Fort Knox, Ky., and will be separated early next month, completing a two-year stretch. Blackbourn figures Barton's speed will be a tonic to the Packers on
offense. The little giant ran the century at the University of Texas in 9.8 and, in a recent letter to Packer scout Jack Vainisi, wrote: "I do believe that I have gained a little in speed." Barton has been active in the Army playing football and taking part in spring sports. The 5-11 whizzer had a rather tragic start in his rookie season. On a kickoff return, Barton legged it from the goal line to the 50 where he was belted out of bounds by a horde of New York Giants in Minneapolis. He cane up from the pile with a broken ankle. Barton, wearing crutches and lugging a huge cast, watched just about every Packer practice until he was able to hobble through the plays. He recovered enough to perform in the club's last two games on the west coast, carrying seven times for 40 yards, an average of 5.7, and catching two passes for 53 yards and one touchdown. Barton was completely overlooked in the '53 college player draft and was signed as a free agent. Few scatbacks have been able to cut the majors at left half since that position has become chiefly a ball-carrying spot. One of the latest to make it was Ronnie Waller, the Los Angeles Rams' 175-pounder. Like Waller, Barton is a rugged hitter and, better yet, is a talented pass catcher. Don's also a prospect for right halfback or flanker because of his pass receiving ability. Barton faces some hot competition for work at halfback. Already signed are Jack Losch of Miami, the Packers' No. 1 choice; Bob Burris of Oklahoma; and Max Burnett of Arizona. Then there are veterans Breezy Reid, Joe Johnson, Al Carmichael and Veryl Switzer. Barton is the third former Packer to complete his duty to Uncle Same and return to the club. Signed earlier were guards Bob Kennedy, who saw training camp action in '53, and Dick Logan, a '53 season veteran.
BARNES DOESN'T AIM TO MISS GREATEST CHANCE IN FOOTBALL
FEB 27 (Green Bay) - Long Emery Barnes knows what it is to miss. So he doesn't aim to miss his greatest chance in football. The 6-6, 225-pound former University of Oregon and United States Army grid standout, who officially joined the Packers over the weekend, muffed a chance to make the U.S. Olympic team in '52 because he had too many misses in the high jump. Barnes tied for third in the Olympic tryout with "another fellow but he was picked on the team because he had less misses than me," the long-legged tackle and end said. Barnes was asked, in the standard Packer questionnaire, for his biggest thrill. He didn't list any thrill but explained his Olympic miss as the thing that "impressed more on my mind than any thrill." Emery's best high jump was 6-8, giving him a co-championship in the NCAA high jump in '52. The Packers' 18th draft choice in '53, Barnes was a top-flight defensive end at Oregon for three seasons. With the national championship Fort Ord team, Barnes gained all-Army recognition at tackle. He signed with the Packers in '53, but was called into service before reporting. He will be discharged. Packer Coach Liz Blackbourn most likely will use the lanky bomber at defensive end - a position well suited for his ability to crash and tackle. He also had some experience as an offensive end. Barnes was a tower of strength in Fort Ord's lopsided victory over Pensacola Air Base in the fourth annual Poinsettia Bowl game in San Diego last Dec. 17. Packer scouts reported: "He played tackle during the game although he is a natural defensive end, or perhaps offensive end. After the game, Barnes admitted he had been bothered with the flu, and one of the other scouts said he would have hated to play against him when he was well." Also playing with Fort Ord was 260-pound Charlie Grant, who joined the Packers during the '54 season and then went into service. The giant center may not get into service until next October. Barnes is the 20th player announced as signed for next fall.
STOCKHOLDERS OF PACKERS MEET
FEB 28 (Green Bay) - The annual stockholders' meeting of Green Bay Packers, Inc., will be held in the circuit courtroom of the courthouse at 8 o'clock Monday night, Russ Bogda, Packer president, announced today. Directors will be elected and reports will be heard from Verne Lewellen, general manager, and Liz Blackbourn, head coach. The nominating committee will present a slate of 15 men for election to three-year terms on the board of directors - Jerry Atkinson, George Calhoun, Max Cahodas, Lee Joannes, Charles Mathys, John Stathas, Frank Birch, Fred Trowbridge, John Torinus, Max Murphy, Charles Egan, Carl Mraz, Dave Kuenzil, Albert Puelicher and Art Mongin. Kuenzil, a Milwaukeean, Stathas, Mraz and Egan have been nominated for the first time, one of whom will replace Bill Sullivan, who is leaving the city. Charles Goldberg of Marinette will be nominated to fill the unexpired term of Harrison McCormick.
BURRIS ENTERS ARMY, OUT OF '56 SEASON; TWO GUARDS SET
MAR 1 (Green Bay) - The opening of March provided a pretty stiff breeze of activity at Packer headquarters today - what with assurance that Tom Bettis will be out of Army service in time for the '56 season, signing of two guards from Texas, and welcoming of Abe Stuber. Coach Liz Blackbourn announced that veteran linebacker Bettis, the Packers' first draft choice in '54, will start six months of active duty at Fort Eustis, Va., Sunday. Blackbourn said he was "much relieved" to know that Bettis will have completed his active service Sept. 4 - enough time to get ready for the last few non-league games and the league opener. Bettis is a member of the Army Reserves and under the six-month plan will serve as a reserve for eight years. Stuber made his first appearance at the Packer office today, driving up from Ames, Iowa, where he stopped for a few days after driving from his home in Missouri. Stuber, an aide with the Philadelphia Eagles in '55 with over 25 years of experience behind him, will work as the Bays' defensive backfield coach. He replaces Tom Hearden who resigned in January to join the University of Wisconsin staff. The two new guards, both from Houston University, are Lavell Isbell, the Bays' 21st draft choice a year ago, and Willie Shoemaker, a free agent...DRAFTED AS JUNIOR: Isbell, drafted as a junior, carries 225 pounds on a 6-2 frame. He was a guard in his first two years at Houston and then played tackle as a senior. A fierce competitor and outstanding blocker, Isbell was voted the most valuable lineman on the Houston team last year. Blackbourn says he plans to start Isbell as an offensive guard in '56 training. The newcomer is 22, married and the father of a 10-months-old daughter. Shoemaker was a four-year regular guard for the Cougars, and highly recommended by Isbell. In 1952, Shoemaker lettered as a freshman, playing defensive middle guard. He took over the right guard position as a sophomore and was an all-Missouri Valley Conference selection in his junior and senior years. Shoemaker stands 5-11 and weighs 215 pounds.
NEED FOR STADIUM CITED BY LEWELLEN
MAR 1 (Green Bay) - "The Packers must have a stadium that will seat a minimum of 32,000 persons. The forthcoming referendum will determine whether the Packers can remain in Green Bay for any length of time." Those two statements pinpointed an address by Packer general manager Verne Lewellen at the weekly luncheon meeting of the Optimist Club at the Beaumont Hotel Wednesday noon. Lewellen displayed pictures of Washington and Main Sts. as they appeared back in 1920 and pointed out: "It is obvious that our city has progressed since that time," noting the types of autos, the trolley and even the horse and buggy. The GM explained the various progress and advancement made by the Packers and the city. "Green Bay has grown from 37,415 to 46,735 in 1940 to nearly 57,000 in 1956 - an average of nearly 1,000 per year. And it is still growing. The Packers, back in the early days, played with 15 players on the roster; the club furnished only jerseys and socks (now they furnish everything but shoes); we took a bus to our games in the state and the minimum guarantee for a league game was $2,500 compared to the present $20,000. And 4,000 was a big crowd back in '25," Lewellen said. Lewellen explained that the present stadium was enlarged to 25,000 seats in 1938 to "take care of ever increasing crowds," and then emphasized: "Today the stadium is, for all intents and purposes, the same as we had in 1938," adding: "We cannot progress enough to keep up with the rest of the NFL with this type of stadium. One of our problems now is that other clubs in the league do not want to come to Green Bay because they have no chance to gain financially as we have out of their cities. For instance, the Bears took $27,866.51 out of Green Bay last fall; we took $45.975 out of Chicago. Detroit received $24,811 as its share of the Lion game here; we received $50,518 from the Thanksgiving Day game in Detroit. The pressure is now on us to become an equal member of the National League and our only hope is to have a stadium that will seat 32,000 or more persons. We cannot expect to compete much longer with the rest of the league without a larger stadium." Lewellen explained the difference in another way, revealing that the league's average attendance was 35,451 in 1955 compared to the Packers' 24,675 in Green Bay and 27,000 in Milwaukee. The Western conference clubs had an average gate of 43,639...FINANCIALLY SOUNDER: The general manager told Optimists that
the Packers are "now financially sounder than they have ever been in the club's 33-year history. The credit must go to the coaching staff which has put us back into contention. The club has leaped from a 2-9-1 record in '53 to 4-8 in '54 to 6-6 in '55." Touching on progress made by the City of Green Bay, Lewellen said that "we here have experienced the same growth that other cities in Packerland have enjoyed. But the Packers are handicapped because the progress in Green Bay and Packerland has not kept up with their growth." Lewellen, dipping into the east-west discussion, stated: "We are not concerned whether the stadium is not on the east or west side. Let's take first things first - deciding to build a stadium, and then tackle the site problem."
DRULIS JOINS CARDS
MAR 1 (Chicago) - Chuck Drulis, former star guard with the Chicago Bears and the Green Bay Packers, has signed with the Chicago Cardinals as an assistant coach for the 1956 season.
NEW RULE MAY PROLONG FERGUSON'S GRID LIFE
MAR 3 (Green Bay) - The NFL's new dead ball rule may prolong the football life of one Howard Ferguson! The Packers' veteran fullback is notorious for squirming, nudging, leaping up and going after being hit or piled on by enemy tacklers, thereby exposing himself to possible damaging hurts. Ferguson, the league's No. 2 ground gainer in '55, battled both an injured leg and a troublesome shoulder along the treacherous way last fall. No doubt some of the hurts were absorbed while going for those extra yards. Under the new rule, Ferguson can relax as soon as his knees or hands touch the ground - unless, of course, same takes place when he's in the open; then, the rule says the runner may get up and scoot. Coach Liz Blackbourn figures "we'll be hurt as much as anybody by the new rule - maybe more, because Howie likes to get up. But it's a good rule and certainly doesn't detract from professional football's great appeal." Liz added, "Howie is the only back in the league who is noted for jumping up when he's down. Maybe we can break him loose a little more so he won't have to run into a large group of tacklers."...CARRYOVER HABIT: Oddly enough, the league's top rusher, Alan Ameche of Baltimore, never gets up and goes - probably a carryover habit from his days at the University of Wisconsin. Ferguson, on the other hand, never played college ball and the idea of kissing Mother Earth when tackled will be strange to him. San Francisco's Joe Perry and Hugh McElhenny, two of the best crushers in the league, rarely get up once they are pinned. The Forty Niner tune on that score was changed abruptly when Hugh was hurt in an exhibition last season. Another Packer who may be handicapped some by the new rule is quarterback Tobin Rote. The lean Texan has been knocked down aplenty while back to pass but often gets up and runs...BRIEFS: Abe Stuber's job as defensive backfield coach was complicated the very first day he reported for work with the announcement that Doyle Nix, regular cornerbacker last fall, is definitely lost to military service. In addition, linebacker Tom Bettis won't report until Sept. 4 due to a six-months' Army term. Two rookies, Nix and Billy Bookout, handled the Bays' cornerbacking last fall...Reminder: The Packers' annual stockholders meeting will be held in the circuit courtrooms at the courthouse Monday night at 8 o'clock. Be there - if you're a stockholder...The Packers have now lost two players to Canada, the latest being guard Jesse Birchfield of Duke, the club's 23rd draft choice. Earlier, guard Buddy Allison of Mississippi, the 15th choice, skipped north. Blackbourn has made up for their loss by signing two guard with pro experience - Dick Logan and Bob Kennedy, to go with guard signees Cecil Burris, Lavell Isbell and Willie Shoemaker.
PACKERS SET PROFIT AT $88,758, SIGN TV CONTRACT
MAR 6 (Green Bay) - The Packers painted a rosy financial picture in '55. And prospects are good for the same in the next three seasons. Packer general manager Verne Lewellen, addressing stockholders at their annual meeting in the courthouse Monday, announced the club realized a profit of $88,578.17 - before taxes! And to make the night a compete success, Lewellen revealed that Green Bay Packers, Inc., has sold television rights to the Columbia Broadcasting System for $225,000 for three years - or $75,000 in each of the next three seasons. Thus, the Packers can start the 1956-57-58 campaigns with 75 G's on the income side of the ledger. The agreement with CBS gives the network rights to televise all Packer home and road Sunday afternoon games. Details are still to be worked out. The Packers now are one of six clubs to sign pacts with CBS. The others are the Cleveland Browns, Chicago Bears, Washington Redskins, New York Giants and San Francisco Forty Niners. The Packer security advanced by the television pact is pointed up in Lewellen's report on the 1955 profit - which was $47,124.95 after federal taxes. The '55 profit ($88,578.17) contained only a small amount of television and radio revenue - $35,300. Income from the same sources in '54 was a fantastic $114,350, helping the club to a profit of $86,368.63. In other words, the Packers had $79,050 less income on TV and radio than they did in '54. How did the Packers realize such a large profit in '55 with no appreciable TV and radio income? Lewellen put it this way: "The success of the team was largely responsible for the progress we're showing in these reports tonight. The team increased its record from 4-8 in '54 to 6-6 last fall and to give you an example of the better play we had five players in the pro bowl game - more than we've ever had before." The "team success" showed up in "income from football games" - $628,680 compared to $499,835 a year ago, Lewellen said. The total operating income last fall was $695,943.15 against $644,482.37 in '54, the '54 figure showing up in the fat TV-radio revenue. Expenses also went up in '55, the total figure being $609,727.76 against $559,861.98 in '54. The largest gain was in "salaries and expense-players, game personnel and trainers" - $292,947.05 in '55 and $260,336.52 in '54. The balance sheet showed the Packers with total current assets of $275,233.35, with current liabilities of $74,966.63. Total liabilities and capital are listed as $310,400.93. The profit and loss statement was read by John Torinus, secretary-treasurer of the Packers, after which Lewellen, introduced by President Russ Bogda, explained the figures and reviewed the past and upcoming seasons. Lewellen announced that the '56 league season will start one week later than usual - Sept. 30, and that four non-league games are set and two are in the tentative stage. He complimented the coaching staff, headed by Liz Blackbourn, on the "tremendous job of drafting" and the "fast work" in signing up the selections. He announced that Howard Kusserow, former ticket assistant in Milwaukee, has been hired as a "full time ticket man in Milwaukee." Kusserow replaces Pat Harder who resigned recently. "The first steps to dress up the team were taken during the past season," Lewellen said, adding: "We purchased two sets of jerseys and much other equipment, including colorful capes." Along the business front, Lewellen said that "our bookkeeping system has been streamlines and all outstanding bills are paid as of now." He explained that "our books are always open to the public and I should be happy to explain any phase of our income and expenses at any time." In other action, the stockholders elected 15 directors for three-year terms, enlarging the board from 39 to 42 members, and names Charles Goldberg of Marinette to fill the unexpected term of Harrison McCormick. Directors named: Jerry Atkinson, George Calhoun, Max Cahodas, Lee Joannes, Charles Mathys, John Stathas, Frank Birch, Fred Trowbridge, John Torinus, Max Murphy, Charles Egan, Carl Mraz, Dave Kuenzli (of Milwaukee), Albert Puelicher (of Milwaukee) and Art Mongin. New directors are Kuenzli, Stathas, Mraz and Egan. The board will elect officers at a meeting on Monday.
COACH REVEALS '56 BLUEPRINT
MAR 6 (Green Bay) - "Our job now is to sell the veterans and rookie alike that we can win the championship." Thus, Packer head coach Liz Blackbourn revealed a strategic portion of his blueprint for the 1956 season for stockholders at their annual meeting Monday night in the courthouse. "Barring any serious losses, we may have enough good players to win it but our players must be sold that they can come out on top," Blackbourn pointed out, adding: "Maybe we could have won the Western division title in 1955. We came very close - those two losses to Baltimore, for example. In one, our tackle, Szafaryn, settled one-tenth of a second late and a penalty was called - probably the one time it might be called in 10 years. The penalty lost us a touchdown. In the other Baltimore game, Howton was away in the clear when he juggled the ball and had to slow up to recatch it. That cost us a touchdown." The Packers lost each Baltimore game by four points and, needless to say, the two touchdowns might have changed the Packers' final record from 6-6 to 8-4 and put them into the championship game. Blackbourn predicted an improvement in quarterback for '56, revealing that he expected to have help for veteran Tobin Rote. "Paul Held will be back and he looked pretty good in the last game on the west coast. Then we have two good-looking new boys coming in - Beightol (of Maryland) and Starr (of Alabama). One of them may have possibilities. My hope is that we can play them in a good share of the exhibition game," Blackbourn said. Noting that "it's possible in '55 that people might have thought we dragged our feet as far as using only one quarterback," Blackbourn noted that "only one club in the Western conference used more than one quarterback - the Bears, and they have quarterbacks of equal ability. The other five clubs all stayed with one." Touching on the draft, Blackbourn said that "we think our draftees are of the pro type. We haven't gone in for the scat type of back and we haven't tried to get the publicized small linemen. Our chief backs, Losch, Burris, Duvall, Popson, are around 200 pounds - the Ferguson-type and I hope in ability." Blackbourn explained that "we like to think the reason for our being able to sign up our draftees as quickly as we did is that we got at the business of signing them as soon as the draft was finished. We lost two to Canada and we are sorry to have lost them, but they were well down the list." Crossing a good and a bad, Blackbourn said that "we will have such experienced boys as Dick Logan, Don Barton, Emery Barnes and Bob Kennedy with us and it's quite possible we may get Gil Reich and Gib Dawson. But we already have lost Doyle Nix (to service) which means that right now our defense is weaker than it was last season. There may be other losses." Liz said the signing of veterans is "the next order of business," adding that the retirement of placekicking specialist Fred Cone "is a real blow because he won at least two games for us last fall with his kicking alone." Blackbourn paid tribute to the assistant coaches and pointed out that "they are due a great amount of our credit for our success." He introduced Ray McLean, Lou Rymkus and Jack Vainisi and asked Abe Stuber, the new defensive backfield coach, to say a few words. Stuber expressed appreciation at the opportunity to join the staff and the hope that he could be of some assistance in keeping enemy teams from scoring against the Packers.
COUNCIL ORDERS VOTE IN APRIL ON STADIUM BONDS
MAR 7 (Green Bay) - After recording a turnout of only 12 percent of registered voters Tuesday, Green Bay could look forward today to a top issue, what to do about a stadium, for its next election. The City Council Tuesday night unanimously completed action for a bond issue of up to $960,000 for a new stadium and scheduled a referendum at the April 3 election for its ratification or rejection. The Council also awarded contracts for all but one portion of construction of the new city hall to low bidders and authorized the mayor and city attorney to open negotiations with the state to offer rental of the fifth and sixth floor of the new building. The stadium referendum question will simply ask simply whether up to $960,000 in bonds should be issued to finance a new stadium, with no reference on the ballot to location. City bond issues for a stadium require a referendum, and the question is limited to the legal form...WILL ESTABLISH FACTS: At the start of action on the bond issue, the Council pledged that, if the referendum carried, no bonds would be sold until four fact-finding steps are completed. These steps will be obtaining a written agreement from the Packer Corp. to pay half the cost, a report on parking costs at two proposed sites, a Board of Education stand on its use of a new stadium, and actual construction bids to replace present estimates. The Packers have promised verbally to pay $480,000 of the cost and interest on this portion over a 20-year period. The $960,000 issue was recommended by a citizens' committee which split on whether the new stadium should be located in Perkins Parks or at the present City Stadium location. The latest estimate of the Perkins Park stadium is $950,450, not including parking or lighting improvements...CAPACITY 32,000 SEATS: Either plan would provide 20,000 permanent seats and about 12,000 bleacher seats.
PACKERS TO 'PLAY' GREATEST GAME APRIL 3: MAYOR
MAR 8 (Green Bay) - "One of the greatest games the Packers ever played will be played April 3. And the voters will be the players!" Thus, Mayor Otto Rachals sounded the keynote of a campaign for a new stadium for the Packers and Green Bay - at a breakfast meeting of a unique group at the Northland Hotel this morning. Rachals was referring to the date of the referendum - Tuesday, April 3, when citizens of the City of Green Bay decide on whether or not to permit the City to issue bonds for $960,000 for the construction of a new stadium. Rachals set that date as the key to the future of the Packers in Green Bay and added: "All of the other problems will be solved with a majority vote." He was referring to the location of the stadium, type of construction, etc. Rachals' remarks were spontaneous and were presented after his earlier talk and comments from other members of the group. Earlier, he said: "We do not have an easy job on our hands but when we do clear up a lot of misunderstanding, much of the opposition will disappear." This was a pre-training breakfast toward the formation of a sound Citizens Committee for the Stadium team - a sort of nucleus for a much larger squad of Stadium Seekers and Salesmen. Co-captains of the CCFTS are Jerry Atkinson, long active in civic affairs, and Tony Canadeo, the firebrand halfback with the Packers for 11 seasons. Jerry and Tony will head an organization that is expected to mushroom into a force of some 500 persons. Chairmen of some 20 committees are being selected. Presidents of 101 different organizations in Green Bay will be asked to serve - along with other officers of the groups. The big job of the citizen gridders can be summed up in one word: "Education!" Their work will be to inform the public on just why Green Bay needs a new stadium to house the Packers, how it will be paid for, what it means to the future of the team and the city, and many other beneficial phases. The breakfast group this morning agreed on one point: "That our objective will be to swing a commanding vote in the referendum with no reference to site!" The business of educating will occupy the next two weeks. The third and final week will be unrelenting campaigning and will feature house to house knocking by block captains in each ward. The big week will be climaxed by a super public rally March 31. Already agreeing to be present is George Halas, owner of the Chicago Bears and a close observer of Packer affairs for 35 years. Efforts also will be made to invite Curly Lambeau, founder of the Packers and their head coach for 30 years; Paul Brown, coach of the Cleveland Browns; and many others. Needless to say, all of them will be backing the new stadium - especially Halas and Lambeau, both longtime gridiron foes. Actually, the Citizens Committee started the ball bouncing with today's meeting but a shift into high gear will be made Tuesday night when chairmen of the numerous committees - plus anyone interested, hold their first meeting. The Tuesday session, at the Columbus Club, will shape methods of education. A booklet of information will be set up with chairmen, themselves, furnishing ideas, questions, answers and all different suggestions that might be helpful in the drive. This morning's breakfast was enthusiastic - and that's a mild word, because every speaker had a key point, a hot idea or a fresh suggestion. Atkinson served as master of ceremonies for the group of 32 persons, and he brought out these points in the process. "Would it still be Brooklyn without the Dodgers? That fits us, it seems. Overemphasis on the Packers? They must always be overemphasized because we never could get an industry to come here that would give us worldwide recognition. Everybody roots for the underdog and that's why we are a sentimental favorite in every game we play and whenever fans discuss football." Canadeo hammered home: "The voters must get the true story about the Packers and the need for a stadium, and we'll give it to them. The attention of all of Wisconsin is focused on Green Bay to see what the city will do about the stadium." John Borgenson, executive secretary of the Association of Commerce, pointed out: "We're in the process of getting many favorable resolutions from many organizations. Don't forget, anyone who wants to is invited to get out and help." L.L. Mohlke, of the west side business group, speaking for himself, and Carl Zoll of the south side, passed our some key thoughts: "The Packers represent a way of life in Green Bay - a fame that you just can't measure. And I'm wondering how much the Packers might mean to the labor peace we have here? The fortunes of the Packers give management and labor a common denominator that is hard to find in other phases of life. We've agreed unanimously to get behind the "yes" vote without talking about the site." Packer President Russ Bogda told of plans for the super public rally; John Torinus, Packer secretary-treasurer and committee publicity co-chairmen along with Hayden Evans, outlined newspaper, radio and television plans. Dominic Olejniczak, Packer vice-president, said that "I'm of the attitude that the people of Green Bay will not let the Packers leave Green Bay." Verne Lewellen, Packer general manager, asked the question: "Can the Packers stay in Green Bay for 20 more years? That can be easily answered by looking over the assets of the corporation." Liz Blackbourn, Packer head coach, said he was "greatly impressed with the tone of the meeting and the talks have given me a great lift." Blackbourn cautioned about Milwaukee with its stadium - "just waiting, and Minneapolis is building a stadium; there will be a place for the Packers if Green Bay does not have a new stadium. It looks like a tough battle but most encouraging is the enthusiasm. This is no half-way program; it's either for or against the squad. There must be an all-out approach to the matter." Bernard Darling, representing Packer alumni, reminded that "the Packers will be paying over half of the amount for the stadium." Also speaking briefly were Evans, who explained various opposition he had heard, and Abe Stuber, new defensive backfield coach of the Packers.
LANCE, FLORIDA QB, SIGNED BY PACKERS - AS DEFENSIVE BACK
MAR 8 (Green Bay) - Bobby Lance, regular quarterback for three seasons at the University of Florida, became a defensive halfback today, with the signing of a Packer contract for '56. Coach Liz Blackbourn, who announced the signing of the 6-1, 185-pound back, said the newcomer is best qualified as a defensive halfback and "that's where we'll give him a go." Lance, the Pack's 28th draft choice, is a rugged tackler and has good speed; he runs the century in 10.2. Lance is the second defenser announced as signed thus far, joining Max Burnett, the Arizona two-way halfback. Though Lance is a safety, he likely will get a shot at the job vacated by serviceman Doyle Nix at cornerback. Loss of Nix leaves the biggest hole in the defense thus far. Other members of the secondary are expected to return, including deep men Bobby Dillon and Val Joe Walker and cornerback Billy Bookout. Blackbourn is asking Lance to concentrate on defense because the Packer quarterbacking is in the hands of four players - veterans Tobin Rote and Paul Held and rookies Lynn Beightol of Maryland and Bart Starr of Alabama. Lance had a great reputation as a quarterback at Florida, being a capable passer and an effective runner. He handled most of Florida's split-T the last three years. In '55, he attempted 58 passes and completed 22 for 189 yards. He carried 113 times for 407 yards - an average of 3.6...LED IN INTERCEPTIONS: On defense, however, Lance gained a number of honors, leading the team in interceptions with four. He returned them for 111 yards - an average of nearly 30 yards. Lance also shared the punting at Florida, averaging 37 yards, returned punts and kickoffs and kicked extra points and field goals. Lance, 23 and single, was an all-state performer at Rayburn-Bennett High in Nashville, Tenn. He graduates in June with a degree in business administration. Blackbourn has announced the signing of 23 players thus far, including five halfbacks, five guards, four ends, three fullbacks, three tackles, two quarterbacks and one center.
STADIUM GROUP ORGANIZES TUESDAY NIGHT
MAR 9 (Green Bay) - Tuesday will be Idea and Organization Day for the Citizens Committee for the Stadium! Chairmen and their co-chairmen of more than 20 committees already selected - plus officer representatives of 101 organizations in Green Bay, will meet at the Columbus Club at 7:30 Tuesday night. Many new work committees will be formed at the mass meeting, and all will be aimed at a "yes" vote in the April 3 referendum on the $960,000 stadium bond issue for the Packers and Green Bay. Verbal action will be led by CCFTS co-chairmen Jerry Atkinson and Tony Canadeo. They expect to complete at least the preliminary working organization that will campaign throughout the city, in addition to exchanging campaign ideas. All sorts of workers are needed, Atkinson said, including volunteers to work in the residential areas. Committees and organization offers reporting Tuesday night are asked to be prepared to outline the scope of their activities. Also, they are asked to submit a tentative budget for submission to the finance committee...The CCFTS will lose a hard worker March 15 when Bill Sullivan leaves the city. Sullivan is moving to San Diego because of health reasons. Sullivan has been vice-chairman of the sports committee (the Minute men) of the Association of Commerce, a member of the AC board, a member of the board of directors and of the executive committee of Green Bay Packers, Inc., and a member of the Bluejay board. The AC sports committee will say "good bye" to Sullivan at a luncheon in his honor at the Prange Terrace room at noon Tuesday...Adding to the football flavor yesterday (the CCFTS held its first meeting Thursday morning) was an appearance here of Bobby Thomason, the Philadelphia Eagle quarterback who played with the Packers in '51. Thomason was here with his wife in conjunction with an auto accident case. Bobby, who worked in the city engineer's office after the '51
season, confessed that "I've put away my drawing materials." He's now working as a steel salesman in Philadelphia. Thomason is looking forward to "our new setup", referring to the hiring of Hugh Devore as head coach of the Eagles. Thomason visited the Packer office and saw a familiar face - Abe Stuber, who backfield coached the Eagles last year.
PUBLICITY MEN OF STADIUM COMMITTEE TEST PERSUASIVE POWERS
MAR 10 (Green Bay) - For a few short minutes Friday, members of the publicity committee of the Citizens Committee for the Stadium "objected" to a new stadium for the Packers and Green Bay. The representatives of press, radio and television actually were just testing their own persuasive powers, and they did it this way: Each committeeman presented an argument - What possible objections there could be to a "yes" vote in the April 3 referendum on the stadium bond issue. After each objection, the committeemen reviewed the facts and convinced themselves. Sitting in with the publicists were Citizens Committee Co-Chairmen Jerry Atkinson and Tony Canadeo, and Haydn Evans and John Torinus, co-chairmen of the publicity committee. They all agreed that the publicity group is one of the chief keys to success of the "yes" vote since the publicitors are charged with the responsibility of relaying information - not to mention booming the "yes" story. One portion of the campaign has been completed. It consisted of three significant happenings this week: (1) The Packers stockholders meeting at which the Packers announced a profit of nearly $87,000 on 1955 operations and cash assets of nearly a quarter of a million dollars, thus pointing to the soundness of the club. (2) The City Council meeting at which the council unanimously completed action for a bond issue of up to $960,000 for a new stadium. (The Packers have promised to pay $480,000 of the cost and interest on this portion over a 20-year period.) (3) Organization of the nucleus of the Citizens Committee at a breakfast at which Mayor Otto Rachals said that "the Packers will play their greatest game April 3." The big push will start Tuesday night with a meeting at the Columbus Club of all committee chairmen, representatives of more than 100 organizations and anyone interested in working. Twenty committees already have been formed and many more will be set up. More than 300 Stadium Salesmen are expected at the session. The business committee was expanded today with the addition of Matt Welles, who joints Mike Miketinac and Lewis DesJardins. Other committees were announced yesterday and additional groups will be revealed next week as they are formed.
NEW STADIUM NEEDED FOR HIGH SCHOOLS AS WELL AS PACKERS
MAR 13 (Green Bay) - Whether it be a proposed constitutional change or a bonding referendum, most voters approach the voting booth with one question in their mind: Why? The same question might well be used to start a discussion of Green Bay's April 3 stadium bond referendum. Why does a city need a new 32,000 seat stadium? Little space is needed to point out the need for improvements at history-encrusted City Stadium when compared with modern sports plants. The present wooden stands, dating back to 1927, offer a constant safety and fire danger and high maintenance costs which will increase as the years go by. Spectators must be willing to be a part of a jam when entering and leaving since gates are limited to one side of the park. View of events is blocked because all entrances to the stands are from the front and the lower-than-normal pitch of seating rows. The type, number and location of concession stands and restrooms perhaps is better not mentioned. But the inadequacy of these facilities is a severe handicap to drawing fans to City Stadium...NEED HIGH SCHOOL FIELDS: The biggest argument for better facilities and increased seating, of course, is to increase the draw of Green Bay's top civic enterprise and best-known national identification, the Packers. From the strictly city point of view, however, the near-future need of a new facility for high schools and other uses must be considered. Regardless of which location eventually is selected, it doubtless will become a replacement for the present home fields of either East or West High Schools and the site of the East-West game since the same words used in describing City Stadium can be used for West stadium. This was one of the reasons the breakdown of 20,000 permanent seats and 12,000 bleacher seats evolved during preliminary stadium studies. The 20,000 seats were viewed as the maximum city-only need for the future, with the "surplus" bleacher seating suited for added Packer needs. There are those who can find few reasons for both schools not playing their games in the same modern stadium. Now, what are the "hard facts" of the competitive challenge facing the Packers? The Packer Corp. has made no secret of pressure from other league teams for improved gate receipts nor of the view that Green Bay can hope to stay in professional football only with increased seating potential. A report of 1955 gate receipts puts the reason for the pressure from other teams in a nutshell...AVERAGE TAKE $24,897: The Packers averaged $44,155 per game as their share of gates drawn in other cities, while teams playing the Packers "at home" took away an average of $27,212 per game. The three teams which visited City Stadium took home an average of $24,897. Only the Baltimore Colts, who met the Packers in Milwaukee, got a cut approaching the Packers' road average. Their percentage was $40,467. The Packers' only road gate share near the average they paid was the $29,924 received in San Francisco. The other road shares ranged from $36,638 in Baltimore to $60,013 in Los Angeles. The Packers received a total of $264,933 from their road appearances, which was $101,658 more than they paid out to visiting teams. The average 1955 league football gate was 35,451, or $103,349, compared with the Packer average of 24,675, or $81,669. The three City Stadium games drew a 22,074 average or $74,723. Packer games in Milwaukee drew an average of 27,261 or $88,616. Only Washington (24,442 or $80,727) and the Chicago Cardinals (19,104 or $48,686) drew average gates of less than the Packers. New York's average home attendance was more, 27,233, but its average receipts were less, $74,578. Only two other teams had average gates of less than $100,000, Philadelphia with $82,729 and Pittsburgh with $84,692...PRICE SPREAD DISAPPEARS: In the past, the Packer Corp. points out, it has been able to compensate for smaller seating capacity with high ticket prices, which have now approached their limit. At the same time, increased interest in professional ball has made it possible for other teams to boost their prices and erase the Packers' advantage in equaling shares paid visiting teams. The Packer ticket average of $3.31 is approached by Washington, $3.30, Baltimore, $3.20, Detroit, $3.06, and the Chicago Bears, $3.02. The Packers predict the proposed increased seating will make possible average gates of between $105,000 and $110,000, slightly above the 1955 league average. More seats would make possible an increased spread in ticket prices. Improved facilities in themselves and a better seating arrangement, the Packers feel, would make the ticket selling task less difficult. The present City Stadium layout has only 13,000 sideline seats, of which 10,000 are reserved for season tickets. Either of the proposed plans would about double sideline seats. The next article of this series will cover questions of the financing of the proposed bond issue.
WOULD YOU PAY 50 CENTS TO KEEP THE PACKERS?
MAR 13 (Green Bay) - Would you pay 50 cents to keep the Packers? Or, are the Packers worth a couple of packs of smokes, a half a pound of coffee or any other four-bit item to you? The half-a-buck figure seems rather fantastic when you place it alongside the price of a new stadium. But here's how Bernard Darling, co-chairman of the Stadium Ward committee along with Councilman Roman Denissen, explained it at a informal meeting of city councilmen, Mayor Otto Rachals, City Atty. Clarence Nier and Packer officials at the Northland Hotel last night: "The City of Green Bay's cost in building the stadium will be approximately $600,000 in 20 years - the original $480,000 plus interest. The Packers' cost will be the same. Our population should average 60,000 over the next 20 years, and probably will go higher. Thus, the average cost per person for the city's share of the stadium would be $10 for 20 years. That $10 broken down into annual payments would be just 50 cents per person." Citizens of Green Bay will vote April 3 on a referendum to decide whether not the City of Green Bay should issue $960,000 in bonds for the construction of a new stadium, with the Packers bearing half ($480,000) of the cost. The 50-cent theory was applauded by councilmen, Rachals and Nier because, as it was explained by the city officials, one of the big questions among the voter-fans is: "What's it going to cost me?" Rachals, dashing out figures on a large blackboard, pointed out: "It should be stressed that the stadium is costing the City of Green Bay $480,000 - not $960,000. We can't forget that the Packers are paying half the bill. And we can't forget either than the city's share of $480,000 is for the betterment of the city and all of its residents. Many other attractions besides football can be held there. What it amounts to is that we're (the City of Green Bay) getting a $960,000 stadium for $480,000."...INVESTIGATE USES: General Manager Verne Lewellen of the Packers said "there's no reason why 60 events can't be held in the new stadium, including sports shows, motor shows, boat shows, etc. The present City Stadium was used for 33 events in 1955 alone." Russ Bogda, president of Green Bay Packers, Inc., and Jerry Atkinson, co-chairman of the publicity committee, who attended the meeting, said they are investigating the various uses made by stadiums occupied by other teams in the NFL and large stadium in cities similar to Green Bay in size. Councilmen pitched questions and suggestions during the meeting and 18 of the 24 agreed to serve as stadium captains in their wards. The remaining six are involved in the spring elections and asked to be excused due to the work on their own campaigns. They agreed to appoint captains in each of their wards, however.
PACKERS BUILT MORE THAN TEAMS IN FIRST 10 YEARS
MAR 13 (Green Bay) - The fans in the City of Green Bay nursed and fostered the start of the Packers back in '19. And it's only fitting that the fans in the same City of Green Bay should decide their future. Green Bay residents will do just that April 3 when they vote "yes" or "no" in the referendum to decide whether or not the city should issue bonds for construction of a new stadium for the Packers, with the Packers, themselves, paying half the cost. Those two paragraphs serve as an ice-breaker for a brief four-part series on our Packers, broken down into four eras. Why a series now? These four pieces are merely reminders of the institution known as the Packers or refresher courses on the club's ups and downs. Let's start from the beginning and quickly investigate the first 10 seasons. The Packers actually started as a semi-pro team, although all of the players received some money - however little. Curly Lambeau got the ball rolling when, a year out of Notre Dame, he asked the Indian Packing Co., to back the squad to the extent of uniforms. East and West High players made up the team that first year and games were played in Hagemeister Park..."IN GOOD CHECKS": They won 10 out of 11 games that first year and scored the amazing total of 565 points to 18. In 1920, Lambeau added some outstanding college stars, most notable of whom was Cub Buck, Wisconsin's All-America tackle. They won nine, tied one and lost one, made a little money and got more ambitious in their bookings. In 1921, they played all the powerful professional teams in the middle west - Rock Island, Chicago Bears, Chris O'Brien's Chicago Cardinals, Hammond, Beloit, Minneapolis and Racine. The late Spike Spachman, then director of ticket sales, put up a booth on the field that year and actually sold tickets, with George Calhoun counting the money. Jimmy Conzelman, coach of the Chicago Cardinals and Rock Island, remarked not many years ago about Green Bay: "It was kind of tough to book games into towns where you would be sure of getting paid - in good checks. We got this letter one day from up in Wisconsin, and I had to look it up on the map. We went up there, beat them, and got paid in a check that didn't even bounce once. They got into the league next year, and we beat them once and tied them the second time. I wonder if we'll ever beat them again." The Packers found the going a little tougher when they entered the newly-organized NFL in '22, winning only five games that year, losing four and tying three. But the '22 history was historic because that's the year A.B. Turnbull, general manage of the Press-Gazette, advised Lambeau to play a game against Duluth despite heavy rain. Only 1,300 fans were in the stands and the team lost money, but Turnbull formed a non-profit corporation at the end of the season and for the first time the Packers had sound financial backing. Thus, the Packers became sort of a "city property" with fans taking a close, personal interest in their fortunes. Green Bay started to make itself known in the NFL, producing an 8-2-1 record in its first year as a corporation. The next five years saw the Packers continue winning handily, so that after 10 complete seasons ('19 through '28), the club boasted 78 wins against 28 losses and 14 ties for a .736 percentage. The Packers built more than teams in those first 10 years. They constructed the backbone of a tremendous fan and player spirit that is now a famous trademark of the club. Packer spirit is difficult to explain. Much of it is natural - born, perhaps, out of everybody's love for the underdog, the little guy. It is natural for the players to feel this spirit because they were actually in combat. The spirit of the players ignited fan spirit...GREATEST SPORTS SIN: Which is why today one of the greatest sports sins in Packerland is a Packer team that shows little fight and/or spirit. Non-spirit cases have been rare, almost unheard of, and they never lasted long. This business of a small town competing against the country's population giants started to take effect in the late 20's. And strangely enough, it's still present because fans around the country are still wondering "how do you stay in the league." Folks close to the Packer scene know how the Packers manage to keep alive because the three-champion years, the Hutson era, the stock drive, and the historic change in regimes are all milestones that were passed with the equal joy and determination of a fandom that refused to quit fighting. Bay fans who were fresh out of high school or college back during the first 10 years are now in their 50's. They were the "screaming" voices around the sidelines then. Now, they are the main citizens of our town - the ones who will decide whether their sons, daughters and grandchildren can continue screaming for victory.
CARDS ACCEPT OFFER TO MOVE TO MIAMI!
MAR 13 (Green Bay) - The Chicago Cardinals are about to move to Miami. The intense, behind-the-scenes negotiating between the Cardinals, the Chicago Bears, Miami and the NFL - known in Green Bay Packer circles for the past two months - broke into the open today in a front page story in the Chicago Daily News. The newspaper reported that the Cardinals tentatively have accepted a $500,000 offer by the Bears to move out of town. The story, by sports editor John P. Carmichael, who is in Florida covering baseball, said Cardinal managing director Walter Wolfner will move the Cards to Miami if that city approves. The $500,000 offer by Halas countered a similar offer by Wolfner to take the Bears out of Chicago in a bid for television rights, Carmichael wrote. Reached at Phoenix, Halas declared "I haven't offered $500,000 to anybody." Halas, who recently turned over his Bear coaching job to Paddy Driscoll, an assistant, said the Cardinals didn't affect Bear home attendance. "I wouldn't be interested in offering any such amount of money for them to leave town," Halas said, explaining that Wolfner has been designated by the NFL to study Miami as a possible franchise site. With two pro clubs in Chicago, the road games of the Bears and Cardinals cannot be televised back to Chicago, cutting off substantial revenue. Other NFL clubs, including the Packers, have been able to tap this source of money. The Cards would play only two September games at Miami and the rest of the home games in November and December to avoid conflict with he University of Miami in the Orange Bowl. The Packers are scheduled to play the Cardinals on the road this season and it's likely they'll get one of the early December dates in Miami. The league schedule has been held up because of the possible move of the Cardinals to Miami. The league is expected to vote unanimously on moving the club in view of the difficult times the Cardinals had in drawing in Chicago. Miami would be new territory for the National League. The old All-America Conference had a team there back in 1946. Miami is more acquainted with professional football now than it was then because NFL games have been televised there for the past four years. Carmichael said the contract to telecast Bear road games in Chicago would be worth "millions of dollars." NFL Commissioner Bert Bell recently commissioned Wolfner to explore the possibilities of Miami as a league member. At the time, there were reports that Wolfner was doing spade-work for a shift of his own club to Miami. Wolfner denied this, but on a "not at this time" basis. Carmichael said that if Miami gives Wolfner the green light, he will spend $150,000 in advance publicity to get the Cards off on the right foot in that city. The Cards have held a Chicago franchise since 1920, when they belonged to the old American Football Assn. The Bears, formerly the Decatur, Ill., Staleys, were moved by Halas to Chicago in 1922.
DOING SOMETHING FOR GREEN BAY
MAR 13 (Green Bay) - Green Bay is considering the expenditure of $960,000 for the construction of a new city stadium. This is a large sum of money and it will not be spent without careful consideration. The people will discuss the project from all points of views and will vote on the matter April 3. That is a very proper way to handle large expenditures. The Eisenhower administration is proposing the expenditure of $4,900,000,000 on foreign aid during the next fiscal year and proposes further that the annual expenditure be continued for a decade. The foreign aid cost amounts to about $30 per person. On that basis, Green Bay will pay $1,572,000 as its share of the foreign aid bill during the next year or $15,720,000 in the coming ten years. Green Bay's contribution to foreign aid is part of a vital effort in the defense of the country. No one will begrudge it if it is wisely spent. A city that can contribute 15 million dollars to foreign aid can well afford to spend one million dollars on itself. The million spent at home will stay here as a tangible asset. It will bring to Green Bay many more millions, both in cash and in intangible benefits, which all will share. Those who want to feel safe in this investment should consider the history of the Packers in Green Bay during the past 37 years. The cost to the city has always been far below the benefits and the benefits have been far above anything it is proposed to spend now. Another test of the arguments for a stadium is provided by the experience of Milwaukee. What could Milwaukee have done that would have brought it the great benefits that have come to it through the building of its stadium? Green Bay is fortunate. It alone of all of the cities in the United States in its population class has the opportunity to do so much for itself at so reasonable an expenditure.
CIVIC PRIDE STADIUM FACTOR!
MAR 14 (Green Bay) - Civic Pride and $480,000! Those two items may seem un-connected but they were among the closely-related points brought out at a meeting of 150 members of the Citizens Committee for the Stadium at the Columbus Club Tuesday night. Mayor Otto Rachals reiterated his stand that "a stadium will cost the City of Green Bay $480,000 and not $960,000 – the amount of the bond issue." Rachals added: "All of the facts must be presented to the public and they will be before the people go to the polls to vote in the referendum April 3. One big fact is that the Packers will pay half the cost of the stadium." The mayor again emphasized that "the City of Green Bay needs such a stadium and don't get the idea that it will be used just three or four times a year by the Packers. It is something that can be used for many other events." Verne Lewellen, general manager of the Packers, hammered on civic pride and dropped a new name into the discussion, Buffalo. Lewellen said that "civic pride will be a big factor in in deciding the referendum," adding: "We are one of 10 cities in the United States which is lucky enough to have major league professional football. I'm proud of that and I'm certain that every fan in Green Bay feels the same way. Take our population and compare it with the city in the league with the next highest population – Pittsburgh with 676,000. Five cities in the league have populations of over a million – New York has seven, Chicago three and Philadelphia, Los Angeles and Detroit each one. San Francisco has over 700,000, Washington over 800,000, Cleveland over 941,000 and Baltimore over 949,000. Yet, I see no reason why the Packers can't continue if they have a stadium." Lewellen said he talked with Commissioner Bert Bell in the afternoon on the Cardinal-Miami report, and "Bell told me that Buffalo is the more logical place for a franchise and that the mayor of Buffalo is a regular caller at the league office. And this mayor has promised to double deck the Buffalo stadium and charge only $1,000 rental for each of the next 10 years if a franchise is moved to Buffalo." Lewellen revealed the Buffalo interest, plus the sound operation and financial condition of the Packers, as a means of emphasizing his closing question: "Do you think the Packers can't pay $480,000 toward the stadium over the next 20 years?" Packer head coach Liz Blackbourn, who had driven up from Eau Claire earlier Tuesday after speaking there Monday night, said that "the first questions asked him were 'how's the stadium coming along?' and 'will it pass the referendum?' That gives you an idea of how fans in other parts of the state are keeping their eyes on us." Blackbourn said he was "happy to say in my own mind that it will pass." He complimented committeemen for "not underestimating the opposition and not overestimating your own ability. You have seen fit not to throw the long pass to a Reid when there is a Howton available." Mary Fossum, speaking for the Women's committee, reported that poll lists are being examined and a complete telephone survey will be made in each block the day before the election. Jerry Atkinson, co-chairman of the drive along with Tony Canadeo, served as master of ceremonies. In varied remarks between speakers, Atkinson pointed out that "the Packers have become a way of life with us in Green Bay." He emphasized that "the Packers have been a credit to the men and women on the street, in the factor, and behind the counter – they represent the backbone." Russ Bogda, Packer president and co-chairman with W. Heraly McDonald for the public rally March 31, said that four professional football leaders will be here for the event – George Halas, Curly Lambeau, Paul Brown and George Marshall. John Torinus and Haydn Evans, co-chairmen of the publicity committee, explained the progress being made in bringing facts of the issue to the public. A booklet will be presented shortly, Torinus said. Other speakers were Roman Denissen, co-chairman of the Ward committee, and Bernard Darling.
PACKERS BECAME MAN IN '29-34 ERA; KNOCKED TANK TOWNS OUT OF LEAGUE
MAR 14 (Green Bay) - The Packers became a man in Era No. 2 – from 1929 through 1934. This is the period little old Green Bay's football team proved it could compete among the metropolitan kings of the NFL. This is the period the Packers survived a flock of tank towns to become the little giant of professional football. Eight of the 12 teams that made up the league in '29 are out of business today. The lone survivors are Green Bay, New York, Chicago Bears and Chicago Cardinals. The other eight clubs in '29 were Frankford, Stapleton, Orange, Providence, Buffalo, Minneapolis, Dayton and Boston. At the end of Era No. 2 (1934), only Green Bay, New York, the two Chicago teams and Boston were left from the group that was present in '29, and Brooklyn, Philadelphia, Pittsburgh, Detroit, St. Louis and Cincinnati were added. The best way to succeed in professional football is to win, and that was especially true in the early days when teams weren't as well established as they are now. A 6-6 record in the early years was much more damaging than a like record now because the league then had little of the strength-balance it has today. During the Three Championship era (1929-34), the Packers rolled up 56 victories against 21 losses and four ties. In winning three straight titles from '29 through '31, the Packers rolled up an almost unbelievable 34 wins, five losses and two ties on consecutive seasons of 12-0-1, 10-3-1 and 12-2-0. The Packers performed two amazing tasks in winning those three straight championships: (1) They became "national" and definitely on par with the population powers football wise and (2) They personally knocked the last of the so-called tank towns out of operation, leaving themselves as the last of the small-town representatives. Point No. 2 is fascinating. The Packers whaled the daylights out of such clubs as Frankford, Stapleton, Orange, Portsmouth, Dayton, Minneapolis; attendance in these communities dropped off as the losses piled up; and, socko, the Packers were the last of the Davids. A few of the remaining metropolitan teams might have had the same plans for Green Bay in '32-33-34, but the Packers had enough prestige left from the triple championship to compile a 10-3-1 record in '32 and survive a 5-7-1 record in '33 and a 7-6 mark in '34. The fabulous Hutson era set in next by that's the meat of tomorrow's episode. The '29-34 era also was noted for the Packers' first losing season – which was quite a novelty after 12 straight "winners". The first "trouble" year was '33 – smack in the middle of the depression. The Bays were depressed on the field, too, with a 5-7-1 record – a real shock after 44 wins, eight losses and two ties in the previous four campaigns. What's more, a fan fell from the bleachers in '33 and sued. Just as he was awarded a $5,000 verdict (a heap of dough then), the Packers insurance company failed. A period of retrenchment was the only solution; playing personnel was cut and the Packers, to prevent attachment of their funds, finally went into the hands of a receiver…FUNERAL IN ORDER: It seemed as though a funeral was in order, but Green Bay rolled up its collective sleeve and raised $15,000 by popular subscription to put the Packers back in the field with renewed playing strength. The moral and financial support paid dividends for in three years the Packer record leaped from 7-6 in '34 to 8-4 in '35 and a championship-winning 10-1-1 in '36. The Packers faced another crisis in '50 but this time Green Bay and all of Packerland went to work and raised over $150,000 in a heart-warming stock drive. Now the Packers face another crisis. They need a new stadium – a home comparable to others in the league. Without it, they can't survive. The Packers, financially sounder than they've ever been, have pledged $480,000 toward the construction of a new stadium and, through the City of Green Bay, will ask the people to permit the City to provide a like amount at the April 3 referendum. Twice, the fans, through their love of the Packers and the city they play for, saved the Pack – on '33 and '50. Now it will be up to Voter-Fans on April 3!
NEW STADIUM WILL COST CITY HOME OWNER $1.35 PER YEAR
MAR 14 (Green Bay) - Do Green Bay residents value the Packers enough to add 22 ½ cents per $1,000 assessed valuation to their tax bills for the next 20 years? When all the votes are counted April 3, the answer to this question will write the result of the bonding referendum. While, as noted Tuesday, it would be unfair to discard the strictly city needs for a new stadium, it had been made plain that the continuing of professional football in Green Bay depends upon a plant with greater seating potential and more salable seats. Before computing the cost to the taxpayers, three preliminary explanations are in order. First, an affirmative vote would authorize the City Council to borrow as much as $960,000. While the odds are against it, the bond issue could be less if the cost of the eventual project is less. Second, a spade must be called a spade. Interest charges must be added to the principal. Assuming a rate of 2.1 percent, the rate the city obtained for the new city hall issue, the total amount to be repaid would be nearly $1,200,000…PACKERS WILL PAY HALF: The third consideration is a more favorable one. The total debt to be paid from taxes can be sliced in half because of the Packers' pledge to pay $480,000 of the cost plus interest on this amount, or $600,000. The Council is on records to proceed only after a contract is written to make these annual payments a 20-year certainty. Thus, the city can get a stadium worth more than $1,000,000 for an investment of $600,000 or less. Comprehension of large figures being tough as it is, how can the 20-year expenditure be reduced to its simple tax bill terms? Dividing the $960,000 total cost by the 20-year term of the proposed bond issue, $48,000 would fall due each year. Using the 2.1 percent interest rate, interest the first year would total about $20,000 to make the total year "bill" about $68,000. As the amount of principal remaining to be repaid became smaller from year to year, the interest cost would be reduced. But for the first year, after the Packers made their annul $30,000 contribution, the city itself would have to raise taxes to pay $38,000. Using the 1955 Green Bay local assessed valuation, slightly more than half of true value, of $121,591,000, the added taxes would be spread out to 30 cents per $1,000 for the first year. As the principal becomes smaller, a time would be reached with the city portion of the annual payment would become smaller than the annual $30,000 Packer payment. The last year of the bond issue, for example, the city contribution would be about $19,000. This would be spread out over today's local assessed valuation to about 15 cents per $1,000, or an average of 22 ½ cents over the 20 years…VALUATION WILL RISE: Another unpredictable factor will bring about a reduction in the taxes, the annual growth in city valuation during the next 20 years, providing a larger tax base. Since 1950, this annual rise has been between $3,000,000 and $5,000,000. While the possible reduction in the "stadium tax" for this reason would be less than a penny per $1,000, optimists might point to an expected above-normal growth because of the St. Lawrence seaway or annexations or consolidations of suburban areas. Stadium advocates also point to rentals from events other than Packer use, income which would reduce the bill to the taxpayer but which is impossible to chart except in a generalized way at this time. When the voter enters the polls April 3, he also will be reflecting on other city borrowing which must be paid off through taxes. These include funds for the new city office building, a new junior high school and future elementary school and storm sewer needs. However, if all present building plans go through, Green Bay's total debt would still be only about $10 million, against a present debt limit of almost twice that amount, or $19 million. The average Green Bay home is assessed for $6,000, which would mean an increased tax bill of about $1.35 for the next 20 years. All taxpayers can find occupational, recreational or civic reasons for standing to gain in varying degrees from Green Bay being a "big league" sports city. Each will decide whether his gain is equal to the small tax boost the new stadium would mean.
CARDS DENY TAKING OFFER TO MOVE CLUB
MAR 14 (Chicago) - The Chicago Cardinals' managing director Tuesday denied a report his NFL club tentatively has accepted a $500,000 Chicago Bears offer to move out of town, presumably to Miami. The report was made in a Tampa, Fla., dispatch to the Chicago Daily News from sport editor John Carmichael, who said the move was sought by the Bears to make Chicago a one-club pro city and bring greater revenue. The Cardinal office released a statement from managing director Walter Wolfner, vacationing in Miami Beach, Fla., which said the Cards "are staying in Chicago and plan to stay in Chicago forever."…DENIES MAKING OFFER: At Phoenix, Ariz., owner George Halas of the Bears denied making any offer to induce the Cards to leave Chicago, while Commissioner Bert Bell at Philadelphia declared the story was untrue. Carmichael, who attributed the story to an "outside source," wrote that the Bear offer of $500,000 was in reply to a similar offer by Wolfner, who admitted Tuesday he had tried to induce the Bears to leave Chicago a year ago. Chicago is the only NFL league city with two entries, a fact which prevents both the Bears and Cards from acquiring money for telecasting road games back to this city. In one-club NFL league cities, road games are telecast back to the home folk at some profit. Commissioner Bell recently delegated Wolfner to study Miami's possibilities as a NFL city, for a new member or even conceivably for the Cards…ONLY INFORMATIVE SURVEY: Bell said Tuesday however, "It was only an informative survey. There is no team in the league for sale, and as far as I know, no team is contemplating a shift of territory." Wolfner, emphasizing the club would stay in Chicago, said: "To dispel any further thought about the Cards moving, we would like to mention that letters will go out tomorrow to season ticket holders for 1956 renewals."
HUTSON 'HELPED' ENLARGE STADIUM TO PRESENT SIZE
MAR 15 (Green Bay) - "The house that Ruth built!" That's what the New York sportswriters wrote when magnificent Yankee Stadium was completed because it was Ruth who, through his personal appearance and home runs, made a larger orchard necessary. Baseball is more of an "individual" sport than football in that individual players can stand out – almost alone, without detracting from the rest of the team. The Packers, it must be pointed out in this third series story – The Hutson Era, had a Ruth named Don Hutson, one of the 11 greatest football players in the first 50 years of our present century. He was so honored in the nationwide Associated Press poll several years ago. Hutson came as close to Ruth as any football player in performing what bordered on the impossible. Like Ruth, Hutson could hit the long ball – the long touchdown pass, in grid parlance. Both did it in the clutch. Hutson didn't build a stadium like Ruth – or did he? The Packers enlarged their stadium to its present size back in 1937 – two years after Hutson reported to Green Bay, as victories and championships seemed almost certain with the skilled fleet-footed pass-catching end dazzling opponents and amazing crowds. Don played 11 seasons with the Packers. During that time, the Packers won four Western Division championships – in 1936-38-39-44; three world's championships – in 1936-39-44; and rolled up 87 triumphs against 29 losses and four ties. Hutson scored 825 points in those 11 happy, winning years on 105 touchdowns, 174 extra points and seven field goals. He rolled up nearly 20 records and half of them are still standing despite the fact that the pattern of the game, since Hutson retired after the '45 season, went passward. Hutson all but put the "pass" into pro football. He showed what damage could be done with the thrown ball, and he did it by playing both offense and defense in his first five or six years. He might have played 15 seasons in the present two-platoon program. Hutson was a blessing to Green Bay because he came along when the Packers were recovering from financial troubles of '33 and at the same time trying to maintain the prestige gained by winning three straight championships in 1929-30-31. When Hutson arrived in '35, the Packers also were fighting that "big-city" influence since three years previous they had become the last of the tank towns to survive in a stack of big population centers. Hutson helped to change that considerably as his deeds and those of the Packers became natural copy for big-town newspapers, magazines and fans. The leveling power of the NFL draft made little difference during the Huston era. Coach Curly Lambeau managed to bag enough talent to go with his fabulous receiver. Arnie Herber was Hutson's first passer and the burly pitcher still ranks as the game's top long-shot artist in the game. Cecil Isbell was next. Cec was a first draft choice in '38, but didn't stay around long, retiring after the '42 season. Tony Canadeo and Irv Comp followed as Hutson passers. For ground power during the H-Era, the Packers had three big names – Clarke Hinkle, Ted Fritsch and Canadeo. Then there were such line stalwarts as Buckets Goldenberg, Bill Lee, Baby Ray, Russ Letlow, Dick Wildung. Another player the likes of Hutson isn't expected on the Green Bay scene in '56, any more than the Yankees are expecting a Ruth next summer. But to dream a bit, wouldn't it be a blessing to the future of Packer football in Green Bay if a Hutson – be he a back or an end – popped into the picture. But, to be more realistic, it might take more than a Hutson to keep the Pack afloat in Green Bay after '56 – unless a new stadium is built here. Hutsons and Ruths don't build stadiums anymore. Next: The Present Era.
HERE'S WHAT WILL HAPPEN IF STADIUM BOND ISSUE CARRIES
MAR 15 (Green Bay) - What happens next after the April 3 stadium bonding referendum? Where would the stadium be built, and when would construction start? These are perhaps the most frequent questions posed in connection with the stadium referendum. State law requires a vote of the people on city bond issues for a project like a stadium, and the question had to be limited to the bare proposition. Thus, voters will be asked whether up to $960,000 in bonds should be authorized for "a stadium". The legal limitation for the ballot question ruled out including such things as the stadium description, its school and Packer uses, a proposed location, or the Packers' pledge to pay half the cost…FUTURE PLANS CHARTED: The course which will be followed after an approving vote, however, was unanimously charted by the City Council, meeting as a committee of the whole on Feb. 9, and again at its regular session Feb. 21. The Council met to act on a citizens study committee report which unanimously stated a 32,000 seat stadium should be built at an estimated cost of $960,000, but was divided on whether the new plant should be at a location other than present City Stadium. Following a favorable referendum vote, the Council agreed, first, that the citizens group report would be reintroduced at the April 17 Council meeting and, second, listed four fact-finding steps before any bonds would be sold. The exact words of the adopted report were: "and in fairness to all concerned, this Council agrees that it will not vote on the question of issuing the bonds until the following steps are taken: 1. A firm bid obtained for construction on both sites. 2. A detailed report prepared by the proper departments of city government on the parking situation at both sites. 3. A written proposal from the Packer Corp. for leasing of the stadium at a figure of approximately $600,000 for a period of 20 years, with clauses contained in such lease securing the indebtedness to the city of Green Bay to the fullest extent legally possible. 4. A report from the Board of Education as to the use of the stadium by Green Bay schools."…WILL PROVIDE FACTS: Each of the points is an important one on its own field to make certain the city knows exactly where it is going before final steps are taken to borrow the money to start construction. Taking them one by one, completion of each pledge would provide these facts: First, the city would ask for actual contractors bids on both proposed stadiums to know exactly how much they would cost. At this time, only estimates are in hand. They are $780,000, plus lighting improvements, for rebuilding City Stadium and $950,000 for a new stadium in Perkins Park. Neither estimate includes cost of parking lots, which leads to the second point. This study would answer such questions as whether the city should provide parking, where private or municipal parking should be located, and how much it would cost. It doubtless also must include studies of traffic problems this parking will create in addition to comparative studies of traffic advantages and problems offered by both locations. In addition to the city departments study, indications are a private traffic engineering survey might be proposed. The third point perhaps is most important since it involves taking half the proposed bond issue off the taxpayers. As the language of the Council report indicates, it would have to go far beyond simply "putting in writing" the repeated verbal pledge of the Packers to pay $30,000 for 20 years. The Council could not proceed until any eventuality was covered, including the unpleasant chance that the professional football franchise would be lost to Green Bay during the 20-year period. (The Friday article of this series will explain Packer Corp. organization and finances with particular reference to guaranteeing the city full payment of the $480,000, plus interest on this amount, or $600,000.)…SPECIAL STADIUM BODY: As part of negotiating this agreement, the Council will have to select a city board or commission to govern the stadium. It is probable a special stadium body would be created to deal exclusively with operating the stadium, which would make it possible for it to tackle the promoting of events other than football to insure additional rentals. The fourth point would replace opinions over extent of school use of a new stadium with facts. The Board of Education, thus far, has gone on record only that a track should be provided if City Stadium becomes the new stadium. As noted Tuesday, however, the condition of West High stadium makes it obvious that a new stadium, if located in Perkins Park, would be used for West High games. Wherever the stadium was located, it doubtless would become the site of the East-West game. A decision would have to be made to either condition increasing repair costs on West Stadium or City Stadium or to play prep games on one field. The fact that Premontre High School plans no stadium as part of its new plant also be considered in planning uses of a new facility. The school presently rents city field at costs, and its plans are based on a continuation of this program.
NFL TEAMS 'COPY' FROM EACH OTHER: LIZ
MAR 16 (Green Bay) - Teams in the NFL copy offenses and defenses from each other! Packer coach Liz Blackbourn made that observation in the course of his third annual Packer Progress Report for Rotarians at their weekly luncheon meeting at the Beaumont Hotel Thursday noon. Blackbourn was telling about his late-winter task of making a "book" on other teams in the league - an intense study of the Packers' 12 league games. "We might do a little copying - like other teams do when they observe our pictures," Liz pointed out, adding: "If Buddy Parker at Detroit, for instance, has a better plan on end runs or defense, we might put it in for the following year. The pictures also gives us an idea of how our opponents are thinking - the plays they run the best against us. The films also show the yards we gained on traps, draws, end runs, the various passes and readily point up the ones that we had the most success with."...BETTER LUCK SIGNING: He said that assistant coaches Ray McLean, Lou Rymkus and Abe Stuber now are in the process of grading Packer players off the films. "Each player is graded on each play and there are about 80 plays to a game; so you can see the big job ahead. It should be completed in about a month and a half," he said. Blackbourn revealed the progress of the Packers since shortly after the final 1955 game last Dec. 11, the final compilation of player data by Jack Vainisi, the draft in Los Angeles in January and signing of players. "We've had better luck signing players than we ever had. We expected trouble with Canada but we were fortunate in that the first Canadian snag was as low as the 15th draft choice (Buddy Allison) and the second was the 23rd (Jesse Birchfield). We've had troubles with four other choices - the 24th (Don Wilson) went into service; the 25th (Franz Koenke) does not want to play; the 13th (James Mense) is undecided; and the 26th (Dick Goehe) is a surprise case. His dad, and this is refreshing these days, says "you stay in school until you're finished before you play pro ball." Allison is a guard from Mississippi, Birchfield a guard from Duke, Wilson a center from Rice, Koeneke an end from Minnesota, Mense a center from Notre Dame and Goehe a tackle from Mississippi. Blackbourn said that the next order of business is singing of the veterans. In answers to questions, Blackbourn said:...GARRETT BACK IN '57: "We expect several boys out of service - Dick Logan, Emery Barnes, Bob Kennedy, Gil Reich and Don Barton. I haven't been told that Tobin Rote isn't planning to return in 1957, but we are getting ready for any such possibility. We have two good new quarterbacks coming up, Lynn Beightol and Bart Starr, and Paul Held will be back. Bobby Garrett should return from the service in 1957. We expect to play the new quarterback a good share of the time in the exhibitions. We don't have as big a problem on the stadium as our opponents because those opponents don't want to come here to play in the old stadium. It is getting serious and we do need a stadium in order to stay here. The players, ours and our opponents, think highly of the fans here. Detroit didn't like the noise in the game here last year because Layne couldn't hear the signals but a fan has the right to make as much noise as he wants."
LEAHY PREDICTS INCREASED PRO GRID PROSPERITY
MAR 16 (Green Bay) - It may seem passing strange, coming as it does from one of the collegiate field's all-time coaching greats, but forthright Frank Leahy sees a possible decline for college football - and continued success and increased prosperity for the professional variety. Leahy, who addressed an audience of 350 at the Green Bay Traffic Club's annual Truckers' Night in the Beaumont Hotel Thursday, amplified this observation by comparing, in effect, the difference in approach. "Pro football has
made and will continue to make tremendous strides forward," the former Notre Dame strategist said. "It has better organization, better running, better passing, better kicking and is more colorful and entertaining than it ever has been. And I am convinced it will get progressively better." On the other hand, he observed, "Intercollegiate football could deteriorate because of the present spring practice rule. Some colleges are permitting no spring drills at all and others only 20 or 25 days - compared to seven or eight weeks in the past years. It is impossible to prepare a group of boys to play college football in 20 or 25 days," contended Leahy, who compiled an imposing record of 107 victories compared to 13 defeats and nine ties during 13 years at Notre Dame before ill health forced his retirement at the close of the 1953 season. This disadvantage may make it difficult for college football to compete with the pros for the entertainment dollar, he ventured. "The average fan," Leahy envisioned, "undoubtedly will say, I'm going to pay my money to see the pros because their brand is not only superior but more entertaining." Earlier, Leahy commented that "pro football has done immeasurable good for the city. I hope sincerely," he said, "Green Bay will always be one of the top teams in the game - and will always be able to attract the best competition to Green Bay, as has been done in the past."...ALL-TIME FAVORITE: While on the Packers, he added with a smile, "I would like to say that I feel Coach Blackbourn is a very astute and prudent man because he hired as an assistant one of my all-time favorite players and a man who made the Notre Dame coaching staff look very talented, Lou Rymkus." He also praised another of his former Notre Dame proteges, Jack Vainisi, present Packer talent scout, and introduced both of them. Leahy, now vice president for trade relations for Merrit-Chapman and Scott, a New York engineering firm, had kind words for another former associate, Johnny Druze, new head football coach at Marquette. "I feel free to predict without fear of contradiction," the square-visaged Notre Dame alumnus asserted, "that he will achieve remarkable success at Marquette." The combination of Larry (Moon) Mullins, new MU athletic director, and Druze is a happy one, he said. Discussing how he has reacted to enforced retirement from coaching, Leahy admitted, "I miss the relationship with the boys. But the rest of it," he said wryly, "I could do without very conveniently." "Within a period of two-and-a-half to three years," the distinguished former member of the coaching fraternity confided, "I will be able to devote the rest of my life to the juvenile delinquency field, something I wanted to do even before I went into coaching."
PRESENT ERA (41-76-2) REACHES CLIMAX APRIL 3
MAR 16 (Green Bay) - The Present Packer Era started in 1946 - from a won-lost standpoint - ranks as the most unsuccessful. Six of the 10 seasons from '46 through '55 might be termed losing campaigns. The winners were 6-5 in '46, 6-5-1 in '47, 6-6 in '52, and 6-6 in '55. In the 10 seasons, the Packers won 41 games, lost 76 and tied two. The '46 drive was the first (in 11 years) without the spectacular Don Hutson who helped make the Packers a feared aerial team. The Packers turned around and did something unusual that first non-Don year; they won the league's ground-gaining championship. Green Bay experienced its bitterest game luck in '47, when the Pack suffered four of its five losses by nine points. Thus, the Packers were just a touchdown (with the PAT) and a field goal from the Western division title. Packer fortunes skidded after '47 as the player war with the All-America Conference started to take its toll. Along with it came friction between Coach Curly Lambeau and Green Bay, Inc., and more losing seasons. Over the winter of 1949-50, three historic "events" took place - the National League and three All-America Conference teams merged; Lambeau resigned, and the Packers announced a gigantic non-profit sharing stock. The three moves meant that the Packers were (1) back in a stronger, more national league, (2) in the market for their first new coach in over 30 years, and (3) back in business as fans responded with the purchase of $150,000 in life-saving stock. Gene Ronzani was hired to replace Lambeau and a fresh start was in order. His teams scored 3-9 records in 1950-51 and then soared to 6-6 in '52, before dropping to 2-9-1 in '53. The Packers made a complete change following the resignation of Ronzani late in the '53 season, hiring Liz Blackbourn away from Marquette as head coach and naming Verne Lewellen as general manager. Blackbourn forged a 4-8 record in his freshman season and came home with a surprise 6-6 mark in '55, narrowly missing a playoff berth. Along with the upswing of the team came prosperity in the league - almost too much of it for little Green Bay. Thus, another problem! With television winning new fans and competition tightening among all 12 teams, interest in professional football boomed beyond all expectations - especially in '55 when new gate and financial records were established. Big town stadium were being filled for the first time and gate receipts soared, but for the first time Green Bay suddenly became a real small-town operator because the Packers, with their small stadium, couldn't hope to even average the gates or "takes" of their big-city brothers with their small stadium. There was a time that higher-priced seats at City Stadium helped maintain a balance between the take here and that of the larger cities. That disappeared when big-town teams drew larger audiences and, in some cases, readjusted their prices - upwards, of course. Through it all, the Packers were able to make money but this sound condition appears to be of little value with opponents asking that their games be moved out of Green Bay. Visiting teams feel that they are being short-changed due to their limited seating capacity at City Stadium. Which brings the Present Era up to date! The Packers now are faced with the job of getting a larger stadium or leaving the league. With the current wood structure, the Packers will face continuous pressure from outside clubs and undoubtedly will have to vacate in two or three years. The Packers' present problem is now in the hands of the fans of Green Bay. They will decide on a referendum April 3 whether or not to permit the City of Green Bay to issue bonds totaling $960,000 for the construction of a new stadium, with the Packers paying half ($480,000) the cost. Thus, a complete era of Packer football could end or begin anew on April 3 when the Packers will play their greatest game!
SELECT PACKER SALES DIRECTOR
MAR 16 (Green Bay) - Tom Miller, 37, a veteran of four seasons with three clubs in the NFL, has been named sales promotional director of the Green Bay Packers, it was announced today by Verne Lewellen, Packer general manager. Miller, who will start work Monday, replaces Bonnie Ryan, who resigned as publicity director Jan. 1. Miller will combine the duties of publicity agent and sales promotion chief. A native of Milton, Pa., Miller played two years of football at Hampden-Sydney College in Virginia, served in the Naval Air Corps during World War II and put in two seasons at end with the Philadelphia Eagles (1943-44) and one each with the Washington Redskins, 1945, and the Packers, 1946...CAME HERE IN '54: Miller finished work on his degree at Wilkes College in Wilkes-Barre, Pa., in 1949 and coaches the Wilkes football team and the professional Wilkes-Barre Barons. Starting in 1950, he coached football, basketball and baseball at Drexel College in Philadelphia, also serving as an assistant professor for four years. He came to Green Bay in 1954 to become assistant operations manager at Prange's. Miller has been active here in Packer affairs, serving as secretary-treasurer of the Packer Alumni Assn., and giving many talks throughout the state on behalf of the Packers. He is married to a former Green Bayite, Beverly Rusch, and they have three children.
PACKERS CORP. WILLING, ABLE TO PAY TOWARD STADIUM COST
MAR 16 (Green Bay) - The fact that the Packer Football Corp. has offered to pay half the cost of a new stadium in Green Bay has brought up questions as to how well the Packers are fixed financially to pay off such an obligation. In fact, many people seem hazy on just what the Packer Corps. really is. This final article in the series detailing the background of the April 3 referendum will answer those questions. The board of directors of the Packer Corp. has voted unanimously to sign a 20-year lease with the city for a new stadium of 32,000 capacity which provides for the payment of $600,000 in rentals over the period of 20 years, or $30,000 per year. The Packers pay rental of 10 percent of gate receipts for the use of Milwaukee County Stadium. Last year, the corporation paid the city of Green Bay 10 percent of gate receipts at City Stadium, which amounted to $25,869.88. A figure of $30,000 a year is estimated to approximate 10 percent of the gate receipts for the
32,000-seat stadium. While it is true that in years gone by the Packers had financial difficulties, it has been a different story since the sale of stock in 1951 raised some $125,000. During the next three years, they broke even in their operations despite the fact that the team was going very poorly on the field…PROFITS IN 1954-55: The last two years the Packers have made more money than in all the previous 35 years - $86,368 before taxes in 1954 and $88,578 in 1955. Professional football has caught on tremendously with the fans in the last few years and attendance records are being set every year. There is nothing to indicate that this trend will not continue. At the present time, the Packers have over $200,000 in cash in the bank and invested in government bonds. A lease on a new stadium would be so drawn that any unpaid balance on the $600,000 would be a claim against all of the assets of the football corporation. Those assets, of course, include the franchise, which is estimated to be worth $1,000,000 on the basis of two recent offers for the New York Giants and the Philadelphia Eagles. Should the Packers ever come to such a position that the franchise would have to be sold, assets of the corporation, including sale price of the franchise, would be used to pay off outstanding obligations such as the stadium lease…HOW ABOUT BAD YEAR: Some people ask: "What if the Packers should have a bad year financially and couldn't pay?" The answer to that is rather obvious. The relationship is like that between any tenant and landlord. If the tenant is temporarily financially embarrassed, he must dig into reserves to pay or he must borrow the money. It can also be said that the Packer board delved into this problem very carefully before making the commitment they did. The offer was not made for political effect. It is bona fide and the Packers plan to pay the money. What is the Packer corporation after all? The Packer are owned by 1,680 individual stockholders. Some of these are businesses, but the big majority are just the average football fan in Green Bay. About three-quarters of them own only one share of stock. Incidentally, no person or business can own over 200 shares. And 1,130 of the 1,680 live in the city of Green Bay...THREE PURCHASE PERIODS: These stockholders bought into the Packers in three different stages. The first was back in 1922, when the team helped form the NFL and the idea of a community corporation to finance the team was conceived. Again in 1937, when the team needed money to keep going, more stock was sold to other public-spirited citizens. But the big drive came in 1951, when the pro football war had almost ruined the team. Over $125,000 was raised that year in the giant stock drive. The idea of the fans themselves owning their own team was originated here in Green Bay, but it has spread to many other communities since. The Packer stockholders elect a board of directors to run the corporation. There are now 42 such directors, and the number has been gradually expanded in recent years to provide representation from many other Wisconsin communities. Directors in these other communities are chosen to lead ticket selling drives in those areas...DIRECTORS ELECT OFFICERS: The directors in turn elect the officers of the corporation, a president, two vice-presidents, a secretary-treasurer and a chairman of the board. And they elect an executive committee to take care of the week to week details of the business. The board is composed of eight other directors in addition to the officers. All of these people serve entirely without compensation. The executive committee hired the paid personnel, a general manager who is in charge of the business office, and a head coach. Under the general manager are a sales promotion director and a ticket director and other office assistants. Under the head coach are four assistant coaches, one of whom is in charge of talent scouting. Here is an interesting angel. The franchise which the Packers have in the NFL is irrevocable. The only way it could ever be shifted to another city is by a vote of the stockholders, 1,130 of whom live in Green Bay...DISCARD TRANSFER TALK: Packer officials have never taken seriously any talk about moving the team to Milwaukee or any other city. the only problem which concerns them is that of the terrific competition a city of 60,000 people is up against competing with 10 metropolitan cities in the United States. Today, that problem centers around adequate stadium facilities in Green Bay. A stadium built in 1927, when pro football was in its infancy, cannot meet the needs of professional football today, and will become completely inadequate within a few years into the future.
QUESTIONS AND ANSWERS ON STADIUM VOTE
MAR 17 (Green Bay) - Question – Who has said that the Packers are not holding up their financial responsibilities to the league? The very foundation for the argument to build a new stadium has so far been laid upon the contention that – If you don't vote for the new stadium, the team goes. People always mistrust an argument when it is veiled in the form of a threat. How about some clarification on this matter? Answer – This important question is best answered in two parts: 1. The basic reasons for proposing the building of a new stadium is the fact that the present City Stadium will not stand up much longer. It will have to be replaced within a few years if only for the use of East High School. The same is true of West High Stadium. Building a new stadium large enough to meet the Packers' needs too will eliminate this problem on at least one side of the river. 2. Packer officials are not "threatening" the voters, they say. They feel they have a responsibility to the stockholders and to the community generally to operate the corporation in such a manner that the Packers can always stay in Green Bay. They have made a cold analysis of the Packer situation for the next decade and have come to the conclusion that a new modern stadium is essential. They decided last year after several years of discussion of this matter to tell the City of Green Bay what the exact situation is. The factors which have brought this situation to a head are, first, the record breaking attendance at professional games in other cities in the league; and second, the first realization of the potential at the new Milwaukee County Stadium at the near-sellout game with Baltimore last season. All sports authorities are agreed that professional football is on the threshold of a still greater era of expansion. Packer officials know they must be in a position to keep up with this expansion or they will be forced out of the league. No official of the league or of another club has made any public statement about their feeling on playing in Green Bay. They have been trying to help the Packers by playing along with them. But in private conversations with Packer officials, a number of such men have said they will not go along with this situation indefinitely. "We hesitated a long time to lay our cards on the table about a new stadium," said Russell W. Bogda, Packer president. "But last year we felt we could no longer hide this matter from the people of Green Bay. We are telling you people now what, in our considered judgment, the future of the Packers is. We sincerely believe that with a new modern stadium the Packers can stay in Green Bay indefinitely. Without it, our time here is limited."
BEARS, BROWNS TO INVADE STADIUM
MAR 17 (Green Bay) - The annual pre-spring "fight" with the NFL schedule started over the weekend, but the only official news out of the Packer camp today was this: (1) The Bears will battle the Packers at City Stadium Oct. 7 and in Chicago Nov. 11. (2) The Packers and Browns will play a non-league game in Cleveland Saturday night, Sept. 1. Anything beyond that is merely assumption. Under a league rule, the Packers will play the usual home and home schedule with the five foes in the Western division. The two other games will be against Eastern division opponents – Cleveland and the Chicago Cardinals. Division of the Packers' six home games between Green Bay and Milwaukee will be made by the Packer executive committee as soon as television kinks are ironed out. General Manager Verne Lewellen is in New York this week working out television details. Some of the games may be played on Saturday night, which could result in shifting of games. World champion Cleveland and Green Bay will be playing their third league game. In 1953, the two clubs played a league game in Milwaukee and they exchanged league action in Cleveland last fall. With schedules coming out at various league points, the possibility of the Cardinals moving to Miami dwindled. Originally, the schedule had been held up while dickering went on for the franchise move. All of the clubs haven't announced their league home schedules, yet one, Cleveland, shows the "Chicago" Cardinals playing in Cleveland Dec. 16…Tom Miller, the Packers' new sales promotion director, started work today. He spent a good share of the morning getting acquainted. Tom replaces Bonnie Ryan and will combine publicity and sales promotion duties.
PAMPHLETS PUSH NEW STADIUM, YES VOTE!
MAR 20 (Green Bay) - The circular and pamphlet phase of the campaign for a new stadium was started today by the Citizens Committee For The Stadium. All of the written words, suggestions, ideas, plans, question and answers, and drawings will be aimed at swinging a "yes" vote in the referendum April 3 when citizens of Green Bay will decide whether or not to permit the City of Green Bay to issue bonds totaling $960,000 for the construction of a new stadium. The Packers will pay half the cost or $480,000, it has been emphasized by Mayor Otto Rachals and Jerry Atkinson and Tony Canadeo, co-chairmen of the Citizens Committee. One example of the work being done by the CCFTS is the drawing by Harold Elder on tonight's sports page. The cartoon explains itself and will be part of a pamphlet with a hard-hitting message. The pamphlet will be distributed throughout the city – in the homes, barbershops, supermarkets, downtown stores, or, generally, wherever people congregate. The drawing traces the history of the Packers and the accompanying story reveals the growth of the team in relation to the growth of Green Bay and area. The first of a series of circulars came off the mimeograph machines today and, like the aforementioned pamphlet, will be distributed citywide. It asks questions and answers 'em, and, incidentally, tells the story of Mrs. Glotz as follows: "Who is Mrs. Glotz? She is a real nice lady, one of many civic-minded women who like nice things. You won't find her name in the phone book, because Glotz is not her real name. Mainly, she's interested in cleanliness, courtesy and good clean entertainment. Isn't Mrs. Glotz satisfied with the present stadium? Frankly, no. And she's even been known to stay away from games because of unsatisfactory facilities. Mrs. Glotz will be pleased with the new stadium – the clean, modern restrooms, the courtesy."…The Junior Chamber of Commerce went on the record unanimously as favoring a Yes vote on the stadium at their monthly meeting last night at Rocket restaurant…In another phase of the campaign, Packer President Russ Bogda wrote to Packer stockholders and season ticket holders living in the city of Green Bay, pointing out: "The Packer corporation needs the help of every Packer fan in the city to tell the story of why a new stadium is so badly needed, not only for the Packers, but for the city as a whole. I am writing you because over the years you have demonstrated that you are our most loyal fans and supporters." Bogda said that the biggest need is for workers who will take the responsibility of contacting neighbors or fellow workers about the stadium, making sure that they vote April 3 and attempting to explain the stadium need so realistically that they will vote "yes." The campaign will reach a climax with a big rally to be held at 9 o'clock Saturday morning, March 31 at the Columbus Club.
CITY GETS PACKER STADIUM AID OFFER
MAR 21 (Green Bay) - The offer of the Green Bay Packers to pay at least half of the principal and interest on the proposed $960,000 stadium bond issue was formal today. The City Council Tuesday night was informed of an exchange of letters between City Attorney Clarence Nier and Fred Trowbridge, Packer attorney, offered to open negotiations on the financing plan as soon as possible after the April 3 referendum on the bond issue. The letter from Trowbridge followed a Packer inquiry on whether an agreement to help finance a new stadium could be signed at once and a reply from Nier that his office could not act until after the referendum is approved and after subsequent instructions from the Council. Trowbridge acknowledged this timetable in his letter, as follows: "I would like to state, however, on behalf of the football corporation that our offer to you, when we are able to make it, will be to pay not less than $30,000 a year for stadium rental for 20 years…IS LEGITIMATE OFFER: In his written report of the offer, Nier told the Council "the significance of the letter in my opinion is that it is a legitimate offer of the Packer Corporation to pay the city $600,000 toward a new stadium and takes the proposition out of the previously 'merely conversation' stage." The offer to pay half the bond issue plus the anticipated interest on this amount, or $600,000, over 20 years was made verbally by the Packers during preliminary stadium studies. In submitting the bond issue to a referendum, the Council pledged, as one of four points, that it would not proceed after an endorsing vote April 3 until the Packers signed a written lease for the promised amount. The Council's unanimously adopted report at that time provided that this agreement must have clause "securing the indebtedness to the City of Green Bay to the fullest extent possible."…WILL REQUIRE PAYMENTS: This will mean that the city will require a provision that annual payments would continue if the Packers have an unprofitable year, and that the full amount would be paid if the team should cease to operate in Green Bay. The other three points of the Council plan of action, after approval of the referendum, are: to obtain construction buds to replace present estimates for two proposed stadiums, to order a traffic and parking survey for both sites, and to obtain the Board of Education's stand on its use of a new stadium.
QUESTIONS AND ANSWERS ON STADIUM VOTE
MAR 21 (Green Bay) - Question – Is it practical to build a new stadium for only four Packer games a year? Answer – Mayor Otto Rachals and others have emphasized that the proposal is for a city stadium, not just a Packer stadium. The fact that brings this matter to a head now is that the present City Stadium is obsolete. It is costing a minimum of about $15,000 a year to maintain. The present City Stadium was used 33 different times last year. It is entirely logical that a new stadium will be used even more extensively because of its modern facilities. It will be used for high school football, both public and parochial, for outdoor shows like auto shows and sports show and for conventions and public ceremonies. The city needs a new stadium of at least 10,000 capacity for its own uses. The additional 22,000 seats are designed to meet the Packers' needs.
PARILLI SIGNS WITH BROWNS
MAR 21 (Cleveland) - Quarterback Babe Parilli, who the Cleveland Browns hope can replace the retired Otto Graham, signed his 1956 contract with the NFL club Tuesday for an estimated $12,500. Parilli was discharged from the Air Force last week. The former Kentucky ace played with the Green Bay Packers in 1952 and 1953 and was traded to Cleveland along with tackle Bob Fleck for quarterback Bobby Garrett and three other players after going into service in '54. Garrett is due out of service in '57.
SWITZER ENTERS AIR FORCE; LOST TO PACKERS FOR THREE YEARS!
MAR 23 (Green Bay) - The Packers' Veryl Switzer enters the Air Force Wednesday…for three years! This was announced today by Coach Liz Blackbourn shortly after Switzer had received orders to report to Lackland Air Force Base in Lackland, Tex. Efforts had been made to continue Switzer's civilian stay for dependency reasons. He is the sole support for his mother and sister in Topeka, Kan. Switzer, 23 and single, is a lieutenant in the Air Corps reserve and will be trained as a pilot. He also undoubtedly will play with one of a number of Air Force football teams. Blackbourn said today that "the loss of Switzer is a severe blow to the Packers" and added: "Veryl is one of the finest blockers in the league – almost unknown to many fans in this category. It was Veryl's 100 percent effort in his blocking and improved blocking by Billy Howton that made possible a great deal of Fergie's outside runs. We all admired Veryl's excellent spirit. He was a grand boy to work with and he's certainly of a top character." Halfback Jack Losch of Miami, the Packers' first draft choice, will be counted on to replace the two-way Switzer, Blackbourn indicated. "Jack is exceptionally fast and can return punts and kickoffs, as Veryl did so well. He also is well experienced on offense and defense and possibly he can work both as Switzer did." Switzer, manager of Farah's package store during the offseason, said he plans to leave Green Bay over the weekend. "But I'll be back," the likeable whiz back said, "and I'll be only 26 then; so there should be plenty of football left." Switzer is the second Packer lost to the Air Force. Max McGee, a star in the league as a rookie pass catching end in 1954, entered that branch of the service early in '55 and is now a fighter pilot. He is due out in '58. On the brighter side, Blackbourn announced that Bob Laughery, pronounced locker, has signed for the '56 season. Laughery, a six-foot, 215-pound fullback from the University of Maryland, is the logical successor to the retiring Fred Cone in two ways. Laughery is an accomplished placekicker and could wind up filling Cone's boots also as the No. 1 replacement for Howie Ferguson. Originally, Laughery had planned to sign with the Packers after the baseball season but he decided to give up infielding in favor of his school work – and signing a Packer pact. He expects to graduate in June. Laughery is considered a shifty runner for his size – and also a possibility as a halfback. He kicks off consistently in the end zone and has kicked field goals up to 40 yards during his collegiate career. He also handled all of Maryland's extra point booting. Laughery, 23, is an Army veteran and played two years of service football at Fort
Jackson, S.C. He hails from Mill Run, Pa. The signing of Laughery, the Packers' 11th draft choice, now gives the Packers three members from Maryland's Orange Bowl team. Announced earlier were quarterback Lynn Beightol and end Russ Dennis. Blackbourn has announced the signing of 24 players thus far.
QUESTION AND ANSWERS ON STADIUM VOTE
MAR 23 (Green Bay) - Question – The question on the referendum is $960,000 for a new stadium. What does this actually mean to the taxpayer? Answer – In computing the cost of a new stadium to the city taxpayer, the $960,000 figure must first be cut in half. The Packer Corporation has agreed to pay rent of $600,000 over a period of 20 years. This will retire $480,000, or half, of the indebtedness, and pay the interest on that amount. There will be many other uses for the stadium, and they will also bring in rentals. However, these cannot now be estimated accurately. In order to arrive at a figure, it is best to assume that there will be no other rentals and see what the maximum cost to the taxpayer would be. The first year it would cost 30 cents per thousand dollars of assessed valuation to pay the interest and retire one-twentieth of the remaining $480,000 indebtedness. This would decrease each year as principal was paid off and the interest charge was less. The 20th year it would amount to 15 cents per thousand. Thus the average rate for the 20 years would be 22 ½ cents per year per thousand dollars of assessed valuation. On the average Green Bay home this means $1.35 per year. This figure would be further reduced as the assessed valuation of the city increases over the next 20 years.
PACKERS HAVE JUST FIVE DRAFTEES LEFT
MAR 24 (Green Bay) - A tackle, a center, a fullback, an end and a halfback. That's what left of the Packers' 1956 draft list – to be announced as signed, that is. Coach Liz Blackbourn selected 30 players in the newest draft – three last November and 27 in the big picking windup two months ago. Here's the latest breakdown of those 30: Signed, 14 players; unsigned, five; juniors not eligible until 1957; gone to Canada, two; decided not to play pro football, two; lost in trade, one. The remaining fivesome still to be announced as signed is composed of tackle Forrest Gregg of SMU, the second draft choice; center Jim Mense of Notre Dame, 13th; fullback Charlie Thomas of Wisconsin, 14th; end Stan Intihar of Cornell, 18th; halfback John Popson of Furman, 22nd. Gregg and Thomas are in spring sports and will have to wait. Blackbourn is confident that all five will be on the official report list come training time next summer, which would give him 19 on the dotted line – an unusually large figure in view of the fact that six of the 30 picks were juniors! Actually, only 23 of the 30 could be signed for '56 – the difference being the six juniors and the one lost choice, No. 2 going to the Los Angeles Rams in payment for Tom Dahms. Of the 23, guard Buddy Allison of Mississippi, the 15th choice, and guard Jesse Birchfield of Duke, the 23rd, went to Canada, and end Frank Koeneke of Minnesota, 25th, and tackle Dick Goehe of Mississippi, the 26th, decided to pass up pro ball – leaving the aforementioned 19. The 14 signed draft picks are: halfback Jack Losch of Miami, first choice; guard Cecil Morris of Oklahoma, fourth; tackle Bob Skoronski of Indiana, fifth; halfback Bob Burris of Oklahoma, sixth; end Henry Gremminger of Baylor, seventh; end Russ Dennis of Maryland, eighth; fullback Gordon Duvall of Southern Cal, ninth; fullback Bob Laughery of Maryland, 10th; halfback Max Burnett of Arizona, 12th; end-tackle Curtis Lynch of Alabama, 16th; quarterback Bart Starr of Alabama, 17th; fullback Hal O'Brien of SMU, 21st; center Don Wilson of Rice, 24th; quarterback Bob Lance of Florida, 28th. The juniors selected for 1957 delivery are center Mike Huddock of Miami, 11th choice; end Ken Vakey of Texas Tech, 19th; guard Clyde Ledbetter of Baylor, 20th; end Dick Kolian of Wisconsin, 27th; center Vester Newcomb of Mississippi, 29th; quarterback Rod Hermes of Beloit, 30th…Remember Bob Fleck – the Packers' second draft choice in 1954 who was traded along with Babe Parilli to Cleveland for Bobby Garrett and three other players? Tackle Fleck went into service shortly after signing Packer and Canadian contracts. In fact, a couple of days after he enlisted a Pennsylvania court awarded Fleck to Green Bay – at least on paper. Fleck was discharged from service recently and yesterday signed a contract with the Vancouver British Columbia Lions – a Canadian club coached by Clem Crowe, one time Baltimore mentor. Incidentally, the B.C. Lions also inked Paul Cameron, a rookie halfback with Pittsburgh's Steelers in 1954. Cameron was recently discharged from the Army. Cameron's skip may cause some trouble.
QUESTION AND ANSWERS ON STADIUM VOTE
MAR 24 (Green Bay) - Question - If the referendum April 3 is approved, where will the stadium be built? Answer – This question cannot be answered now. State law dictates the necessary procedures in a project of this type. The first requirement is that the voters approve the issuance of bonds up to a certain limit for the project. When the bond issue is approved, the city council has pledged that it will conduct four studies before proceeding with construction of a stadium. 1. Taking construction bids on a stadium at each of the two proposed sites, the present site and Perkins Park. 2. Conducting a study of what would be necessary in the way of parking and traffic facilities at both sites. 3. Concluding a firm lease with the Packer. 4. Asking the Board of Education what use it would make of a new stadium at each site. These four actions will produce facts about the relative merits of the two sites rather than estimates or opinions. It is believed that choice of a site will be much simpler once all these facts are known. That choice must be made by a two-thirds vote of the City Council, since a two-thirds majority is needed to authorize the expenditure of the money.
QUESTION AND ANSWERS ON STADIUM VOTE
MAR 26 (Green Bay) – Question – It may or may not be true, but I have heard that Charlie Brock has advanced the idea of increasing the seating capacity at City Stadium to 32,000 seats with temporary seating for a period of about three years to prove that Green Bay needs this increased capacity with a new stadium. This sounds sensible and reasonable. Question is, why hasn't an idea such as this been widely publicized or at least considered? Answer – A plan to lease or purchase 32,000 removable type bleacher seats for City Stadium at a cost of about $500,000 was studied by the Citizens Advisory Committee and was publicized in the Press-Gazette Jan. 12, 18 and Feb. 3. It was also suggested that 8,000 of these type seats might be added to the present grandstands. The Packer board of directors was asked for its opinion on this proposal, and the board replied that in its opinion such a measure would not help the Packers and they would not be interested in leasing such facilities. They explained that the minimum needs of the Packers were 20,000 permanent seats with modern facilities under them such as toilets, concession stands, dressing rooms, etc. They felt that adding 8,000 seats to the present stadium would be merely throwing good money after bad, and that the Packers themselves had studied such a plan a number of years ago and had rejected it for this reason. The Packers offer to pay half the cost of a new stadium was based on a stadium which would be attractive to customers and which would enable the Packers to increase the attendance at Green Bay games.
PACKERS' DAY OF DECISION 7 DAYS OFF
MAR 27 (Green Bay) - The future of the Packers in Green Bay will be at stake one week from today. That's the day citizens of the City of Green Bay will vote "yes" or "no" in the referendum on the $960,000 stadium bond issue. And that's the day, in the words of Mayor Otto Rachals, "the Packers will play their greatest game." The Citizens Committee For The Stadium is nearing the goal line in its campaign to score the one touchdown that will assure Green Bay's future in Major league football. The committee's only pep talk has been something on this order: "The Packers can't survive in Green Bay without a new stadium!" The committee's other chief work has been one of providing information - such as: Why a new stadium? How the Packers will pay half the cost, etc. The last week of CCFTS action will be a big rally at the Columbus club Saturday morning - a sort of "time out" cheer before the big effort to score that last big touchdown. One of the real rarities of the meeting will be a Packer enemy in the role of a Packer Stadium Booster. That would be George Halas, owner and recently-retired coach of the Chicago Bears - Green Bay's bitterest foe on the gridiron. At least two meeting are scheduled this week by workers. Publicity representatives will meet Wednesday noon and ward chairmen, headed by Bernard Darling and Roman Denissen, will meet Wednesday night to draft final plans. The women's committee will start a gigantic door-to-door campaign this weekend. Actually, it won't be a "campaign" since the women merely will be stating: "All we're trying to do is answer any questions you might have on the stadium!" Going out to all school youngsters this week will be attractive booklets, hitting on the history of the Packers. The booklet will ask the provocative question - "What About My Children?" - and point out the different eras in Packer history, the 1919 start, the 1944 period, the present and the question-mark era, 1970. The tremendous interest in the stadium was displayed last week when the committee printed 25,000 copies of a question-answering pamphlet for distribution in stores, taverns, barber shops and just about every other place people congratulate. Before the week was over, outlets yelled for more copies and 10,000 more were printed and distributed. There has been considerable "talk" around town on the referendum - and that's an understatement. Generally, the Packer yakking in a barber shop or tavern or coffee house or grocery store concerns the merits of Tobin Rote, Howie Ferguson and other players. That has changed - at least for now, and the big topics are the stadium, money, taxes, television, crowds, parking and 101 other subjects all relating to construction of a new stadium. The whole thing will come to a boil one week from today - April 3!
GRID POST
MAR 27 (Providence) - Carl Schuette, former captain of the Marquette University football team who played pro football with the Buffalo Bills and Green Bay Packers, was today appointed to the Brown University coaching staff.
QUESTIONS AND ANSWERS ON STADIUM VOTE
MAR 27 (Green Bay) - Question - Why are city taxpayers asked to pay half of the costs of a new stadium? Why doesn't the county build it? Answer - The answer to this question is that the city of Green Bay, through the school board, built and owns the present stadium, and that when the question of a new stadium came up, city officials took the leadership in proposing a new stadium. This matter of a new stadium actually arose when the city was considering the purchase of the Perkins Park property on the West Side. The council asked the Park Board what it planned to use the property for. The park board replied that one possible use was for a new stadium. The council then directed that the Packers be asked for their thoughts on a stadium for Green Bay. It was at this point that the Packer Corporation told the city about its need for new stadium facilities, but added that as far as the Packers were concerned this would take the form of a rebuilding of the present City Stadium as well as a complete new stadium. There was much subsequent discussion, but in all of it city officials took the position that they wanted any new stadium to be in the city so that it could be used for other city purposes, like high school football, as well as to keep the Packers in Green Bay.
PACKERS INK PLACEKICKER, LB'ER
MAR 28 (Green Bay) - A tackle who can placekick and a guard-linebacker who predicted last summer that he'd make pro football are the latest Packer signees. They are tackle Jim Elekes, a 235-pound free agent out of the University of Virginia, and Lowell Herbert, a 215-pounder from College of the
Pacific and Uncle Sam's Army. Signing of the pair, announced today by Coach Liz Blackbourn, boosts to 26 the number of officially-registered athletes for the 1956 campaign. Elekes is sort of a darkhorse entry for the job of replacing Fred Cone, the Packers' placekicking star who has retired. The newcomer joins Bob Laughery, the fullback who handled Maryland's field goaling and extra pointing in '55. Another placekicking possibility is Jim Capuzzi, the holdover from '55. Elekes entered Virginia as a fullback four years ago, but was switched to tackle for the last two seasons. He has excellent speed and was rated by his coaches as the outstanding lineman on the squad. A native of Franklin, N.J., Elekes, 22, stands 6-1. Herbert, a six-footer, presently is in service but will be discharged in time for summer training. He has spent the past 21 months with the Army Transportation corps in Germany. After his second season of football in the European theater, Herbert wrote Blackbourn that he expects to make the Packers. Liz is anxious to have Herbert prove his point but it will be no easy task since the newcomer will be battling such linebackers as Roger Zatkoff, Deral Teteak and Tom Bettis. Herbert is no stranger to Blackbourn. He was selected on Marquette University's all-opponent team when Liz coached Marquette in '52...CAPTAIN AS SENIOR: Hebert attended Compton Junior College in 1950, winning honors as an all-conference guard. As a senior at College of the Pacific in '53, Hebert was named team captain. Married and 23, Herbert plans to teach school in the offseason. Herbert is the second linebacker announced as signed thus far. The other LB'er prospect is Don Wilson, the center from Rice.
CITY STADIUM CAN'T GO ON FOREVER...!
MAR 28 (Green Bay) - Nails. Holes. Maintenance. Fir. $5,000 a year. If you suspect those words refer to ancient City Stadium, you are correct. Charles W. Byrnes authored those words in the course of a chat with this writer concerning the life of the one and only wooden stadium left in the NFL. Recently retired as superintendent of building and grounds for the board of education, Byrnes is the only man in our town who knows the location of every nail in the home structure of the Packers. "The time will come soon," Mr. Byrnes twinkles, "when there won't be any room for holes for nails under the stands." Charley refuses to stick his neck out on the life expectancy of City Stadium for the simple reason that he's no clairvoyant. "But I know in my heart the time is coming when we'll be through making replacements. We can't go on forever," he explained, adding: "It's getting the best of care and is annually inspected by state insurance agents." The "best of care", Charley pointed out, has averaged about $5,000 a year in repairs and replacement for the last 20 years - or roughly $100,000. The last major overhaul job was done at the stadium about 10 years ago when nearly 30,000 feet of fir went under the stands, Byrnes said. A structural change was made four years ago. "The Packers and board of directors are in a partnership with the stadium," Byrnes beamed, "and when there is a big repair job the Packers do it. Annual repairs are done by the board of education." The difference between the present stadium and the proposed new stadium is "like the difference between maintenance and replacement," Byrnes said, "and naturally it is much more expensive to make replacements on an old wood stadium than it is to maintain a new steel or concrete stadium. About all you'd have to do with a steel stadium is paint it every three or four years." Needless to say, Byrnes is vitally interested in the referendum next Tuesday on the stadium bond issue. "Our old stadium just doesn't belong. You know that! We're growing and a new stadium is a necessity here. Our downtown section alone will take a new look when they get up the new post office, the new city hall. We've got two new hospitals. Just compare those new structures with the old stadium and you see what I mean. I believe it's a matter of city pride - to have a new stadium and keep the Packers here," Byrnes said.
AP, UP FLASH WORD TO NATION
MAR 29 (Green Bay) - THE AP WRITES: The future of the Green Bay Packers' unique, 37-year relationship with this city of 50,000 hinges on a referendum on the April 3 ballot. Voters will be asked whether the city – smallest of the ten with NFL franchises – should float a $960,000 bond issue to finance a new stadium for use by the Packers and the city's schools. Actually, Green Bay will pay only half of that sum since the Packers have agreed to share the bill for a 32,000-seat structure over a 20-year period. City and club officials aren't flatly predicting that the referendum will pass. They point out that there is unorganized opposition to it and being unorganized is an unknown quantity. But one fact is sure. If the question doesn't win voter approval, the Packers will pull up stakes within the next few years and move elsewhere. Possible future sites of the club include Milwaukee, Buffalo, Miami and Minneapolis. Mayor Otto Rachals said he thinks the referendum will pass. Noting that there is opposition to the stadium among people who feel the money should be used to build more classrooms, he said: "There is no question that money is needed for schools, but this stadium is not merely for the Packers. It is something that can be used for many other events." Verne Lewellen, general manager of the NFL club, feels "fairly well satisfied it will go through." If it doesn't, he added, "the handwriting will be on the wall for us within five years. Pro football is big business. We can't get along with our present inadequate wooden stands seating about 24,000. Gone are the days when our minimum guarantee to a visiting team was $5,000. It's $20,000 now. A new stadium will be protection for the future of the franchise in Green Bay."…SOMETHING BE DONE: Lewellen said the other clubs in the NFL, especially the Chicago Bears and Detroit, have long demanded that something be done to insure bigger gates here. All of them would prefer to play in Milwaukee, with its greater seating potential. The Packers in three games here and in Milwaukee averaged 22,074 persons paying $74,000 and 27,261 paying $81,000, respectively, whereas the league averaged about 35,000 paying $103,000. Those close to the situation view the drive for a new stadium as an uphill fight, with the pros gaining strength in the past two weeks. Right now, they say the referendum is a tossup. The main opposition centers around taxes. Pending are a new junior high school to cost 2 ½ million dollars and a new city hall to cost 1 ¾ million dollars. Why incur more expenses, one faction asks? To retire half of the proposed stadium bond issue, the average taxpayers would have to pay 22 ½ cents per $1,000 assessed valuation, according to proponents of the plan. The referendum is the major item on the city's ballot. There are contested elections in only seven of the 24 wards…THE UP WRITES: The Green Bay Packers will play their "greatest game" next Tuesday, Mayor Otto Rachals said today. That's the day this town of 52,735, smallest in the NFL will vote on a $960,000 football stadium bond issue. The Packers say they desperately need a replacement for the old wooden City Stadium and are willing to put up half the cost. They don't know how the vote will go. The opposition isn't organized, but it's there. "A victory is vital to keeping the Packers in Green Bay," the mayor said. A Packer rally is scheduled for Saturday to help put over the bond issue plan. Speakers will include Curly Lambeau, who founded the Packers, and George Halas, the retired Chicago Bears coach. The Packers were organized in this proud football town in 1919. The old 24,500 City Stadium went up in 1927. The Packers and Green Bay high school teams have played in it ever since, except for a few Packer games played annually in Milwaukee. Today, the Packers are the last team in the NFL still playing in a wooden stadium. The clubs points out that other league teams resent this for financial reasons. When the other teams play here, they don't draw as much money because crowds are limited to 24,500. Charles W. Byrnes, recently retired supervisor of building and grounds for the board of education, said hundreds of nails have to be pounded into the stadium each year to hold it together. "The time will come soon when there won't be room to pound any more nails," he said. The proposed new stadium would include concrete stands for 20,000 fans, plus end zone bleachers for 12,000, and it could be enlarged. A new stadium is needed for three reasons. First, the present stadium is outmoded. Second, a new one is needed to get other teams to play here. And third, pro football has started to grow rapidly but with the old stadium, the Packers can't grow with it. Some persons don't want any tax increases. City officials estimate the tax would run about $1.35 a year on the average home.
HALAS, LAMBEAU HEAD NEW STADIUM RALLY
MAR 29 (Green Bay) - The program for the giant get-out-the-vote pep rally at the Columbus Club Saturday morning is set! Festivities will start at 9:30. And the public is invited to attend. Tony Canadeo, a battler in nearly 200 Packer games in 11 seasons, will serve as master of ceremonies. Topping the program will be George Halas, owner and retired coach of the Chicago Bears, and Curly Lambeau, founder of the Packers and their coach for 30 years. They'll be flanked by Don Hutson, the immortal pass catching genius; Johnny Blood, the Vagabond Halfback; Jack Losch, the Packers' first draft choice; Bob Burris, the Oklahoma backfield star; Mayor Otto Rachals; Fred Cobb, the silver-tongued exponent of Packer football;
head coach Liz Blackbourn; present Packer veterans Dave Hanner, Gary Knafelc and Breezy Reid; and a host of others. A highlight will be reading of a message from Bert Bell, commissioner of the NFL and a long-time friend of Green Bay. Some of the program will be televised – a half-hour of it, from 10:30 to 11, on WBAY-TV. Purpose of the big rally is to steam up "yes" interest in the Tuesday referendum on the stadium bond issue. The Citizens Committee for the Stadium, of which Jerry Atkinson and Canadeo are co-chairmen, has been pointing to Saturday's rally for the last three weeks. The key figures in the audience Saturday will be over 400 ward workers – roughly 20 from each of the 21 wards. These workers, headed by Bernard Darling and Roman Denissen, will spend the final days before the election in a house to house campaign, along with members of the women's committee. A crowd of more than 1,000 fan-voters is expected. The public is invited and there will be plenty of seating room. All of the talks will be brief but hard-hitting. Halas is expected to present official dope – as concerns his Bears and other teams in the league – on why the Packers need a new stadium. And the pro grid pioneer is expected to mince no words! Lambeau is flying in from California where he now makes his home. Hutson is coming up from Racine. Losch and Burris were due tonight to look over the city, including the stadium…Arrangements for the rally were completed at a meeting of the stadium publicity committee yesterday. The group announced that the last of thousands of pamphlets will be distributed over the weekend…Members of the South Side Civic Assn., at their regular meeting last night, unanimously adopted a resolution urging the citizens of Green Bay to vote for a new stadium in next Tuesday's referendum. "We believe it is one of the improvements Green Bay needs to keep it the leading city in Northern Wisconsin," said Carl Zoll, president.
MAYOR EXPLAINS CITY FINANCING FOR STADIUM
MAR 30 (Green Bay) - Since it can be assumed the valuation of Green Bay will increase annually, Mayor Otto Rachals emphasized today that construction of a new stadium will not necessarily mean an increase in the city tax rate. The estimate of expenses to the city for its half share of a $960,000 stadium of 22 cents per $1,000 assessed valuation is based on the present total valuation, the mayor explained. Increases in annual valuation totals could well offset part or all of the increased bonding and interest expenditure, he said…WILL PAY HALF: Rachals also emphasized that building a stadium would mean no changes in school construction plans and repeated figures to explain the city's debt limit of nearly $20,000,000. Nothing speculation of the stadium's effect on a new west side junior high school, Rachals explained that the school project already is authorized and is following normal procedure toward construction. Land is purchased for the school site, and plans now are being drawn, he said. A recent decision of the council's finance committee was to start planning of the school bond issue after construction bids, including alternates on phases of the new school, were received by the Board of Education. This decision was made, Rachals said, because of past experience with bids being greater than bond issues sold in advance which made necessary transfers from surplus city funds. Construction on the new junior high school should start in August, Rachals said…ALREADY AUTHORIZED: With the Packer Corp. playing half of the bond issue and interest on this half and with an interest rate of 2.1 percent, the rate obtained on city hall bonds, Comptroller John Tease has computed the total cost to the city at $552,000. On the basis of the 1955 local assessed valuation of about $125,000,000, this amounts to an expense of 22 cents per $1,000. Rachals pointed out that, applying the present tax rate, each increase of $1,000,000 in local valuation would raise an additional $25,500 in property tax income. Thus, an increase of $1,000,000 each year during the 20-year term of the stadium bond issue would almost pay the city's share of the cost. Since 1950, the annual increase in the city's total assessed valuation has been between $3,000,000 and $6,000,000. The increase for 1956 is estimated at about $7,000,000. Optimists might point out that the St. Lawrence Seaway or annexations and consolidations during the next 20 years could make the city's valuation increase at a greater rate than has been recorded since 1920. Many factors will determine the city's valuation and tax needs, which determine the annual tax rate, Rachals said. It is true that the city will assume an average expenditure of 22 cents per $1,000 of present valuation if the stadium bond issue is approved next Tuesday, but Rachals said he wanted to make the point that this does not necessarily mean a tax rate increase of this amount. With the total cost of $552,000 to the city over 20 years, the average annual payment by the city will be $27,600. With the diminishing principal each year, and the annual reduction resulting in interest, Tease explained, the city's payments will start with $34,000 the first year and will be $19,000 for the last year of the bond issue. The Packers have pledged to pay $30,000 a year over the 20 years. One other factor mentioned by Rachals was the breakdown in sources of city property tax income. About 52 percent of the city's assessed valuation in real estate and personal property is mercantile and manufacturing property so that business pays more the half the city taxes. From this standpoint, Rachals said, the cost of a stadium with interest would be about $1,200,000 but to the home owners of Green Bay is only $265,000. The mayor pointed out, too, that a $960,000 bond issue would have no dangerous effect on the city's limit on bonded indebtedness…ONE-THIRD OF LIMIT: On the basis of the present assessed valuation, the city's bonding limit is $19,960,108. The present city debt, including the recent bond issue for a new city hall and storm sewer construction, is $6,360,000.
LOSCH, BURRIS HERE; STADIUM RALLY SET
MAR 30 (Green Bay) – Halfbacks Jack Losch and Bob Burris got the feel of Green Bay today. And the tempo is almost like the football season because there's action in the air. The Packers are preparing for their "greatest game" Tuesday when voter-fans of Green Bay decide on the stadium bond issue – not to mention the future of the team here. Both athletes broke into their Easter vacations to join in the "big battle", Burris arriving from the University of Oklahoma Thursday afternoon and Losch flying in today from the University of Miami (Fla.) after being stranded for half-a-day in Lancaster, Pa., due to bad weather. Losch and Burris aren't real familiar with the stadium problem, although one look at the stadium convinced 'em the reason why behind the referendum four days hence. Burris, the Packers' No. 6 draft choice, had heard considerable about the stadium from his brother Buddy, who played guard for the Packers for four seasons, and from Oklahoma's Max Boydston, the Chicago Cardinals' first choice a year ago. "Max played here last season against the Packers and he told me last winter it looked like Green Bay could use a new stadium," Burris said. Boydston and Burris were teammates on the Oklahoma powerhouses and they both hail from Muskogee, Okla. Losch, the Bays' No. 1 draft choice, and Burris will be among the featured guests at the big stadium rally at the Columbus Club at 9:30 Saturday morning. Arrangements for the big free shows are all set. George Halas, owner and retired coach of the Chicago Bears, and Curly Lambeau, founder of the Packers and their head coach for 30 years, will headline the program which will be MC'd by Tony Canadeo, who is co-chairman along with Jerry Atkinson of the Citizens Committee For The Stadium. Other drumbeaters will be Don Hutson, Johnny Blood, Coach Liz Blackbourn and his staff including Ray McLean, Lou Rymkus, Abe Stuber and Jack Vainisi, Breezy Reid, John Martinkovic, Gary Knafelc, Dave Hanner, Mayor Otto Rachals, Packer President Russ Bogda and a flock of others. For a true football atmosphere, the Packer Lumberjack Band, under the director of Wilner Burke, will play for a half hour before the big show and at times during the program. Approximately 400 ward workers, under co-chairmen Bernard Darling and Roman Denissen, will form the nucleus of the crowd which is expected to exceed 1,000. The public is invited to attend. There will be no charge. A half-hour of the program will be televised over WBAY-TV and broadcast over the Press-Gazette radio service WJPG – from 10:30 to 11…"Bob is the best football player in our family!" That's how Buddy always referred to Bob, who was then just going into high school, when Buddy played here in 1949-50-51. Four other brothers are in football. Reminded of his brother's compliment yesterday, the latest Burris to try the pros laughed: "I visited Buddy and his family in Oklahoma City two weeks ago and we had a big argument on who was the most important – a halfback or a guard. We never did settle it because he wouldn't change in opinion about the guard being the most important and I'll be darned if I was going to agree with him. Buddy said that a halfback couldn't get through if the guard didn't open a hole and I said it was up to the halfback to keep running for a touchdown." The Oklahoma star is anxious to try his hand in professional football, and he's looking forward to playing here. Coach Blackbourn "introduced" Burris to the team yesterday in his office, pointing out each member of the '55 squad from a large team picture. Burris and Losch were being ushered around town today by Jack Vanisi of the Packer staff.
DRAMATIC APPEALS MADE TO KEEP PACKERS HERE
MAR 31 (Green Bay) - Dramatic appeals to KEEP THE PACKERS IN GREEN BAY echoed throughout our town today! Six capitalized words – six points or, if you please, a touchdown, marked a rip-roaring stadium pep rally at the Columbus Club this morning. More than 1,000 fans crowded into the downtown auditorium for the unique program, and thousands of others heard the hard-hitting talks via radio and television. Every remark was aimed at the stadium bond issue referendum next Tuesday – a day that will blacken or brighten the future of the Packers in Green Bay. The key message came from the czar of professional football – Bert Bell, who was forced to remain at NFL headquarters in Philadelphia at the request of his doctors. Two other pioneers of professional football issues dynamic appeals – George Halas, owner and retired coach of the Chicago Bears, and Curly Lambeau, founder of the Packers and their head coach for 30 years. Joining in where Mayor Otto Rachals; Packer head coach Liz Blackbourn; former Packer head coach Gene Ronzani; Johnny Blood, the Vagabond Halfback; Fred Cobb, the speaker deluxe; Toastmaster Tony Canadeo and Jerry Atkinson, co-chairmen of the Citizens Committee for the Stadium; and many others. The Packer Lumberjack Band also provided a stirring musical atmosphere for the occasion. Bell's telegraphed and "taped" (for radio and TV) words carried tremendous weight, especially when he outlined the amazing growth of the National league and then stated: "This growth will continue and I am sure the good people of Green Bay want to continue to share in it. This they can do by voting for the proposed new stadium which unquestionably will be needed in the near future." He then pointed to cities interested in the Green Bay franchise, which he valued at $750,000, and added: "Therefore, it is my opinion that it would be good business judgment on the part of the citizens of Green Bay to approve the referendum for a new stadium." Halas revealed an interesting story, hitting the high spots in the Bear-Packer rivalry and then reaching 1956 reality – the need for a new stadium here. "The Packers have ingredients for many, many years of successful operations – coaching, players, fan support – but there is one other element I might mention, one other factor which is essential for your continued growth as a pro football power. And that all important element is the erection of the new civic stadium, which is now being considered," George said. Halas added: "Let's consider this matter from the viewpoint of an owner of another club in the NFL. You have a considerable investment in your team. It costs a minimum of $30,000 to put a visiting team on the field for a game nowadays and the only way a home team can break even, or make a profit, is to take in more than $100,000 per game at the box office. That's where the potential attendance figures becomes so important. If you can draw 35,000 to 40,000 at home against the Packers, you naturally feel you should be able to draw a comparable crowd at Green Bay. And when this becomes impossible it is inevitable that you look forward to playing at Green Bay with less enthusiasm – say, than playing the 49ers in San Francisco. This isn't selfishness – just reasonable and necessary business prudence. So, in discussing this matter of a new stadium, I would like to suggest that you think of it in terms of investment in the Packers, and in Green Bay – in fact, the whole state of Wisconsin. By investing in the new field you accomplish two objectives – you make Green Bay an even more desirable franchise in the viewpoint of other league clubs and you make Green Bay a more desirable franchise from the viewpoint of Packer supporters. A bigger stadium increases the Packers' potential for successful operation. I confess I have a deeper feeling of attachment for the Packers than any other club. Sometimes I wonder if there would be a Chicago Bears today if there had not been such a terrific rivalry, between the Packers and Bears since the early 1920's. I can say to you sincerely – just as sincerely as we hope to edge out the Packers in both games next fall – that the best way for you to guarantee the current and future success of the Packers is to build the new stadium – a place where your team can grow and flourish in the future, just as it has grown and flourished here in Green Bay from the earliest days of professional football." Lambeau related the trials and tribulations of the early days in his personal appeal and then hammered: "Not two, three or four people were responsible for keeping the Packers alive in Green Bay. The people, the fans of Green Bay did it down through the years and I'm sure they'll continue to support the team and build a new stadium." Lambeau viewed "our present sports age" as a "go ahead period, one of advancement," adding: "And that type of thinking must prevail in Green Bay. The main way Green Bay and the Packers can advance is by having a new stadium. It makes no difference whether you are Packer fans or not, and who isn't in this town, a new stadium would benefit the entire city in different ways other than football." Rachals asked: "Why are all you people here today?" and then answered: "Because of your great love for the Packers; because you want to keep them here, and you are willing to give all of your time in backing the new stadium project." Rachals said he has given the key to the City of Green Bay many times since he became mayor and one of the recipients was Mr. Kefauver. "Do you know what's printed on that key? Green Bay – Home of the Packers. Do we want to take off the key?" Rachals questioned. Blackbourn pointed up the "seriousness of the problem" and added: "The coaching staff is working hard, really hard, to keep up our end of the bargain. We want to develop a team worthy of a new stadium." Key figures in the audience were more than 400 workers in the city's 21 wards. They will carry on a house-to-house drive today and Monday.
PACKERS SIGN TWO TACKLES; 28 PLAYERS SET
MAR 31 (Green Bay) - The Packers' list of signed players for the 1956 campaign swelled to 28 today, with the official registration of two free agent tackles – Bill Milburn, a 230-pounder from the University of Texas, and Richard (Jocko) Gordon, 265, of Toledo University and the Los Angeles Rams. Milburn, a lieutenant in the Army Transportation Corps, was separated from service this month. He played two seasons of Army football and comes highly recommended by coaches and opposing players. Milburn played on the powerful Texan team that defeated Tennessee in the Cotton Bowl in '52. He first gained his athletic reputation at Austin, Tex., High, winning all-state honors in football and as an anchorman on the school's record breaking track team. Gordon, a defensive expert, was the 17th draft choice of the Rams in '54. A Marine veteran, Gordon was named on the All-Midwestern conference while at Toledo. He started his athletic career at Toledo High, winning all-state honors. Coach Liz Blackbourn has announced the signing of six tackles thus far.
RUSS WINNIE, ONCE PACKER VOICE, DIES
MAR 31 (Ft. Lauderdale, FL) - Russell Winnie, 49, assistant general manager of WTMJ and WTMJ-TV, Milwaukee, died unexpectedly in his apartment here Friday night. Winnie, who reportedly had heart trouble, and his wife appeared here only Sunday for a vacation. They had taken an apartment at Lauderdale Beach. Winnie was a well-known sports announcer and for many years broadcast the Green Bay Packer football games and University of Wisconsin football and basketball contests. He joined the WTMJ staff in 1928, the year after his graduation from the University of Wisconsin. He broadcast Packer games for 18 consecutive years and Wisconsin game for 16 seasons. He also had a sports news program that was heard for 18 years. He was named manager of WTMJ in 1946 and in 1953 became assistant general manager of both the radio and television. He was also a director of the Milwaukee Journal. Winnie is survived by his widow and son, Alon, a medical student at Northwestern University. Another son, Griffin, died 10 months ago.
STADIUM BALLOT FIRST PHASE IN NEW PACKER ERA!
APR 2 (Green Bay) - The first step – or stumble – leading toward a new Packer era will be taken Tuesday when citizens of the City of Green Bay cast their referendum ballots for or against a new stadium. A "yes" majority will mean, simply, that the Packers will remain in Green Bay. A "no" majority will mean, just as simply, that Green Bay stands a good chance of losing the Packers in the next few years. The Citizens Committee for the Stadium, headed by Tony Canadeo and Jerry Atkinson, felt today like the Packers do the day before a big game – optimistic and confident but still full of respect for their opponent. And a "big game" it will be tomorrow! Mayor Otto Rachals calls it "the greatest game the Packers ever played." New era? The Packers, with their wooden City Stadium, have been operating in a Model-T background. A new stadium would put them and Green Bay on a par with other cities in the NFL. Rachals has emphasized that a large stadium can be used for many other events, including sports shows, church gatherings, water show, etc. The committee continued its campaign with distribution of pamphlets reminding voter-fans of the 10 facts which had been explained and publicized many times in the past three weeks. The 10 facts: 1 - The present stadium is inadequate; 2 - We stand a chance of losing the Packers; 3 - A new stadium would have numerous uses; 4 - The cost is relatively small; 5 - The Packers will pay half the bond issue; 6 - Average tax amounts to 22 1/2 cents per $1,000; 7 - Bigger stadium will increase revenue; 8 - New stadium will be clean, comfortable; 9 - You'll be sure of seats for your friends; 10 - You can point with pride to your city. Members of the women's committee were busy in a house-to-house campaign today. The drive is merely to answer questions and ask people to get out and vote...RALLY LEFTOVER: The No. 1 factor at the Saturday morning stadium rally at the Columbus Club was enthusiasm. If we've heard it once, we've heard it a 100 times in nearly 20 years of sports, "you can't beat enthusiasm." From the start of Fred Cobb's stirring and closing address on the "Packer fan", the roaring was amazingly loud. Cobb touched on the human side of the people who built the Packer tradition; it was a tremendous appeal and as his final words drifted away we wondered how anyone with an ounce of sporting blood (and who hasn't got it in this town) could give the Packers the boot...And speaking of sporting blood, the long and enthusiastic hand-clap given former coach Gene Ronzani was heartwarming. It seemed that both Ronzani and the fans had buried the hatchet. In fact, Ronzani came here to cast an absentee ballot and, as he told the audience, "to make the usual arrangements for tickets next fall."...Covering for the Chicago Tribune was Cooper Rollow, who witnessed five Packer home games last fall and, as a result, got to be quite a Packer fan. Rollow posed a thought-provoking question during the storming rally: "Will you tell me why anyone in this town would even consider losing the Packers?" That, incidentally, is how folks feel in larger cities outside Green Bay. They can't quite imagine how a city - known as the sports wonder of the world - could dare place their most prized asset in jeopardy...And on that score, Johnny Blood indicated in his lively talk that Minneapolis is ready, willing and able to take over the Packer franchise. Minneapolis is just finishing a new stadium. Chicago Bear owner George Halas said that "Buffalo is ready to double-deck its 32,000 stadium at a cost of a million dollars if it can get a franchise." And Curly Lambeau hammered: "The Packer franchise could be sold for a million dollars in 24 hours." Thus, the speakers pointed up the value of the Packers - a million bucks worth of everything that could be poured down the drain in 13 hours - between 7 a.m. and 8 p.m., Tuesday. It doesn't make "cents" - the people of our town putting their thumbs down on the Pack!
GREEN BAY WILL DECIDE STADIUM FUTURE TUESDAY
APR 2 (Green Bay) - Green Bay voters Tuesday will give their answer to the proposal that the city be authorized to borrow up to $960,000 for a new stadium of which the Packer Corp. would repay half. Polls in the city will be open from 7 a.m. to 8 p.m. The stadium question, because of its effect on the future of professional football in Wisconsin, will be one of the top decisions made in municipal elections in the state. Since there are only seven ward contests in the city and because of the lack of activity in the presidential primary, the referendum will decide to a large degree the city voter turnout...EXPLAIN LEASE PLAN: The question arose again today of what would happen to the Packer half share in paying for the stadium cost should anything happen to the corporation. It was emphasized several weeks ago that the Packer Corp. lease on a new stadium would be so drawn that the lease would constitute a claim against the assets of the corporation should the Packer franchise ever be sold, and that the value of the franchise, estimated at a million dollars, would thus be security to the city for the Packers' commitment. The Packer Corporation's constitution and by-laws provides that in the event of dissolution, any remaining assets would go to the Sullivan-Wallen Post of the American Legion, but this would occur only after all outstanding obligations were paid off. Anything the Packers still owed the city would be one of those obligations.
THE CASE FOR THE STADIUM
APR 2 (Green Bay) - The people of Green Bay are considering the expenditure of approximately one million dollars for the construction of a new city stadium. Some people regard this as a great risk. Some think of it as moderately speculative. Others think it is a sure thing. Actually the expenditure is much less risky than the refusal to spend would be. The most careful estimate of the cost to the city is $552,000. This sum includes the city's share of the principal and interest. The city's share is less than the bond issue because the Packer Corporation has agreed to pay half. Refusal to make this expenditure, which is well within the city's means, would definitely rusk the loss of the Packers to Green Bay. What could such a loss mean? For 35 years, Green Bay has profited greatly by the prestige the Packers have given the city and its institutions. The Packers have been worth millions of dollars in good will advertising. In addition, they have brought thousands of dollars in new money into the business life of the city. Every person in Green Bay has profited from this stimulation of business. The Packers have never been in better condition all around as a team, a business institution, or a competitor in the league. The benefits of this organization will bring to Green Bay in the future should by every test be greater than ever in the past, and they should continue to grow as the city grows. The greatest gamble a Green Bay citizen could take Tuesday would be to vote against the stadium.
PACKERS' GOLDEN ERA COMING IN 1960'S!
APR 3 (Green Bay) - The Golden Era? Paging Mr. Bieslki? Packer general manager Verne Lewellen and Packer head coach Liz Blackbourn touched on the two subjects in addresses at the weekly luncheon meeting of the Kiwanis Club at the Northland Hotel Monday noon. As an additional sidelight, written questions on any Packer point, including the proposed new stadium, were answered by Mayor Otto Rachals, who served as moderator, Lewellen and Blackbourn. John Torinus was master of ceremonies. Lewellen spoke of two golden eras in Packer history. "We in Green Bay have always thought of the 1929-30-31 period, when the Packers won three consecutive championships, as the golden
era," Lewellen started. "But do you know what the attendance was at the Bear game here in 1930? It was 8,800, and the attendance for that season here averaged between 6,000 and 10,000. We can't forget the enthusiasm in that era - especially in '30, when 10,000 greeted us at the depot after we won the championship. But those really were the horse and buggy days compared to what's coming up - a new golden era. I firmly believe the golden era is going to be the 1960's. We can look forward to crowds of 35,000 to 45,000 at our games here and those games will be witnessed by additional 50 to 100 millions of people on television. If our city has received publicity and advertising through the Packers in the last 30 years, can you imagine the type of publicity and advertising our city will receive in the 1960's?" Blackbourn, in view of 1956 prospects and a report on progress thus far, pinpointed the loss, through retirement, of kicking specialist Fred Cone, who led the league last year with 16 field goals in 24 attempts. "The experience of kicking field goals and confidence under certain pressures are difficult to find in a rookie," said Blackbourn, referring to the small amount of field goal kicking in college ball and lack of field goal pressure moments. "It would be impossible to find a kicker by mean of trade; those fellows are gold and just aren't available," Liz pointed out, adding: "But it wouldn't be impossible to find a rookie who can kick under pressure. A good example was young Dick Bieslki of the Philadelphia Eagles, who was fresh out of Maryland last fall." Bielski, kicking long and short, made nine out of 23 FG attempts. Discussing needs and breaks, Blackbourn said that "we were fortunate in getting young Gary Knafelc, who gave us a great performance last fall. That was a break and we need that kind of break on our past draft. That draft looks good now, but you never can be quite sure until the season starts."...PRO-TYPE BACK: "If we are to strengthen the team, our line will have to be better - to give Tobin Rote better protection and to take the pressure off our secondary. We selected good sized linemen with speed, and one of them, Bob Skoronski of Indiana, is highly intelligent. That's what Ted Wheratt, the assistant dean of boys at Indiana, told me the other day when he visited here." The veteran coach, starting his third season at the Packer helm, added: "You got a good example of the pro-type backs we drafted when Jack Losch of Miami and Bob Burris of Oklahoma visited here over the weekend. Losch weighs 210 pounds and Burris is over 200. So are Gordon Duvall of Southern California and Bob Laughery of Maryland." In answer to a question on halfback Buddy Leake, high Packer draft choice in '55, who went to Canada, Blackbourn said: "We'll leave Leake in Canada." There had been a rumor that Leake was returning to the Packers.
STADIUM BOND ISSUE SCORES BIG WIN
APR 4 (Green Bay) - Support of football in general and the Packers in particular "goes without saying" in Green Bay. Amid predictions of a close vote and after a minimum of outward response to campaign tub-thumping, city voters Tuesday authorized a bond issue of up to $960,000 for a new stadium by a two and one-half to one margin. The bond issue was approved in each of the city's 24 wards. In addition to the unexpected margin, the referendum also drew a larger total vote than had been anticipated by many. The turnout of 16,468 represented slightly more than 62 percent of those registered for the election. The vote was rolled up in the face of drawbacks of only seven contested ward elections, a presidential primary which has generated only minor interest, and the late-afternoon alert for a possible wind storm. The voting percentage compared with a 63 percent turnout in the 1952 presidential primary when slates for four Republican hopefuls competed and Sen. Estes Kefauver was opposed by two favorite son slates on the Democratic ticket. The city's only other better records were in the 1952 presidential election, the 1954 November election, and the mayoralty primary and election last year...VICTORY APPARENT EARLY: While the referendum had rated only a slight edge for the yes vote by most observers late last week, the easy victory was apparent when early wards reported. Undetermined factors during the campaign was the opinion of voters who "weren't talking." The answers came at the polls Tuesday. The yes vote piled up margins of three to one in many wards, and the closest votes hardly earned that description. The "tighter" votes including a 106-vote margin in the Sixth Ward, 125 in the 11th Ward, 142 votes in 12th Wards, 166 votes in the Fifth Ward, 172 votes in Ninth Ward and 177 votes in the 10th Ward. The bond issue was endorsed by a 663 to 218 margin in the First Ward, 643-256 in the 14th Ward, 508-197 in the 16th Ward, 626-207 in the 19th Ward and 837-277 in the 24th Ward...RECEIVED WITH ELATION: The result of the referendum was received with elation by city officials and officers of the Packer Corp., who had said the voting could well determine the continued life of professional football in Green Bay. As a result of the vote, the City Council will set machinery in motion to gather facts leading to final decisions of where the stadium will be built and how much of the authorized $960,000 maximum will be spent. The Council, in ordering the referendum, pledged to reactivate the stadium subject at its April 17 meeting and gather information on four points. These are: Obtaining of actual construction bids to replace present estimates for both Perkins Park and present City Stadium; a signed contract to follow up the Packers' pledge to pay half the cost; a study of traffic and parking for both locations, and a stand from the Board of Education on its use of a new stadium...WANTS COST ESTIMATE: Mayor Otto Rachals said Tuesday night he hoped it would be possible for the architects who prepared plans for the two possible projects to join in the effort to obtain actual costs for each location. Rachals also said he was considering asking for the hiring of a private firm to aid city departments in compiling the traffic and parking possibilities. The latest estimate for the Perkins Park Stadium was $950,450, not including costs of providing parking. The estimate for a new stadium on the present site for $780,000, not including lighting improvements or parking. Both plans would provide 20,000 permanent seats and about 12,000 bleacher seats, which would increase capacity for Packer games by about 8,000. Preliminary debate over the question portrayed the present location's advantage of economy against parking and traffic improvements of the Perkins Park location...TWO-THIRDS VOTE NEEDED: Once all the facts of the four-point study are compiled, a two-thirds Council vote, 16 members, will be needed to make the decision on location and cost since statute requires this margin for closing of a bond sale. Should the Council deadlock, Rachals and some Council members have advanced the possibility of an advisory referendum in September.
PACKERS MOVE INTO NEW ERA WITH CITY'S BLESSING!
APR 4 (Green Bay) - The Packers moved into a new era today - with the blessing of the City of Green Bay. That blessing - a sort of holy trust - was furnished Tuesday when voter-fans authorized the construction of a new stadium by a resounding margin, 11 touchdowns to four. Actually, they did more than furnish a new home; they assured the future of the Packers in Green Bay - for as long as anyone cares to remember. And they performed a deed that exploded Bert Bell, the little czar of professional football, into this statement: "That's the greatest thing I've heard of in sports. Can you imagine it? A little town of 65,000 getting together and building a stadium for a big league football team! That should open up the eyes of a lot of big metropolitan cities. This has never been done before and, believe me, it can be only done in one city in the world, and that's Green Bay. I personally want to congratulate the City of Green Bay on behalf of myself and every team in the league. It was a terrific effort, but that's Green Bay tradition, and down through the years you can't beat that tradition and loyalty." Bell, like other Packer Backers living outside of Green Bay, couldn't imagine the City of Green Bay voting down the Packers. "But that majority, which leaves absolutely no doubt, convinced me again that Green Bay is the greatest sports town in the world and will always have a place in the NFL," Bell said. On the home front, the official Packer reaction was expressed by Russ Bogda, president of Green Bay Packers, Inc. Bogda pointed up the Packers' appreciation and made a promise, as follows: "The Packer corporation deeply appreciates the vote of confidence in the future of the Packers by the citizens of Green Bay. This is the type of support which has kept the Packers in the NFL for so many years and which will assure the future of the Packers in Green Bay for many years to come. We, who have been given the responsibility of directing the affairs of this community corporation, will do everything in our power to live up to this confidence. I would like to thank everyone who has helped in anyway to make this new stadium possible." Two pro football pioneers - George Halas, owner of the Chicago Bears, and Curly Lambeau, founder of the Packers - were quick to express their happiness. Both took part in the referendum campaign, appearing at the stadium pep rally Saturday. Lambeau, coach of the Packers for 30 years, called the victorious vote "the greatest thing that ever happened to Green Bay," adding: "People all over the country were looking at Green Bay, including a lot of cities interested in the Packer franchise. But Green Bay has given its answer and the Packers are solid. This will give the Packers stronger stature in their operations in the league, too. And don't forget it. No one person put this across. The fans of Green Bay did it." Halas, reached in Chicago Tuesday night, stated: "I am very pleased with the result of the referendum and everyone in the NFL joins with me in that sincere pleasure. The big victory was expected of Green Bay and is typical of the football the Packers have played down through the years - winning football. This means that the Packers will be able to compete as an equal with every other team in the National League. You can expect to have greater attendance which, you know, is a must for competition in this greater era of professional football. It was a real pleasure to have taken part in your rally last Saturday. From the enthusiasm shown at the rally I didn't see how you could miss. Every worker must be congratulated and I personally want to do it. This is one of the turning points in National League history." Mayor Otto Rachals, who worked tirelessly on behalf of the "Yes" vote, said: "Now we can go ahead with our concrete plans for the new stadium and give the Packers a stadium they deserve. It once again shows that the citizens of Green Bay are the greatest supporters of football. We're the greatest little sports town in the country." Tony Canadeo and Jerry Atkinson, co-chairmen of the Citizens Committee For The Stadium, both pointed to the fans as the ones who "did it". Atkinson explained the victory as "one more time the sports world has received the answer how Green Bay does it. The grassroot workers - the guys on the street - put it over." Canadeo said "the overwhelming vote was the greatest factor in the referendum. It proved again that we have a right to compete in big league football."
PACKER OFFICE HAPPY PLACE!
APR 4 (Green Bay) - The Packer office at 349 S. Washington St., was a happy place today. Like Christmas in April! Smiles were a dime a dozen and all of the normal problems that go with the operation of a major league football team seemed slight - what with a new-day realization that (1) Green Bay wants the Packers to stay here and (2) Green Bay wants a new stadium to house the Packers. The business office is on the first floor of the two-story building at the northeast corner of Washington and Crooks Streets, and houses the ticket, publicity-sales-scouting, and general manager's office. The coaches occupy three rooms on the second floor. And from the GM, Verne Lewellen, came this remark: "We think it's marvelous - certainly a fine victory. It shows confidence in the Packer organization. We are certain we can carry out or end of the bargain." Tom Miller, the new sales-promotion director, added: "I've really got myself a talking point," and Scout Jack Vainisi chimed in: "Everybody's just plain excited around here." Earl Falk, holding forth in the ticket office, admitted that "there was no new business today - I guess everybody is too happy to think about tickets." Upstairs, head coach Liz Blackbourn and aides Ray McLean, Lou Rymkus and Abe Stuber went back to work on the business of grading Packer players and scouting opponents off films, but, as Liz put it: "This is a very happy office this morning." Blackbourn pointed out that "we, as coaches, didn't play a big part in the campaign. The committee (Citizens Committee for the Stadium) did it but we were ready anytime the committee called. We're all proud of the voters in Green Bay. They sensed the seriousness of the situation and put their stamp of approval in such a way that shows no doubt that they wanted the Packers here. It's an inspiration to anyone in the Packer family to do their best for our fans - great that they are." And that's how it went at the Packer office today. Everybody was extremely happy - with a new inspiration!
GREEN BAY BACKS THE PACKERS
APR 4 (Green Bay) - The overwhelming approval of the stadium bond issue by the voters of Green Bay in the referendum Tuesday is a compliment to the Green Bay Packers - to the players as worthy representatives of the city, to the coaching staff and to the business management of the club. Further, the vote is an indication of the courage and good sense of the voters in sizing up a business proposition and deciding it finally and beyond any question. The success of the campaign for the stadium by the decisive count of more than two to one must be credited to the many civic-minded persons who have their time and energy to the campaign of education and discussion which put the matter before the people. No community can hope to progress without such leadership and Green Bay is fortunate to have it in abundance. The Green Bay voters have fully matched the qualities of their leaders in this campaign. They have shown that they want the Packers in Green Bay and that they are willing to take any reasonable business risk to keep them. There can be no doubt that the Packers will continue to produce for the people of Green Bay wealth in both the tangible and intangible forms that have benefitted the city in the past. The people of Green Bay are to be congratulated for having retained one of their greatest public assets and the city's best chance for civic greatness.
VOTE PROVES PACKERS ARE 'PEOPLE'S CHOICE'
APR 5 (Green Bay) - The stadium referendum proved that the Packers are "the people's choice" in Green Bay. The Tuesday vote on the bond issue represented the first time the Packers had ever been involved in official public polling. They survived the test without trouble. The name, Packers, wasn't used in the wording on the yes-no ballot, but the unofficial issue was obvious - a stadium for Green Bay. The triumph resulted in a unique partnership between the City of Green Bay and Green Bay Packers, Inc., since each partner will split the proposed cost of $960,000. After following the Packers - with a typewriter, that is - for nearly a dozen years, one gets to wonder just how the football institution stands deep down in the hearts of folks in Green Bay. To haul out an old chestnut, sometimes you can't see the forest for the trees. But the referendum showed exactly how Mr. and Mrs. Green Bay feels! The campaign was quite an experience for this writer, never having been any closer to politics - or rather the science of government - than a voting booth. The anxiety fractured any pre-big game experience we've ever had. About the only similarities were respect for the opponent, nervousness and lack of appetite before the "kickoff"...To get back to normal, Tom Miller, the Packers' sales promotion director, noted the exciting reaction to the stadium victory in a talk at Two Rivers last night. Miller spent considerable time answering questions after his talk and "most of them wanted to know about the new stadium." Miller also noted a "renewed interest in season tickets there for next fall and especially for '57 when they said they hoped the new stadium would be ready." Miller talks at Amherst tonight while Coach Liz Blackbourn was scheduled to address a dinner among employees at the Allen-Bradley corporation in Milwaukee today...Gene Ronzani, former Packer coach who is now a steel salesman with headquarters in Milwaukee, wrote a letter of stadium joy to Jerry Atkinson, who served as stadium committee co-chairman along with Tony Canadeo. His note: "I heard the good news on the stadium issue and had a few anxious hours waiting for the results. Even though there wasn't any doubt in my own mind that the issue would pass, I couldn't help but feel there was always the possibility it may not. Coaches are only natural worriers. Then, too, one only has to recall the history of the Packers to know that the people have never let them down and never will, proving that the best fans in the NFL are in Green Bay. The citizens committee has done a great job and hats off to my fellow salesman, Tony Canadeo, and yourself for a great big pat on the back along with the others who worked tirelessly and unselfishly for a better Green Bay Packers." Bill Sullivan, former Packer director and long a backer of Green Bay sports who moved recently to San Diego for health reasons, wired his congratulations to Green Bay from his new home.
COUNCIL TO START STUDY OF STADIUM COST, SITE
APR 5 (Green Bay) - The City Council agreed with Mayor Otto Rachals Wednesday night that all its members should help to direct the fact-finding studies which will lead to a decision on cost and location of a new 32,000-seat stadium. The Council unanimously adopted a suggestion of Rachals that the Council as a whole be designated as a special stadium building committee. Unanimous approval also was given to a resolution, presented by Rachals urging the Packers to think about training at home because of the support demonstrated for the team in the stadium referendum Tuesday. The mayor said the stadium study should be directed by the entire Council rather than one committee because of its importance and because all alderman are interested. Rachals said after the session he hoped the first committee of the whole session could be held next week after he meets on preliminary phases of the fact-finding program...TO CONTACT ARCHITECTS: One of his first sessions, he said, would be a meeting with E.H. Berners, the architect who drew plans for a new stadium on the present site of City Stadium, and John Somerville, the architect who dew plans for a proposed stadium in Perkins Park. The mayor hopes it will be possible to get the two architects to join in preparing the stadium plans so that actual construction costs can replace estimates, one of the four points the Council promised to determine in ordering the bonding referendum. "We want to get started on this right away so either the Council or the people can make a decision in September," Rachals said. Rachals had reference to a possibility of an advisory referendum on how much the bond maximum of $960,000 issue should be used and where the stadium be built at the September primary after all the information is assembled...WILL OBTAIN CONTRACT: In addition to determining costs of both stadiums, the Council promised to obtain a binding contract with the Packer Corp., for its half of the $960,000 bond issue, to collect parking and traffic data for both sites, and to get Board of Education plans for school use of a new stadium. The resolution urging the Packers to train at home said voters had demonstrated they were behind the team "in deed as well as word" and said this spirit "was originally instilled in the hearts and minds of the citizens by their close association with the Packer team personnel." The Packer Corp. was "urged to give serious consideration to conducting the annual training camp in or near the city of Green Bay." There was no discussion of the resolution before the vote. While the football topic was before the council, Ald. Roman Denissen, council president, complimented aldermen who had participated in getting out the vote Tuesday. The result was a "splendid expression" of the attitude toward a new stadium, he said…'YES' MARGIN BIGGER: The council received the official canvass of ward elections and the stadium referendum which reported a
PERKINS PARK - NEARLY THE HOME OF THE GREEN BAY PACKERS
On June 15, 1954, the Green Bay city council voted "that the Park Board be authorized to obtain an eight month option for the sum of $500.00 to purchase thirty-eight acres of land and six lots, which includes two homes and one barn and a two-stall garage for the total purchase price of $58,000". The option was taken the following day and in February, 1955, an agreement was reached with the former owners George and Mary Morrow to buy the land for $30,400 down and $27,500 in 5 annual installments at 4.5% interest. The Morrows agreed to remove the garage and other personal property "to give complete possession of the property to the City of Green Bay on or before six months from date". This square parcel at the corner of Bond Street and Military Avenue, a quarter mile on each side, was the beginning of Perkins Park. (From the History of Perkins Park)
final tabulation of 11,591 for the bond issue and 4,897 against it. This was an increase of 16 yes votes and four no votes over the unofficial return compiled Tuesday night.
PACKERS SIGN MARINE HALFBACK; 29 IN FOLD
APR 6 (Green Bay) - The Packers picked up a rough-tough Marine today – one William (Bill) Roberts, a 200-pound halfback. Roberts, the 29th player announced as signed thus far this season by Coach Liz Blackbourn, has more than a dozen years of football under his belt and Blackbourn feels that the newcomers has definite possibilities in the majors. A six-footer, Robert was one of the leading players in Marine football, winning all-service honors while playing on the powerful Quantico and Camp LeJeune teams. At Quantico, Roberts was the squad's top ground gainer, averaging 6.5 yards per effort. Roberts, who achieved the rank of first lieutenant in the Marines, gained all-New England, all-Ivy League and all-East recognition while playing at Dartmouth. During the '50 Dartmouth season, Roberts carried 110 times for 528 yards and a 4.8-yard per carry average, setting a new Dartmouth rushing record. He was also the leading ground gainer in the Ivy league in '49, and after the '50 season was selected to play in the North-South game at Miami. Roberts carries high respect as a punter and a blocker, and Blackbourn is in the market for a blocker to take the place of Veryl Switzer, who recently went into service. Roberts had quite an experience in the Dartmouth-Princeton game of '50. The battle was contested during a hurricane with gusts up to 90 miles per hour. Roberts kicked the ball into the wind and watched the ball sail back over his head. Roberts hails from Dubuque, Ia., where he competed in baseball, track and football at Dubuque City High. He runs the 100-yard dash in
10.2. Roberts presently is a graduate student at the University of Iowa. The Packers now have announced the signing of six halfbacks, six guards, six tackles, four fullbacks, four ends, two quarterbacks and one center. Blackbourn is presently in the process of negotiating with veterans of the '55 six-six campaign. The draftees are just about all in, the top unsignee being tackle Forrest Gregg of SMU, the No. 2 choice. Gregg is competing in track at the moment, however, and can't be signed until his competition is finished.
PRELIMINARIES STARTED FOR STADIUM STUDY
APR 6 (Green Bay) - Preliminaries on four fact-finding studies for a decision on cost and location of a new stadium are in motion, Mayor Otto Rachals reported today. Rachals said he would meet with architects E.H. Berners and John Somerville this afternoon. He hopes it will be possible for architects to agree to draw construction plans for two proposed sites and split the fee for the project which is eventually picked. The two plans should have an equal number of seats and auxiliary facilities to make a cost comparison as simple as possible, Rachals said…PLEDGED BY COUNCIL: Obtaining construction bids for both stadiums to replace estimates was pledged by the City Council in ordering the $960,000 bonding referendum approved Tuesday. The Council also promised to obtain a contract to formally bind the Packer Corp. to its pledge to pay $30,000 yearly for 20 years, to survey traffic and parking conditions at both sites and to obtain the Board of Education's plans for use of a new stadium. The last estimates during studies before the referendum were $780,000 for construction on the present site, not including lighting improvements or parking, and $950,450 for a new stadium at Perkins Park, not including parking. Each plan called for 20,000 permanent seats and 12,000 bleacher seats…SCHOOL BOARD TO ACT: After a conference with Fred Wandrey, school superintendent, this morning, Rachals said the Board of Education would begin work on its report at its April 23 meeting. The mayor said inquiries were being directed to Notre Dame and Michigan State University to determine the cost of parking and traffic engineering surveys for stadiums at the schools. One possibility, Rachals said, is to contract for such a survey to provide additional information to that furnished by city departments. Rachals repeated that he hopes all facts could be assembled to place the decision before the Council this summer with a referendum at the September primary possible if the Council fails to reach the needed two-thirds approval.
DETROIT, BEARS, 'FRISCO PACKER FOES IN GREEN BAY
APR 9 (Green Bay) - New York, Detroit, the Chicago Bears and San Francisco will battle the Packers in Green Bay. And Philadelphia, Los Angeles, Baltimore and Cleveland will be the Packers' opponents in Milwaukee. Two of these eight enemies will be involved with Green Bay in non-championship games – New York in Green Bay Aug. 25 and Philadelphia in the annual Shrine Game in Milwaukee Marquette stadium Aug. 18. Both are Saturday night dates. One date is subject to change – due to final television arrangements. The Los Angeles Ram contest might be played Saturday night, Oct. 20. The Packers' road schedule will come out "gradually" – since each club must announced its home schedule only. Most teams have held up announcements due to the possibilities of last-minute changes due to television. However, the Bears, Chicago Cardinals and Detroit already have publicly posted their home cards, thus filling three more Packer dates. Green Bay plays the Bears in Chicago's Wrigley field Sunday, Nov. 11 and battles the Cardinals in Chicago's Comiskey Park Sunday, Dec. 1. The Packers play the Lions in Detroit's annual Thanksgiving Day classic Nov. 22…ALBERT IN NEW ROLE: The first four games of the Packers' home schedule are the same as last year – Detroit and the Bears here and Baltimore and Los Angeles in Milwaukee in that order. And Coach Liz Blackbourn, right now, would settle for what happened in those four games – three victories in four starts. The Bays whipped Detroit 20-17 and the Bears 24-3, lost to Baltimore 24-20 and then nipped Los Angeles 30-28. The Green Bay portion of the league card marks the first appearance of the Forty Niners here since 1950. That visit is more noted for the furious blizzard – or the day a Frankie Albert punt sailed back over his head. Albert will be in a new role next Nov. 18 – head coach. He replaced Red Strader last winter. Detroit and the Bears need little introduction in these woods. The Lions, a three-straight division winner until last fall, expect to roar back into contention with a healthy Bobby Layne and the Bears expect to take all the marbles. Next fall will mark the history change in Bear coaches – Paddy Driscoll for owner George Halas. The Milwaukee league portion in County Stadium is featured by the appearance of the two division winners – not to mention the world champion. Los Angeles was a surprise champion in the Western section in '55 but lost to perennial champion Cleveland in the world's playoff. The Packers will have a special eye for Baltimore and Alan Ameche. The Colts took two four-point decisions from Green Bay in '55 and when the season closed those two tight losses were the difference in third place and a possible shot the title. League play starts a week later than usual this year. Generally, loop action starts around the 25th – this season Sept. 30. The season thus will close a week later – Dec. 16, against Dec. 11 in '55.
KNAFELC NEW PACKER KICKER?
APR 10 (Green Bay) - Gary Knafelc hopes to become the Packers' placekicking specialist next season. The long-geared end has been practicing every day in Milwaukee where he's living during the offseason and "I've got off a few long ones." Knafelc has been concentrating on extra points and field goals. "I don't have anybody to snap the ball back, but I'm getting the feel of it anyhow. Never kicked before in high school or college." Elbowy Gary shouldn't have any pressure problems – such as booting a 35-yarder with 10 seconds left, with a win or a loss in the balance. Knafelc proved that with his game-winning catch against Detroit last September. The Packers' placekicking job is wide open, what with the retirement of Fred Cone, who led the league with 16 field goals last year. One of Ice Cream's boots beat Los Angeles in the last 24 seconds in '55. "That was a big kick for me. I would have been the big goat of the game – had we lost it. I ran the wrong way on that interception – was supposed to go left, went right instead. I misjudged the ball on that first interception – in the end zone, too," Knafelc added. The Packers held good leads against the Rams, but with 3:50 left Jim Cason intercepted Tobin Rote's pass (on the first play Gary referred to) and returned
it 24 yards for a touchdown, giving LA a 28-27 lead. On the other play, Knafelc and two Rams went up for the ball in the end zone, but Bill Sherman came down with it. Knafelc took special delight in telling Lions club members at their luncheon meeting yesterday noon at the Beaumont about his aforementioned difficulties – especially after referring to his game-winning catch against Detroit. "The only thing that I could think of after getting into the end zone is what would have happened if I had dropped it," Knafelc laughed, adding: "The biggest thrill I got was when a little kid put a 50-cent piece in my hand when all those people ran out on the field." Referring to the fans of Green Bay putting their stamp of approval on the construction of a new stadium, Knafelc beamed, "Now I've really got a talking point around the state. It's a great thing to know that the people of Green Bay are behind us all the way – and forever." Knafelc gets around Wisconsin aplenty these days as a representative of the Miller Brewing Co., giving talks and showing films on the Packer Highlights and the 1955 Cleveland-Los Angeles championship game. Gary will enjoy some "spring training" this year. He has been appointed as an unofficial end coach at Marquette University. "I'll get to work with the boys and also get my own legs in shape," he explained. Knafelc said he figures to be faster this year – "I was slowed down quite a bit last year with leg injuries, and my weight is down some, too." Knafelc told the Lions that Calgary had made an effort to get him into Canadian football – "even flew me up there." But the former Colorado star indicated that he expected to be on the firing line when the Packers start action.
BAYS SET TRAINING FOR STEVENS POINT
APR 10 (Green Bay) - The Green Bay Packers will train for the first six weeks of the season at Stevens Point State College again this year, commencing about July 22. The decision was made by the executive committee Monday after discussion of the question at a meeting of the board of directors last Friday. "As much as all of us would like to have the team train in Green Bay the entire season, facilities here are just not adequate for the size squad that we have in the early part of the training season," said Russell W. Bogda, club president. "Since Friday, we have restudied all possible angles on facilities available here, and the answer is still the same, the facilities are just not adequate," Bogda said. "The Rev. D.M. Burke, president of St. Norbert College, has told us that the building program at the college has not progressed to a point yet where college dormitory and eating facilities would be available this year, and the college practice field proved unsatisfactory when the Pittsburgh Steelers trained there for five days last summer."…HOUSED, FED AS UNIT: "The executive committee had always placed the welfare of the ball club first in considering the matter of training facilities," Bogda continued. "Our first job is to give Coach Lisle Blackbourn every possible aid in turning out the best possible team to represent Green Bay. Coach Blackbourn has two minimum requirements for the early training season, adequate practice fields and an 'undisturbed atmosphere', as he puts it, in which the squad can be housed and fed as a unit. Neither of these are now available in Green Bay or in the vicinity. We are all in hopes," Bogda concluded, "that with construction of a new stadium here, adequate practice fields can be provided, and St. Norbert College tells us that as their expansion program continues, it may be possible sometime in the future to house the squad there." The squad will break camp at Stevens Point about Sept. 1, and after a week on the road will return to Green Bay for the balance of the training season and all of the league season. By that time, the squad will be down to a traveling size unit.
COUNCIL STUDY ON STADIUM IN BRIEF DELAY
APR 10 (Green Bay) – A City Council committee of the whole meeting to chart new stadium studies will be delayed until next week, Mayor Otto Rachals said today. The session is being delayed to allow further time to assemble information to be used in determining the direction of studies, Rachals said. The Council April 4 endorsed Rachals' plan to have the whole Council designated as a special stadium building committee rather than assign supervision to a single committee, and the mayor said he hopes the first meeting could be held this week…WRITE FOR INFORMATION: Rachals said today a request for advice was being sent to the Osborn Engineering Co., Cleveland, which designed Milwaukee County Stadium. Information also is being sought from Michigan State University and Notre Dame on its recent experience in enlarging stadiums and providing parking lots. The mayor also asked the architects who designed the two proposed plans to join in preparing both plans for bids and agree to dividing the fee for the plan accepted. It was understood, however, that the city was told at least half of the normal six percent of construction fee would have to be paid for the plan not used if both plans were completed for bidding. Preliminary plans now in the hands of the city were designed by E.H. Berners for construction on the present site of City Stadium, and by John Somerville for a stadium in Perkins Park…PROMISED FOUR STUDIES: In ordering the bonding referendum, the Council pledged than an endorsing vote would be followed by cost studies for both stadium, a contract with the Packer Corp. for its half of the cost, a traffic and parking study on both locations and a report on school use of a new stadium. On another front, Rachals said today he was satisfied with the Packers' reasons for training again this fall at Stevens Point. The Council April 4 unanimously backed Rachals' resolution asking the Packers to consider training in the Green Bay area. The mayor said he had asked the corporation to send a reply to the resolution to the next Council session.
PACKERS STOCK UP ON HB'S, ADD NAVY STARS
APR 11 (Green Bay) - The Packers continued to stock up on halfbacks today, adding two free agents with college and Navy experience. They are Ed McCluskey of the University of Arizona and Glenn Young of Purdue university. Coach Liz Blackbourn, thus, has announced the signing of eight halfbacks and 31 players in all. Other HB's under contract are Jack Losch of Miami (Fla.( university, Bob Burris of Oklahoma, Max Burnett of Arizona, Bobby Lance of Florida, Bill Roberts of Dartmouth, and Don Barton of Texas, the only members of the group with two experiences. McCluskey and Young are similar. Both are 25 years of age; both stand 6-2; both pack over 200 pounds; and both specialize in offense. McCluskey and Burnett, the Packers' 12th draft choice, were teammates at Arizona for three years, playing in the same backfield during the entire '55 season. McCluskey actually had a better rushing record than Burnett as a senior but Max was selected as a defensive prospect. McCluskey, working as a fullback, rushed 94 times for 452 yards and an average of 4.8 yards per trip last fall, scoring three touchdowns. He tried one pass all season and completed it for 51 yards. He also caught three for 33 yards. McCluskey also was Arizona's punter, averaging 40.5 yards on 33 boots. McCluskey played behind Burnett as a junior halfback. Tom Hearden, former defensive backfield coach of the Packers, scouted both of the Arizona athletes in the Salad bowl last January and recommended them highly. Burnett was elected the most valuable player in the game. McCluskey, who carries slightly over 200 pounds, started his grid career at St. Louis University in '48, but dropped out to enlist in the Navy. He played at Great Lakes and won all-Navy honors at San Diego. He enrolled as a freshman at Arizona at '52 and played four seasons. A native of Des Moines, Ia., McCluskey once delivered a 92-yard punt in the Navy, the ball sailing 82 yards in the air. Young was noticed by Pat Harder, the onetime all-pro, in the Shrimp bowl games last December. Playing with the Norfolk, Va., Navy team, the 210-pound Young was the game's leading ground gainer. Young was Purdue's regular fullback for two seasons and played his best game when Purdue ended Notre Dame's 39-game winning streak in 1950. Several Canadian teams were after Young last winter. He hails from Des Plaines, Ill. The Packers are now pretty well set with halfbacks as Breezy Reid, Al Carmichael and Joe Johnson have yet to enter the fold. Another veteran halfback, Veryl Switzer, has entered service.
PACKER 1956 NFL SCHEDULE NOW SET
APR 12 (Green Bay) - The Packers' 1956 NFL schedule is complete. It's listed in bold-faced type at the right. Take a good look and see if you can pick out four wins – or maybe five – or six, seven or, bejabbers, eight! If you can figure seven or eight, kindly call Coach Liz Blackbourn with your valuable piece of information! All kidding aside, the schedule looks rather fearsome. It's the same lineup as a year ago – the 10 games with Western division foes and Cleveland and Chicago Cardinals of the Eastern division. The Packers came out of the '55 dozen with six-six. Both Cleveland and the Cards won't be the same in the key quarterback spots. The Browns won't have the peerless Otto Graham, but they will have Babe Parilli, the onetime Packer, and/or George Ratterman at QB. The Cards are expected to close a deal for a new QB'er soon – maybe Billy Wade of Los Angeles. The Packers won three out of their first four games last fall, lost three out of the next four, and then split the last four. This indicated a fast start, a slump and a return to the beam. In that fast start, the Packers whipped Detroit 20-17 and the Bears 24-3 here and then lost to Baltimore 24-20 and beat Los Angeles 30-28 in Milwaukee. That made 3-1! The slump started at Cleveland to the tune of 41-10, continued at Baltimore 14-10 and the Bears 52-31. It ended at home with a convincing 31-14 victory over the Cardinals, and the record read 4-4. The last "four" started with a 27-21 win over San Francisco art Milwaukee. Next came the darned 24-10 loss at Detroit Thanksgiving Day. The Packers massacred 'Frisco on the coast 28-7 and then lost to LA 31-17 in a game that meant an outright championship or a playoff to the Rams, which left 6-6! Whether the Packers can do 6-6 or better will depend, of course, on the number of horses in the barn, but let's briefly review the '56 foes and see what's possible: Detroit, Sept. 30 and Nov. 22 – Detroit expects to regain Western title. Posted 3-9 last year. Should improve. Let's hope for a split! Bears, Oct. 7 and Nov. 11 – Bears expect to win title. Posted 8-4 last year. Let's hope for a split. Baltimore, Oct. 13 and Oct. 27 – Colts expect to fight for title. Finished with 5-6-1 last year. We're due to win two, maybe with some of luck they had in beating Pack twice last year. Los Angeles, Oct. 21 and Dec. 16 – Rams expect to repeat. Natch. Posted 8-3-1 last year. Let's hope for a split. San Francisco, Nov. 18 and Dec. 9 – Forty Niners expect to fight for title. Posted 4-8 last year. Must beat 'em twice. Cleveland, Nov. 4 – Browns just don't seem to lose and, of course, are heavy favorites in Eastern league. Posted 9-2-1 last year. Let's just hope. Cardinals, Dec. 2 – With a new quarterback, the Cards expect to be running until the end. Posted 4-7-1 last year. Gotta win this one. Packers? – You can take if from here, Liz!
LIZ ADDS MORE 'SEASONING'; SIGNS HB BOB MADDOX, 26
APR 13 (Green Bay) - They say an athlete doesn't reach his peak until he's in his upper 20's. Tony Canadeo had his greatest season (1,000 plus yards) when he was pushing 30 – back in '49. Don Hutson was slicker at 28 than he was at 22. Name just about any of them – Joe Laws, Arnie Herber, Tobin Rote; they all grew better once they passed their middle 20's. Packer coach Liz Blackbourn indicated in his choice of halfbacks, most free agents, a liking for the middle-20 athlete in hopes that their added experience will benefit them in professional football. Liz has announced the signing of nine halfbacks thus far and six of them are in the 24-25-26 age bracket. Military service, of course, has been responsible somewhat for the large number of what might be termed "older men" available. All six played service football before or after college work. Each has two years of service football in the experience locker, and Blackbourn is aware of the fact that the signees rubbed elbows or banged into experienced pros in service. Thus, they won't be cold off the campus once training starts. Blackbourn announced the
signing of the sixth of the middle-20 halfback group today – one Bob Maddox, a 195-pound halfback who gained Little All-America honors in 1952 as a senior at Trinity University. Maddox is 26 and joins "age classmen" Max Burnett of Arizona, 25; Don Barton of Texas, who played here in '53, 25; Bill Roberts of Dartmouth, 25; Ed McCluskey of Arizona, 26; and Glenn Young of Purdue, 25. The infants of the halfback group are Jack Losch of Miami, Bob Burris of Oklahoma and Bobby Lance of Florida. All three just recently became eligible to vote…32 PLAYERS SET: Maddox, a six-footer, was a member of the all-Gulf Coast conference team in 1949-52. He was the leading ground gainer in Texas with an average of 6.7 yards per rush in over 200 carries. He was also 20th in the nation in both major and minor colleges in rushing yardage. Against West Texas State in '52, Maddox carried for 180 yards, scored three touchdowns and set up two other touchdowns on long runs. He also made half the pass receiving yardage in that game. Maddox was elected the outstanding players of the powerhouse Fort Jackson, S.C., eleven last fall. Blackbourn now has announced the signing of 32 players.
PACKERS PLAY FULL ALL-DAY CARD; NIGHT LOOP TILTS OUT
APR 17 (Green Bay) - Baseball season open too early? This is the fourth Braves home opener we've attended and in each case a topcoat was the spectator uniform of the day. An overcoat would have felt more comfortable. But what a day for football! Just cool enough to keep the players from overhearing. And speaking about football, the Packers won't play any Saturday night league game as originally announced. Earlier, the Packers were carded to play the Baltimore Colts in County Stadium here Saturday night, Oct. 13, and the same team in Baltimore Saturday night, Oct. 27. Those two games will be played the following days, Oct. 14 and Oct. 28, at the same sites. NBC's efforts to televise Saturday night contests, including games involving other teams, didn't pan out and most of the teams have just switched their games. The Sunday-TV pro football games will still go on, however. The Packers will be playing their first all-day league schedule since '51. Since '52, the Packers played seven Saturday night league games and won four of them. They won at Dallas 24-14 in '52; split under the arcs in '53, beating Baltimore 35-24 and losing to Pittsburgh 31-14; won two in '54, beating Philadelphia 37-14 and Baltimore 24-14; and lost two under the lights in '55 – both to Baltimore 24-20 and 14-10. The Packers got a break in the stadium today, what with the weather being footballish. Howard Kusserow, the Packers' Milwaukee ticket agent, opened the Packer ticket office in the stadium this morning. Three Packer players are helping in spring practice – two at their alma maters. Guard Joe Skibinski is working with the guards at Purdue and Deral Teteak is helping the linebackers at Wisconsin. Gary Knafelc, ex-Colorado star, is giving the ends at Marquette a few pointers.
PACKERS SIGN TWO CENTER; 34 INKED
APR 18 (Green Bay) - Two centers, whose combined weight totals 495 pounds, were added to the Packer signed-contract roster today. Coach Liz Blackbourn announced the registration of Dean Stuart, a six-foot-six, 260-pounder out of William Jewell College of Liberty, Mo., and Pete Bellow, a 235-pounder from Pasadena City College and Fort Ord. The Packers now have revealed the signing of 34 players, including mostly free agents and draft choices. Stuart and Bello join center Don Wilson of Rice, the Packers' 24th draft choice. From those three and possibly one or two more centers, Blackbourn hopes to find a suitable reliefer for Jim Ringo, the Bays' veteran pivot who is expected to return for his fourth season. Stuart, known as Big Dean, is a ministerial student at William Jewell and hopes to earn enough money to continue his studies by playing professional football. "Since God has given me athletic ability, I feel that I can continue in His work by playing football," Stuart wrote Jack Vainisi, Packer scout…FIELD GOAL KICKER: Stuart also earned letters in basketball, baseball and track at William Jewell. He plays mostly offensive center in football. Bello is a center, linebacker and field goal kicker, and played as a regular on the Fort Ord all-service championship team. He played on the junior Rose Bowl championship team of '52. He was an all-conference selection at Elmonte, Calif., High and at Pasadena City College. One of his outstanding football accomplishments in college was a 45-yard field goal. Bello is also a skilled boxer, having won the California Golden Gloves championship in the heavyweight division.
COUNCIL TO OPEN STUDY ON STADIUM
APR 18 (Green Bay) - The City Council will meet as a committee of the whole Thursday night to begin charting the course of studies which will lead to a decision on where a new stadium will be located and how much of an authorized $960,000 bond issue should be used. In calling the meeting today, Mayor Otto Rachals said the meeting will discuss a program to follow in carrying out its pre-referendum pledge to develop facts around four points. The Council has agreed with Rachals that it should act as a committee of the whole rather than having a single committee direct the study. With an eye to having the stadium ready in the fall of 1957, Rachals said such things as drawing of plans should be given priority in order to get in orders for materials. Rachals said he hopes plans for two proposed stadiums could be simplified to make contract specifications easier. The Council also will receive replies to inquiries sent to national firms which designed Milwaukee County Stadium, the new Minneapolis stadium and enlargements at Notre Dame and Michigan State. The four points around which the Council study will be directed are: to obtain construction bids for both sites; to compile traffic and parking information; to get a contract with the Packer Corp. for its half of the cost; and to have the Board of Education report on school use of a new stadium.
BLACKBOURN GETS PLAQUE FOR BADGER SPORTS LEADERSHIP
APR 19 (Green Bay) - Liz Blackbourn has been a devotee of Wisconsin sports all of his life. The veteran coach, now in his third year as head coach of the Packers, is strictly Badger. He was born at Beetown, which is near Lancaster; he was graduated from Lawrence College in Appleton; and he coached at Milwaukee Washington for 22 years before mentoring at the University of Wisconsin and Marquette before coming to Green Bay. Blackbourn's contribution to Wisconsin sports was made official at the annual Sports Night banquet sponsored by the Holy Cross Athletic Assn., at Holy Cross Church in Milwaukee last night. He was awarded a Plaque of Honor by The Very Rev. Joseph J. Haas as a highlight of the banquet program. The plaque carried the following inscription: "Holy Cross Athletic Assn. Plaque of Honor presented to Coach Lisle Blackbourn in recognition of his exceptional contribution to the welfare of sports in the State of Wisconsin." The late Frederick C. Miller, widely-known sportsman and backer of Wisconsin sports, including the Packers, received the first plaque in 1954. Jack F. Nagle, Marquette basketball coach, won the award in 1955. Blackbourn was accompanied by Russ Bogda, president of the Packers, and Bernard Darling, a member of the executive committee. Other guests included Ernie Johnson, Ray Crone and Joe Taylor of the Braves; and Don Kindt, recently retired Chicago Bear. Blaine Walsh served as master of ceremonies. In reviewing Blackbourn's Badger history, banquet officials pointed out that Liz helped to formulate a program of physical education which is still widely used in the Milwaukee public school system…While Liz was in Milwaukee, Tom Miller, sales promotion chief of the Pack, was speaking at a high school athletic banquet in Laona last night. "It was like a championship banquet despite the fact that the school's football team didn't win a game and the basketball team won only a few," Miller said, adding: "They're real interested in the Packers up there and are looking forward to the new stadium."…BRIEFS: Jack Vainisi, Packer scout, received a letter today from Tom Bettis who was recently called into service for a six-months tour. Bettis is stationed at Fort Eustis, Va., and expects to get out early in September – in time to get in shape for the football season. But Tom wrote that "I'm getting in pretty good shape right now in training here." Incidentally, some confusion arose over the fact that Bettis was called in for only a six months tour of duty. He was called to active duty as a reserve officer and this has no connection with the six months training period for enlisted men which is limited to young men under 18 ½ years old.
PLAN PROPOSED FOR SCHOOL USE OF NEW STADIUM
APR 19 (Green Bay) – The high school on the side of the Fox River opposite the proposed new City Stadium will not be required to play its football games or to hold its track meets in the new stadium, if the property committee of the Board of Education has its way. The committee voted Wednesday night to recommend to the full board Monday that only the high school on the same side of the river as the new city stadium hold all its football and track events in the new structure. The high school on the other side of town would have "the option of scheduling some of its football games and track meets" in the new stadium "but in no case would it be required to play there," the resolution said. All football games between East High School, West High School and Premontre High School would be recommended to be played in the new stadium, however. Supt. Fred H. Wandrey drew up the recommendation after meeting with the principals and coaches of East and West High schools. The committee adopted it without change. In addition to students not wishing to go long distances to attend football games, playing all games in the new stadium would not be advisable because it would mean too many games on the new field in a short period of time, Wandrey said. He said 12 to 14 games are played each fall in the present City Stadium and stated how additional games have been vetoed by the Packer Corp. because they were too close in time to others. Too many games in a short time on a field is not good for the field, Wandrey said. If the new stadium is built on the West Side, excess seats in the old City Stadium would be torn down, Wandrey said. From 6,000 to 8,000 seats would be enough for any high school game, he declared. That maintenance of a stadium for East would be costly if the new one is built on the West Side was doubted by Wandrey, who added, however, "no matter what, we will have to have two stadiums." Present City Stadium's field was described by Nick Dallich, superintendent of buildings and grounds, as in "fairly good" condition now but as being in need of expenditures eventually. Need for a track in the new stadium was stressed. Official track meets are held at City Stadium now as West is not of regulation size, according to the superintendent.
EARL KLAPSTEIN, 34, NEW PACKER AIDE
APR 20 (Green Bay) - Earl Klapstein, 34, a one-time Pittsburgh Steeler with nine years of coaching experience under his belt, is the Packers' new part-time coach! Coach Liz Blackbourn announced the signing of the assistant today, thus completing the Packers' coaching setup for the 1956 season. Klapstein joins aides Ray McLean, offensive backfield coach; Lou Rymkus, line coach; and Abe Stuber, defensive backfield coach. Klapstein will work on a six-months' basis – the first half-year mentor in Blackbourn's regime. The newcomer will serve as defensive line coach and game scout, starting July 1. Blackbourn said that Klapstein will coordinate the play of the defensive ends, tackles and middle guards with Stuber's defensive backfield. He also will work as game scout and assist talent scout Jack Vainisi. During the game season, Klapstein will scout a college game on Saturday, a pro game on Sunday and then make a report on that pro game at the Monday coaches' meeting. From Monday until Friday, Klapstein will work with the squad. Klapstein is a native of Lodi, Calif., and a former star athlete at College of Pacific, graduating in '43. He played center and coached at San Diego Navy in 1944-45 and played tackle with the Steelers in '46. He entered the coaching field at Montica, Calif., High in '47 and served as assistant in 1949 at Stockton, Calif., College. He became head coach at Stockton the following year and in five seasons as head coach, including his Montica team, he compiled a record of 39 wins, 13 losses and three ties. He served the last three seasons as line coach at the University of Idaho, which was second in the Pacific Coast Conference in both offensive and defensive rushing in '54. Klapstein is married and has three children. In the offseason, he will do public relations work for a California fruit-growing concern. He will live with his family here for six months of the year and return to California for the other six. Klapstein is the second new coaching name to enter the Packer picture this year. Stuber was signed recently to replace Tom Hearden, who resigned last December to join the University of Wisconsin. These were the first coaching changes made since Blackbourn became head coach in January of 1953 when he retained McLean from the previous regime and added Hearden and Rymkus. The Packer staff is getting ready to go on daylight saving time- "maybe in another week or two," Liz said. The coaches start work one hour earlier about 7 a.m.) and then knock off an hour earlier, giving them more time to relax with a spot of golf or fishing in the afternoon. The extra daylight gives them more time to freshen up for the big training grind starting late in July.
COUNCIL BOGS DOWN IN STUDY ON STADIUM
APR 20 (Green Bay) - Just how facts will be compiled to determine where a new stadium will be built and how much it will cost was still unsettled today. The City Council, meeting as a committee of the whole Thursday night, was able to agree only to take another stab at getting the stadium study off the ground next Monday night and to forget about writing a report on the two and one-half hour meeting for the next regular Council session. The otherwise inconclusive meeting, however, appeared to establish groups for two conclusions: The Council majority isn't interested in allowing any stadium study to be too far removed from its supervision. Many aldermen don't intend to let any facts developed in studies interfere with the conclusions they have already reached on where the stadium should be built. On the first point, the Council rejected by a 14-9 vote Mayor Otto Rachals' proposal to hire a nationally-known stadium survey firm to list possible sites in order of their advantages and make estimates for construction at each site…TURN DOWN COMMISSION: The Council also split 12-12 on Rachals' plan to start the wheels turning to create a stadium commission to administer a new stadium and discarded an amendment 18-6 which would have named commission membership at once to become an advisory and fact-finding committee for the Council during stadium deliberations. The second point spoke for itself as debate kept drifting back to familiar arguments on stadium location. "All we are doing here tonight is trying to sugarcoat the bitter pill of deciding the site. The whole thing boils down to a better stadium with adequate parking on the west side, which will cost more money. We don't need an outside firm to tell us that," Ald. Jerome Quinn summarized. Quinn, observed Ald. Rhynie Dantinne, was "making a good political speed and should be in a big hall or on television." He then recited what he said were points on the side of traffic and parking problems being overrated at City Stadium…SUGGESTS FACT-FINDING: After the last of Rachals' proposals was rejected, Quinn suggested that the fact-finding be assigned to a committee composed of a traffic department representative, the city planner, the president of the Green Bay Real Estate Board, a member of four business associations, and a Packer representative. The Council, however, agreed to adjourn to allow time for thought. "We have gone a long way toward doing nothing tonight," Rachals said. The 12 West side aldermen were joined by Ald, James Francois and Joseph Mulloy of east side wards in voting against hiring the Osborn Engineering Co., Cleveland, which designed Milwaukee County Stadium and is engaged in a site survey presently for the Air Force Academy at Colorado Springs…SURVEY DATA DESCRIBED: The 12-12 split on creating a stadium commission was divided on east-west lines with west side aldermen voting no. The idea gained approval 13-11 at first, but Ald. Paul Liederbach rose in the midst of the survey debate an hour later to ask that his vote be changed. The Osborn Co. offered to analyze all possible stadium sites, including the two suggested so far, prepare cost estimates and draw sketches within 45 days based on studies of nearness to center of population, ease of accessibility, off and on-street parking and traffic conditions. It asked for a fee of $6,000 to $6,500 and offered to cut the fee in half if it received the assignment of designing a stadium. Rachals proposed the fee be paid from the $20,861 paid by the Packer Corp. for 1955 use of City Stadium. Rachals said the information developed by the stadium would be valuable, not only to the Council, but to the people if an advisory referendum is needed because a required two-thirds Council vote cannot be reached on selling the bond issue authorized April 3. The mayor's support on the floor was led by Ald. Wilner Burke, Don Tilleman and Harold Reynolds. "Getting this expert advice for $6,500 is a guarantee to the people of proper planning which we promised. As far as I am concerned, if this survey says the stadium should be on the west side, I'd vote for the west side," said Burke of the east side Fifth Ward…REFERENDUM IS LIKELY: Aldermen opposing the mayor said the survey would not settle the site question, a referendum loomed as unavoidable because of a Council deadlock, and that the city had enough qualified personnel on its own payroll. Council disappointment with the 1955 Williams traffic survey appeared to have no small part in solidifying the opposition. "We just got through paying for a traffic survey that any kid could do. We have trained men. Let's explore our own talent. We really got a fine trimming on that last survey," Ald. Fred Forester said. "Is this thing so complicated that the Council can't decide it on its own and are you sure two-thirds of the Council will go along with the findings of this survey?" Ald. Leonard Jahn shouted at the mayor. Before presenting the Osborn plan, Rachals reported on conferences with architects E.H. Berners, who sketched plans for a new stadium on the City Stadium location, and John Somerville, who drew sketches for a stadium in Perkins Park…LIST PLANNING COSTS: He said the architects wanted 4 ½ percent of permanent construction costs for preparing building plans for both stadiums plus 1 ½ percent for supervising the plan selected, or an estimated total of $81,700. Rachals said Berners wanted $1,400 for the work done so far if a new architect was named and reminded the Council $800 was appropriated for Somerville's preliminary work. Rachals also read a letter from Somerville in which he agreed he was to get $800 for the preliminary work and a normal fee if he got the Perkins Park job, but a new figure if a new architect was named to design a west side stadium. "I am a member of the Board of Public Works and I want to say I recall at no time a promise of another figure if someone else should get the job. The only agreement was for $800, which would be subtracted from the fee if he got the final job," Rachals said. Rachals' proposed commission would have had seven members, two named by the Packer Corp., two named by the Board of Education, the mayor, city attorney, and an alderman elected by the Council. He emphasized he wanted the membership at present only "to act as a subcommittee of the Council's committee of the whole," with no authority to make decisions in the field of site selection or type of construction…WOULD DIRECT STADIUM: The role of the commission would be to manage and operate the new stadium because the voters were told before the April 3 referendum that the stadium would have as many uses as possible, Rachals said. Tone of the opposition was highlighted at one by Ald. E.J. Perkins, who charged the Council would be surrendering its functions to a body which the mayor was trying to "push down our throats." While supporters of the mayor said having a smaller group do spade work for the Council as was done in new city hall planning was sound policy, opponents said the Council was charged with directing plans and any commission now was premature. "Every voter who voted for the stadium bonds is going to look at his alderman as his own (stadium) commissioner. I think you should prove to us first a commission is needed," Ald. Jessup Jameson said. While he favored creation of a commission after the stadium is built, Ald. A.B. Pinkerton said its creation was "premature at this time" since it would "turn it into what it is not supposed to be," a group engaged in the politics of determining a site…SITE FIRST DECISION: "There is nothing in this resolution about a site. I think we know this will be the big question and we will be in on it at this meeting and in the hereafter," said Ald. Joseph Mulloy. While he said enough problems were developed by the meeting, Ald. Rhynie Dantinne predicted a legal tangle could result from use of any of the authorized bond issue for parking lots in connection with a Perkins Park stadium. As he saw it, the money is limited to only stadium construction. As a result of the meeting, the Council's toughest and apparently most expensive task is getting bids based on construction plans for both stadiums. This was one of four pledges made by the Council in ordering the bonding referendum. The other points are a report on traffic and parking problems and advantages at both sites, a plan for school use of a new stadium, and a contract with the Packer Corp., insuring the city $30,000 yearly for 20 years.
UP IN THE AIR ON STADIA LOCATIONS
APR 20 (Green Bay) - Efforts are being made to build a stadium in New York as a home for the New York Giants baseball team. The borough of Manhattan is interested in keeping the Giants there just as Green Bay is interested in keeping the Packers here. Manhattan is having trouble with the site problem just as Green Bay has a site problem for its stadium. New York plans to build its stadium on stilts "over the open tracks of the New York Central Railroad yards, generally from Sixtieth to Seventy-Second Street and from West End Avenue to the parallel boundaries of the West Side Highway." Escalators are to run from the street level to the upper deck, parking facilities for 20,000 cars are planned, and there is to be a subway station under the stadium. Green Bay's site problem is of a different nature, but it has been suggested that it too could be solved by building a stadium on stilts over the Fox River. The fact that New York is going to spend $20,000,000 on its elevated stadium serves only to indicate how much better off Green Bay is with acres of good ground to build on at, but a fraction of the cost.
PACKERS TO ENGAGE FIRM FOR STADIUM SITE STUDY
APR 21 (Green Bay) - The Green Bay Packer Corp. is engaging the Osborn Engineering Co. of Cleveland to make a complete survey and report on the best site for a new city stadium in Green Bay. The Packer executive committee emphasized, in announcing the decision, that it is not attempting to interfere with the functions of the City Council in ordering the survey, but that it felt it wanted such a study for its own information and protection. The Council Thursday voted not to expend city funds for the survey. Pres. Russell W. Bogda said today that "since this new stadium is so important to the future of the Packers here, and since we are paying for half of it, we feel it is absolutely essential that all of the facts regarding the location of the stadium should be developed and studied. The Osborn Co. is recognized as the top authority in the nation on stadium matters, and we feel that a complete study by an independent firm of this type is a must."…WILL ATTRACT CROWDS: Bodga pointed out that as far as the Packers are concerned, the location of the stadium will have a great deal to go with attracting large crowds to Packer games here. "None of us on the executive committee are experts in this field and we want the advice of the best experts in the country when we are going to spend this amount of money," he added. The Osborn Co. made a similar survey for Milwaukee County and selected the site for Milwaukee County Stadium. Packer officials checked with Milwaukee Stadium officials and found that "they will not make a move to change any detail of their stadium without consulting Osborn," Bogda said. "They told us that they argued about a site for the Milwaukee Stadium for four years before they called in the Osborn Co."…PLANNED MANY STADIUMS: At present the Osborn Co. is making a survey for the U.S. Air Force Academy in Colorado Springs, Col. It has made stadium surveys and done the architectural work for the University of Michigan, Notre Dame University, University of Minnesota, Purdue University, Indiana University, U.S. Military Academy and many others. The firm also handled the municipal stadiums in Cleveland and Akron and baseball parks like Yankee Stadium, Comiskey Park, Briggs Stadium, the Polo Grounds, Fenway Park, Sportsmen's Park, Griffith Stadium, Ruppert Stadium and many others. The Osborn Co. will make a complete survey and will furnish a comprehensive report covering the selection of a site at a cost not to exceed $6,500. The report will take into consideration and include all pertinent factors which are considered as being essential in determining the best possible location. The report will list the selected sites as first, second, third, fourth, etc., choices, giving the favorable and unfavorable factors of each site considered…INCLUDES PRESENT SITES: The investigation will include the two sites now under consideration by the city, but will not be limited to these. The final report will recommend as the first choice the site considered as having most of the factors considered as giving the most advantageous location. These factors will especially be considered: closeness to center of population; east of accessibility to probable users; parking facilities, both off and on street; and evaluation of traffic conditions. The report will also show a layout of the recommended site with sketches showing the proposed stadium on the site with recommended improvements, such as parking. The estimated cost of developing the site, including estimated cost of the proposed stadium, will also be included. The Osborn Co. has said the report can be submitted within 45 days after notice is received to proceed.
PACKERS ASK STADIUM STUDY STARTING TIME
APR 23 (Green Bay) - Since the Packer Corp. is contracting for a stadium location survey, Mayor Otto Rachals said today the scheduled meeting of the City Council tonight would not be called and that he did not intend to call further meetings until the survey report is received. The Packers' executive committee, which announced Saturday it was hiring the Osborn Engineering Co., Cleveland, for the $6,000 study, was to contact the firm today to determine when work will begin. In announcing postponement of tonight's meeting, Rachals hailed the Packers for its decision to obtain information needed to reach final decisions on the stadium. "I feel that until that survey is made we would only be doing work on a guess basis. It will be far better is we wait until they complete this report," Rachals said…COULD HOLD MEETINGS: Rachals said, however, he would have no objections to holding further committee of the whole sessions if aldermen asked for them. "If the Council desires it, I don't want to deny it the right of holding more meetings," Rachals said. The Council scheduled a meeting for tonight last Thursday night after rejecting 14-9 Rachals' proposal that the Osborn Co. be hired but failing to come up with another method to get the stadium study off the ground. The Council voted 12-12 on the mayor's suggestion to start steps toward creation of a stadium commission and 18-6 against an amendment to appoint the commission membership now to act as an advisory subcommittee during stadium planning…STUDY CALLED ESSENTIAL: In announcing the Packers' decision, Pres. Russell Bogda said, since the corporation was contributing half of construction costs, it felt "it was absolutely essential that all of the facts regarding the location of the stadium should be developed and studied." In its offer to the city, the Osborn Co. said its survey would take a maximum of 45 days to complete. It will compile a list of stadium sites and cost estimates according to the advantage of all locations, including the two considered thus far. The study will be based on traffic and parking factors, ease of accessibility, and nearness to population centers.
MENASHA TO HOST PACKER SQUAD TILT
APR 23 (Green Bay) - The Packers, who have put on intra-squad games in Duluth, Stevens Point and Marshfield in the last few years, will move closer to home for a squad show in August. Hugh Strange, Jr., a member of the Packer board of directors from Neenah, announced there today that the Packers will put on a squad show in Menasha's Butte des Morts field Saturday night, Aug. 4 or 11. The game will be sponsored by the Neenah-Menasha Elks lodge. The field, used by Menasha High and St. Mary's High, has 3,000 permanent seats, but temporary seats will be added in hopes of swelling the crowd to around 4,000. The squad game will probably be the first public appearance of the Packers in the '56 season.
EXPECT LUCKY, UTILITY IN '55, TO BE STARTER
APR 25 (Green Bay) - The Packers were hard put for tackles when training started last July. Coach Liz Blackbourn didn't sit still. He traded Art Hunter of Notre Dame, the Packers' first draft choice in '54 who had gone into service after one season here, to the Cleveland Browns for tackle Bill Lucky, a rookie, and guard Joe Skibinski, a veteran. Lucky wasn't in camp 24 hours when he was struck with a ruptured appendix, knocking him out of action for at least six weeks. Blackbourn quickly traded Stretch Elliott and his No. 3 draft choice of 1956 to the Los Angeles Rams for veteran tackle Tom Dahms. Lucky, the Browns' fifth choice in '54, was the key man in the two trades since he was to be the original successor to Hunter. But the emergency surgery put Lucky in the role of a utility man, filling in on both offense and defense. Now, it appears that the Hunter deal will pay off in a big way. Lucky signed yesterday for his sophomore Packer season and line coach Lou Rymkus said he's confident Lucky will break into the lineup as a regular next season. Bill was pushing for a starting berth on offense and defense near the end of the '55 season. Lucky, a swiftee despite his 6-3, 245-pound chassis, stands a chance of making regular on offense or defense. Which means that one of the four starters in 1955 – Dave Hanner, Jerry Helluin, Len Szafaryn or Dahms – will have to take a back seat! Lucy will have the advantage this year of getting in a complete training season, and Blackbourn plans to give the strong Texan a full go along the exhibition trail. Lucky, who recently married Pat Bakkom of Green Bay, is presently working on his degree at Baylor University, his alma mater…Besides Lucky, the Packers announced that arrangements have been completed for a non-league game against the Chicago Cardinals in St. Louis Sept. 15. The contest, slated for Busch Stadium, will be the first pro football game in the stadium in more than 20 years. The Packers played there a number of time backs in the early 1930's. The game will be played for the benefit of the Cardinal Glennon Memorial Hospital for children. The Packers' non-championship card is about set now with five games – one less than a year ago. They open against Philadelphia in the annual Shrine classic in Marquette Stadium in Milwaukee Aug. 18 and then play the New York Giants in Green Bay Saturday night, Aug. 25. The Packers square off against the Browns in Cleveland Sept. 1 and then tackle the Washington Redskins in Winston-Salem, N.C., Sept. 8, before making the trip to St. Louis. No game is presently set for the weekend before the league opener against the Detroit Lions here Sept. 30. One intra-squad game is set – Aug. 4 or 11 in Menasha.
ALUMNI OPEN CONTEST TO SELECT PACKER INSIGNIA
APR 26 (Green Bay) - The Packers don't have an insignia! But the Green Bay Packer Alumni Assn. hopes to change all that and get a suitable insignia - from the Packer fans. Selection of an insignia will be made in a contest announced today by the sponsoring Alumni group. The contest, Alumni President Bernard Darling revealed, is open to male or female entrants 18 years of age or over. All of the teams in the league except the Packers have an insignia, Darling pointed out. Detroit has a lion, the Giants a giant, San Francisco a gold digger, Los Angeles a ram, etc. Darling said that, "We do not wish to change the thought behind the Packer name through an insignia. We hope to have something with respect to a packer." The team name, one of the most unique in major league sports, was created when a packing company backed the first Packer team. The winner will received two season tickets for the '56 Packer games in Green Bay and Milwaukee; a football autographed by members of the '56 team; and a special seat at the Packer-Detroit game Sept. 30. Rules: Entrants do not have to be residents of the City of Green Bay. All entries should be mailed to the Green Bay Packer Alumni Assn., Box 255, Green Bay, Wis. Judges will be selected from the various civic and labor groups in the city. The contest closes July 1, 1956.
PACKERS SIGN CONTRACT FOR STADIUM STUDY
APR 27 (Green Bay) - The Packer Corp. today signed a contract with Osborn Engineering Co., for a stadium location survey, and the firm said it would complete its report within 45 days. The contract was signed after a meeting of Packer officials with N.W. Herzberg, vice-president of the company. The Packers moved to contract for the survey last Saturday after the City Council April 19 voted 14-9 against hiring the company for the $6,000 study. The football corporation said its action was taken to obtain needed facts on location of a new stadium and because it was going to pay half of construction costs. The Osborn Co., which is doing a similar study for the Air Force Academy at Colorado Springs, Col., and which studied sites for and designed Milwaukee County Stadium, will supply a list of possible stadium locations based on costs and advantages for all locations. The survey will not be limited to the two sites considered thus far. Points to be considered in compiling the recommendations are nearness to population centers, accessibility for traffic and parking, and traffic problems and their potential improvements.
PACKERS SNARE CANADIAN HIGH SCORER, MV PLAYER
APR 27 (Green Bay) - Can the high scorer and most valuable player in Canadian football cut the buck in the NFL? Packer Coach Liz Blackbourn will have the privilege of answering that puzzler when Dick Gregory, the onetime Minnesota star, gets into the thick of Packer training. Gregory and Dick Schnaible, a halfback from Purdue who also had experience in Canada, are the latest to sign Packer contracts, Blackbourn announced today. Gregory's case is rather unusual. He gained a reputation as one of the better ball carrying halfbacks in the Big Ten at Minnesota, sharing the load with Paul Giel, and then was drafted by the Chicago Bears in January of '53. He didn't stay with the Bears long - hardly for a cup of coffee, after which he joined Ottawa. He was an immediate whiz, counting 98 points to lead the entire Canadian setup, and winning the Imperial Oil most valuable player trophy. Gregory went into the Army after his Canadian hitch and turned up as the high scorer with the powerful Fort Eustis, Va., team last fall. Gregory's scoring ability stems from his terrific speed. The Gopher, who stands 5-11 and weighs 185 pounds, won the 100-year dash at the Dakota Relays in 9.8. He also tied the Big Ten 60-yard dash record of 6.2. Gregory was an all-America high school footballer at Billings, Mont., and won the state championship in the century and 220. Schnaible specialized on defense at Purdue. The 6-1, 185-pound native of Lafayette, Ind., won Big Ten honorable mention and was selected on the Indiana State defensive team. He also played at Ottawa. The Packers now have announced the signing of 37 players.
PACKERS GET GUARD, TACKLE FROM BROWNS
APR 29 (Green Bay) - The Packers, who profited from a 1955 "exchange" with the Cleveland Browns, will complete another swap with the NFL championship Sunday. As in last year's deal, which brought Joe Skibinski and Bill Lucky to Green Bay for rights to Art Hunter, the principals are linemen - guard Gene Donaldson and tackle Don King. Both University of Kentucky products of the Bear Bryant era, they were obtained for an undisclosed draft choice. They already have signed their 1956 contracts and will report to the Packer training camp at Stevens Point in July. The stumpy Donaldson, 5-9 1/2 and 225 pounds, joined the Browns in 1953 and was a regular offensive guard that season before entering service. He only recently received his discharge from the Army and reportedly is anxious to return to grid action. King, 27 and a 6-3 1/2, 270-pound giant, was acquired by the Browns in 1954 after three years with the Parris Island Marines. A member of the Browns' defensive unit in '54, he followed his high school coach to Ottawa in the Canadian League last year. When his coach left Ottawa, he decided to return to the NFL. Married, he lives in Savannah, Ga., in the offseason. Donaldson, who answers to the nicknames of "Peanuts" and "Buzz Saw", broken into Kentucky's starting lineup in 1950 as a sophomore and lettered as an offensive guard. The next two years he won All-Southeastern Conference honors and participated in two victorious Bowl games, the Sugar Bowl in 1951 (won 13-7 from Oklahoma) and the Cotton Bowl in 1952 (won 20-7 from Texas Christian). Donaldson, who is wrestling to keep in shape until the start of the football season, holds a unique honor in scholastic football. He was selected on the Indiana all-state team three straight years - and each year he played a different position, in 1946 a tackle, 1947 as a fullback and in 1948 at guard. Gene, now 26, also was undefeated schoolboy champion wrestler in both the light heavy and heavyweight divisions. Head Coach Liz Blackbourn is hoping that his latest business with the Browns will pay off as well as the Hunter deal. Skibinski was a starter at guard and a key figure in the Packers' ground attack while Lucky, out the first part of the '55 season because of an appendectomy, is expected to win a starting job at tackle this season.
​PUNTER DESCHAINE SIGNS, EYES WORK AS OFFENSIVE END
MAY 2 (Green Bay) - The business of making an offensive end out of Dick Deschaine has started all over again. Packer coach Liz Blackbourn announced the signing of the Menominee, Mich., punting phenom today and placed him among the registered ends - Henry Gremminger of Baylor, Russ Dennis of Maryland, Chuck Foster of Oregon and Emery Barnesor of Oregon, all rookies. Deschaine, it's no secret, made the Packers in '55 on the strength of his punting. Nobody in the NFL had heard about Dick's tremendous long-distance booting until he stepped into camp last summer. A sort of luxury, Deschaine was carried last year as a third end behind Billy Howton and Gary Knafelc and Blackbourn was pleased at times with the progress shown by Dick on pass catching. Deschaine confined his pass snaring work strictly to the practice field since Knafelc and Howton went through the season without a bump. Blackbourn hopes Deschaine will develop this year to the point where he can step into offensive end if the necessity develops. The Cleveland Browns have a similar case in Horace Gillom, the little Negro punter who annually ranks among the top three punters. Gillom plays only on rare occasions, thanks to the healthiness of Cleveland ends. The former Menominee High star has every intention of making good this year. He's been out punting and plans to conduct his own "spring training" as soon as the weather straightens out. Deschaine wound up as the No. 2 punter in the league last fall, placing behind Norm Van Brocklin of the Los Angeles Rams, and tied a Packer record along the way. Dick averaged 43.2 yards against Van Brocklin's 44.6. Deschaine, standing deep in his own end zone, got off a 73-yard boot against the Forty Niners in San Francisco last Dec. 4 to tie the Packer record set by Roy McKay in '45...36 PUNTS RETURNED: Actually, Dick had a chance to beat out Van Brocklin in the season windup in Los Angeles Dec. 11, but the Dutchman had his best day, averaging 48.5 yards against Dick's 41.5. Deschaine, noted for his high drifting punts, got off one line drive all season and that came in the windup. It resulted in the only touchdown-punt return
against the Packers all season, Skeets Quinlan returning 55 yards before the Packer line could hardly get off the mark. Thirty-six of Dick's 56 punts were returned last year for an average of 6.2 yards per return. This average ballooned beyond recognition on Quinlan's runback. Best in the league was 3.5 off Tom Landry's punting for New York. Tom, incidentally, punted 75 times and had 52 of them returned. Deschaine averaged below 40 yards in four of his first seven games, but then started moving with averages above 40. His best was a 50.2-yard average on four boots against the Chicago Bears here and the next best was 48.8 against 'Frisco in Milwaukee.
STADIUM STUDY FOR CORPORATION STARTED TODAY
MAY 4 (Green Bay) - Preliminary information for the Packer Corp. stadium survey was being gathered today by N.W. Herzberg, vice president of Osborn Engineering Co., Cleveland. Herzberg met Thursday with Packer officials, Mayor Otto Rachals, City Engineer F.J. Euclide, E.H. Berners, architect who drew plans for a new stadium on the site of City Stadium, and John Somerville, architect who drew plans for a proposed stadium in Perkins Park...CITY TO COOPERATE: Rachals said today Herzberg had been given all maps and drawings in the hands of the city dealing with stadium studies thus far and been promised complete cooperation for the survey from city departments. Herzberg plans to return to Cleveland this weekend. Office work to determine the type and size of stadium recommendations will begin next week. Herzberg said he and another representative of the firm would return to Green Bay in about one week to start field studies. The firm's completed report will be delivered within 45 days...WILL LIST LOCATIONS: The report will list stadium locations and cost estimates according to advantages for each location, including the two considered so far, and provide a sketch of the stadium and site recommended. The decision will be based on factors including traffic and parking problems and nearness to population centers. The Packer Corp. announced April 21 that it would engage the firm for the $6,000 study after the City Council voted 14-9 against contracting for the information. Because it would pay for half of the stadium to be built, the corporation said it wanted to see all possible facts developed for the location decision.
FOUR VETERANS, ROOKIE FIGURE IN PACKER END FIGHT
MAY 4 (Green Bay) - Competition for defensive end on the 1956 Packer team should be lively - and experienced. Four of the five candidates are Packer veterans and No. 5, Emery Barnes of Oregon, has two years of service football under his belt. Veterans are John Martinkovic, an all-pro at his position; Nate Borden, who made defensive end as a rookie last year; Pat O'Donahue, the Packers' third crashing end in '55; and Gene Knutson, the onetime Michigan ace who made it as a rookie in '54, but then sat out last season after suffering as a knee injury during the non-championship season. The signing of Knutson for '56 was announced yesterday by Coach Liz Blackbourn, making Gene the first of the veteran defensive wings officially set for '56. Knutson will be returning with a "new" knee. He suffered a torn cartilage in the Washington exhibition in Winston-Salem, N.C., last summer and later underwent an operation on the knee. He recuperated during the league season and later last winter started exercises at his home in Beloit to strengthen his leg. Washington, incidentally, hasn't been exactly kind to Knutson. As a rookie against the Redskins in Raleigh, he suffered a swat in the chops that almost broke his jaw. And Blackbourn remarked later: "It's things like that that might make a boy decide against playing pro football." But Knutson returned to the wars and finished out the season, spelling Stretch Elliott. Knutson will get another exhibition shot at the Redskins - in Winston-Salem Sept. 8. Weight could be a determining factor in the defensive end battle, Martinkovic, at 245, would seem to have an inside lane but after Big John the action is wide open. Knutson is the heaviest of the remaining four at 225. Barnes packs 220 and O'Donahue and Borden each go about 210. Borden's big edge last year was gained on plain old fashioned speed - plus a lot of love for rough action. Being a 25th draft choice, Borden was quite a surprise. O'Donahue can move, too, judging by the manner in which he blocked a punt against San Francisco last Dec. 4. All of the pro scouts were impressed by Barnes' work with the championship Fort Ord Army team in '55. Barnes was drafted No. 17 by the Packers in '54. Thus, there is every indication of a fierce fight for defensive end duty. And Blackbourn could add fuel to the fire with a few more prospects. Knutson, the 41st player announced as signed thus far, is looking forward to a successful season. Blackbourn had this to say about Gene: "Knutson is a willing player who will find a way on your club because he is a great competitor."
KNAFELC SIGNS, HOPES TO HAVE FOOT IN PACK
MAY 5 (Green Bay) - Gary Knafelc had a big hand in "making" the Packers in '55. He hopes to have a bigger hand in the club's '56 fortunes, and maybe a foot, too. The high-pocketed Knafelc, picked up by the Packers as a free agent early in the '54 season, has signed for the '56 campaign, Coach Liz Blackbourn announced. Gary, the Chicago Cardinals' second draft choice in '54, played as the Bays' third end - behind Max McGee and Billy Howton in his first Packer campaign. The folks were still moaning the loss of McGee to service when '55 firing opened and few gave Knafelc much of a tumble, though he caught a last-season game-winning pass during the exhibition season. That was all changed in the last 20 seconds of the National League opener against Detroit here last Sept. 25. With the Packers on the short end of a 17-13 count, Knafelc took an 18-yard pass from Tobin Rote, bowled over two Lion defenders and charged into the end zone for a 20-17 upset triumph. That one catch, a leaping one at that, gave Knafelc all the confidence he'll ever need, stopped the weeping over the loss of Maxie and helped to zoom the Packers to victories in three of their first four games. The payoff snatch was Knafelc's second reception in the game. He finished the season with 40 catches for 613 yards and eight touchdowns. He produced three six-catch game - twice against the Chicago Bears and once against Los Angeles. He was shut out once - by the Cleveland Browns, but he wasn't alone that day. Everybody seemed cold as the Browns rolled up a 41-10 edge. Knafelc finished ninth in pass receiving in the league. McGee, as a rookie in '54, finished 16th on 36 catches for 614 yards and nine touchdowns. McGee averaged 17.1 yards per catch, Knafelc 15.3. Between Knafelc and Howton, the Packers had one of the most feared pass-catching pairs in the circuit. Howton picked off 44 catches for 697 yards and five touchdowns, finishing in a four-way tie for third, to give the Packer duo a total of 84 receptions for 1,313 yards and 13 touchdowns. What's this foot business? Knafelc has an idea he can kick field goals and extra points, and plans to try out for the vacant kicking position created by the retirement of Fred Cone. Gary presently is practicing almost every day near his home in Milwaukee. Knafelc never did any kicking before - but neither did Cone, who booted 18 field goals last fall in 24 attempts. He has been spending the last few weeks working with the ends at Marquette University. The 6-4, 215-pound wing, a native of Pueblo, Col., played his college football at Colorado University. In his senior year, he played 561 out of a possible 600 minutes and caught 22 passes for 451 yards and eight touchdowns. He also competed as a high jumper, his best leap being 6-2.
CRUCIAL YEAR FOR PACKERS AT QB! ADD SIXTH - PAT RYAN
MAY 8 (Green Bay) - This could be a crucial year for the Packers at quarterback. Nothing serious, mind you, but veteran Tobin Rote turned 28 last Jan. 18 and will be coming in for his seventh season. The lean Texan, who has captured just about every Packer record in the all-time book, could have as many as three, four or five seasons under his belt yet but Coach Liz Blackbourn is convinced the time is ripe to latch onto a good understudy for the rawboned Rote. Blackbourn expects to tee off the 1956 training campaign with six quarterbacks - more than he's ever had before. The group is composed of Rote, veteran Paul Held and rookies Lynn Beightol of Maryland, Bart Starr of Alabama, Bobby Lance of Florida and Patrick Joseph Ryan of Holy Cross. Ryan's signing was announced today by Blackbourn - for the second time. Ryan was the appointed signee, appropriately enough, for St. Patrick's Day of 1955, but couldn't get out of service in time to report. From the group of five Rote aides, Blackbourn hopes to have a possible "future" to go with Rote and Bobby Garrett, who is expected out of service in time for the '57 season. The fivesome also could have a bearing on the Packers' thinking on the '57 draft next January - as regards quarterbacks, of course. The '57 crop may be larger and more talented than the '56 force. New Packer quarterbacks will get a full go along the exhibition trail this year. Blackbourn announced recently that he planned to give all of them action in the non-league games, thus bringing Rote into the league campaign gradually. Ryan is the shortest of the new quarterbacks, standing a shade under 5-11, while Beightol, Starr and Lance each stretch to six
feet and over. The Irishman, a full-blooded one at that, was a member of the Holy Cross eleven for four years and competed two years each on the Crusader basketball and track squads. After graduating with a degree in economics in 1953, Ryan joined the Marines and led the Quantico, Va., camp team to a winning season in '54. He was player-coach of Camp LeJeune, N.C., in '55. Ryan hails from North Arlington, N.J., where he starred in football, basketball and track at Queen of Peace High School. He made the all-New Jersey football team in 1947-48. The Packers now have announced the signing of 43 players.
SECRECY? PRO GRID TO EXCHANGE FILMS
MAY 9 (Green Bay) - Secrecy used to be a key word in the NFL. And most clubs had a special payroll for spies! All that has changed in the last few years, with Coach Liz Blackbourn setting the temp here by throwing practices wide open smack in the middle of the league season. Other clubs around the league have grown less and less fussy about pregame workouts - a far cry from the days when guards were employed to shoo away photographic-minded kids and usher out all adults not directly connected with the club. Adams Street used to be a playground for enemy spies who often questioned players and fans on the "condition" of the team. Any new plays, today? At the games, any mustached strangers in back of the Packer bench were quickly hauled out. All of this is mentioned by way of leading up to the league's new movie-trading rule which allows teams to exchange game films with their horrors, enemies. Blackbourn presently is working out a schedule of exchanges with teams the Packers play next fall. Each team can get the film of its opponents' games that was played two weeks previous. That rules out any picture help for the Packers' first two league games by for the third - Baltimore in Milwaukee, the Packers can view Baltimore's opener against the Chicago Bears. Teams will still scout each other but the film offers a much more minute study of their opponent. Scouts generally are pretty well occupied with covering the movements of the offense and defense. The film will enable a perfect study of each lineman, a linebacker who might point his foot, etc. Blackbourn also is trying to fit an enemy-film study period into the practice week. Every hour of each game is pretty well occupied but you can be sure that Liz, a real believer in films, will find a good film-study spot. Passing films about reduces NFL action to even more of a science that it has been in the past few years. It likely will put more of a premium on surprise play calls. Since most teams use similar offense, the old saw - "it isn't what you call but when you call it" - will have much more meaning...BRIEFS: Former Packer fullback Bob Clemens, now in pilot training in the Air Force at Graham base in Florida, wrote to Scout Jack Vainisi that "I bumped into Veryl Switzer and Doyle on a flight into Texas the other day." Veryl Switzer and Doyle Nix are in the Air Force at Lackland Field outside San Antonio. Clemens wrote that "flying is just about as great as playing football."...Packer sales promotion director Tom Miller is in Milwaukee this week.
LIZ MOVES TO AVOID CENTER WOES AGAIN
MAY 10 (Green Bay) - Packer Coach Liz Blackbourn wants no more of the trouble that plagued the Green Bays last Thanksgiving Day. Veteran center Jim Ringo suffered a back injury late in the second quarter in the annual Turkey feature at Detroit. Tom Bettis, a linebacker by trade and a center off and on, was rushed in. While Tom performed nobly, the precision between Ringo, the rest of the line and the backs was missing. Offsides were frequent and the attack sputtered. Detroit won 24-10 but the score was 10-up when Jim was hurt. Blackbourn aims to find a top-flight replacement for Jim so that the team's attack won't be damaged if the newcomer must be used. Blackbourn already has signed up five rookie centers, including Bert Watson of Washington and Joe Suminski of Purdue, who were announced Wednesday. They join Don Wilson of Rice, Dean Stuart of William Jewell College and Pete Bello of Pasadena College. Two of the prospects are also rated rather highly as linebackers - Wilson, the Bays' 24th draft choice, and Watson. Watson, a 6-1, 220-pounder, was one of the west coast's top linemen last fall. A steady offensive performer, Watson is one of college football's few linebackers who are considered good ball-hawks. Watson, 22, a starting center for Modesto Junior College two seasons before transferring to Washington, was highly recommended by Packer defensive coach Abe Stuber, who was with Washington as backfield coach in '54. Watson hails from Modesto. Suminski, a Big Ten heavyweight wrestler, is chiefly an offensive center and his size, 6-2 and 230 pounds, gives him a good start. He was a regular center at Purdue for two years before he went into the Army. Suminski, a native of Erie, Pa., was named to the 29th Infantry all-star team that beat the Seventh Fleet Fliers in Japan in '54.
PACKERS TRADE CHOICE FOR CENTER LOCKLEAR
MAY 12 (Green Bay) - Jack Locklear, a highly-touted center from Auburn who was restrained from playing professional football in '55 by court order, became a Packer today in a trade with the Cleveland Browns. The Packers, coach Liz Blackbourn announced, gave the Browns an undisclosed draft choice in exchange for the 6-1, 225-pound pivot. The deal closes a three-way trade between the Packers and Browns. Earlier, the Packers obtained tackle Don King and guard Gene Donaldson for undisclosed draft choices. Both King and Donaldson had one season of experience with the Browns. All three players have signed Packer contracts and will report for practice in July. Locklear signed a Canadian contract shortly before the 1955 draft in New York and as a result all clubs in the league refrained from drafting him following a suggestion from Commissioner Bert Bell - except the Browns. Locklear had been high on the lists of most National League clubs, including Green Bay. The Browns picked Locklear as their eighth choice and persuaded him to sign a Cleveland pact. A Canadian court ruled that he could not play in '55 and the college star was forced to sit it out - as coach of the Tallassee, Ala., High School football team. Locklear, 24, gained All-America honors while playing at Auburn. He's considered a top-flight all-around player, starring both at offensive center and linebacker. He has tremendous speed and Blackbourn feels that he will fit into the Packer picture. The newcomer is the sixth rookie center signed thus far...BRIEFS: Packer Aides Ray McLean, Abe Stuber and Jack Vainisi attended the Marquette intra-squad game last night in Milwaukee and drove over to Madison today for Wisconsin's annual spring game. Line coach Lou Rymkus saw the Notre Dame spring windup battle today. Coach Blackbourn addressed a convention of insurance men here last night.
PACKERS - TEN PERCENT OF GATE
MAY 14 (Milwaukee) - The Green Bay Packers have signed a contract with Milwaukee County for the use of Milwaukee County Stadium for three Packer NFL games this fall. The Packers will pay the county 10 percent of the game gate receipts after taxes. Last year that was good for $26,000. The county also gets 20 percent of concession receipts.
UNCLE SAM GRABS PACKER LANCE; HARDY GOING IN?
MAY 15 (Green Bay) - It never fails! Just try washing the family hack and you can bet it will rain. Same with the Packers. Just get a bit excited about some position and it rains - or rather Uncle Sam steps in. Last week, much shine was put on the Packers' half-dozen platoon of quarterbacks expected for training next July. Today, our Uncle reduced that by one, snapping up Bobby Lance of Florida for 18 month of Army duty. Lance was the Packers' 28th draft choice last January and had signed for next season. Coach Liz Blackbourn had hoped Lance would make things interesting for other signal callers - veterans Tobin Rote and Paul Held and rookies Lynn Beightol of Maryland, Bart Starr of Alabama and Pat Ryan of Holy Cross. Lance also was considered a good defensive halfback prospect. He stands 6-1 and packs 185. Uncle Sam, of course, is nicking all teams. The San Francisco Forty Niners - not to mention the Indianapolis Indians - are faced with the loss of Carroll Hardy, who was to report to his draft board in Sturgis, S.D., this week. Hardy is leading the Indians with his .379 batting average. At that rate, the Forty Niners will lose him to baseball but they're hoping - if Uncle Same doesn't step in...On the brighter side, William Swanson of 1352 St. Clair got a chuckle out of a paragraph in the Canadian magazine, "Saturday Night", and mailed it in to this department. Here it is: "Canadian football, a game that is now run largely by imported coaches for the benefit of American college boys and refugees from American professional teams, continues to suffer from rule changes. The major eastern and western leagues have decided to count six points for a touchdown, instead of the traditional five, mainly because American touchdowns are worth six points. Their players will no longer go barelegged, but will wear stockings - it's neater, and, besides, the professional in the U.S. wear stockings. Presumably, if the Americans decide to shave their heads and have the Stars and Stripes tattooed on their skills, the 'Canadian' coaches will have their players do the same, even to the S and S. After all, what would a Canadian use as a distinctive patriotic design."...The Packers are accepting sealed bids - not later than 10 a.m., June 4 - for concession rights for the Packers' game at City Stadium, general manager Verne Lewellen announced today.
FULL TEAM OF PACKER VETERANS, 11, NOW SET
MAY 16 (Green Bay) - The Packers had eleven football players with pro experience on the dotted line today. And on a similar subject, the pro-experienced fans of Green Bay and area are hereby informed that they'll be able to see a television version of the Packers' games against the Bears and Cardinals in Chicago, the Colts in Baltimore and the Forty Niners in San Francisco. More on TV in a jiff, but on the player side Coach Liz Blackbourn picked off two more veterans – linebacker Tom Bettis, the Packers' first draft choice in '55, and Pelican Paul Held, understudy to Tobin Rote last fall. Their singing bulges the satisfied-holdover list to five, including Gary Knafelc, Gene Knutson, Bill Lucky and Dick Deschaine. Knafelc was a regular offensive end; Kuntson, a rookie in '54 missed the '55 league campaign due to injuries; Lucky was a utility lineman; and Deschaine was the club's punting specialist. Five other signees have pro experience – halfback Don Barton, tackle Don King and guards Dick Logan, Bob Kennedy and Gene Donaldson. Barton and Logan were here in '53 and then went off to service, while Kennedy spent a spell in training camp that year before packing off to the Army. King and Donaldson each spent a year with the Cleveland Browns before coming here in trades recently…THREE SATURDAY GAMES: Bettis presently is on active duty in a reserve officers training program at Fort Eustis, Va., but will be out early in September. Bettis, Blackbourn figures, will be hard to keep out of the starting defensive lineup in September. He played behind Bill Forester and Deral Teteak last fall. Bettis, 23, gained All-American recognition at Purdue. He's a product of St. Mel High in Chicago. Held played with the Pittsburgh Steelers in '54 and started the '55 campaign with Detroit. He came to the Pack as a free agent early last season. Held will be battling Lynn Beightol of Maryland, Pat Ryan of Holy Cross and Bart Starr of Alabama for the Packers' No. 2 QB job. The area television setup, according to WBAY-TV, the CBS outlet here, will comprise 12 professional football games during the '56 campaign. The schedule includes three Saturday afternoon games – one sending the Packers against the Forty Niners at Frisco. The Packers' three appearances in Milwaukee will be blacked out in the Milwaukee area and Green bay, but the three games in Green Bay will be televised in Milwaukee via WXIX, under terms of the Packers' contract with CBS. The Packers are guaranteed $75,000 for each of the next three seasons from CBS for TV rights. Packer general manager Verne Lewellen is in Milwaukee today working out radio rights for the '56 season…From
Beloit comes word that Rod Hermes, the Beloit college quarterback drafted as a junior by the Packers last January, has decided to give up his last year of eligibility and join the Packers. Hermes said he might be ineligible at Beloit in his senior year because of the college's progressive grading system. "My grades are fine at Beloit," he said, "but I had poor grades at Wisconsin before transferring to Beloit and they might pull my average below the eligibility point."
WHAT'S THIS? RAY PELFREY'S WRITING BOOK - ON FOOTBALL!
MAY 17 (Green Bay) - Ray Pelfrey, the unpredictable Packer of 1951 and the training season of 1952, is writing a book on, you guessed it, football. A wonderful character but a wayward wonder at times on the gridiron, Pelfrey presently is coaching at Murphy High in Mobile, Ala., and writing on the side. He wrote this department the other day asking for a picture of Steve Owen – his co-author in literature. We sent him a print with his notation: "The only charge will be a letter detailing your life since you left Green Bay." Pelfrey mailed back the following: "Yes, a great deal has transpired since that day of my sad departure from Green Bay. Regardless of what life brings my way, good or bad, I shall never forget being a Packer and a small part of a small town with people whose hears are so very large. That year (1951) with the Packers is the year that I am proudest of, in a very humble way. As you know I was picked up by Jimmy Phelan of the Dallas Texans (early in 1952), he took me, even though I told him I was still hurt and wasn't able to go full speed. To him I owe a great deal, he flew me to Dallas and let me heal, and I went on and played out the season with them. I think I repaid him against the Bears, remember that upset, 27-23? I was lucky enough to catch about seven passes that day and help beat those Bears. We never did beat them while I was with Green Bay, and it was a wonderful feeling. The next year, of course, the Texans became the Baltimore Colts, and before the season started, Steve Owen got me in a trade involving some lineman. Here again fate was good to me, and I became associated with one of the grandest guys in the game of football. My year with the Giants went so-so – some bad days, some good, especially after our victory over the Eagles after they came to New York winners of six straight in 1953. Cleveland 7-0 in the mud and mire of the Polo Grounds. At the end of the 1953 season, I was pretty well disgusted and with the release of Coach Owen from the Giants, I decided to go into coaching or back to college for my masters degree. It was while I was at home trying to decide, that I received a telegram from Al Sherman, Steve's backfield coach, who had just taken the Winnipeg Blue Bomber job. He wanted me to sign, for a raise, as an offensive end, or a flying wing, as the fifth man in the Canadian backfield is called. I signed, played that year "54", had a very bad season, tore my right knee up the last game and returned thereafter to my home in Ohio. I then returned to college, Eastern Kentucky State, as Glenn Presnell's end coach and worked on my masters degree in School Administration. When the same position came open here at Murphy (1955) (where I worked in 1951 after my first season with Green Bay) I accepted it. Murphy being a fine school, 2,500 enrollment, and all the physical assets you could ever hope to work with at your disposal. Working with the ends and punters was my primary coaching function. I spent a great deal of this time with the offensive ends on pattern execution and applied the theory of the pros in our passing attack. The result proved so (how can I say it?) sound, that I wrote a book entitled, "The Passing Game", for coaches and players. Also a booklet entitled, "Teaching Fundamentals of Punting". My publisher is the William C. Brown Publishing Co., Dubuque, Iowa. Football again was good to me and through the associations I gained from football, I luckily was able to secure this "lineup" for my book: Introduction – Sammy Baugh; Forward – Ray (Scooter) McLean and Harold "Red' Grange; Endorsement – Don Hutson. That brings us up to date here I am waiting for proofs to check over from my publisher and also teaching history, and coaching baseball on the side. My book will be out in August. It will be the first of its kind dealing exclusively with the accepted basic pass patterns of today's concept, their execution in detail and all related subject matter. I owe a great deal to Coach McLean who really taught me all I ever learned about receiving along with, of course, Dick Plasman."
The forward pass is commonly accepted as being the most potent offensive weapon in football. It was with this thought in mind that this book was written.It is the purpose of this book to take the most accepted basic pass patterns in football and by breaking them down by simplified execution, learning and corrective drills, to increase the efficiency of the overall pass offense. Methods of application and execution of the nation's top professional coaches, receivers, and passers have been integrated into a simplified version of the overall picture of pass offense.Practically all related subjects pertaining to pass offense and defense have been touched upon in this study. It is the wish of the writers that along with the more concentrated material on pass receiving and pattern execution that a team's overall offensive attack can be strengthened by the application of one or more fundamentals of pass offensive technique or related offensive or defensive material given here for consideration. The writers trust that on whatever level the reader finds himself, either student, novice or veteran coach, that he will find this material both stimulating to his football thinking and productive to his passing and receiving game, with the end result being the development of an above average passing attack, and a better balanced over-all offensive picture. To order the 2010 reprint of the book on Amazon, click here.
PACKERS INK JENNINGS, GASKELL
MAY 18 (Green Bay) - The Packers hope to produce another Knafelc out of today's signees – ends Jim Jennings, a veteran, and Richie Gaskell, a free agent from George Washington University and the San Francisco Forty Niners. Packer Coach Liz Blackbourn is aware that there are some interesting parallels between pass catching Gary Knafelc and the latest to ink Packer contracts for 1956 action. Jennings, like Knafelc, played his rookie year in the shadow of a surprise pass receiver – Gary, himself. Knafelc did same as a rookie here in '54, working behind Max McGee. The pleasant part of this situation, though, is that Knafelc will be back. McGee went into service after his first year. Jennings, who is quite similar to Forty Niner Gordy Soltau as a pass catcher, saw little action at offensive end but worked in all of the platoons due to his love for murderous tackling and blocking. Determined to find a regular's spot this season, Jennings already has started working out at his alma mater, the University of Missouri, where he is attending school. Gaskell, like Knafelc, comes as sort of a gift. Gary was cut loose by the Chicago Cardinals late in the training season of '54 and after last season the Cardinals have reason to be red-faced. Gaskell was among the last to get the axe in 'Frisco last fall. He was the Forty Niners' 13th draft choice in '55. The newcomer, who stands 6-2 and packs 205 pounds, also will receive an opportunity to fill the defensive backfield position vacated by service lossee Doyle Nix. He rates as a rugged tackler with plenty of speed and comes highly touted as a pass receiver. Gaskell gained All-American and all-Southern Conference honors at George Washington and was selected to play in the Blue-Gray and Senior bowl games. He hails from Washington, D.C. The Packers now have 50 players, including 10 halfbacks, nine ends, eight tackles, eight guards, six centers, five quarterbacks including veteran Tobin Rote, who signed a two-year pact a year ago last January, and four fullbacks. Four of the signed ends are veterans – Knafelc, Jennings, Gene Knutson and kicking specialist Dick Deschaine.
PACK TO BE IMPROVED IN '56; SO WILL OTHER CLUBS!
MAY 18 (Green Bay) - The Packers will be improved in '56 over a year ago! This bit of optimism was voiced by Packer scout Jack Vainisi – on behalf of Coach Liz Blackbourn and members of his staff – at the first annual banquet of the St. Agnes Athletic Club at Pamperin Park Thursday night. Vanisi based his views on "a good looking training camp – the best since I've been here." Jack joined the Packers in '50 and experienced a similar bit of optimism in '53. "We had a 6-6 record in 1952, too, and things looked up in '53, but they turned out worse," Vainisi said. The Packer scout said he is anticipating "no such repeat. We have a fine nucleus and a large number of promising boys coming in." Vainisi hastened to inform the audience of nearly 100 fathers and sons, including 22 members of the St. Agnes school basketball team, that "it takes just one look around our division to find out that the other clubs also will be coming out stronger. The Rams will have 39 veterans report for practice; the Forty Niners 41. Detroit hasn't even invited Hunchy Hoernschemeyer to return and they traded off an all-league guard (Stanfel). The Bears though they were the best in the division last year and they hope to prove it this season. Baltimore will be much more powerful with the addition of Vessels and McPhail."
TOO COLD? DAHMS RETURNS TO PACKERS
MAY 21 (Green Bay) - It was hot in these parts last August when Tom Dahms reported to the Packers. But the 6-5, 250-pound Californian wasn't pleased with the trade with the Los Angeles Rams that removed him from his warm homeland in exchange from Stretch Elliott and a draft choice. In the first place, it was "too hot" in August and in the second and, as Tom used to put it, "how about the snow that's coming pretty soon." It made little difference that a couple of years earlier Tom had married a Milwaukee girl and promptly whisked her out to his native San Diego. Some of the disappointment with the trade wore off during the course of a cold, rainy day in County Stadium when tackle Dahms has himself a good afternoon while the Packers were stopping his pro alma mater, the Rams, on Fred Cone's late field goal 30-28. As the snow and cold set in during November and December, Dahms conceded onetime that "it's a little healthy in this climate." And today it must be conceded from this end that Long Tom is finally happy about the trade twist for he became the first of four regular tackles to sign for the '56 season. Still out are Dave Hanner, Len Szafaryn and Jerry Helluin. Utility tackle Bill Lucky signed recently. Coach Liz Blackbourn, who announced the signing of Dahms today, feels that Tom should come into his own next season. He needed some time to get adjusted to the Packer system last fall but quickly became the club's No. 1 right offensive tackle, taking up where Art Hunter left off. Signed by the Rams as a free agent fresh out of San Diego State, Dahms put in four campaigns with the California club. Thus, Dahms, who turned 29 last April 19, will be launching his sixth pro season. Dahms was the 52nd player announced as signed thus far by Blackbourn, but one, quarterback Bobby Lance of Florida, has been called into service…12-MAN BATTLE: Nine tackles have been inked and when Helluin, Szafaryn and Hanner enter the fold line coach Lou Rymkus will have at least a 12-man battle on his hands, give or take one or two more signees. Included in the tackle group is Don King, the 265-pounder who had a year of experience with Cleveland before going into service. In a new player breakdown released by the Packers, the Bays had 12 halfbacks and two fullbacks – Bob Laughery of Maryland and Tomie Ward of Midwestern. Three other fullbacks, including Gordon Duvall of Southern Cal, were shifted, on paper, to halfback.
DIFFERENCE'S IN AIR BETWEEN PACK, COLTS
MAY 22 (Green Bay) - If our memory is correct, the Baltimore Colts whipped the Packers twice last fall. In fact, it seems like Baltimore was the only team in the NFL to make the Green Bays holler uncle in the past campaign. A check of the records shows that the old thinker isn't completely gone. Baltimore won in Milwaukee, 24-20, and in Coltland, 14-10, both by a total of two field goals and one safety. The book reveals that the Packers played two-game sets with all opponents (it's a law, Mac) in the Western division. The Bays split with the Chicago Bears, Detroit and Los Angeles and dumped San Francisco twice. The aforementioned stuff isn't leading to a blind ad. We have a story in mid – about Baltimore, and the other clubs in the league shouldn't feel slighted because, mentioned before, the Colts were the only team to give Coach Liz Blackbourn two headaches in '55. The thought for today's gospel popped up during a chat with Colt fullback Alan (The Horse) Ameche before the TV-Index banquet the other night. We were hashing over the requirements for a championship team. "You've got to have a good running game and a darned good passing game – and some luck," the Horse pointed out, adding: "And don't forget a good defense." We boiled it down to the Packers and Colts, which was quite natural in view of the hashers' first pro loves. "You guys got a great passing game but you need some help running. It's the other way around with us." We asked Ameche how his team would make out with an end like, say, Billy Howton. The Horse looked around for another bag of oats and a handful of hay and confided: "We'd win it with a guy like Howton." Ameche, the league's ground gaining champ as a rookie in '55, conceded that Baltimore's "running game should be better next year. Billy Vessels is coming in and they drafted Lenny Moore. And they went high to help the passing – this Donlin, second choice." Dick Donlin was a standout at little Hamline University in St. Paul, and the Colts expect him to be their "go deep" hope. Donlin led all small-college pass receivers last year, snaring 41 for 480 yards, including 18 in one game. He stands 6-5 ½ and packs 207 pounds. Donlin picked up 12 letters in football, basketball and track. He was the first player taken from a minor school in the '56 draft…FINISHED THIRD, NINTH: It's likely that Baltimore will try to convert Vessels or Moore into an end. Both are considered excellent receivers. Pass catching figures on Green Bay and Baltimore show the difference in the two teams' air games. Green Bay's two ace ends, Howton and Gary Knafelc, caught 44 and 40 passes, respectively, finishing third and ninth in the league. Baltimore's two ends, Jim Mutscheller and Lloyd Colteryahn, snared 33 and 21, and finished 15th and 37th in the circuit. In fact, the Colts' No. 2 receiver was Ameche, himself, who snared 27 and placed 23rd in the league. Now, if the Colts can come up with a Howton or a Knafelc and if the Packers can come up with a halfback who can advance like fullback Howie Ferguson or Ameche. The Packers and Colts might split next fall, eh Alan. Actually, the Packers and Colts are dead even in four games, Green Bay winning the two matches in 1954, 7 to 6 and 24-13.
HANNER SIGNS; 10 TACKLES CARRY TON
MAY 23 (Green Bay) - Dave Hanner officially added his 250 pounds to the Packer list of signed tackles today, raising the total-tackle weight to well over a ton. Thus, Coach Liz Blackbourn has placed 10 tackles in the lap of line coach Lou Rymkus and the big group packs 2,440 pounds - an average of 244. Hanner is looking forward to his best season and that's not just the usual stock statement. Joel David II, bothered some by a weight problem in '54 and again shortly before the '55 season, is keeping his weight within reason during the offseason while working at the Green Bay Fertilizer Co. "I'm carrying 260 right now and that's pretty good compared to the 274 at this time last year," Hanner beamed today. How's he doing it: "Watching my eats, mostly, and by keeping busy and playing some softball," Hanner explained. Hanner's 260 means that he'll have to shed only about 10 pounds once the training starts. That's a far cry from the 24 he had to remove a year ago. Weight's an important item to Dave - and the Packers. The "size" of his contract varied according to his weight in '55 and Hanner was able to meet the terms. Blackbourn has worked out a similar agreement with Dave for '56. The Packers' fifth draft choice in '52 after winning All-America and all-Southwest honors at Arkansas, Hanner will be starting his fifth Packer campaign. He is considered one of the league's top defensive tackles. Hanner is batting .500 in the Pro Bowl department, being chosen twice (1954-55) for a berth in the all-pro battle in four years. He hopes to make his third trip after the '56 campaign. Big Dave, known as "Hawg" among his teammates, had his best day in the Packers' 7-6 victory over Baltimore in '54. He made 10 clean tackles, once forcing and recovering a fumble that set up the Packers' winning touchdown. The native of Parkin, Ala., turned 26 years of age yesterday. The Hanners, who live at 893 Howard, have two children, Joel David III, 19 months, and Thomas Edward, 4 1/2 months. Four of the 10 tackles under contract are pro veterans. Besides Hanner, they include Tom Dahms and Bill Lucky of the '56 Packers and Don King, obtained recently in a trade with the Cleveland Browns. Still out are veterans Jerry Helluin and Len Szafaryn. Among the new tackles, Bob Skoronski of Indiana is considered the best bet in view of his high draft rating, third. Other new tackles set are Jim Elekes of Virginia, Jocko Gordon of Toledo, Curt Lynch of Alabama, Bill Milburn of Texas and George Schussler of Pulaski and Carroll. Due to be signed soon is tackle Forrest Gregg of SMU, the second pick, who is presently in track. Heaviest of the lot besides Hanner are King, who carries 265, Gordon 260 and Schussler 250.
PACK SIGNS GREGG, NO. 2 DRAFT PICK; TOP NINE NOW SET
MAY 31 (Green Bay) - Forrest Gregg, the Packers' No. 2 draft choice, has signed a 1956 contract, Coach Liz Blackbourn announced today. Gregg, a 230-pound tackle from Southern Methodist University, is one of three highly-touted draft picks who participated in spring sports at their schools and whose signing had to be held back to preserve their amateur standings. The other two are halfback John Popson of Furman, the 22nd draft choice, and fullback Charlie Thomas of Wisconsin, the 14th selection. Popson is in baseball and Thomas and Gregg are trackmen. Signing of Popson and Thomas is expected shortly, thus cleaning up the 1956 draft list. Six selectees were lost, two going to Canada and four deciding not to play. Off to Canada were guard Buddy Allison of Mississippi, 15th choice, and guard Jesse Birchfield of Duke, 23rd. Just about out of the running for various reasons are center Jim Mense of Notre Dame, 13th pick; end Stan Intihar of Cornell, 18th; end Franz Koeneke of Minnesota, 25th; and tackle Dick Goehe of Mississippi, 26th. The list also includes six juniors, one of whom has decided to play in '56 - quarterback Rod Hermes of Beloit. When Popson, Thomas and Hermes are officially in, the Packers will have picked off 18 out of 30 draft choices. Off the "lost" group, one (the third choice) went to Los Angeles in a trade, five are juniors who won't be available until '57 (excluding Hermes), four decided not to play and two went to Canada. Gregg's resignation completed the signing of the Packers' first nine picks - the meat of the list. One other tackle was selected in the key group - Bob Skoronski of Indiana. Blackbourn has high hopes for Gregg. The speedy fellow plays offense and defense and if you're worried about his 230 pounds not being enough, relax. He expects to lug 10 to 15 pounds more as a pro. At 6-4, Gregg is the rangy type and Liz doesn't figure the extra weight will slow him down. Gregg also gives the Packers a possibility at defensive end - a position he handled well on occasion in college. The newcomer is considered a good blocker and hard tackler. Gregg (who joins former SMU stars Val Joe Walker and Bill Forester) was named to the All-Southwest conference team for two straight years. Captain of the SMU eleven last fall, he played in the East-West Shrine game and the Hula bowl in Hawaii. Canadian teams were also hot after him after the East-West game. Gregg hails from a family of athletes; his brother, Dave, was a football and baseball star at the University of Houston in 1949-50-51. Forrest attended Sulphur Springs, Tex., High where he was outstanding in football, basketball and track. Gregg is the 11th tackle and 53rd player announced as signed thus far.
BETTER DEFENSE VS. RUSHING LIZ' HOPE
JUN 2 (Green Bay) - Packer Coach Liz Blackbourn hopes to correct one of the "lesser of the two evils" on defense next fall. The greater of the two evils is a poor pass defense. Which make a mediocre rushing defense the aforementioned lesser of the two evils. Blackbourn isn't concerned about the pass defense - at least at the moment, what with the three-eyed, 17-fingered deep twosome (Bobby Dillon and Val Joe Walker), due to return. Besides, the Packer pass defense ranked among the top three in the National League last year. "Number one, we've got to keep that pass defense as tough as it was in 1955," Blackbourn said the other day, "and we see no reason why it shouldn't be as good or even show some improvement over a year ago." In the dozen league games last fall, Packer enemies completed only three long touchdown passes on the Bays' secondary. Baltimore did it twice and San Francisco once. "Naturally, we wouldn't weaken that kind of pass defense to toughen up our defense against rushing," the veteran coach pointed out, "but the other teams took too many liberties against us last year. We are about last in the league in rushing defense."...BEARS HAD PICNIC: The enemy averaged 4.6 yards rushing against the Packers last fall. Only one team had a worse average - the Chicago Bears, of all people, with 5.3. By comparison, the division champs, Cleveland and Los Angeles, had 3.4 and 3.8, respectively. Packer foes averaged four yards or better rushing in seven of the 12 games. One enemy, the Bears, had a picnic in the 52-31 tussle in Chicago, rolling up a fantastic 7.5 average. Even without that game, the Packer defense against rushing was nicked for an average of 4.1 yards per. Blackbourn isn't revealing any specific plans to bolster the rushing defense. "We'll try a few things at camp and you can see for yourself, then," he explained, indicating that changes are being contemplated. The core of the Packers' rushing defense is contained in the defensive line and the linebackers - ends John Martinkovic and Nate Borden, tackles Dave Hanner and Jerry Helluin, middle guard Bill Forester and linebackers Roger Zatkoff, Deral Teteak and Tom Bettis. All eight are expected to be back on the firing line for the '56 wars. They'll get competition from a host of top-flight rookies - plus two with pro experience, tackle Bill Lucky, a holdover from the '55 team, tackle Don King, a former Cleveland Brown, and end Gene Knutson, Packer veteran who was knocked out of the '55 season by an injury. Among the rookies expected to push hard for defensive line and linebacker jobs are end Emery Barnes of Oregon, tackles Forrest Gregg of SMU, Jocko Gordon of Toledo, Bob Skoronski of
Indiana and George Schussler of Carroll, and linebackers Lowell Herbert of College of Pacific and Wayne Schoemaker of Houston.
JANESVILLE HOSTS PACKER SQUAD TILT; 19-GAME CARD SET
JUN 5 (Green Bay) - Janesville will be the proving ground for 50 or more Packer rookies Saturday night, Aug. 4 - not to mention a limited number of pro experienced returnees and newcomers. The Janesville intra-squad date, announced today by Packer general manager Verne Lewellen, will be the first of 19 public appearances for the club next season. The Packers could make a 20th showing, but that's putting the cart before the horse. A few horseshoes will be needed to make that come to pass. The Janesville game will be sponsored by St. John's Vianney Church parish and profits of the production - at the Janesville High School field - will go into a building fund for the parish's new elementary school. The downstate affair will give Coach Liz Blackbourn an opportunity to get a good - and final in some cases - look at a large crop of promising rookies. In addition, such returnees and newcomers as Don King, Gene Donaldson, Bob Kennedy, Dick Logan and Don Barton will be tested. In addition, Blackbourn likely will toss several veterans into the fray. Practice is due to open at Stevens Point the weekend of July 21-22 for the rookies. Veterans are scheduled to report one week later, which means that the newcomers will be in better condition for the squad battle - come Aug. 4. The first full-scale intra-squader will be staged the following Saturday night, Aug. 11, at Menasha. Actually, the Packers will be game-busy every weekend - but one - from Aug. 4 until Sunday, Dec. 16. After the two squad games, the Packers play the next five Saturday night - Aug. 18, Philadelphia at Milwaukee; Aug. 25, New York at Green Bay; Sept. 1, at Cleveland; Sept. 8, Washington at Winston-Salem, N.C.; and Sept. 15, Chicago Cardinals at St. Louis. The following weekend, Sept. 22-23, will be open, giving the Packers an extra-long rest before the opening of National League action against Detroit in Green Bay Sept. 30...SOMETHING NEW: The two-week layoff will be something new for Blackbourn, looking forward to his third season, and aides Ray McLean, Lou Rymkus and Abe Stuber. It will be interesting to see if the layoff has any effect on the Packers' league opener. Blackbourn's last two openers, both preceded by a week-before non-leaguer, were scorchers. Pittsburgh whipped the Bays 21-20 in '54 and the Bays nipped Detroit 20-17 in '55. The Packers' league schedule is a murderous thing and it's especially typical of the overall strength in the Western division. The first seven games are against teams which figure they can win the championship. The eighth game, San Francisco at Green Bay, could be classed the same since the Forty Niners have the makings of a powerhouse. Probably the only sure bet not to get into the playoff race are the Eastern division's Chicago Cardinals - Green Bay's opponent in Chicago Dec. 2. But the way the Cardinals hammered the Bears last winter you can't be sure about them either. Green Bay plays one other Eastern division team - the world champion Cleveland Browns in Milwaukee Nov. 4.
'LIKE GETTING PAID TO GO FISHING,' SAYS BRAISHER
JUN 12 (Green Bay) - "It's like getting paid to go fishing." That's how Dad Braisher feels about his new job with the Packers. The veteran of 33 years of coaching at De Pere High School made his first public appearance, so to speak, in his new capacity at George Bertrand's eight annual sports party Monday. And it didn't take long to find the happiest kid with a new toy in the crowd of nearly 200 coaches and sports attaches gathered under the towering trees at Bertrand's cottage. It was the 54-year old Braisher. Braisher, who replaces Toby Sylvester, will work under Trainer Bud Jorgensen. Bud, a long time friend of Dad, will be starting his 33rd year with the Pack when Coach Liz Blackbourn blows the whistle at Stevens Point July 21. Braisher is anxious to get started "right now" on what could be called a new life for him. The wonderful guy from De Pere had been rather unsettled and unhappy for about a year - since he was cut adrift athleticwise from De Pere He had taken a year's leave of absence. Dad came to De Pere fresh out of Oshkosh Normal back in '22 and coached all sports during his long career...The party gave Bernard Darling of the Packer executive committee an opportunity to enlighten coaches on a special squad price for two of the Packers' home games - the New York Giants Aug. 25 and San Francisco's Forty Niners Nov. 18. High school football squads can see one or both games for half price - "a real deal" - Darling said. You gridders at Marinette High may be interested to know that your school officials made arrangements for 45 players at the New York battle.
BADGER STAR THOMAS JOINS PACK; HE'S TOP DARKHORSE
JUN 13 (Green Bay) - Charlie Thomas, the fullback nobody heard of at the University of Wisconsin until Alan Ameche ended his fabulous career, has signed a 1956 Packer contract, Coach Liz Blackbourn announced today. Drafted No. 14 by the Packers last January, Thomas presently ranks as the top darkhorse of the '56 draft. Thomas is pretty much of an unknown. He labored under Ameche as a sophomore and junior Badger in 1953-54 when the Horse was establishing yardage records. Charlie had the fullback position to his own in '55 when Ameche went off to Baltimore to join the Colts. But the folks still talked of Ameche last fall as Badger fortunes dwindled. But Thomas managed, despite a few injuries, to pick up 487 yards in 98 trips for an Ameche-like average of 4.9. He also scored six touchdowns. With the Packers, Thomas will work alongside one of the top fullbacks in the league - Howie Ferguson. In addition, the big Badger, if he makes, will get a chance to out-shadow Ameche - a rare treat for Thomas. Charlie will carry close to 220 pounds, generally about 217, into action. He stands nearly 5-11. One item that impressed Packer scouts was Thomas' speed. He moves exceptionally fast for a big man. Besides, assistant coach Lou Rymkus who talked with Charlie in Madison recently was impressed with Thomas' desire to play pro football. "He's sure anxious to give it a try," Rymkus said. Thomas is also a possibility for work as a corner linebacker - a position he handled capably at Wisconsin. The Packers are in need of a few C-backer prospects to fill the hole left by the departed Doyle Nix. Thomas also picked off three letters in track, leading the Badgers each year in the shot put and serving as captain. A popular student and athlete, Thomas was recently given the University of Wisconsin Kenneth Sterling Day award for leadership in campus athletics, religious and military activities and classroom excellence. Thomas attended Evanston, Ill., township high school and was chosen all-suburban fullback. He also won the Illinois state shot put championship as a junior. The newest signee is the third fullback in the fold. The others are Bob Laughery of Maryland, who stands six feet and weighs 215 pounds, and Tomie Ward of Midwestern college in Texas who stands 6-2 and packs 220...Things are quiet at the Packer office these days. Blackbourn, after a stop in Milwaukee for the ticket drive today, will head for the family farm at Beetown, Wis., and a three-week vacation. Out on vacation now are assistant coaches Abe Stuber, Ray McLean and Jack Vainisi. Holding down the football office is Rymkus, but he'll have company Monday when Stuber returns. Vacations will be completed early in July when the staff will welcome the new part time assistant, Earl Klapstein, and make final preparations for the start of practice July 21.
PACKERS LOSE HANK BULLOUGH
JUN 15 (Green Bay) - The Packers now have contributed three veterans of the 1955 team to the armed services, with induction of Henry C. (Hank) Bullough, offensive guard, in Cleveland yesterday. Called up earlier were Doyle Nix, defensive halfback from SMU, and Veryl Switzer, versatile halfback from Kansas State. Bullough played at Michigan State. Bullough was carried as the Packers' No. 3 offensive guard last year, working behind Joe Skibinski and Buddy Brown. Bullough, who will be in the Army two years, is 22, six feet tall and packs 220 pounds. Bullough and Nix broke in as rookies in '55 while Switzer came up in '54. The Packers' fifth draft choice a year ago, Bullough played in the East-West, College All-Star and Senior Bowl games. He played high